I often tell people that Singapore has two seasons: hot and wet, and hotter and wetter. As a tropical country on the equator, the Singapore's weather is very changeable – blazing hot one minute, and then raining buckets in the next. For travellers, sightseeing in Singapore can be a little frustrating if you are not prepared for sudden rain; always make some wet weather plans just in case! I've put together my recommendations for tourists on things to do in Singapore when it rains that still let you get that quintessential Singaporean experience.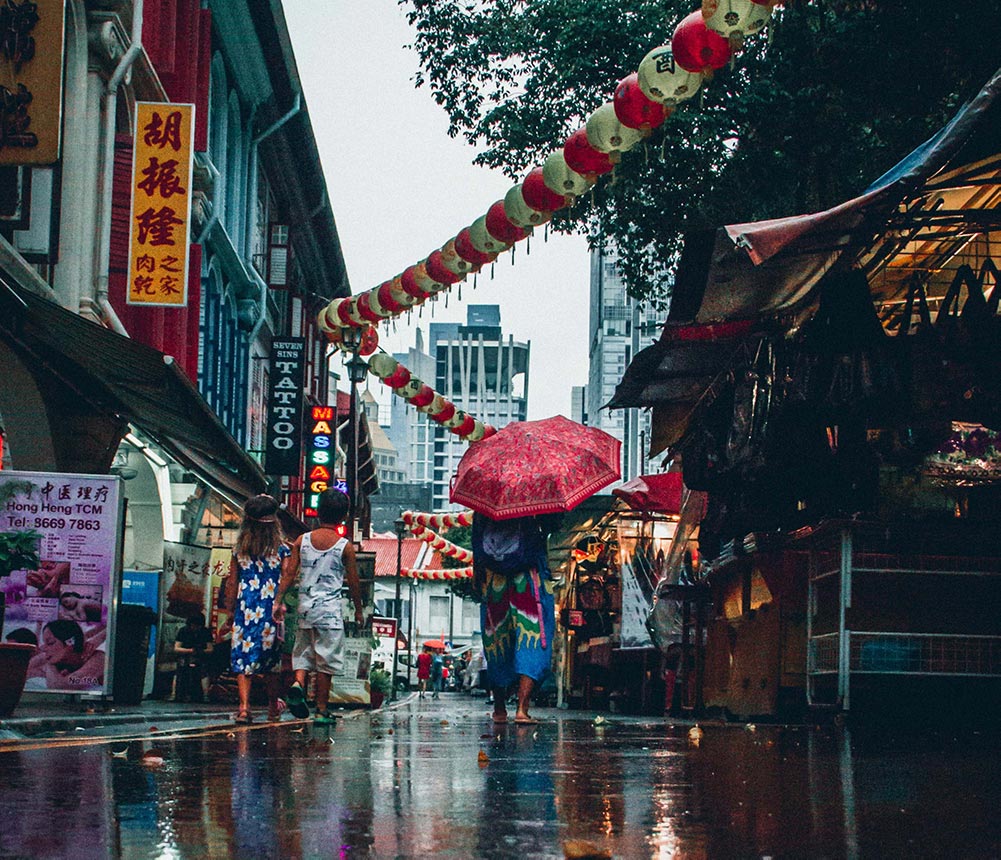 These tips are based on my own experiences from living in Singapore all my life. I've also been giving virtual experiences around Singapore's tourist areas and have had to make plans on the fly when it suddenly rains in the middle of my tours!
Most other articles about indoor activities in Singapore give you rather generic things to pass the time, but as a fellow traveller I know that visitors who have come all the way here from their home countries still want to see what makes Singapore special. These are suggestions on how I think you can sightsee in Singapore while mitigating the rainy weather.
This post is not sponsored but was written as a guest post for Klook and includes affiliate links by Klook – clicking on these will not cost you anything but may give me a small % of affiliate earnings. All the research, experience and opinions are my own. I personally use Klook when I travel and I do like the convenience of booking stuff through the app which is why I chose to work with them.
How to deal with Singapore weather
Small delays: The good news is that rainfall in Singapore tends to be heavy for just a short period, and we usually don't get that misty non-stop rain throughout the day (what I call London weather). It usually pours suddenly and heavily, and is quite humid right before and after the rainfall, so you don't usually need to cancel any plans completely but just wait out the worst bits.
Carry an umbrella: Carrying a small foldable umbrella with you is useful both for sudden rainfall or when the sun gets way too hot in the mid afternoon. Our tropical sunshine will burn you, so learn from the local aunties and cover up to protect your skin!
Check the weather: Your best bet to figuring out the weather is to check out the NEA website (there is an Android/iOS app called myENV that you can download to your smartphone) and look at the cloud cover/movement to estimate whether it will rain – check in the hour or so before your activity, anything earlier may not be particularly accurate in my experience.
Carry a light jacket: I also suggest carrying a light jacket or scarf around with you as well because here in Singapore, it's colder indoors than outdoors. Our air-conditioning tends to overcompensate for the tropical weather and shopping malls or theatres especially are pretty chilly, especially if you're dressed for the outdoor weather.
---
Marina Bay
Marina Bay is a popular tourist attraction for its iconic skyline and there is plenty to do, rain or shine.
Getting there: take the MRT to Bayfront Station on the Circle Line (CE1) or Downtown Line (DT16) – you have a sheltered walk to Gardens by the Bay or a direct link to Marina Bay Sands.
Gardens by the Bay
One of my favourite wet weather plans for travellers in Singapore is to head to Gardens by the Bay to check out the cooled conservatories. The climate in the Flower Dome and Cloud Forest are what Singapore wishes its weather was like – pleasantly cool and dry. This is a failsafe wet weather plan that lets you dry and cool while exploring one of Singapore's top tourist attractions and enjoy a little bit of our garden city.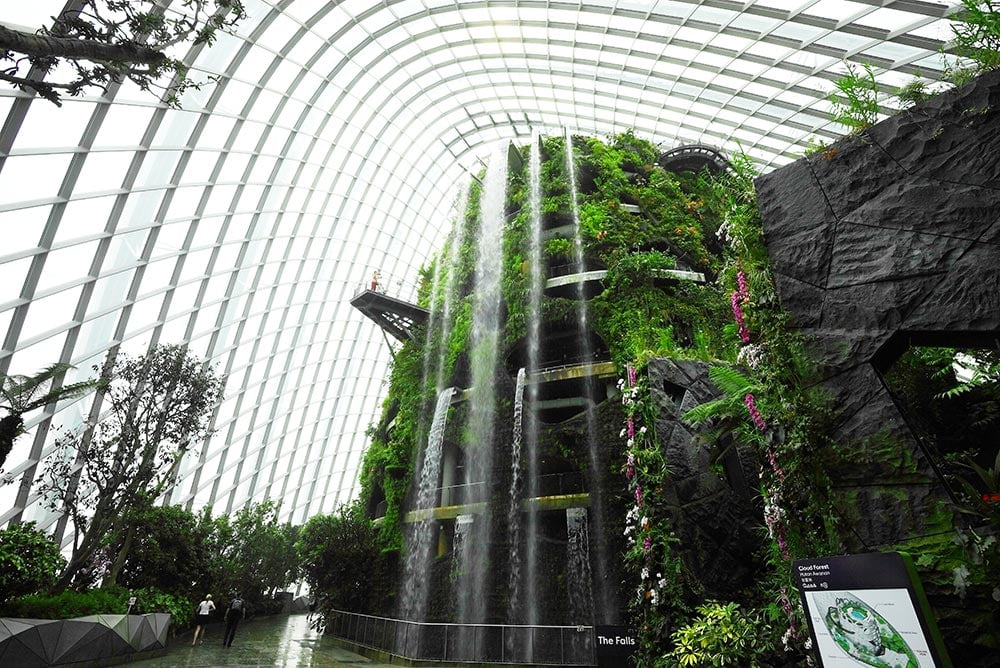 You can get your tickets directly from Gardens by the Bay, but they only let you book 10 days in advance, whereas Klook's Gardens by the Bay ticket [affiliate link] lets you book up to two months ahead. Usual price of entry to both domes is S$28 (for tourists) and S$20 (for Singaporeans). The Supertree Observatory costs S$14/S$10 while the OCBC Skyway costs S$8 for all.
When it stops raining
Head outside to check out the alien-esque Supertree Grove (if you've watched Crazy Rich Asians, that's where the wedding took place!) – there is a 15-minute music and light show in the evenings called Garden Rhapsody at 745pm and 845pm that's quite popular with tourists, many people pop by a little early to get a good seat underneath the trees.
Beyond the domes, there are plenty of outdoor gardens at Gardens by the Bay to explore with some cool giant art sculptures amidst the greenery
The OCBC Skyway that takes you up to the canopy of the Supertrees is a nice way to look out over the park. I personally think this is more interesting (and cheaper!) compared to the Supertree Observatory, but I haven't tried the latter for myself.
ArtScience Museum
When it rains in Singapore, museums are your best option to stay dry and learn about the local culture, and the ArtScience Museum is quite a popular one with both locals and tourists. The permanent exhibition Future World: Where Art Meets Science with its interactive digital art pieces by TeamLab is a favourite for the Instagram crowd and you've probably seen many of these pictures online already. In general the exhibitions at the ArtScience Museum tend to be more popular and accessible to the public, so it's a great way to entertain families as well.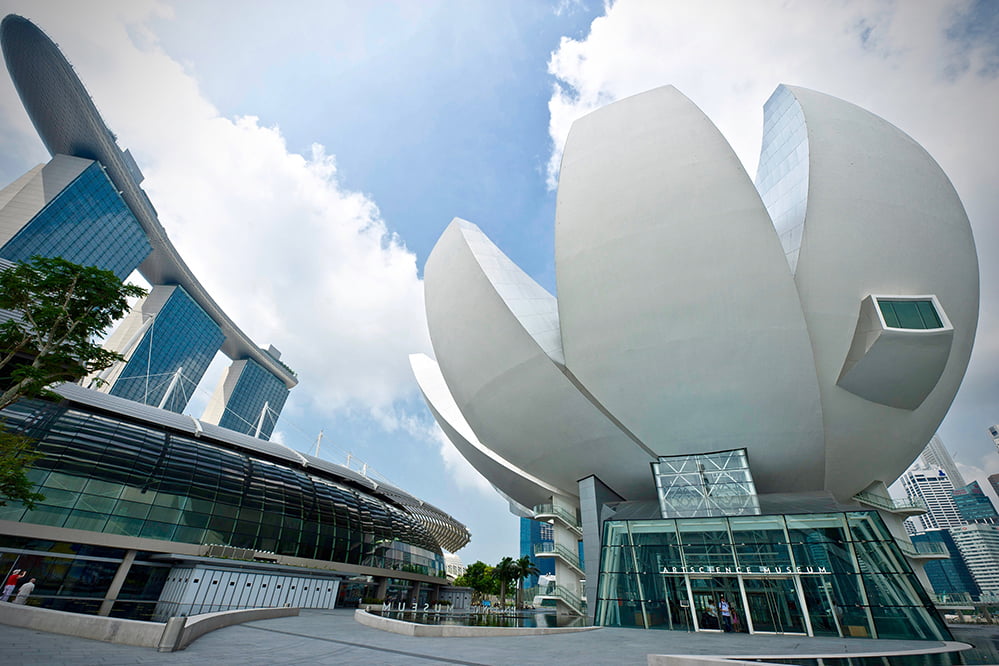 Standard adult tickets for Future World cost S$21 (for tourists) and S$18 (for Singaporeans) on the ArtScience Museum website with discounts if you're a sands Rewards Member, ArtScience member or they are running any promotions. The ArtScience Museum ticket on Klook [affiliate link] doesn't seem to differentiate between tourist and local price (S$18 for standard adult), so it might be a cheaper option for tourists!
When it stops raining
Take a walk along the promenade area outside, especially in the evening when the building lights are on. It makes for a lovely view, but do note that many of the lights will switch off around 9-10pm onwards, so don't leave your night shots till too late.
Most tourists like to go up to Marina Bay Sand's Sky Park Observation Deck for a birds eye view – make sure you go up only on a clear day. Instead of buying a ticket, you may want to consider
Every night there is Spectra – a light and water show which involves some fancy fountains and lasers in the bay right in front of the hotel at 8pm, 9pm with an additional 10pm show on Friday and Saturday. If you're short on time and want to see the Garden Rhapsody show as well, I'd suggest heading to Garden Rhapsody first, and then leaving a little early so you can catch Spectra right after as the walk in between isn't too far.
Marina Bay Sands Shoppes
The Marina Bay Sands Shoppes is connected to the MRT station and an expansive luxury shopping mall built by famous architect Moshe Safdie. Most people know of the hotel because of the Sky Park Observation Deck and infinity pool 50+ storeys up on the roof – I don't advise going up there if the weather is poor as there won't be much of a view. The mall itself is nice enough for a wander around in while waiting out the downpour but things here do tend to be more expensive.
Check out the Apple Store inspired by Rome's Pantheon, a sphere that looks like it's sitting in the middle of the water – you access it via the basement level of the Shoppes

Admire the swirling whirlpool that is officially called the

Rain Oculus

by Ned Kahn in collaboration with Moshe Safdie and see for yourself why some locals colloquially call it the 'toilet bowl'

There are 15-minute sampan rides within the mall that you can take that might make for fun photos though personally I think it's a really short ride, but it does bring you under the Oculus
If the rain hits in the evening and you're in the mood for a show, you could try see if there are any local shows happening at the Sands Theatre – the show selection tends to be more international and it is seasonal so it's a matter of luck
Alternatively if you're hungry, there are many celebrity restaurants and fancy nightlife bars and clubs here. CHINOISERIE Modern Asian and JustIN Flavours of Asia are helmed by Singaporean celebrity chef Justin Quek, while Jumbo seafood is a failsafe option for some chilli crab. Rasapura Masters is a food court in the basement and probably your cheapest option for local food in this area
Sampan rides typically cost S$13/person and Sky Park Observation Deck entrance is S$26 (for tourists) and S$18 (for locals) – you can buy your tickets direct or via Klook [affiliate link] which doesn't seem to differentiate between local and tourist price for the Sky Park, and also has a package offer of both these attractions for VISA cards for some extra savings.
---
City Hall
City Hall is near a lot of heritage sites like the Singapore River, Fort Canning and the Civic District.
Getting there: Take the MRT to City Hall Station on the East-West Line (EW13) or North-South Line (NS25). From here you are connected through a sprawling underground mall called Citylink to places like Funan Mall, Suntec City, Marina Bay Shopping Centre or the Esplanade with no lack of food and shopping options in the event of bad weather. Alternative MRT stops are Esplanade on the Circle Line (CC3) or Clarke Quay on the Northeast Line (NE5).
National Museum of Singapore
The National Museum of Singapore (NMS) is Singapore's oldest museum dating back to 1887, and if you only have time for one museum to learn about the history of Singapore, this is where you should go. Despite its age, it's not a stuffy old museum at all – the exhibits are updated, interactive and quite engaging for all ages. The permanent exhibits trace Singapore's key history from its island roots through the British colonial period, Japanese occupation and finally independence and more modern times.
When it stops raining
Fort Canning Park is right on the doorstep of the museum and has lots of smaller parks and WWII historical sites worth checking out
Clarke Quay is on the other side of Fort Canning Hill. It's a popular tourist spot and has lots of bars and restaurants to chill out in, and if the weather's clear you could take a Singapore River Cruise [affiliate link] to explore the sights along this historic river
Orchard Road with its multitude of shopping malls is not too far away – the nearest mall is Plaza Singapura and you can take the MRT to Somerset or Orchard if you'd rather not walk too much
National Museum of Singapore is free for Singaporeans and costs S$15 for tourists with additional costs for special exhibitions. You can get your National Museum ticket from NMS directly or from Klook [affiliate link] where you might get discounts – there's currently a 10% discount on tickets.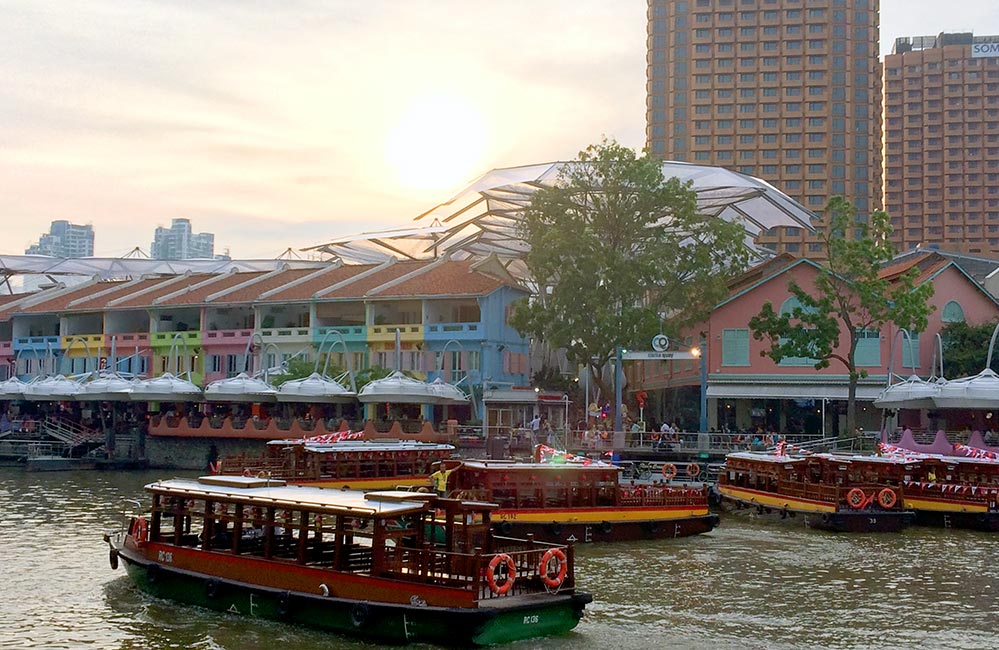 National Gallery Singapore
Spend your rainy days perusing Singapore's largest collection of modern art works by premier Singaporean and Southeast Asian artists at the National Gallery Singapore like Chua Mia Tee, Wu Guanzhong, Liu Kang and Georgette Chen just to name a few. It's a fun visual way to learn about Singapore's history and culture through art. For those with families, the kid's section is quite interactive and cool as well.
If you're on a budget or just not that into art, the National Gallery building itself is historical and beautiful to walk through. Housed in the former Supreme Court and City Hall, you can enjoy the restored architecture and historical panels as you walk around the hallways. I suggest taking a guided tour because they will also show you some of the more hidden areas like where the former prisoner holding areas were among other things.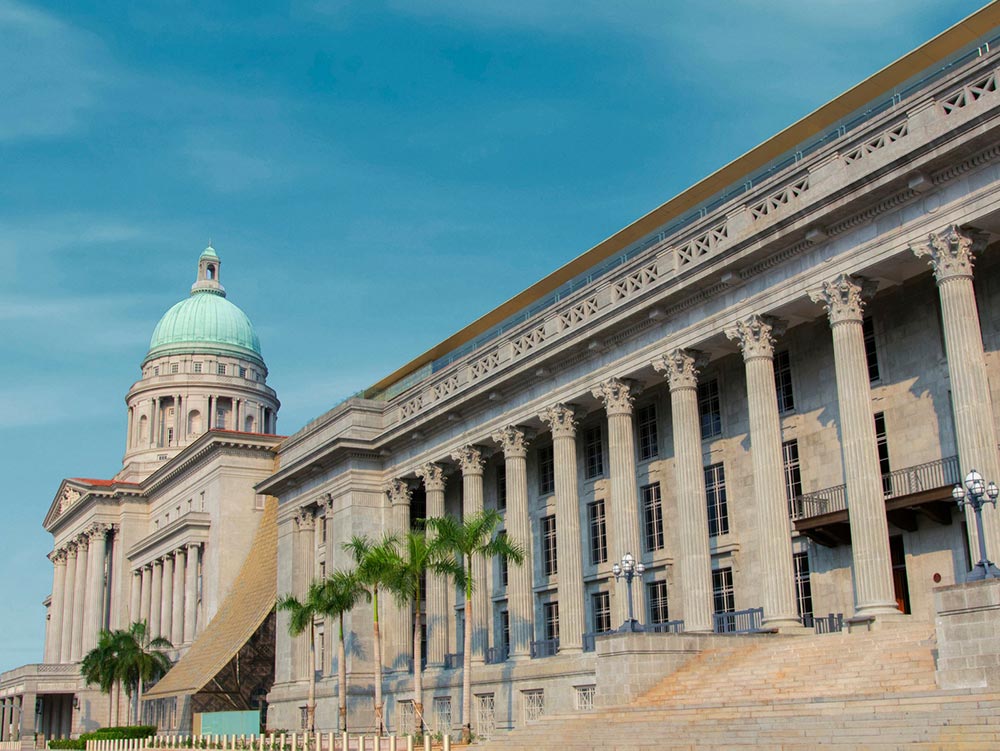 When it stops raining
National Gallery is in the Civic District, former government district during our British colony days, so lots of preserved British colonial architecture like the Victoria Theatre and Victoria Concert Hall, Fullerton Hotel and the Arts House in the former Parliament Building
If museums are your thing, the Asian Civilisations Museum has more exhibitions about Southeast Asian cultures worth checking out
The historic Singapore River is where trade first flourished in Singapore, lots of interesting things to see along the river like the national monument bridges and Boat Quay across the river
General Admission adult tickets to National Gallery's permanent exhibitions cost S$20 (for tourists) and free (for locals) – special exhibitions cost S$25/S$15. You can get your tickets directly from the National Gallery site, though as of writing the standard price of the National Gallery ticket on Klook [affiliate link] is S$15 for tourists which is cheaper! You can also book the Back of House tour on Klook which costs S$15 on both sites, but the National Gallery site has more tour options worth considering.
Esplanade
From afar, the Esplanade's spiky durian-shell aesthetic makes for fun photos, but on a rainy day you might be able to catch some free performances in this performing arts centre. On some weekday nights and weekends, they often have music and other performances in the indoor or in the outdoor theatre with Marina Bay as a backdrop. They often run small festivals that showcase both local and international artists, and sometimes there are workshops you can participate in.
If you are a fan of architecture or what goes on behind the scenes, their guided tours might be interesting for you – I've never done them for myself, but you can learn about the history of the venue and see it with the lights up on the Esplanade Tour. If the weather gets better, I'd consider the Night Tour as the Esplanade has a great location on Marina Bay so you should be able to get some great night shots.
When it stops raining
Marina Bay is right on your doorstep – take a stroll clockwise towards the Helix Bridge and Marina Bay Sands, or head in the other direction across the Jubilee Bridge towards One Fullerton where the Merlion statue is located.
Check out the Esplanade website for details on their line up and more about the Guided Tours.
---
Chinatown
One of Singapore's oldest neighbourhoods and the Chinese heritage area
Getting there: Chinatown MRT Station on the Northeast Line (NE4) and Downtown Line (DT17) can take you right up to the pedestrianised Pagoda Street which is partly sheltered.
Chinatown Complex
If you happen to be in Chinatown when it starts raining, hide out in Chinatown Complex and do a little local food tour of your own to pass the time. The food centre on the 2nd floor is the largest in Singapore with 226 stalls of amazing food to choose from. Most famously, it's home to the 1-Michelin Star Hawker Chan stall where you can enjoy some of the cheapest Michelin food in the world! But in my opinion, there are many other fantastic food options in Chinatown Complex which are less hyped up – when in doubt, just follow the long queues. ieatishootipost and Johor Kaki have some great recs.
The first level has dried goods and sundries which is interesting enough for a walk about or some kitschy souvenirs, and if you're there in the morning you can pop down to the basement to check out the fresh produce at the wet market. Keep an eye out for several wall murals that can be found all around the ground floor level of Chinatown Complex.
Guided walking tours around Chinatown will give you more context to the history and culture of one of the oldest neighbourhoods in Singapore – check out this walking tour with a local [affiliate link]. For foodies, consider the Chinatown food tasting and walking tour [affiliate link] or the hawker snacks tour [affiliate link] to get a taste of the local food scene.
Chinatown has several great hawker centre options besides Chinatown Complex – Maxwell Food Centre is famous for its chicken rice stalls, Amoy Street Hawker Centre on the Telok Ayer side has two floors of cheap good food while Hong Lim Food Centre is a neighbourhood favourite.
Buddha Tooth Relic Temple
A short distance from Chinatown Complex is a grand looking Chinese temple known as the Buddha Tooth Relic Temple. This is a working Buddhist temple on the lower levels but its upper levels are a free museum with 11,111 Buddha and Bodhisattva statues and the relic that gave this temple its name: what they claim is the Buddha's left canine. Whether you believe is up to you, but I think this temple is still worth checking out regardless – entrance is free!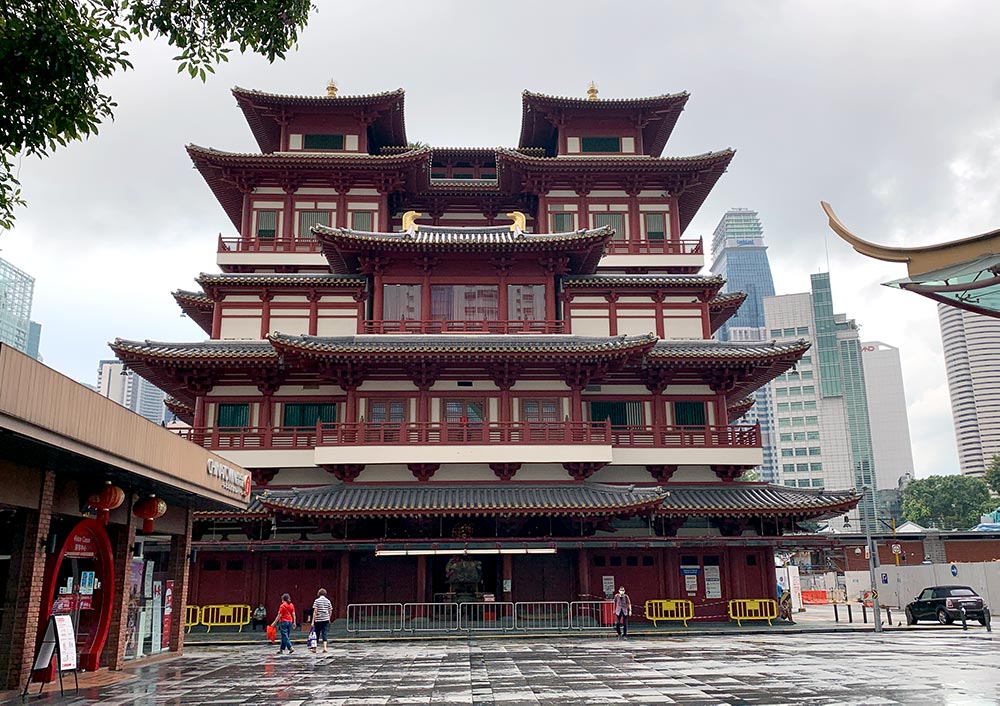 Singapore Musical Box Museum
One of Singapore's more unusual small museums can be found along Telok Ayer Street, hidden in the Chong Wen pavilion and former home of the Hokkien Clan Association. This private museum by a Japanese collector holds hundreds of musical boxes including a rare one that was made in Singapore, likely influenced by the early Europeans who brought their hobbies over with them. Not your most conventional museum, but watching the curator wind up and showcase some of the more unusual music boxes is an interesting way to spend a rainy afternoon.
General tickets cost $12 per person and reservations must be made to visit the Singapore Musical Box Museum via email. If you book via Klook [affiliate link], you can include some local snacks or lunch from the ground floor cafe in your package for 2 pax. Only guided tours are available and they generally last 40-45 minutes. The museum is closed on Tuesdays and Thursdays.
When it stops raining
The Buddha Tooth Relic is just one of several important religious buildings in this district. Head down South Bridge Road to check out Sri Mariamman Temple, one of the oldest Hindu temples dating back to 1828, or the mosque called Masjid Jamae a bit further down the road.
Cross South Bridge Road towards Club Street/Ann Siang Road which is a nice area for nightlife which is pedestrianised on the weekends
Telok Ayer is the former coastline of Singapore and home to a collection of religious buildings of various faiths side by side – besides Thian Hock Keng which is right next door to the Musical Box Museum, you can also see the Chulia mosque Al Abrar and the Nagore Dargah shrine.
---
Little India
The Indian heritage area is colourful and vibrant even in the rain
Getting there: take the MRT to Little India Station (NE7/DT12) to get to Tekka Centre, or to Jalan Besar (DT22) which is slightly closer to the Indian Heritage Centre. Little India is best enjoyed by walking its streets, but if it does rain you still have some good options on things to see.
Indian Heritage Centre
The Indians are the 3rd largest ethnic group in Singapore and super diverse, so there's a lot to learn about the different subgroups and their practices. The Indian Heritage Centre is quite an unusual building in the Little India district mostly because of how starkly modern the building looks in comparison to everything else around it. Inside this modern structure is a well-curated interactive museum documenting the history and culture of Indians in Singapore through interactive exhibits – it's quite kid-friendly for families, and also casual enough that the general layman won't feel like it's too stuffy either.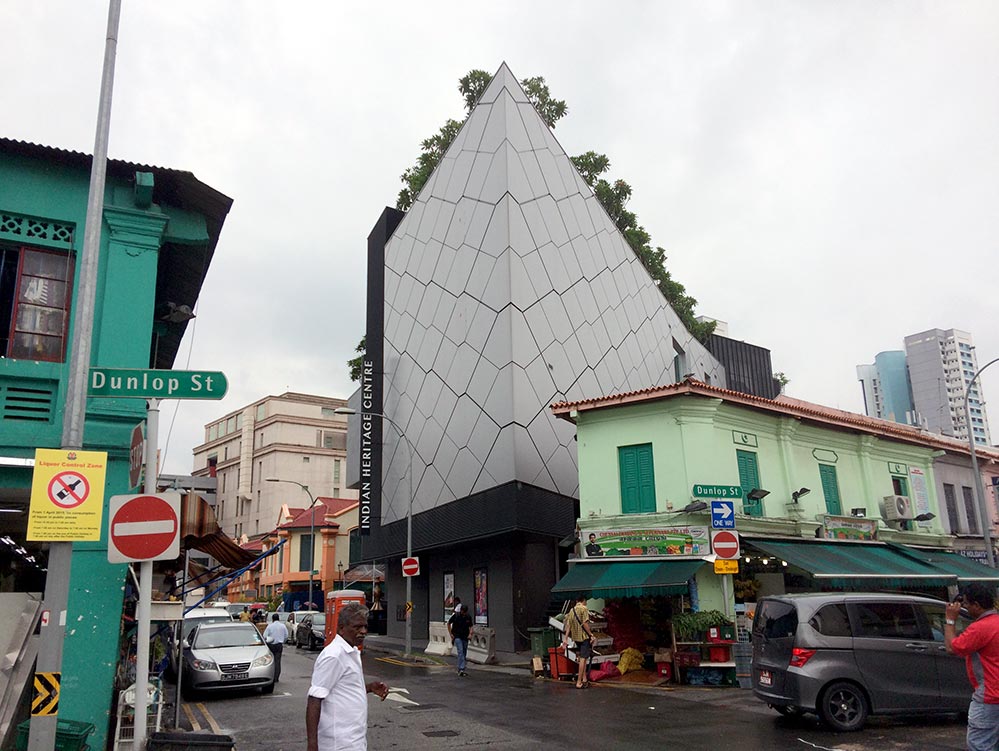 Indian Heritage Centre Tickets cost S$8 for tourists and is free for Singaporeans. You can get your tickets at the door or via Klook [affiliate link] online pretty much instantly. There is a family package at the door for 5 pax (3 adults max) costing $24 that might be worth it if you have a family group. Consider taking one of their free daily guided tours for some indepth insights.
Tekka Market & Food Centre
Tekka Market and Food Centre has quite an interesting history first as Kandang Kerbau Market, set up in the 1900s for the cattle trade that the Indian's managed in this area. Today it's one of the more popular markets in Singapore and has a sprawling wet market on the first floor, a good way to see daily Singaporean life and food.
When it gets to wet for walking, take that time to do a little Singaporean food exploration! Tekka Food Centre is an amazing hawker centre with a good selection of cheap and good Singaporean hawker favourites, and of course Indian food since we're in Little India after all – Allauddin's Briyani, Temasek Rojak and Sri Tiffin are good places to check out local Indian favourites!
If you want something fancier, there are plenty of Indian restaurant options around the neighbourhood along Race Course Road and Serangoon Road to check out, though you might have to brave the rain a little as there isn't much shelter en route.
A guided tour around Little India will give you more context to this colourful neighbourhood. Check out this Little India Walking Tour [affiliate link]
When it stops raining
Check out the many wonderful street art and murals all around Little India – most of these are a result of the annual ArtWalk Little India art festival
Peek into the many Indian temples around the area like the Sri Veeramakaliaman Temple or the Sri Srinivasa Perumal Temple to get a glimpse of Hindu rituals – you can also spot many flower garland stands near the temples as you typically buy these fresh garlands as offerings when praying
The rainbow coloured Tan Teng Niah House is an old style Chinese villa that's very popular with the Instagram crowd for its colourful facade
---
Looking for more things to do in Singapore? Check out all my Singapore posts for more.