I love scuba diving and Raja Ampat on the far eastern end of the Indonesian archipelago has always one of my dream locations to scuba dive in. Sometime in 2018, my friends started seriously planning a Live on Board (LOB) scuba diving trip to Raja Ampat and in 2019 about a week before my actual birthday in March, we found ourselves descending into the blue depths of Raja Ampat's waters. I thought I'd share a little bit about my scuba diving LOB experience in Raja Ampat for anyone looking to check out this amazing destination.
---
Getting to Raja Ampat
Raja Ampat (translated as the Four Kings) is located on the far eastern end of the Indonesian archipelago in the province of West Papua. It actually refers to a collection of islands and is well known for its pristine waters and some of the largest diversity of marine life.
When I first started scuba diving, Raja Ampat was one of those dream destinations that always popped up, but the hassle and costs of getting there always made it more of a dream than reality. Now with more experience under my belt and more spending power, it was time to make this dream come true.
Flying from Singapore to Sorong
Getting to Raja Ampat is a bit of an adventure in itself, here's how I did it:
Singapore to Jakarta via Garuda Airlines 2020-2115hrs (roughly 2 hours)
Jakarta to Sorong via Garuda Airlines 0030-0635hrs (roughly 4 hours)
From the Sorong airport, a 10-min car ride to the Jetty
Unfortunately because of stormy weather in the region, our diving boat would only arrive later and we could only get on the boat the following day. So we had to endure another 2 hour ferry ride from Sorong to Waisai to do our checkout dives and stay in a dive resort overnight, before we finally got on the boat the next day.
Looking for other spots to scuba dive in Indonesia? Check out my dives in Flores and Manado which are much easier to get to from Singapore.
---
Raja Ampat Dive Sites
I clocked a total of 21 dives over 7 scuba diving days, and while most of the dives were great, some were more special or just more interesting than others. What you see when scuba diving is really a matter of luck and circumstance – whether the weather is good, your timing is fortuitous or the critters just happen to be in the mood, but I'll highlight some of my favourite dives from this trip as well as my favourite photos.
Things to look out for in Raja Ampat include oceanic manta rays, epaulette sharks, wobbegong sharks, giant schools of larger fish like trevally, jacks, barracuda, sweet lips as well schools of tinier fish like fusiliers, lots of coral… the running joke was that every single dive we did had 'large groups of schooling fish', which may not be common elsewhere but you do take it for granted when you see that in all your dives.
Day 1 – South Waigeo

Gurara Jetty
Night dive at Saonek Jetty

Day 2 – Kri Island/South Waigeo

Blue Magic
Mioskon Reef
Night dive at Saporkren

Day 3 – Mansuar Island/Dampier Strait

Cape Kri
Yenbuba
Sawandarek Jetty

Day 4 – Wayag/Waigeo

Aljui Bay (Mangrove)
Eagle Rock 1
Eagle Rock 2
Night dive at Pearl Farm

Day 5

Aljui Channel
Dontracastoc Cave (I honestly have no idea if I spelt this right, but that's what the guide wrote on the dive board)
South Wofoh

Day 6 – Piaynemo/Fam Islands

My Reef (Penemu Islands)
Keruo Channel
Melissa's Garden

Day 7

Citrus Ridge
Manta Ridge
Manta Sandy
Sadly on this trip we had to miss out on South Raja Ampat aka Misool because of the weather, but that's just more reason to go back again in future.
---
Cape Kri
The major highlight from this dive: Whale Shark! We really lucked out spotting this whale shark on the tail end of our dive. We had split into 2 groups – the first group had decided to turn back around while we kept going on. Suddenly I heard some pretty excited clanging and when I looked over my right shoulder, a giant shadow loomed from the deep blue – a whale shark was swimming right alongside our group! As we frantically finned to keep up and pointed our cameras at it, it made a U-turn and came back towards us for a bit, before finally swimming away.
The last time I saw whale sharks was back in 2013 when I did a Maldives scuba diving LOB and we spent a day in known whale shark haunts, but this particular encounter in Raja Ampat was totally unexpected, which is what made it more special. The other group was pretty bitter about missing out on the whale shark :P
We saw schools of passing barracuda as well, but the other highlight here was the huge schools of yellow sweetlips on the ocean floor. We would see them in several dive spots, but this was one of the bigger schools snaking through the coral.
---
Melissa's Garden
Melissa's Garden was quite an unusual sight as it felt like the entire ocean floor was covered with Antipora and Montipora coral and it really did feel like a garden of sorts. The photos don't do it justice as it looks much more impressive in person, like a massive field of coral covering the ocean floor all around you.
Lots of fish life teeming amidst the corals, and another favourite shot from this dive is of the Pikachu nudibranch that I managed to snap.
Citrus Ridge
Some of my favourite photos from this trip came from Citrus Ridge. We saw a pretty good mix of macro and larger pelagic creatures here – the barracuda and trevally schools in particular were pretty cool.
Aljui Bay
Aljui Bay was unusual because this was located below mangrove forests. The visibility is not so high and everything was a bit greener, but the landscape is quite different from your typical oceanic sites.
Dontracasroc Cave
I'd never seen a Wobbegong shark in the wild but I remember reading about them in books as a child. They are pretty common in Raja Ampat and as bottom feeders, they are pretty chill most of the time, definitely not too scary.
Wofoh
What was significant about this dive is that so far we had mostly encountered schools of larger fish, but these fusilier were pretty tiny, maybe about the length of your pinky finger at most? And there were literal THOUSANDS of silvery bodies swarming in the water, almost like how I imagine a Biblical locust infestation to be like. So thick that they almost block out the light from above.
Another thing we were all looking for were pygmy seahorses – the Denise pygmy is the more rare one and harder to find, but my camera really isn't good enough for that sort of close-up shot. I contented myself with the bumpy purple ones. There was a sea fan where I found 7 (!) of them on various different branches, it was pretty amazing.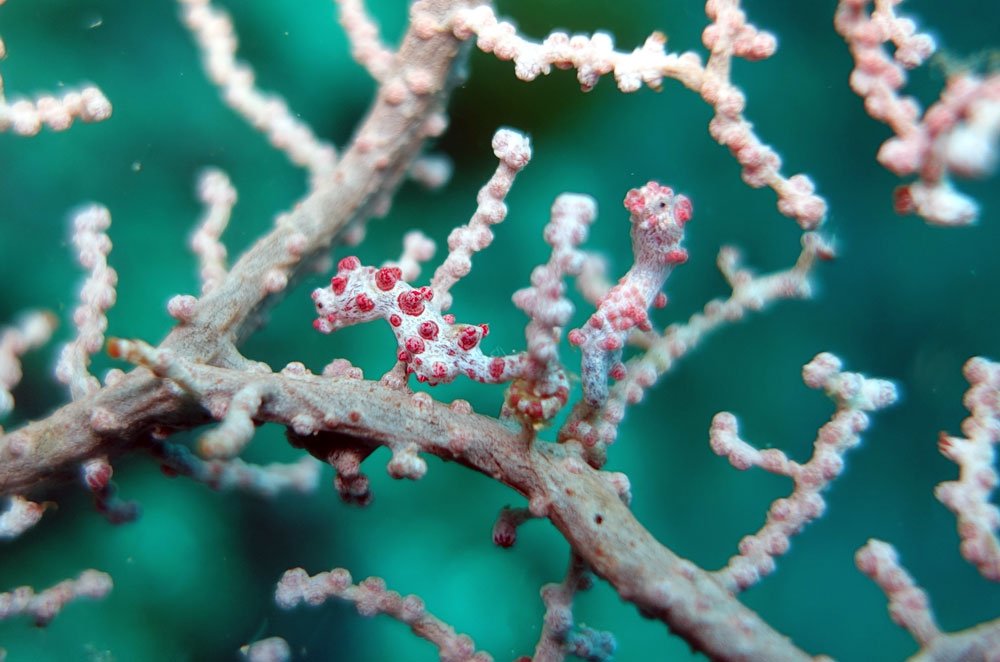 Sawandarek Jetty
Sawandarek Jetty was a pretty shallow site. It's not too deep so the large schools of sweet lips and batfish were pretty well-lit, and they let you come surprisingly close to take pictures. They also had an underwater coral garden where they are growing coral in various plots like a farm but just underwater.
Others
Here's a look at some of my other favourite shots from this trip. Editing these pictures really make me wanna go diving again right away…
---
Other activities
We spent most of our time diving, but in between dives besides chilling out on the boat and napping, we did a couple of fun things as well.
Atlas Pearl Farm
We visited one of the Atlas Pearl Farms in Aljui (or Alyui, there isn't a lot of spelling consistency) on Day 5 in between the first and second dives. It's always kinda weird being on solid ground after all those days of bobbing up and down. This is the oldest Atlas Pearl Farm and it was pretty cool seeing how they harvest the pearls, graded them by hand and ultimately how they wound up on a necklace for sale.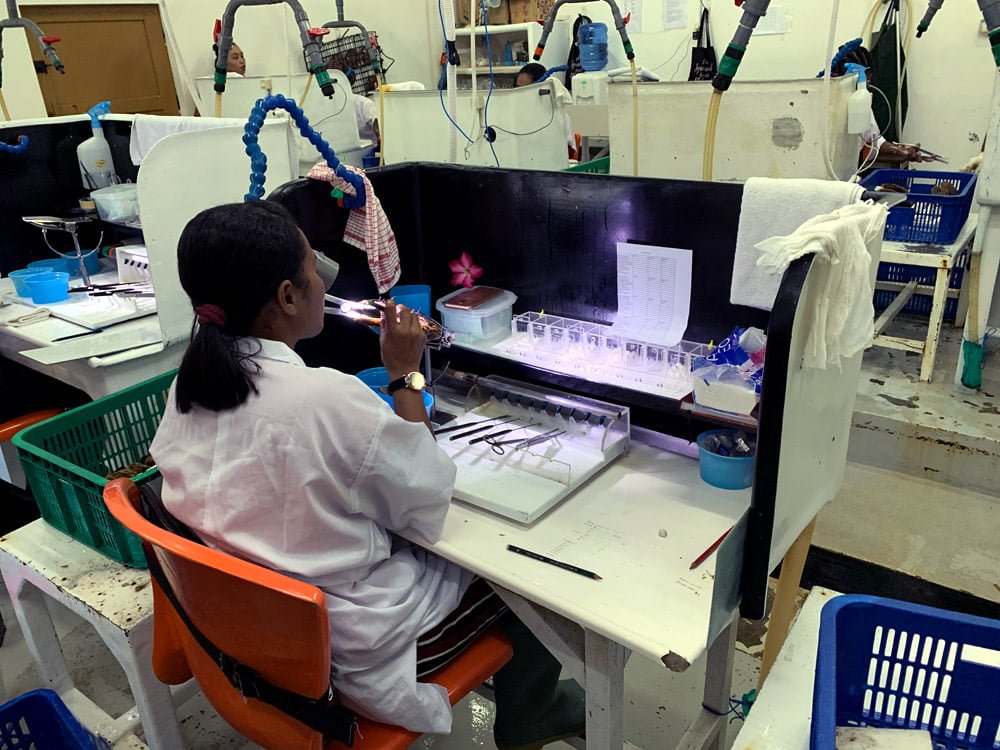 ---
PIaynemo Lookout
The classic Raja Ampat photo that everybody has seen and loves is from the Piaynemo Lookout point. This cluster of rock islands in the middle of the ocean have become iconic sights of Raja Ampat, and we decided to visit during sunrise. We took a dinghy to the island while it was dark, and made a short climb (20-30 mins) up some wooden boardwalk stairs and reached the lookout point just before 5am to catch the sunrise.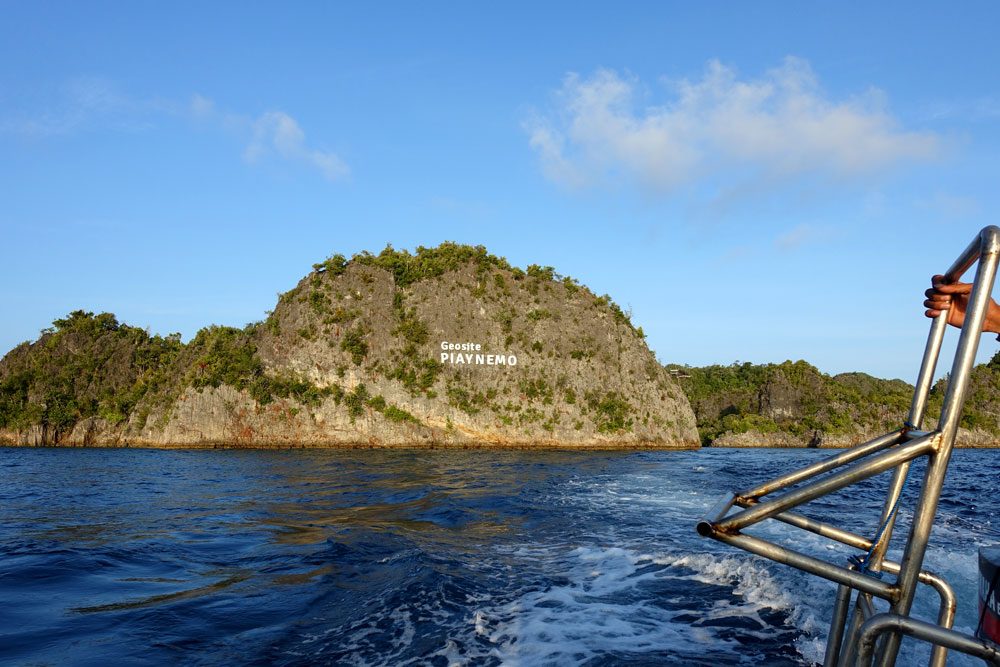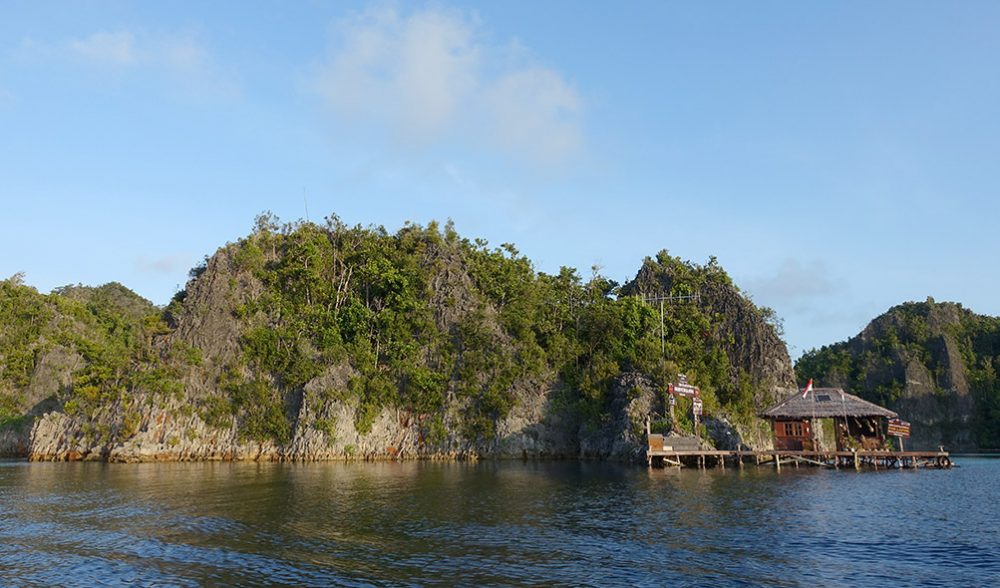 ---
Doing epic travel things for my birthday is a recent tradition that I'm hoping to keep up. Here's what I've done in previous years for those who are looking for some bucket list ideas. Does anyone have ideas for what I should do in future years?
Or check out my other scuba diving posts to see more pix of weird underwater creatures