When I think about my time in Colombia, one of my favourite places that I visited was definitely the city of Medellín in the central Antioquia region. I'd seen a lot of my online friends and other travellers talking about how much they loved this city, so I got curious and decided to check it out. Medellín turned out to be one of my favourite places in Colombia. I put together this little guide about how I travelled solo in Medellín and some things to do.
Many people come here to learn Spanish or because they learned about it from watching Narcos, but I think Medellín has a great vibe and you might end up staying longer than you expected.
---
Things to do in Medellín
Join a free walking tour
Everyone, and I mean literally anyone who's been or going to Medellín, will recommend the Real Cities Walking Tour to you. I took the tour for myself and it's an extremely well organised and engaging tour that gives you a great overview of Medellín, a really good way to get an introduction to the city before diving deeper into its other sights.
Medellín does have a rather chequered history because of the drug trade back in the 90s, so the stories and insights about how they've cleaned up since then were very enlightening. I'm usually a fan of just wandering on my own but I enjoyed this tour immensely.
Check out Real City Tours Free Walking Tour – you HAVE to book online (it only opens 36 hours in advance) and it's really popular – there were 4 groups of about 20pax in the afternoon session on the day I went. Free and tips based (recommended 20,000 – 30,000 COP or depending on your budget)
---
Ride Colombia's only metro
Rail systems and trains are a rarity in South America, and Medellín is one of the few AND the only Colombian city to have a metro system. Considering the amount of graffiti found on the walls all around the city, the Medellín Metro is surprisingly clean, un-graffitied. I found it quite a convenient way to get around the city.
Along with the typical metro tracks, it also has 3 lines of MetroCable or cable cars that bring you up to the barrios (small towns) on the steep slopes. It's a cheap and easy way to enjoy to enjoy aerial views of the city for the price of a metro ticket – just stay in the cable car and ride back down again to save.
I rode the MetroCable K Line to Santo Domingo in the northeastern part of the city, before swapping to Line L up to Parque Arvi (it costs more to get to Parque Arvi, more about that below), and also rode MetroCable Line J on another day to La Aurora in the northwest.
Prices have gone up since I visited back in 2016 – a single trip ticket now costs about 2,650 COP per trip. To skip the long queues you can get a rechargable card at the metro stations to tap in and tap out, but if you want to save some money and enjoy discounts, bring along get yourself a personalised green Civica card – you'll need to visit one of their offices with your passport. MedellinGuru has a pretty comprehensive and updated guide about public transport. You can also read more about the Medellín Metro.
---
Stroll around Parque Arví
Despite its name, Parque Arví is less a park and more a giant forest area on the hills to the north of downtown Medellín. The most scenic way to visit is to take the cable car up here, first to Santa Domingo stop, and then change to a second cable car line to get up to Parque Arví.
There was a cute little farmer's market right at the cable car exit where you can get food and souvenirs, or book a walking tour as you can only explore the surrounding areas with a guide. I came up here without much prep so I was mostly happy to admire the view on the way up here. You can also take a bus from here to nearby Piedras Blancas for more of your own explorations.
More about Parque Arví. It cost me 5,200 COP per way (10,400 COP round trip) to take the cable car from Santa Domingo to Parque Arvi. Buy your return ticket once you reach Parque Arvi and make sure you have a return metro ticket as well (you can buy them in bulk) so you don't get stuck in peak hour queues going down.
---
Admire Botero at Museo de Antioquia
I popped into this museum to check out the art by the famous Fernando Botero who was born in Medellín. There's a good chance you've seen his distinctly rounded figures and sculptures in other art collections – there's a bunch of his works in Singapore's outdoors and art galleries. Besides Botero, you can also see pieces by many other artists like Chagall, Dali and Caballero.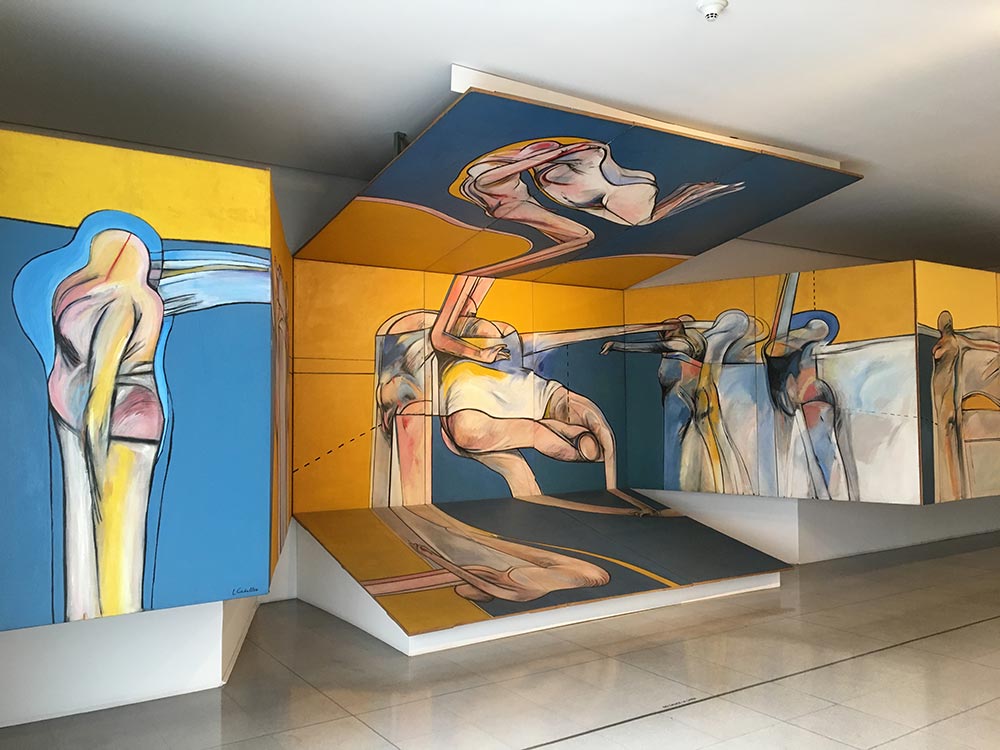 More at Museo de Antioquia. 18,000 COP for entrance fee
---
Chill at Plaza Botero
The Antioquia Museum is next to Plaza Botero in El Centro where you can see more Botero carved statues that he donated to the city. This place is usually quite busy and where people like to hang out – look out for your belongings here.
Also opposite the museum around the square is the Rafael Uribe Uribe Palace of Culture that looks like someone ran out of money halfway through building a Gothic church with its mishmash of architectural styles.
---
Day trips from Medellín
Guatapé
2 hours drive from Medellín, Guatapé is colourful place that I visited on a day trip. First we headed to El Peñol to see La Piedra, a tall rock that has 750 steps to climb to get to the peak. It's pretty tiring but that view is super worth it.
Look at that!
After that it was a quick visit to the colourful town of Guatapé which are so intricately decorated with local motifs and colours. Staying overnight here would probably be nice after all the tourists have gone for the day.
We then took a boat ride on that beautiful lake that we saw from the top of the rock to the ruins of drug lord Pablo Escobar's summer mansion or La Manuela Ranch, his infamous house that was bombed by the Cali Cartel). Apparently lots of famous football players have their summer houses around here.
We explored a little bit of the dilapidated house as our guide told us about Escobar's history and happenings in the house – lots of treasure hunters came by to try and see if they could find any secret stashes. Then we suited up and played paintball amidst the bombed-out remains of his stables and guesthouse – yes it's a pretty surreal thing to do, playing as the Cali and Medellín cartels in a place where actual gang warfare took place, but it definitely left an impression.
There's something about being in a place for yourself that makes history feel more relevant, though the paintball bit I probably would pass on in future – I tagged along with a hostel mate then because I was curious and I hadn't made any other plans, but on hindsight now, I'm a bit iffy about the ethics of Narcotourism. You'll probably need to draw your own lines, but I did learn a fair bit about the Colombian drug history on this tour.
---
Where to stay in Medellín
booking.com affiliate links below
I stayed at the Grand Hostel Medellin which was really cheap at 20,000 COP/night (S$8). It does kinda feel like a homestay in a really old house and is not the cleanest nor fanciest hostel, but it is serviceable and cheap with a nice lady in charge.
Black Pine Hostel and Black Sheep Hostel around the corner also come quite well recommended. All these hostels are located on the edge of Poblado and away from the noise but a 15-20min walk into the main town area where the restaurants and bars are located.
If you want a more central location, a friend stayed at La Playa Hostel which is opposite the party hostel Happy Buddha and really liked it there. But many people I spoke to recommended me to go stay in the Laureles district instead of Poblado which is the touristy area.
---
Want to read more about Medellín? Check out this article I wrote for Expedia about going solo in Medellín, or check out my other articles about Colombia.