I've scuba dived more than a hundred times to date, and been to some amazing places, but scuba diving in Komodo was an unparalleled experience. The Maldives will probably always rate as one of my favourites places to scuba dive in, but just 3 dives in Komodo and I am already dreaming of heading back soon to do a live on board where I'll eat, sleep and dive for a week straight at least.
If you are planning a trip to Komodo and you are an avid scuba diver, make sure you take at least a day out to do some dives, I promise you it is worth it.
Why you need to scuba dive in Komodo
Clarity – the water is so, so clear. Well at our first dive site it was a bit murky at first but
Diversity – we hit 3 different spots and they each had such different landscapes so we were never bored
Marine life – really healthy colourful coral and fish everywhere! This is the kind of diving scene that they use to showcase the pixel abilities of new TVs in hardware stores!
Where I Dived
Pink Beach – there are several spots around here, we started quite near the shore and then drifted along. It was depressingly murky at the beginning but cleared up as we descended and drifted along.
Manta Point – the famous Manta cleaning station, but sadly we didn't see any mantas that afternoon (My friend Alyssa did the following day though! At least I did get up close with them in Maldives…). Lots of large, and I mean really quite huge, fish in this area, and the ground was mostly covered with undulating broken white coral bits, so it felt really dramatic swimming along these ridges.
Batu Bolong – with a bit of extra air left, our dive instructor let us check out this spot and it was like jumping into an aquarium! It felt like a zillion orange fish swimming all around us. This is like a pillar of sorts with a tiny island sticking out on the surface right on top. Listen to the instructors as the current is really strong in certain areas!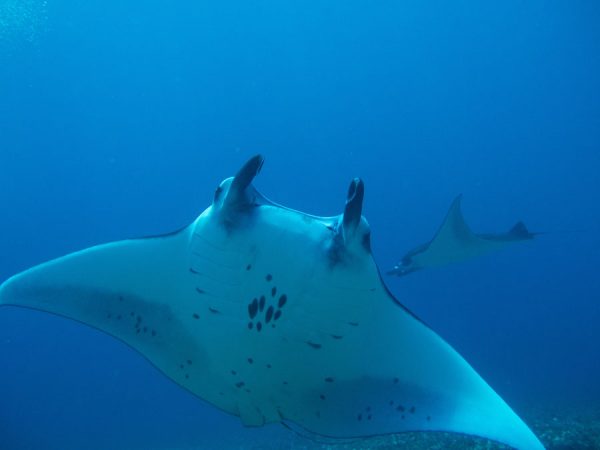 A full day of diving typically encompasses 3 dives to various locations around the area. Some dive centres offer diving and Komodo Dragon visits as a day trip package as well, so you could combine that together if you want to spend more time exploring other places. Check out my other posts for more things to do in Komodo and Flores.
Thanks to Skyscanner who sponsored my trip to Flores and scuba diving. We dived with ORA Dive from Labuan Bajo – check in with them if you are interested in finding out more!