One of the first cities I visited in Spain was Seville way back in 2007, and right away I was entranced by the colourful Southern Spanish culture, from the intricate Moorish-inspired architecture of its old buildings to the staccato beats and fluttery dresses of its flamenco scene. Since then I've visited many other parts of Spain and it took me a whole 15 years to return to this city – the first stop in these COVID times after 2+ years in Singapore and where I celebrated my birthday overseas after a long time! I put together this guide on my solo travel in Seville including what to see, do and eat in this lovely Andalucian city.
You can read a little bit about my Spain pre-trip planning, but this post will detail more about travelling in Seville solo specifically. You can also check out my time in the coastal town Cadiz or historic Cordoba.
How to get to Seville
Check out this post for more details about my trip planning to Spain
For Singaporeans, note that there are no direct flights from Singapore to Seville. The Seville airport (San Pablo Airport SVQ) is actually quite small, so what I did was take a Singapore Airlines flight from Singapore's Changi Airport to Barcelona's El Prat Airport (which transits through Milan), and then transfer to low-cost carrier Vueling's flight from Barcelona to Seville.
SIA was running a promotion on Singapore-Barcelona flights, so I scored tickets for about $1k including checked baggage – this is a pretty decent price for typical Singapore-Europe flight promos pre-pandemic.
Singapore Airlines
SQ378 SIN-MXP-BCN 1130PM – 915AM (+1)
SQ377 BCN-MXP-SIN 1040AM – 750AM (+1)
Cost: S$1,040 (+ check-in luggage 25kg & seat selection)
Vueling
VX2214 SVQ-BCN 225PM – 405PM
VX2215 BCN-SVQ 1210PM – 115PM
Cost: 177 Euro / S$260 (+ check-in luggage, add carry-on bag & seat selection)
Flight or High Speed Rail?
From Barcelona to Seville, you can take the high speed rail between the cities which takes about 6 hours if you take the fastest option with no changes. Considering the hassle of air travel with luggage restrictions and liquids etc, it was something I considered doing because if you book quite a bit in advance (about a month), it looks like you can get 1-way Renfe tickets for something under 90 Euro, which is comparable to what I paid for my plane tickets.
I wanted to go straight to Seville so it didn't make sense for me because you would have to take a bus to the train station to transit (and also the timing of my flight was too late for the fastest train), but if I didn't buy the round ticket flights, I would have considered taking the train back from Cordoba directly to Barcelona instead instead of going back to Seville and then finding my way to the airport to get to Barcelona. Would have saved the hassle of going through customs and squeezing on a packed plane!
If you're booking train tickets, I recommend buying them early online if you've already figured out your itinerary especially for longer distances to get good seats and good prices. The Renfe website is notorious for being a bit not user-friendly about taking foreign credit cards, I decided to just use the Rail Europe instead.
Transport in Seville
Seville Airport to City Centre (Casco Antiguo)
Bus: For solo travellers, the easiest way to get from Seville Airport to the city centre is to take the Airport EA bus line. I took the EA bus line from Seville Airport to the final stop Plaza de Armas which takes about 35 mins, and it stops at a few places along the way including the Santa Justa Train Station.
Buy your ticket from just inside the entrance of the airport – Look for Tussam/Bus signs. A 1-way ticket costs 4 Euro (the round trip 6 Euro ticket is for travel in the same day, so not applicable to most travellers). On the return trip from Santa Justa Train Station, I paid for my ticket on the bus (the bus stop is in front of the main entrance to the train station)
Taxi: Taxis are not that expensive in Seville and probably more worthwhile if you are in a group or carrying a lot of luggage. I didn't take any taxis because I was travelling solo, but if you take a taxi from the airport to city centre, there is a flat rate of about 22-25 Euros depending on the time you arrive. Also, on special holidays rates go up to 30 Euros.
Getting Around Seville
Walk: I walked to most places in Seville – the longest walk I had was between the Bus Station in Plaza de Armas and my hotel in Las Setas, as well as the Santa Justa Train Station (luck would have that it's about equidistant between the two) and that took me about 20 minutes.
Most of the must-see sights are down in Casco Antiguo which is quite walkable, and you'll want to spend time wandering around the narrow alleyways particularly in the Santa Cruz area. Just wear good walking shoes that can handle the cobblestone streets!
Bus: If you plan to go further or see more of the sights up in Macarena/San Julian, consider taking the Tussam buses at 1.40 Euro per ticket, or you could buy a tourist transport pass for 5 euros/1-day or 10 euros/3-days. For info the walk from Macarena to the Cathedral is about 30 minutes.
Bicycle: You can consider renting the red Sevici bicycles around the city. The Short Term plan (7 days) costs 13-14 Euros (pay 1 euro more for the insurance) and you get the first 30 minutes free, after which they charge you 1.03 Euros for the next 30 minutes, and 2.04 Euros for the subsequent hours. You'll also need to put down a deposit of 150 Euros in case of damages, so personally don't think this is a great option for a short trip. Some shops do rent bicycles so you can consider that instead.
Things to do in Seville
Map
Here's a map of all the things listed in this guide that I made on Wanderlog, which is also the trip planning platform I used to manage this trip to Spain.
General Tourist Tips
Buy your tickets online if possible, especially for major attractions: You often need to reserve a time slot for entry which you can do online, and booking your tickets online means you don't have to queue at the door and save a lot of queuing time, so I highly recommend this. You usually don't have to print tickets either, just show the QR/bar code on your phone when you enter the attraction.
Carry earphones: Some of these tours offer free online audio guides or those audio devices to make it easier to hear your guide talking. Carry your own earphones so you can be a little more hands-free and you don't end up figuring what to do with the extra cheap ones that they hand out.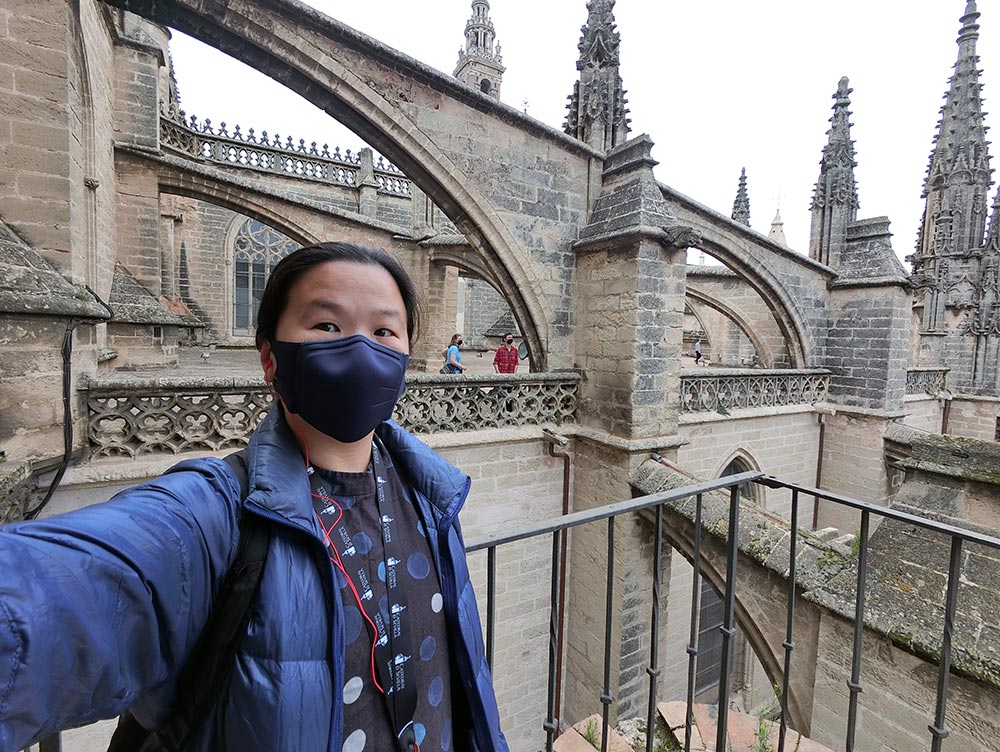 Seville Cathedral + Giralda Tower
One of the main sights in Seville, Seville Cathedral is known as the biggest gothic cathedral in the world and one of the city's UNESCO heritage sites. Like many southern Spanish buildings, it began life as a mosque built during the Moorish rule and was converted into a cathedral when the Christians took over.
The most significant part is the Giralda tower that built a bell tower upon the former minaret which you can climb up – it has ramps instead of steps because the muezzin used to use donkeys to climb up for the prayer calls. Seville Cathedral today is home to many treasures and art by Spanish masters, as well as the tomb that may hold (some of) Christopher Columbus' remains, which is a whole story in itself.
I definitely recommend at least getting the general ticket that gives you entry to the cathedral and the tower, but a guided tour might be useful to give you a good overview to both Seville's history as well as the myriad treasures in the compound. I remember being distinctly awed by the sheer amount of gold and silver you find on display the very first time I visited.
Because I did visit before, this time around I opted to do the Rooftop tour where we climbed up narrow staircases to the rooftop and enjoyed aerial views of the city and a better look at some of the higher up features like the stained glass windows.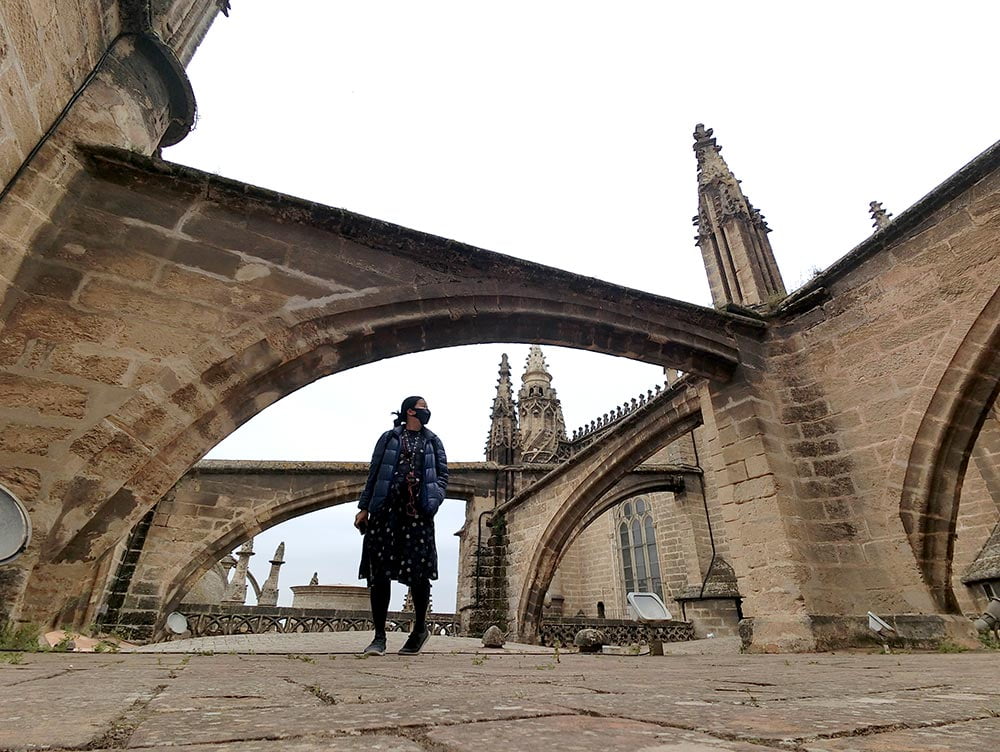 You can pop into the cathedral for free in the mornings only if you are attending service, so you can't be all touristy taking pix during that time or they will chase you out. There is also apparently free entry on Thursday afternoons – check the website to book your slot.
Book your tickets at the Seville Cathedral Website. General tickets cost 11 Euros while the Guided Tour costs 20 Euros. The Rooftop Tour that I did also costs 20 Euros and there are not many English sessions compared to Spanish ones so don't leave your bookings too late, and note that unlike what others have said, it doesn't give you entrance into the cathedral itself after the tour. There is a 1 Euro booking fee for online bookings but trust me, it's worth it not to queue at the door.
Real Alcazar de Sevilla (Seville Royal Palace)
It might surprise you to know that the Real Alcazar of Seville aka the Royal Palace is technically still a functioning palace to date for the Spanish Royals (the oldest functioning palace in Europe!), though I doubt they'd actually want to live in a historic UNESCO site where a zillion people now walk through every day!
You'll be greeted by a real mixed bag of architectural styles here. First built by the Moors, the Mudejar design here features very strongly and there are some absolutely fabulous tile work and ceilings that I spent a lot of time staring at, though the Christians again came along, liked it enough to keep the main features who added to or adjusted the original design when they took over – this is a recurring theme you'll see throughout a lot of the major Andalusian landmarks.
The Real Alcazar is located right next to the Cathedral so usually people do these tours in the same day. I've seen guided tours online that offer you both destinations on the same day. I headed over after visiting the cathedral and opted to just walk around the palace grounds on my own instead of doing a tour, which is better for navigating the crowds but again, you might get more interesting stories on a tour because there's not a lot of reading material on site. It would take you minimally about an hour to see the main palace features, and definitely longer if you want to explore the gardens as well.
If you visit the Alhambra in Granada before seeing the Real Alcazar of Seville you might find the latter less impressive, but it is one of the grander buildings to be found in Seville. I definitely consider this one of the must-sees to see in Seville if you're short on time.
Book your tickets at the Real Alcazar website. Apart from the general tour ticket at 14.50 Euros (also gives you access to the Antiquarium, Bellver Museum, Triana Ceramic Museum and San Jorge Museum), you can also opt to do a tour that gives you access to the Quarto Real Alto (Upper Palace Rooms) for 20 Euros. Free entry on Mondays usually about 1-1.5 hours before closing time (4/430pm in Winter, 6/630pm in summer) where you pay 1 Euro to reserve a spot online.
Archivo General de Indias (General Archive of the Indies)
The third component that makes up Seville's UNESCO World Heritage site is between the Cathedral and the Royal Palace. The Archivo de Indias was originally the consulate for merchants in Seville and later on was turned into an archive documenting everything related tot the discovery of the New World (aka the Americas).
The good news is that it's free to go in and that the building is apparently a great example of Spanish Renaissance architecture. The less good news is that frankly isn't that much to see. Perhaps it was because there was an ongoing exhibition about a shipwreck when I visited so maybe that's why I didn't see to see the rows of files as I had expected (but even those are replicas, apparently the real files are kept somewhere safe). They did have a small corner with replicas of the Document of the Month but again, not particularly wow if you're not a fan of detailed history.
The Archivo General de Indias is free to enter after a security scan, but if you're very short on time I think you can admire the building from outside and skip this without missing out too much. The online archive might be interesting if you are really into Spanish history!
Plaza de España (Spain Square)
To me, Plaza España is basically Naboo in Star Wars, but this lovely grand building complex is actually a part of the Parque de Maria Luisa and was built for the 1929 Ibero-American Expo by a Sevillian architect. It's one of those places that is surprisingly expansive, 50,000 sqm in total area and stretching 170m across the diameter of this semi-circle. The buildings were restored in 2010 and currently house government institution offices today.
I didn't spend too much time here as I had visited previously, but the architecture is really quite lovely and grand – lots of Renaissance style architecture as well as lovely tile work. Of note is the 500m+ canal in the centre which has 4 bridges (representing the 4 ancient kingdoms of Spain across it) – you can rent a boat and take a paddle though there really isn't very far to go in my opinion. The plaza was quite lively, with a busking flamenco performance happening while I was there as well as a small fashion shoot along with all the tourists.
The other feature are the 48 tiled alcoves all along the curve of the buildings, 1 for each province of Spain with a representative tableau and map showing you the location. It's also arranged alphabetically so it's fun to see the different tableaus and count how many regions you have visited. There are technically 50 provinces in total (I've been to 11!), but Seville itself is not included, and the Canary Islands had 1 province when this was built compared to 2 now (info: Mapping Spain)
The Plaza de España is free to visit and a 20-min walk away from the Cathedral area. If I had a bit more time, I'd pop up to the 2nd level balcony to take in the view of the Plaza de España from higher up, or head to Parque de Maria Luisa which is really quite large right next door just to chill out for a bit. The Southern end of the park is where you can find the less well-known Plaza de America and some other lovely pavilions built for the same world fair as the Plaza de España, now home to the Archaeological Museum and Museum of Arts and Popular Customs of Seville.
Las Setas de Seville (The Mushrooms of Seville)
Las Setas / Metropol Parasol is a pretty cool modern wooden art sculpture with 6 wooden parasol or mushroom shapes built by a German architect in 2011. Located at Plaza de Encarnacion, the hotel I stayed in (more on that below) was right across from it so while I can't say whether it's worth paying to go up because I spent a lot of time staring at it from my balcony (sunset is apparently a popular time), it is a pretty cool sight and a break from the old style architecture you probably have seen so far.
Interesting fact: The official name Metropol Parasol was apparently trademarks by the architect and he wanted to charge the city to use that name, so they ended up going with Las Setas which was what the local people had nicknamed it anyway.
You're free to wander around the main plaza of Las Setas de Seville, but if you want to climb up to the top, it costs 10 Euros for a general day ticket, 12 Euros for a sunset ticket and 15 Euros if you go up at night when it's all lit up. You can get food from the Mercado de la Encarnacion on the ground floor or visit the Antiquarium (free entry with your Real Alcazar ticket) and see remains of the ancient Roman, and Visigoth civilisations in Seville.
Triana
Triana is the former gypsy/Jewish quarter of Seville and just across the Guadalquivir River from the area where the Cathedral/Palace are located. It's become one of the hipper neighbourhoods to check out and apparently one of the more authentic flamenco places as well (disclaimer that I didn't watch my show here). I mostly explored Triana on a free walking tour that I took, but while I found that tour informative I thought it was pretty dull so I wouldn't recommend it personally, but I'll just point out a few things to look out for if you stroll around on your own.
The waterfront stretch of Calle Betis between Triana Bridge and San Telmo bridge is quite a picturesque stroll with many colourful houses. Lots of eateries and bars here as well so it makes for a nice place to chill out as you get a great view of the
Calle Pureza is the street right behind Calle Betis that runs parallel to it. also quite happening and where you can see the small but beautiful Santa Ana Church.
There is a pedestrianised and more touristy stretch with al fresco dining and shops along Calle San Jacinto. Or head to Mercado de Triana right next to the Triana Bridge to get some fresh food, though there are some tapas and eateries towards the western end of the market.
Seville's architecture is famous for its ceramics similar to that of Portugal's Azulejos, and apparently most of the workshops and factories used to be found in Triana, so it is recommended as the place to get authentic ceramic pieces. I did got into the Centro Ceramica Triana (A museum you can enter free if you have a Real Alcazar ticket), but it's pretty small and consists of ruins of the old kilns and some exhibitions. The ceramic shops around here are worth checking out if you need souvenirs, and I feel that prices are cheaper here compared to the tourist shops on the downtown Seville side.
Other things to do in Seville
I spent 3 nights in Seville and it still seems like I have a lot more left to do! I think 2-3 days is enough to see the 'main sights' but having extra days will give you some room to walk around the city more. Here are some other things you can consider.
There's this thing about cloistered nuns selling sweets through the doorways in Spain. if you wanna check that out here, my tapas guide said the nuns at Monasterio de Santa Paula have the best stuff, though it might be a little more out the way in the San Julian neighbourhood towards the north. You know their sweets are good because they even have an online web store selling their jams and nougat! Check out more pix at the World Monument Fund website.
Another slightly out of the main centre area thing to check out is Basilica de la Macarena – if that made you think of that earworm Macarena song, the duo Los del Rio were originally from Seville! According to my tapas tour guide, people like to record themselves dancing to the song in this neighbourhood, and the churros con chocolate in the street cart in that square is also supposed to be awesome
The bullring building La Maestranza is pretty cool looking and you can go watch a bullfight (Season usually around April to October) or just see the building itself as it is historical. I've seen bullfights before and think they are a bit gory so decided to skip this.
If you really like fancy southern Spanish architecture, Casa de Pilatos is a small 16th century civil palace that is also very pretty with Renaissance and Mudejar architecture and has an extensive azulejos tile collection. I skipped it on this trip because I saw it last time but I remember it being quite pretty. Another palace you can consider is the Palacio de las Duenas which I haven't seen, though both these options are a little bit further North from the Cathedral area. I'd recommend doing these on separate days from the Real Alcazar so you don't start feeling like it all blends together.
There are free walking tours around Seville and they are usually a quick easy way to learn about the city's main sights and history quite quickly. Mine with New Europe Tours that I thought was interesting because it covered Triana along with overall Seville, but I think it would be much better if it just focused on either route to be better.
Flamenco in Seville: Centro Cultural Flamenco
I watched a flamenco show at Centro Cultural Flamenco aka Casa de la Memoria. It was quite convenient to book online and also the location was near my hotel at Las Setas.
The venue is a small room with just 2 rows of seats around the stage which are first come first serve so don't be late if you don't wanna sit at the side like I did, but even so it's such a small room you still get a decent view.
Overall it was a lovely performance with the Flamenco guitarist, singers and dancers – you honestly don't need to understand the words to appreciate the rhythm and dance. Both the singer and guitarist were men, as was one of the dancers who performed with a cane. The lady dancer was of course decked out in a fabulous dress. They let you film just the last act for socials – you can see what the performance was like on my IG stories Highlight for Seville.
There are other flamenco options around Seville where you can have a guide to tell you more about the history or have dinner with your show to add to your experience.
Book your flamenco tickets at Casa de la Memoria's website. My ticket cost 22 Euros and there are usually show times at 6pm and 730pm (There may be later show times during summer months, check the schedule). Each show usually lasts an hour and you have free cancellation until 24 hours before the show.
Tapas in Seville
If it seems that I didn't see that many sights, it's probably because I spent the rest of that time eating tapas. This section consolidates some of the restaurants and eateries I enjoyed as well as some tips on Spanish eating habits.
Spanish mealtimes
You should know that Spanish people eat lunch and dinner very late. Surprisingly even in the touristy areas, Seville doesn't really cater to tourist timing a lot (compared to Barcelona where there were way more tourist-time options for food), so generally you're going to get lunch at about 2pm and dinner from 8pm at earliest. I usually pop in to a place about 10-15 mins before this timing to get a seat before it gets crowded. If you miss breakfast at around 8-11am, a lot of places only have drinks and no food in that in between time.
When you order tapas, you normally will be offered a basket of bread or a packet of plain biscuits/breadsticks (picos) to go with your tapas. Sometimes this is free, but sometimes they charge 1-2 Euro for this so just take note and reject it if you don't want to pay for it.
On the menu you will often see multiple prices – tapas is usually for 1 person and quite small, 1/2 Raciones is a half portion and the full portion is usually for a group. For tapas sized stuff I can generally eat about 3 menu items, and 2 for 1/2 raciones, but it also depends on what the food is.
Tapas is meant to be savoured slowly, so when you enter a bar, generally you find an empty corner/table/bar counter to pull up at, and then order a drink to get started. You don't usually order all your tapas at once, but dish by dish along the way.
Devour Tours: Seville Tapas, Taverns & History Review
The very first thing I did when I reached Seville in the late afternoon was embark on a Seville Tapas, Taverns & History Tour with Devour Tours [affiliate links*]. At US$99, it was definitely pricier than a lot of other tours but it was a birthday treat to myself and I highly recommend doing tours like this right at the beginning of your trip so you know what to look out for during the rest of your stay in Seville.
*A note that while this is an affiliate link, I found this tour and paid for it on my own accord, it's not sponsored.
There were 7 other people on my tour all from the US, and our guide was a local Spanish guy named Mario who was really ince and gave us lots of great info about Seville, but also because he was born in Cordoba, gave me a pretty good list of things to see there as well. We visited 4 places in total on this tour – 3 tapas bars and 1 sit-down restaurant at the end, and along the way he talked about the history of Seville and showed us some of the sights as well, so there was a bit of a walking tour element built in.
Generally we had at least 1 drink and 2 tapas in each tapas bar, and at the end there were 4 dishes and 2 drinks. Considering I was pretty jet-lagged having been awake for >24 hours at that point, I was pretty dazed by the end haha so I'm sorry if I misremember any details. I also made some friends on the tour that I ended up meeting in the later part of my trip too.
You could also consider Azahar Sevilla for private tapas tours (I was solo and she doesn't do group tours) and she has some great Seville restaurant recommendations listed on her website regardless – I found out about Las Golondrinas from her site.
Seville tapas recommendations
This list consolidates some of the tapas bars that I visited in Seville as well as those places that were on the tapas tour. If you do the tour, you might not end up in the same places, but I did enjoy all the locations and recommend you check them out too.
If you are in the Cathedral area, you'll probably find a lot of food options along Calle Mateos Gago. I ended up eating at a number of spots around here but it does get crowded at mealtimes.
Taberna Alvaro Peregil
Taberna Alvaro Peregil along this stretch was one of the stops on our tapas tour. It's a cute family-run bar that has been around for a long time and named for the son of the man who owned this bar Jose Perez Blanco aka Pepe Peregil, a famous flamenco singer in Seville. Most people sit outside to enjoy al fresco, but the interior is quite cute and traditional too. The Vino de Naranja (Orange wine) is one of their specialty drinks to try (like a sweet port), and we washed it down with some chicharrones and cheese. [Taberna Alvaro Peregil location on Google Maps]
Taberna Belmonte
Further up the road is Taberna Belmonte, a winery named for a famous Sevillian bullfighter. They do serve tapas here but I popped in for breakfast – a typical Seville breakfast involves open faced toast with jamon (ham) and drizzled with olive oil. I washed that down with some yummy ColaCao. [Taberna Belmonte location on Google Maps]
Los Claveles
Another of the tapas tours destinations, we tried the vermouth in this family-run bar close to Las Setas – vermouth is a fortified wine that's quite sweet similar to port, and traditionally an old-man drink in Spain, has seen a revival and become the hipster alcohol of choice. Different places have their own recipe, and our guide recommended this one. Here we also ate two tapas – Pimientos Rellenos (peppers soaked in olive oil) and this amazing Carne Mechada, which is basically pork slathered in lard on a piece of toast. Kinda oily but super yummy. It's also right next to El Rinconcillo which is the oldest bar in Seville and quite popular with tourists too. [Los Claveles location on Google Maps]
Casa Morales
Casa Morales was another tour stop close to the cathedral but this place is apparently super popular even with the locals – our guide made sure we were there early, and literally minutes within opening all the interior seats were taken up! Dating back to 1850, this bar has a really great atmosphere with these old wine barrels around the room and jamon hanging at the bar and some great food. We had a pretty traditional Manzanilla, a very dry sherry typical to this region, some bomb Jamon Iberico Bellota (that's the highest grade of Jamon Iberico) and this tapas of bacalao (cod?) topped with a dash of salmorejo (cold tomato soup) [Casa Morales location on Google Maps]
Las Teresas
On the last night of the trip, I met up with some friends I made on the tapas tour and we walked around the Santa Cruz area and decided to checked out Las Teresas as it looked pretty traditional and quite happening. Founded in 1870, we sat in the annex area across the main bar area and had quite a lot of food. Some of my favourites for the night would be the Cazon en Adobo – fried dogfish that has some amazing flavour when you bite into it and the Solomillo al Whisky (Pork Loin). [Las Teresas location on Google Maps]
Las Golondrinas
While wandering around Triana, I was searching for some options to eat and headed to Las Golondrinas, which is a cute little tapas restaurant – this is the more traditional one as they have another outlet a short distance away. I was a little tired so I headed upstairs to sit down – lots of lovely painted tiled typical of Triana here! The Punta solomillo pork loin was delightfully salty and the mushrooms were so easy to pop into your mouth. [Las Golondrinas (Antillano Campos) location on Google Maps]
Where to stay in Seville
Seville was where I could celebrate my birthday, and because of COVID measures I was looking to have my own private room and bathroom, so I was prepared to splurge a bit more than usual. I picked the Welldone Metropol [affliate link], a boutique hotel which is right next to Las Setas and Plaza de Encarnacion.
Location: The hotel is about 10 minutes walk from the main monuments area (aka where the cathedral is) and on the northern end of El Centro's main shopping streets. It's equidistant from the Bus Station at Plaza de Armas and Santa Justa Train Station, about 20 minutes walk to both these transport hubs. It's pretty ok walking this distance normally but can be a bit arduous with a heavy backpack! If you plan to see more of the attractions towards Macarena/San Julian in the North, this is actually not a bad option.
Given that Plaza Encarnacion is a main square, expect some street/crowd noise during the day and evenings, which is something that comes up in the reviews a lot. The sound proofing of the windows is pretty decent so you do block a lot of it out with the windows closed. Maybe it wasn't peak season when I visited, but I didn't really mind the noise, and it definitely quieted down towards sleep time so that was fine.
Room: I had the penthouse suite (Atico) which is on the 2nd floor (3rd floor if you're Singaporean and consider the ground level 1), but there's a lift so that makes things quite convenient. The room is a mini studio apartment, with a large bed, small kitchenette, attached toilet and 2 small balconies overlooking the square.
What I really enjoyed about this particular room is that it had a private rooftop patio with a perfect view of Las Setas 24/7. This private patio is accessed just outside the room through a door leading up a narrow spiral staircase to the rooftop (all the doors are accessed by a number code). There is an outdoor shower there (it was too cold to shower in March, and honestly way too open to get naked, so maybe if you wanted to cool off after sunbathing on a hot summer day but not a real shower spot) and two chairs + deckchairs, so it was perfect for late afternoon drinks and chilling.
Service: I actually never saw any hotel staff because the reception is manned remotely. The staff communicated with me via whatsapp before the trip to fill up the check-in forms and gave me the hotel/room access pin codes before arrival so I could let myself in. They left me a form that I physically signed and left for the cleaning crew to pick up. Overall though they were still attentive – I could shoot them questions about my water heater acting up or ask for recommendations on places to eat nearby and they generally would respond via Whatsapp quite quickly.
Also, they gave me a complimentary bottle of champagne on my birthday, so kudos to that. It looks like they've added a small soaking pool up that which would make hanging out there in the summer even more awesome.
Other accommodation options
Most of Seville's major tourist attractions are located in the city centre aka Casco Antiguo, so I think if you stay anywhere in El Centro or Barrio Santa Cruz near the cathedral, you should able to walk to most things quite easily. Triana is an option if you don't mind a bit of a walk.
This particular hotel was definitely more expensive than what I'd typically spend on accommodation, but I splurged a bit more for my birthday and also I really wanted a private room/toilet because of COVID concerns. Some other accommodation options I was considering:
---
Did I miss out anything cool in Seville? Let me know in the comments!
Stay tuned for more posts about my trip to Southern Spain – I also visited Cadiz and Cordoba on this trip. In the meantime, check out some of my other Spain posts: