Back in 2013 before my trip up to Dublin, I was very lucky to be approached by the PR folks from Microsoft to give one of their tablets – the Surface RT – a test-run on my trips. I ended up carrying the Surface RT with me through Dublin, Prague and my dive trip to the Maldives as well.
Computers on my travels
Now I'm a pretty big Apple user since my days in university where I used a lot of design software – after years of clunky PCs, using a Mac was a breath of well-designed and pretty fresh air. The graphics and functionality really appealed to me, and I've switched over to a Macbook Pro and an iPhone from my dad's old Compaq laptop and my Nokia phones for my personal stuff, although I still use Windows (XP, my bane) and PCs on a daily basis in the office.
I like being connected while I'm away, just a little bit – my computer usage tends to be only when I'm in my room at the end of the day, or on long commutes. It largely revolves around checking my mail and social media accounts, research on places to go the next day, though quite occasionally it also entails some writing or updating of my blog. I don't like to use public computers, and I used to bring my Macbook along, but sometimes made do without on very short trips.
So I was curious to see how the Surface RT with Windows 8 software would be for travelling – I'm far from being your Apple evangelist and snob, but man, I have had some frustrating times with Windows XP in the office. But my Mac isn't without its flaws, the Macbook Pro is pretty hefty and can get heavy after long periods of carrying it around. Also, I cannot figure out iTunes and syncing for the life of me and live in fear of accidentally deleting everything on my phone one day.
Microsoft Surface RT with Windows 8
The Windows tablets come in two forms – the Surface RT and the Surface Pro. I'm not going to go into the tecchy aspects of it, check out this GizMag post for a detailed comparison between the two, but let's just say that the RT is more of a tablet while the Pro has more bells and whistles and could possibly replace your laptop.
They loaned me two keyboard options which can be magnetically attached to the long side of the tablet, transforming it into a mini laptop – one was the bright blue touch pad keyboard, and the other a more conventional keyboard type with proper keys. I opted to go with the touch pad one for travelling as it was lighter and thinner. Also, the blue is so pretty (it comes in other bright colours, not just blue)!
This was also my first introduction to Windows 8, and wow, it does not look anything like the Windows of old, nor the XP of my workplace. It's all colourful and jazzed up now, with everything in neat little blocks for apps. You still had the option to use the traditional Windows desktop, so there's some familiarity there at least, if not you'll need some time to get familiar with all the new symbols and names for Windows apps.
Is the Surface RT good for travel?
The smaller size of the Surface RT is definitely much lighter and more convenient to stow than my laptop. It adds less weight to your hand-carry luggage and is easier to fish out of your bag for security checks. It's also a pretty good size for the small aircraft fold-down tables – open the stand on the table or curl up and cradle it in your lap. I kept myself entertained in the trains to Bansha and on the flights when in-flight movie selection was lousy. I've always found my Macbook a little bulky and cumbersome when it came to these things, so half the time I didn't bother taking it out.
The fact that the Surface RT is touchscreen is another pro in its favour – it can be much easier than using a trackpad or a mouse. Also, I like the touch keyboard cum cover that keeps it light and protects the screen at the same time, but getting used to the feeling of the touchpad takes a bit of time, and in the dark it is nigh impossible to type because it's not lit – I had to resort to the screen keyboard instead. A full sized keyboard is always most comfortable, but as long as you're not typing long prose, this keyboard was sufficient.
A major thing I like is the USB port so you can just plug and play; one big problem I have with the iPad is that it doesn't come with a built-in USB port and that file transference is just so much harder. This was an easy way to load all my movies, especially at the end of the day in Maldives where I would save all my dive footage from the Sony Action Cam straight onto the Surface RT and review it with my friends – much easier to view on a boat than on a laptop for sure. I wish there was a card reader slot though, would have made it much more camera friendly.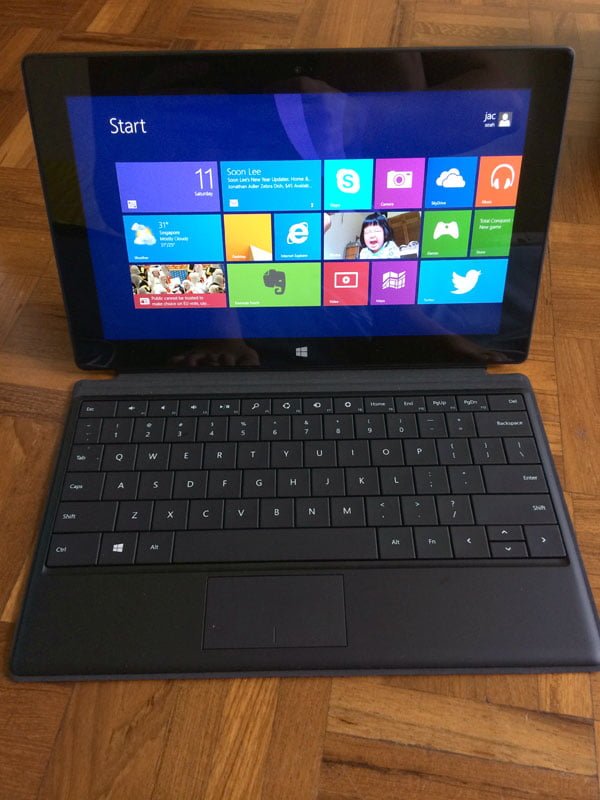 Windows 8's tiles are also pretty amazing – you can shift them around and resize them, and sometimes you don't even have to open the app to be able to see the content, like for the weather, or who tweeted me. Having built-in Office suite is also pretty useful, especially for those who might need to access do a little bit of remote office work. The Windows store also has a bunch of travel-related apps which are free in the Windows app store that would be helpful for travellers.
FINAL THOUGHTS
It was a really interesting review – the Surface RT really helped me get quite a lot done on my trips and was instrumental in me getting more writing and reading done than I usually do. While I still love my Macbook and iPhone, I think for a travel-friendly tablet I'm definitely swaying towards PC and will consider the Surface RT.
Check out the Surface RT in the Microsoft online store here. The 32GB normally retails at S$488, while the 64GB version retails at S$618, though they're having a special now at $428 and $518 respectively.
Thanks to the PR folk and Microsoft for loan of the Surface RT for review.