Last Updated:
One of the things I like to bring along on my travels is a good pair of earphones – besides using them to listen to music on long transits, I often use my earphones as earplugs to shut out travel noise, whether it's screaming toddlers on the plane or excessively chatty seat neighbours. In recent years I've been using earphones by Sudio, and I've road-tested the headphone jack-free Sudio Vasa Blå and Sudio Tre on my travels, as well as their truly wireless Sudio Fem, Sudio Nivå and Sudio Tolv, and thought I'd share with you my review of these Sudio earphones.
Also awesome? I have a 15% Sudio discount code if you are interested in buying Sudio earphones for yourself – scroll down to the bottom of the post because you know you have to work for it. Note that the earphones were all sponsored by Sudio, but this review is all me, my personal, layman, non-audio expert opinion.
---
What I'm looking for in earphones
I don't claim to be an audiophile or an expert in earphones, but to give you some context as to what I'm looking for in earphones overall:
Convenience: I prefer earphones to headphones mostly because I want something light and portable that's easy to throw into a bag and carry around. I also like earphones because they are more discreet (I can hide them under my hair) and they don't flatten your hair like headphones do.
Comfort: I'm honestly not super fussed about actual sound quality technicalities, but it matters to me whether the earphones are comfortable to wear, that they don't keep falling out of my ear and how well they block out sound around me. I put my earphones on to escape into my own space, so I want earphones that are good at keeping sound out but are still comfortable to wear.
I've taken to wearing earphones on noisy planes and trains to block out the background engine roars – you don't realise how loud and grating the sounds are until you block them out. I also prefer wearing earphones to earplugs because you have the option of playing music with earphones.
My earphone requirements are probably not the most conventional, but I just wanted to give some context as to how I'm reviewing these earphones. Before this, I mostly used the Apple headphones that came with the iPhone just because they were there and I didn't have to go out and try and pick a pair, the sheer selection available in the market is a bit overwhelming for me.
---
Wireless earphones
My first pair of what Sudio calls their 'truly wireless' earphones with earbuds only was the Sudio Nivå (no longer in production) which I got to test in 2018. Sure enough, these earphones are just two fancy earbuds without any wires in sight, quite a far cry from the jack-free Vasa Blå and Tre which I will talk a bit more about below. Since then, I've tried the Sudio Tolv and the latest one that I'm using is the Sudio Fem.
---
Sudio Tolv
Sudio Tolv is the upgraded version of the Nivå with improvements in the case, connection and battery life. I had it in white at first, but received the green one later. One key upgrade is that the Tolv connects automatically when you remove it from the case, as compared to the Nivå which you had to manually connect.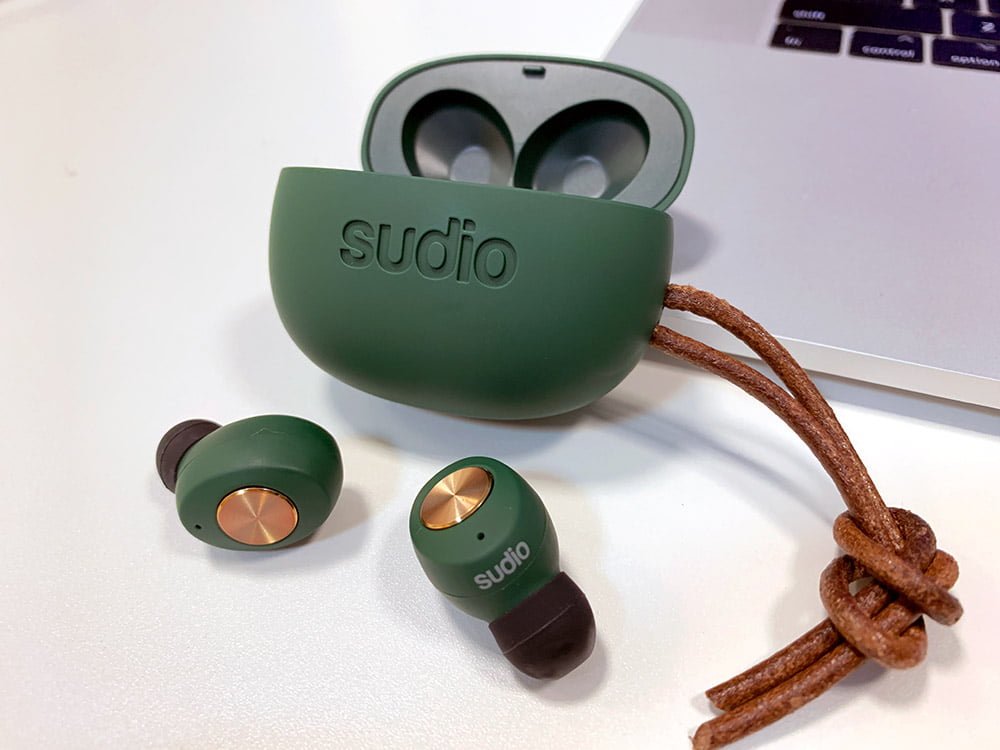 I love that the case of the Tolv is much smaller than the Nivå – it's so much more compact and takes up less room than before. You do have to carry the case around with you to charge the earbuds and make sure you don't lose them when you aren't using them. I did leave my Nivå at home several times when I was trying to travel as light as possible, so I'm happy that the Tolv's case is so much more compact.
More than cosmetic differences, the Tolv also has improved playtime at 7 hours at a go and 4 additional charges from the case, which means you could technically go for about 35 hours without having to plug the case in. That's the most long-lasting out of all the earphones in the Sudio shop and double the playtime of the Nivå where you only had 3.5 hours at a go – I've had to recharge my earphones periodically through long flights when I was binge-watching shows on my phone so I'm glad that I probably won't have to do that as often now.
The Bluetooth range is also a little longer – 15m compared to 10m in the Nivå.
Retail Price: Sudio Tolv retails at S$189, comes in black, white, dark grey, dark green, pastel blue and pink.
---
Sudio Fem
The latest earphones I'm using now is the Sudio Fem, and I know some people were having issues with the fit of the Sudio Tolv – I think this latest version will solve that because it's even more comfortable to wear than the Tolv.
Physically the changes are quite distinct – the earbud is larger and the shape is rounder, which I find fits the ear more of a sound-sealing effect. It feels like it blocks out sound better, which is also probably due to the 4 noise-cancelling microphones in the Fem. It also has a protruding silver microphone bit which is supposed to pick up your voice better if you're answering calls, though I haven't tried that for myself.
The buttons on the earphones are different as well – the Nivå and Tolv's buttons are more tactile while the ones on the Fem are touch buttons. You can press once to pause/start songs, twice to change songs, and thrice for volume. Personally I prefer the tactile buttons because I'm not great at doing touch buttons and sometimes end up changing songs when I'm trying to change the volume or just removing the earphones from my ears.
What I definitely like are the light indicators on the Fem case which are a lot more intuitive than the Tolv ones. The lights are inside the Fem case which is less distracting, and there are 4 lights which indicate remaining battery power (25%, 50%, 75% and 100%). It's a lot less confusing than the Tolv's where you had to know what it meant when they blinked a certain number of times or flashed red instead of white.
The Fem earphones have an IPX5 rating which technically means it's supposed to be quite waterproof and able to withstand sweaty exercise or even if someone pours a bucket of water on your head. Note that the rating applies just to the earphones, not the case. This is also the first Sudio earphones that has a USB-C charging port instead of a Micro-USB which is what all the others use.
Retail Price: Sudio Fem retails at S$219, comes in black, white, pink and classic blue.
---
Sudio Nivå [no longer available]
The Sudio Nivå earphones look a bit bulky at first glance but sit surprisingly comfortably in my ear – you twist them so they sit sort of horizontally, and they really seal out sound from entering your ear. Connecting them via Bluetooth is quite simple – just hold down the button on the earbud. Despite there not being a 3-button control panel like the other earphones, you can still control the play/pause and switch to taking calls all from the one button on the right earphone.
When you're done, you pop the earphones back into the case, and the case automatically switches the earphones off for you, and provides up to 3-4 charges on the go so that 3.5 hours of playtime is extended to almost 17 hours, more than double the other two earphones which hold 8-9 hours at a go.
What would really be cool is if you could actually use the case as a portable battery to charge other devices – that would make it super useful, but for now it can only charge the Nivå earphones. There isn't any other way to charge the earphones though, so you are stuck toting around the case which makes it less compact for longer trips.
I like how well they block out sound, and while I'm no expert, even I can tell you that the sound from the Nivå is pretty bassy compared to the other two earphones, great if you like that sorta sound and makes watching dramatic movies even more adrenaline-pumping. I had them in for a few hours watching movies on my laptop, and they were pretty comfortable even if I felt that I needed to air my ears a little after all that.
Sudio Nivå is no longer available in the Sudio store
---
Jack-free wireless earphones
Sudio Vasa Blå
The Vasa Blå was my first pair of wireless earphones from Sudio. Like the Tolv and Nivå, it connects via Bluetooth and is pretty easy to pair with your phone or any Bluetooth device.
The wires are flat which definitely does help prevent tangling as compared to my conventional wired iphone earphones. I have actually slept in these earphones a few times while in hostels to block out snoring when I couldn't find my actual foam earplugs.
What I do like about the connecting wire is that it lets you sling the earphones around your neck – there is a clip you can use to secure it to your collar or hair so I can keep them on me without worrying about them falling out somewhere. I'm always quite scared about losing the earbuds of the wireless versions, I'm always worried about how to locate a earbud if it drops out while I'm sleeping in a public place.
I thought the sound quality of the Vasa Blå was pretty good – I'm honestly not enough of an audiophile to wax lyrical about the aspects of the sound quality, but I've had cheapo earphones with iffy sound quality and you can tell this is a quality product.
The battery life was decent, though my problem was that sometimes the battery would drain out if I hadn't touched the earphones for a long time, and I couldn't use them until I recharged them, which is a bit annoying on the go but it's easy to recharge the earphones with a portable charger.
Another thing about these sort of earphones is that you can't use them on the plane unless you have an adapter (which I don't) – so I was still stuck watching plane movies with cheap-ass headphones and getting tangled in wires every time I wanted to go to the bathroom.
Retail Price: Sudio Vasa Blå retails at S$129, comes in black, white, classic blue, pastel blue or pink.
---
Sudio Tre
The other pair of earphones that Sudio sent me were the Sudio Tre, a more sporty version of the Vasa Blå meant for fitness buffs as the wingtip shape of the earpiece is meant to hold the earphones more securely in your ear, and it's also sweat and water resistant for exercise.
The sound quality I had no issues with, it was more the sound blocking that I had issues with. I'll be quite honest – maybe because I'm not the sort who listens to music on earphones while working out, but I didn't like this as much as the Vasa Blå. The wingtip does feel more secure in the ear, but my main issue is that the Tre is specifically designed to NOT block out sound completely for safety reasons, so you can still hear traffic noises while jogging for example. Great for safety, but that's not quite what I want with my earphones – I don't want to hear the loudmouth seat neighbour when I put my earphones in!
The earphones all come with a mic and the ability to take calls, though I haven't tested that function as yet because I usually use them when overseas. The Tre is slightly longer than the Vasa Blå and I think the design is a tad more classy – the metal button interface gives is a more polished look, and that midnight blue is perhaps chicer than the fun cobalt blue of the Vasa Blå. The Tre is nice enough if you are an active person I guess, just that it's not for me.
Sudio has since upgraded the Tre to the newer Sudio Tretton with a modified earpiece wingtip shape.
Retail Price: Sudio Tretton retails at S$149, comes in black, white, classic blue or pink.
---
Some final thoughts
Overall, I think Sudio earphones are pretty good looking and the sound quality is good enough for me.
I do like the fit of the new Fem earphones and that the earphones seem more hardy with waterproofing, but the Tolv is also a great option with long battery life, perfect for long flights. The Vasa Blå and Tretton are also great options if you are a bit paranoid about losing your earbuds or you just don't want to carry a case around with you – it really depends on your preference.
Discount Code
And of course my loyal readers, use this Sudio discount code to get 15% off all purchases from the Sudio store. Type in THEOCCASIONALTRAVELLERFEM when you check out to get 15% off your Sudio purchases. For Chinese New Year promotion, get a special edition CNY gift packaging and a small crossbody pouch (fits your earphone case), and if you buy any 2 earphones you can get 25% off (15% from code + additional 10%) [valid till 14 Feb 2020]
Anyone out there who uses Sudio earphones as well? Share with me your experience, or tell me what you're looking for in earphones when you travel.
The earphones in this review were sponsored by Sudio, but the review is all my own.