Last Updated on 4 March, 2022
One of the things I like to bring along on my travels is a good pair of earphones – besides using them to listen to music on long transits, I often use my earphones as earplugs to shut out travel noise, whether it's screaming toddlers on the plane or excessively chatty seat neighbours. In recent years I've been using earphones by Sudio and I've road-tested the various models on my travels: I started with the headphone jack-free Sudio Vasa Blå and Sudio Tre before moving on to the truly wireless earphones Sudio Nivå, Sudio Tolv, Sudio Fem, Sudio Ett, Sudio Elva, Sudio Nio, Sudio T2 and most recently the Sudio E2, and thought I'd share with you my review of these Sudio earphones.
Latest review Mar 2022: Sudio E2
Also awesome? I have a 15% Sudio discount code if you are interested in buying Sudio earphones for yourself – scroll down to the bottom of the post because you know you have to work for it. Note that the earphones were all sponsored by Sudio, but this review is all me, my personal, layman, non-audio expert opinion.
My Sudio earphones collection to date:
---
What I'm looking for in earphones
I don't claim to be any sort of audiophile or an expert in earphones or sound quality. I generally use my earphones to listen to music or TV shows when I'm travelling or in the workplace. What I'm looking for in earphones overall:
Convenience: I prefer earphones to headphones mostly because I want something light and portable that's easy to throw into a bag and carry around. I also like earphones because they are more discreet (I can hide them under my hair) and they don't flatten your hair like headphones do.
Comfort: I'm honestly not super fussed about actual sound quality technicalities, but it matters to me whether the earphones are comfortable to wear, that they don't keep falling out of my ear and how well they block out sound around me. I put my earphones on to escape into my own space, so I want earphones that are good at keeping sound out but are still comfortable to wear.
I've taken to wearing earphones on noisy planes and trains to block out the background engine roars – you don't realise how loud and grating the sounds are until you block them out. I also prefer wearing earphones to earplugs because you have the option of playing music with earphones.
My earphone requirements are probably not the most conventional, but I just wanted to give some context as to how I'm reviewing these earphones. Before this, I mostly used the Apple headphones that came with the iPhone just because they were there and I didn't have to go out and try and pick a pair, the sheer selection available in the market is a bit overwhelming for me.
---
Sudio wireless earphones
My first pair of what Sudio calls their 'truly wireless' earphones with earbuds only was the Sudio Nivå (no longer in production) which I got to test in 2018. Sure enough, these earphones are just two fancy earbuds without any wires in sight, quite a far cry from the jack-free Vasa Blå and Tre which I will talk a bit more about below. Since then, I've tried the Sudio Tolv in 2019, Sudio Fem and Sudio Ett in 2020, Sudio Nio and Sudio T2 in 2021 and the latest Sudio E2 in 2022.
Sudio E2
Sudio works on continuously upgrading their earphones, and in 2022 they released the Sudio E2 which is supposed to offer the most immersive sound experience with spatial aware sound, active noise cancelling and better voice pick up and filtering.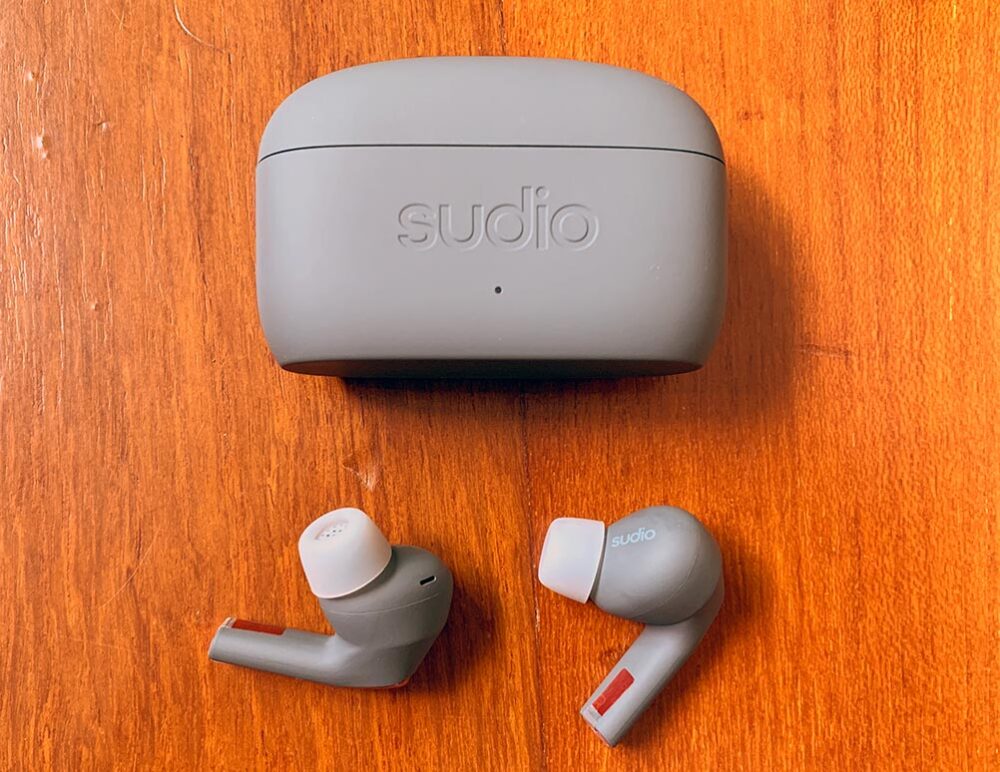 Physical look
Colours: The Sudio E2 comes in black and the beige-y sand colour. I did consider the pastel light green Jade but since I have the T2 in that colour already, I opted for the electric grey, which is a nice mid grey and I like the rose gold hardware accents.
Case: The Sudio E2 case has a rounded top but a nice flat square bottom so it can actually stand on its own quite stably, which is a bit of a departure from most of the other Sudio cases which tend to be rounded everywhere. I like this because you don't have to worry about your earphones falling out of the case when places on the side if you leave the top open, and also it's less likely to have charging contact point issues too.
Earbuds: The Sudio E2 buds are more similar to the earlier Sudio Nio earphones (the airpod looking ones) than the last Sudio T2 which were fatter. The Sudio E2 buds are shaped to fit well into the ear, allowing for a better seal compared to the Nio.
The metallic buttons on the earpiece are fairly sensitive – easy enough to toggle but also brushing your hand a little too hard across your earphones can toggle it too. I tend to prefer more raised tactile buttons personally.
How it sounds
The main selling point of the Sudio E2 are the many different listening options you can toggle. You basically hold your finger on the earphone button for 2 seconds, but you do need to remember which earphone toggles what. There are voice commands so you know whether you toggled the right things though, which is helpful.
Left: "Spatial on" is a mode that lets you better hear spatially a more 3D sound scape thanks to Dirac Virtuo. I tested it on a couple of youtube videos and while you can hear the change in direction of the sound when it switches from left to right and vice versa, the spatial mode also allows for volume adjustments so how loud/soft the sound is can affect the sense of distance/depth as well.
Right: "Noise Cancelling" is toggling the Active Noise Cancelling (ANC) mode while "Transparency" just basically means noise cancelling is off and you should be able to hear your surroundings better. I haven't really had a super noisy environment to test this in so far, but the Sudio E2 has 6 mics compared with most of the other Sudio range which only have 4 mics, and that's suppose to help make the noise cancelling more accurate. The Vividvoice tech also apparently makes your calls sound better by filtering out the noise.
Other Features
Wireless Charging: Finally wireless charging is available with the Sudio E2 case! The last edition that let you charge wirelessly was the Sudio Ett in early 2020. The flat bottom of the Sudio E2 lets it sit comfortably on the charging ports. It also has a USB-C charging port and cable in case you prefer the more traditional method.
Sweat & splash proof: With an IPX4 rating, they sit quite well in the ear so you can work out with them, but you probably want to toggle the transparency mode so you aren't completely blocking out your surroundings.
Playtime: The Sudio E2 has 6.5 hours listening time and 30 hours battery life with ANC off, but drops to 4.4/20 hrs with ANC on. 10 minutes charge time is enough for you to get about 2 hours playtime if you're like me and tend to forget to keep your earphones charged.
Sudio E2 retails at S$189, comes in black, sand (beige), jade (light green) and electric grey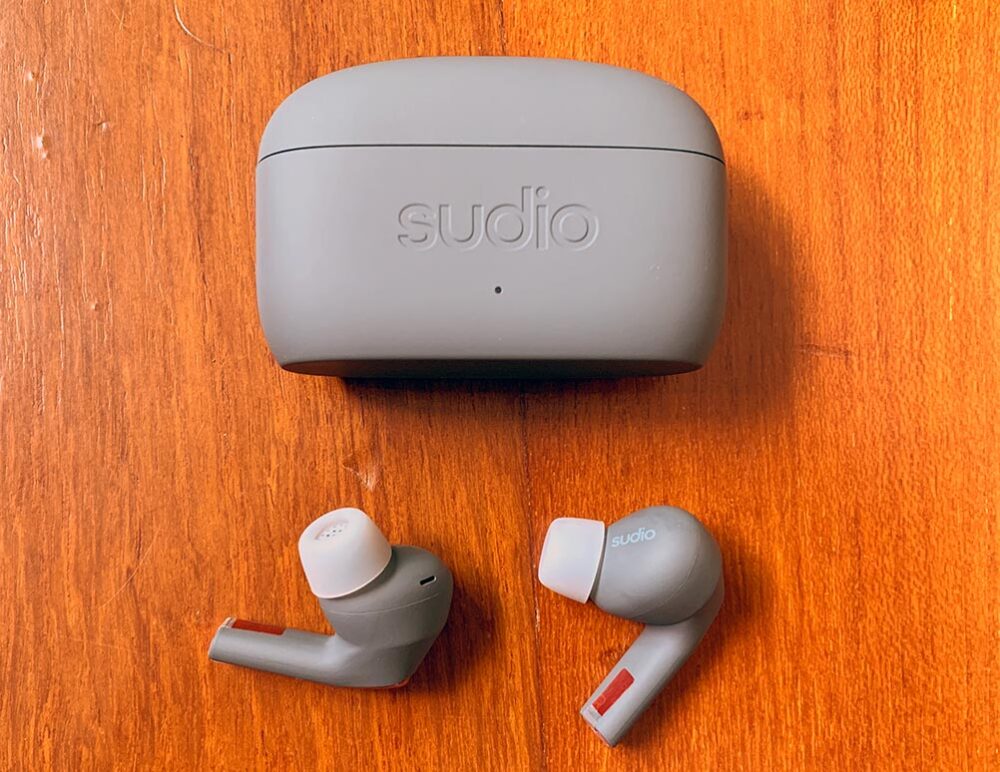 Sudio T2
Sudio updated the 2019 Sudio Tolv in 2021 and it's now known as the Sudio T2. These earphones are perfect for those who really want to seal out external sound.
Physical look
Colours: The Sudio T2 comes in standard matt black and white, but the colours available are quite pretty and unusual: a pastel light green called Jade which was my pick, and an orangey-beige version called Sand. The original Tolv green which you can see below is quite different: a nice dark forest green.
Case: Like the original Tolv, the case is small round and almost egg-like – similar in thickness but slightly more compact compared to the original Tolv. I like the matt surface of the Sudio T2 case compared to the shiny one of the Nio.
Earbuds: One of the highlights of the T2 is that they've changed up the overall shape pf the earbud so it's less blocky and from my experience so far, it really is quite comfortable to wear for long periods. The shape of the earbud isn't angular, with soft curves all around that I think help it be more ergonomic and comfortable for the ear. There are different sized earbuds available if you want to change the size.
The silver buttons on the earpiece are fairly sensitive – easy enough to toggle but also brushing your hand a little too hard across your earphones can toggle it too. I tend to prefer more raised tactile buttons personally.
How it sounds
If you like earphones that block out sound very well, the T2 is perfect for you with great active noise cancelling as well as a comfortable fit in the ear. I definitely prefer wearing these to watch shows or something that requires just listening for an immersive experience rather than for meetings because it's hard to hear myself speak as the T2 earphones seal out sound so well.
Other Features
USB-C Charging port: The Sudio T2 case has a USB-C charging port, which is standard across the newer Sudio range.
Sweat & splash proof: They sit quite well in the ear and are perfect if you're indoors and want to immerse yourself in a workout, but I would caution against using them outdoors/in public where you want to be able to hear your surroundings a little
Playtime: The Sudio T2 has 7.5 hours listening time and 35 hours battery life. 10 minutes charge time is enough for you to get about 2 hours playtime if you're like me and tend to forget to keep your earphones charged.
Sudio T2 retails at S$179, comes in black, white, jade (light green) and sand (beige)
Sudio Nio
With the ongoing COVID and travel nowhere in sight, Sudio introduced its latest wireless earphones to me: the Sudio Nio and I was curious to see how it matched up with the Sudio Ett and Sudio Elva which I had been using in my work from home situation.
Physical look
Colours: I was really drawn to Sudio Nio Aurora, a blue-green turquoise colour that I think is really pretty and unique. It looks greener than what you might see in these photos though. The Nio range also introduces Sudio's new neutral colour sand, which is a nice alternative for those who want something less flashy but don't want it to look like the typical airpods. The other colours include standard black, white and a dark green which looks similar to the Ett's green but a darker shinier version.
Case: The Sudio Nio case is probably the slimmest one to date – definitely much flatter compared to the Ett, but the tradeoff is that you can't charge this case wirelessly. The case uses USB C for charging. The Sudio Nio Aurora case is a nice shiny matching turquoise colour – pretty but might be annoying if you're particular about fingerprints but you can purchase a faux leather case made of apple skins. The case has one light indicating battery life of the case – white is fine, but yellow indicates 25% or less.

Earbuds: The Sudio Nio earphones look a lot like Apple Airpods, especially if you got the white version. There is a touch button on the back of both earphones that you can use to pause/play music, pick up calls and toggle the earphones on and off if needed. Personally am not a fan of the touch button because it's both sensitive and not at the same time. I keep accidentally pausing my music when trying to adjust the position of my earphones, and I can't seem to toggle volume which is a triple touch. I definitely prefer the Ett's tactile button.
The earphones come with a silicone covering that helps them fit your ear more comfortably. There are 3 other size options on top of the default one. I'm still getting used to the shape and the way it sits in my ear.
How it sounds
Sound quality wise, the highlight of these earphones is the dual mic adaptive technology that will filter out noise and pick up your voice better on calls. So far I've used them on my calls and haven't run into any particularly noisy issues or complaints. The only issue is that connecting and disconnecting my Nio earphones via bluetooth somehow toggles my apple music to switch on automatically. I don't have that issue with all my other Sudio earphones, just the Nio.
Music wise, it sounds pretty decent, but I've found that I need to toggle the volume higher using the Nio as compared to that of the Ett and Fem because the shape of those earphones really directs the sound into your ear canal and there's more ear-sealing action
Other Features
USB-C Charging port: The Sudio Nio case has a USB-C charging port, which is standard across the newer Sudio range.
IPX4 water protection: Splash-proof protection that has held us so far to my sweaty workouts.
Playtime: The Sudio Nio has a one-time charge of 5.5 hours and up to 20 hours in total with a fully charged case, which is better than the with the noise cancelling activated.
Overall the Sudio Nio is a pretty and great pair of earphones if you want something small and compact and don't want to fork out as much as you have to for Apple Airpods which are more than double the price.
Sudio Ett
Sudio approached me about the Sudio Ett right in the midst of COVID when I'd spent a good month or so working from home, and the Ett's new feature that lets you toggle between noise cancelling and transparency Sudio Ett sounded just like what I needed. I'd only just tested the Fem a few months before so I was curious to see how I would like the Ett – you'll see me do some comparisons against the Fem in this review.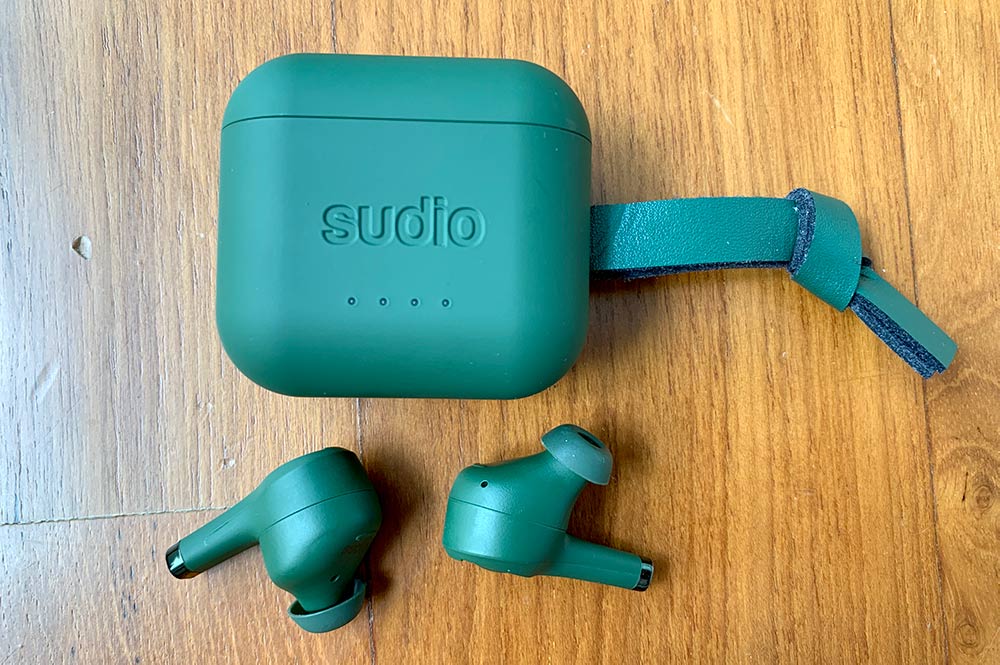 Physical look
Colours: I like that Sudio often gives some fun colour options before the classic black and white shades – the Ett range includes a pale pink and an army green, which would appeal to those who like a more muted tone, though personally I prefer the deeper green of the Tolv (see the Tolv review for pix).
Case: It looks to me like the look of both the Sudio Ett case and the earbuds are shifting towards the look of Airpods. The case is a small cuboid that fits nicely into my hand – it's definitely more compact compared to the Fem's case and comes with a nice matching thick green leather strap handle which I dig as well. The charging lights can be seen on the outside of the case.
Earbuds: The Ett earphones have that longish mic piece that sticks out of bottom of your ear, has a narrower profile compared to the Fem, and it feels lighter too. What I really like is the button control on both the earbuds – they've shifted back to a tactile button that you have to press to activate, which means less accidental activating Siri or pausing your music when you brush your hand pass your ears, which is what happened a lot with the Fem for me.
Sudio normally gives you different sized ear tips to fit your ear, but this is the first time they've offered 2 different ear tips – 5 size options for the parabolic ear tip (flatter, wider) and 3 size options for the conic ear tip (more cylindrical, thicker).
How it sounds
Active noise cancelling (ANC): Now one of the things I loved about the Sudio Fem is that it does a great job with blocking out external noise, but I found that when it comes to doing video calls, it does such a good job of blocking out sound that it was hard to gauge how loudly I was speaking, so I often only wore 1 earbud so I didn't feel like I was hearing my own muffled voice.
With the Ett, the default mode is transparency mode where you can hear more background noise. Press and hold the earbud button for 2 seconds and you'll hear the words 'noise cancelling' and it feels like the background sound drops out and the audio gets louder.
I tested it on video chats with friends and at work and I definitely feel a lot less like I'm muffled or shouting, so I can do chats wearing both earphones. But what I didn't like is that when you hold the button to turn off ANC, there is no prompt so you don't quite know whether you've managed to toggle ANC off.
Sound quality wise, everything sounded pretty ok to me, but I think music sounds fuller and more bassy when using the Sudio Fem even when the Ett has ANC toggled, maybe it's because the Fem really seals out external sounds completely.
Other Features
Wireless charging: The Sudio Ett is the first Sudio earphones case that can be charged wirelessly. Just put your case on the wireless charging pad and you are good to go.
USB-C Charging port: Like the Fem, Sudio Ett also has a USB-C charging port compared to the older versions using the micro-USB port.
IPX5 water protection: That just means it's splash-proof, drizzle-proof and resistant to sweat so you can exercise with it as well – I've tried wearing them while doing yoga type of workouts and even following along to online bachata/salsa tutorials and they've held up pretty well – no need to adjust or any falling out of my ear. I haven't poured any water on it obviously, but note that it only applies to the earbuds – do not get the case wet!
Playtime: The Sudio Ett boasts a 6hr playtime in a single charge, same as the Fem, but the Ett case holds more charge and it can last 30hrs in total compared to 20hrs on the Fem. Note that this is without the noise cancelling activated, which brings the playtime down to 4hrs/single and 20hrs/total.
Overall, I think the Ett is great for those who need to take a lot of calls because of the easy toggle between ANC and transparency, also good to carry around because of the smaller size. I thought the sound quality was decent enough, but it may not be good enough if you really like to block out all external noise.
---
Sudio Fem
The Sudio Fem is probably the most comfortable of the Sudio earphones that I've tried because of its ergonomic curves, and I really like the way it blocks external sounds and how it manages to resolve some of the issues I had with the previous model Sudio Tolv.
Physical Look
Colours: Besides black and white, the Sudio Fem comes in a pale pink and classic blue which is really a very deep blue and naturally my colour of choice.
Case: The case of the Sudio Fem goes back to the Sudio Nivå but a much more compact version. It looks more like a make-up compact compared to the Tolv case, it's wider but flatter.
What I definitely like are the light indicators on the Fem case which are a lot more intuitive than the Tolv ones. The lights are on the inside of the Fem case and there are 4 lights which indicate remaining battery power (25%, 50%, 75% and 100%). It's a lot less confusing than the Tolv's where you had to look at the online manual to see what it meant when they blinked a certain number of times or flashed red instead of white.
Earbuds: The Sudio Fem earbud is wider and rounder compared to the Sudio Tolv's, which I find fits my ear better. The buttons on the earphones are different as well – the Nivå and Tolv's buttons are more tactile while the ones on the Fem are touch buttons. You can press once to pause/start songs, twice to change songs, and thrice for volume. Personally I prefer the tactile buttons because I'm not great at doing touch buttons and sometimes end up changing songs when I'm trying to change the volume or just running my hands through my hair.
How it sounds
I feel the ergonomic shape of the Sudio Fem creates more effective sound-sealing and blocks out sound better than the Tolv, though it could also be due to the 4 noise-cancelling microphones in the Fem. I use the Sudio Fem when I really want to concentrate without any external disturbances and I think you can really hear the audio detail quite well.
Compared to the Tolv, the Sudio Fem has a more protruding silver microphone bit which is supposed to pick up your voice better if you're answering calls. I've used it on video calls and generally found the quality ok, but one problem with it sealing out sound so well is that I can't hear how loud I'm speaking, so I actually only wear one earbud when I'm on a call using the Sudio Fem.
Other features
IPX5 water protection: The Fem earphones have an IPX5 rating which technically means it's supposed to be quite waterproof and able to withstand sweaty exercise, rain and even some splashing. Note that the rating applies just to the earphones, not the case.
USB-C Charging Port: This is the first Sudio earphones that has a USB-C charging port instead of a Micro-USB which is what all the earlier models use, which means it should charge faster in comparison.
Playtime: The Sudio Fem lasts 6hrs on a single charge and you can get a total of 20hrs playtime in total, which is a surprisingly downgrade from the Sudio Tolv which offers 7hrs/single and 35hrs/total.
---
Sudio Tolv [No longer Available]
Sudio Tolv is the upgraded version of the original wireless earphones Sudio Nivå with improvements in the case, connection and battery life. I had the Sudio Tolv in white at first, but received the green one later as I was having some weird connection issues with my first pair.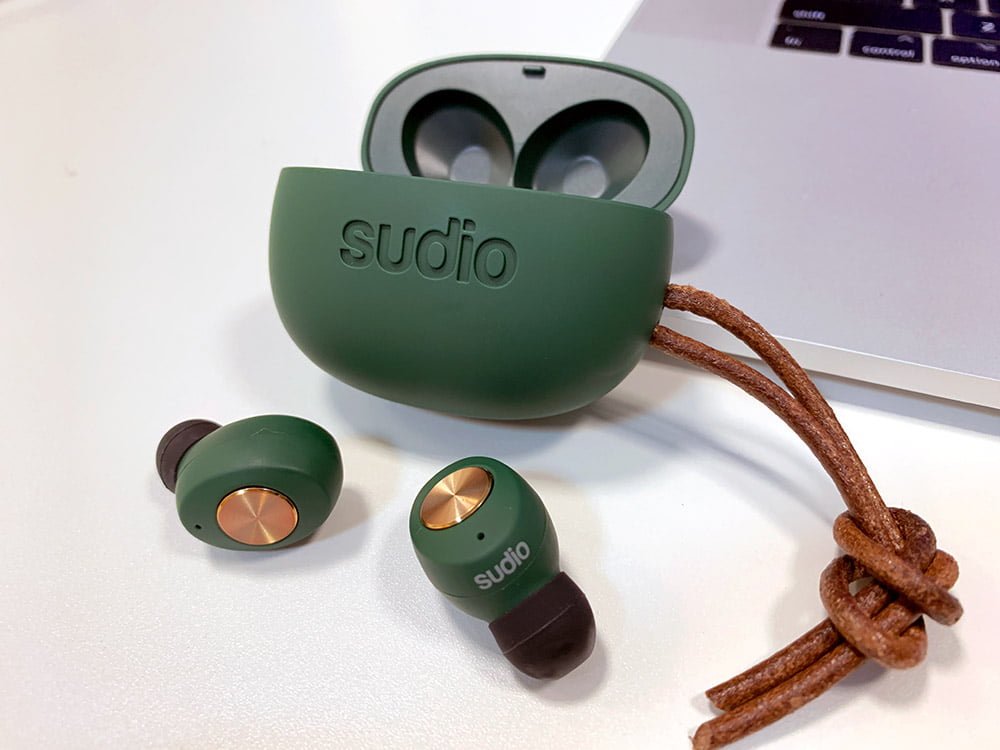 Physical look
Colours: The Sudio Tolv comes in the widest colour range, and I personally think the prettiest colour options out of Sudio's wireless earphones range to date. I got the white pair at first because they first launched with just black and white, but later added a pretty forest green, pastel sakura pink, pale blue and the really sleek looking anthracite (dark grey with bronze coloured metal bits). I really love the dark green colour which is both elegant and hip, and apparently quite a popular option.
Case: I love that the case of the Tolv is much smaller than the Nivå – it's so much more compact and takes up less room than before. You do have to carry the case around with you to charge the earbuds and make sure you don't lose them when you aren't using them. I did leave my Nivå at home several times when I was trying to travel as light as possible, so I'm happy that the Tolv's case is so much more compact, though it is a somewhat weird rounded shape that can only lay on its side.
Earbuds: The earbuds are pretty similar to the original Nivå earbuds, though at a slightly flatter angle which I assume is supposed to be more ergonomic. The earbud itself is a bit on the blocky side and while it generally was quite comfortable, it definitely didn't fit as well as the Fem. The metal finishings are very pretty though.
Other Features
Playtime: The Sudio Tolv has the longest playtime out of the earphones in this list at 7 hours on a single charge and with 4 additional charges from the case, a total playtime of 35 hours without having to plug the case in. That's double the playtime of the Nivå where you only had 3.5 hours at a go – I've had to recharge my earphones periodically through long flights when I was binge-watching shows on my phone with the Nivå which you don't have to do as often with the Tolv.
Automatic connection: One key upgrade is that the Tolv connects automatically when you remove it from the case, as compared to the Nivå where you had to manually connect when you needed. But weirdly enough, my first Tolv kept randomly connecting with my phone even when in its case.
Bluetooth range: The Bluetooth range is also a little longer than the others at 15m compared to 10m for the other models.
---
Sudio Nivå [no longer available]
The Sudio Nivå was the first truly wireless earphones that I tested from Sudio, and it seems they've phased this out in favour of the newer models, but I thought I'd leave this review here for posterity.
The Sudio Nivå earbuds look a bit bulky at first glance but sit surprisingly comfortably in my ear despite my initial misgivings about the shape. I found that you had to twist them so they sit sort of horizontally, and they really seal out sound from entering your ear. Connecting them via Bluetooth is quite simple – just hold down the button on the earbud. Despite there not being a 3-button control panel like the other earphones, you can still control the play/pause and switch to taking calls all from the one button on the right earphone.
When you're done, you pop the earphones back into the case, and the case automatically switches the earphones off for you, and provides up to 3-4 charges on the go so that 3.5 hours of playtime is extended to almost 17 hours, more than double the other two earphones which hold 8-9 hours at a go.
What would really be cool is if you could actually use the case as a portable battery to charge other devices – that would make it super useful, but for now it can only charge the Nivå earphones. There isn't any other way to charge the earphones though, so you are stuck toting around the case which makes it less compact for longer trips.
I like how well they block out sound, and while I'm no expert, even I can tell you that the sound from the Nivå is pretty bassy compared to the other two earphones, great if you like that sorta sound and makes watching dramatic movies even more adrenaline-pumping. I had them in for a few hours watching movies on my laptop, and they were pretty comfortable even if I felt that I needed to air my ears a little after all that.
Sudio Nivå is no longer available in the Sudio store
---
Jack-free wireless earphones
The very first pair of Sudio earphones I received and tested was the Vasa Blå, and following that the sporty Tre (now Tretton). I'd mostly been using the truly wireless earphones since until late 2020 when they introduced the Sudio Elva.
Sudio Elva
Sudio notified me about the new Sudio Elva earphones coming out in Sep 2020, and I was surprised to see that in this version, they had moved away from the truly wireless earbuds of the last few editions and gone back to the jack-free version where the earphones are connected by a wire. Now I started out with the Vasa Bla and Tre so I was curious to see what this update would be like.
The interesting thing about the Sudio Elva is that it's Sudio's first earphones to feature a bluetooth adapter – which would be really handy if plane travel were still a thing because I hate having to use the plane earphones and I had actually just gotten my hands on my own bluetooth earphones adapter sometime in February – but considering here in Singapore at least that leisure travel looks unlikely to resume until early 2021 at best, I thought it was a curious time to launch this particular product.
I've mostly used the Sudio Elva in my online meetings for work so far, but the bluetooth adapter also works for other analog devices that don't normally work well with other wireless earphones like the Nintendo Switch if you don't have a earphone with a jack on hand.
Physical look
Colours: For now, the Sudio Elva only comes in Black and White. I didn't get to see any pictures because I received it before they launched, so I picked white, but the colour is more accurately a greyish tint instead of a pure white like the Sudio Tolv. Can't say I loved the shade at first sight, though practically speaking it would be less likely to stain and look dirty in the long run.
Case: These are the only Sudio earphones that I've received to date without its own case. The Vasa Bla and Tre previously both came with a little pouch for storage, so I found it quite strange that they decided not to make a case for the Sudio Elva, especially because it's bulkier than the other earphones because of its length and wire thickness. The bluetooth adapter is also an accessory so you'd think they would want to pack them both together.
Earbuds: Likes its predecessors, the Sudio Elva wires are flat instead of round to prevent tangling, but what's unique is the centre portion of the wires that goes around your neck is actually significantly thicker than the ends which are attached to the earphones. It also has a natural bend so while it does make it more comfortable to hang around your neck, it means you can't quite coil up the earphones, hence making it more bulky. The Sudio Elva is pretty long, something under 90cm in total length when stretched out. I've not had to tote it around just yet given that I'm working from home, but carrying this on a trip might be a tad cumbersome if I'm trying to pack small.
Design-wise, the Sudio Elva is similar to the Vasa Bla and Tre in that the control buttons are on the wire. Connecting to Bluetooth is pretty easy – just hold down the middle button for a bit to connect or disconnect but you do need to read the manual to figure out the other commands because it's not particularly intuitive, and also I have no idea how much charge is left at any time just by looking at it and there doesn't seem to be any instruction to tell either – the online manual says the device will show you, but I couldn't find it on both my iphone and Mac.
The earbud is an interesting shape that's different from the other earphones. The part that sits in the ear is quite compact, and the earbud itself juts out at an angle which is pretty comfortable and secure in my ear at least.
There are 5 conic options for earbuds – M is the default size, but you are also provided with XXS, XS, S, L and XL sizes in the package.
How it sounds
Active noise cancelling (ANC): I was using the Sudio Ett before this, and what I liked about it was that it offered a transparency mode which is useful when you're taking a lot of calls and want to be able to hear yourself speak. The Sudio Elva is similar to the Fem in that the noise cancelling is pretty solid – great if you're on a noisy plane and want to shut out the noise, but perhaps less useful when you're dealing with work calls like I am right now and want to modulate your voice.
Other Features
Bluetooth Flight Adapter: Sudio's bluetooth adapter is called the Sudio Flyg and is a compact little case with one big silver button that you use to power on and off (hold) and pair the bluetooth (hold longer). The Flyg has a USB-C post for charging with a short USB wire provided – I wonder why they didn't just put wireless charging on the Flyg, or build it in like the Elva?
Unfortunately I'm not going to be able to roadtest this on a plane right now, but I did hook the Sudio Elva up to my Nintendo Switch at home and it works well enough there, so I assume pairing it on the plane should be just as simple. The case is pretty compact and light.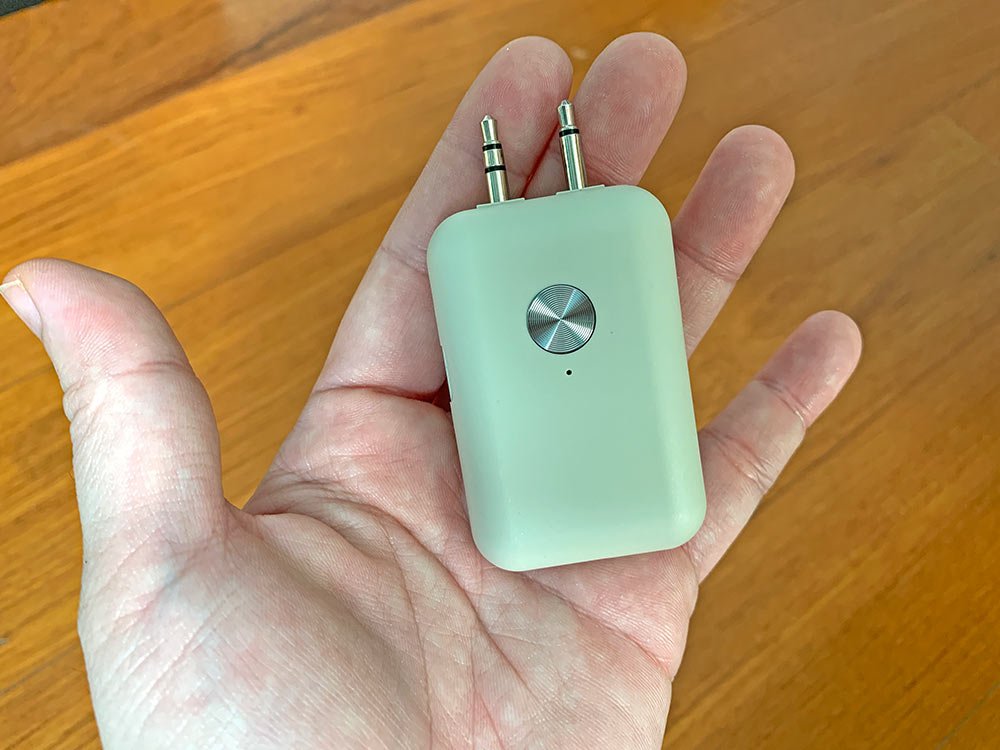 Built-in USB-C Charging port: You can actually pull apart the earphones and charge them directly via the built-in USB C port. No need to carry extra wires, but I think I'll live in fear of somehow losing one side of my earphones when I take them apart. No wireless charging of the earphones though. I just wish there was some physical indicator to know how much charge is in your earphones.
IPX5 water protection: Like the Ett, this rating means that it's splash-proof, drizzle-proof and resistant to sweat so you can exercise with it as well – I've tried not tried to exercise in them yet, but the dangling wires by the ears look like they would be annoying for anything too strenuous or requires moving your arms around your face.
Playtime: The Sudio Elva has an impressive 11 hour playtime and can apparently fully charge in just 90 minutes, useful for super long flights. If you're on the go, a 10-min charge gives you about an hour's worth of charge. What I wish I knew was how much charge was left in my Sudio Elva because the worst thing is watching an exciting show halfway through only to hear your earphones scream BATTERY LOW at the most exciting part. At least with the Ett and Fem you had the case to give you a sense of how much more charge you had on hand even if you didn't know what the actual charge level of the earphones were, but with the Elva there aren't any indications nor do the printed/online manuals tell you anything useful either.
So while I think the Sudio Elva is a functional set of earphones, I think one of its main selling points is the bluetooth adapter for when you are on a plane which unfortunately I can't quite test right now. I wish it compacted up a bit more like the truly wireless earphones so it would be easier to carry around, but I do like that you can keep it safe around your neck without worrying about losing your earbuds.
Sudio Elva retails at S$119, comes in black and white. The Sudio Flyg Bluetooth Adapter is a part of the package.
Sudio Vasa Blå
The Vasa Blå was my first pair of wireless earphones from Sudio. I received the first generation back in 2017 after my whole career break adventure – there is a more fine-tuned second generation version today.
Physical Look
Colours: I loved the pretty cobalt blue option that I received especially when paired with the rose gold finishing. Now they have have a light pastel blue shade that is also very pretty and pink is also available along with the black and white models.
Earbuds: The earphones are jackfree but connected by a wire between the earbuds. I like that this wire is flat which does help prevent it from tangling as compared to my conventional wired iphone earphones.
Another thing I like about the connecting wire is that it lets you sling the earphones around your neck – there is a clip on the connecting wire that I use to secure it to my collar so I can keep them on me without worrying about them falling out somewhere. I'm a little paranoid about losing wireless earbuds, especially if it drops out while I'm sleeping in a bus or plane.
There is a tactile controller on the connecting wire that you use to skip songs and control volume which is easy to use and nice to touch.
Case: The earphones come with a flat matching leather case.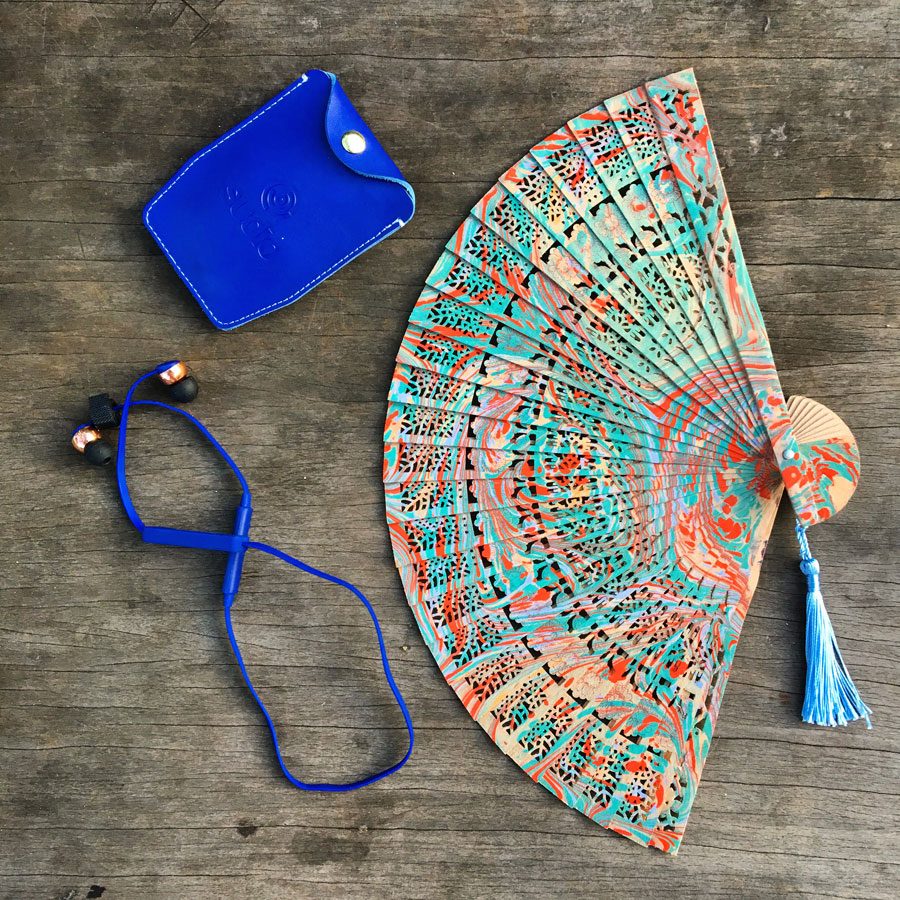 Sound quality
I thought the sound quality of the Vasa Blå was pretty good – I'm honestly not enough of an audiophile to wax lyrical about the aspects of the sound quality, but I've had cheapo earphones with iffy sound quality and you can tell this is a quality product.
The earbuds are also quite comfortable and the sound blocking pretty good. – I actually slept in these earphones a few times while in hostels to block out snoring when I couldn't find my foam earplugs.
Other features
The battery life was decent – it has an 8hr single charge playtime, though my problem was that sometimes the battery would drain out if I hadn't touched the earphones for a long time, and I couldn't use them until I recharged them, which is a bit annoying on the go but it's easy to recharge the earphones with a portable charger.
Another thing about these sort of earphones is that you can't use them on the plane unless you have an adapter (which I didn't have at that point) – so I was still stuck watching plane movies with cheap-ass headphones and getting tangled in wires every time I wanted to go to the bathroom.
Sudio Vasa Blå retails at S$129, comes in black, white, classic blue, pastel blue or pink.
---
Sudio Tre
The Sudio Tre is the more sporty version of the Vasa Blå meant for fitness buffs as the wingtip shape of the earpiece is meant to hold the earphones more securely in your ear, and is also sweat and water resistant for exercise.
Physical look
The Tre is slightly longer than the Vasa Blå and I think the design is a tad more classy – the metal button interface gives is a more polished look, and that midnight blue is perhaps chicer than the fun cobalt blue of the Vasa Blå.
Sound quality
The sound quality I had no issues with, it was more the sound blocking that I had issues with as the Tre is specifically designed to NOT block out sound completely for safety reasons, so you can still hear traffic noises while jogging for example. Great for safety if you're working out in public, but that's not what I want with my earphones – I don't want to hear the loudmouth seat neighbour when I put my earphones in.
The Tre is nice enough if you are an active person I guess, just that it's not for me.
Sudio has since upgraded the Tre to the newer Sudio Tretton with a modified earpiece wingtip shape.
Sudio Tretton retails at S$149, comes in black, white, classic blue or pink.
---
Some final thoughts
Overall, I think Sudio earphones are pretty good looking and the sound quality is good enough for me.
I've mostly been using the Sudio Nio for work calls these days but I find the Sudio E2 more comfortable to wear so I'll probably use that more, also I can just charge it wirelessly too. I do like the Sudio T2's immersive quality and comfortable shape. The versatility of the Sudio Ett earphones is nice when working from home or in the office, but I like the noise sealing of the Sudio Fem earphones for real noise blocking on the road, and the Sudio Elva with its bluetooth adapter is great for planes. TThe Sudio Vasa Blå and Sudio Tretton are also great options if you are a bit paranoid about losing your earbuds or you just don't want to carry a case around with you – it really depends on your preference.
Sudio Discount Code
And of course my loyal readers, use this Sudio discount code to get 15% off all purchases from the Sudio store. Type in theoccasionaltraveller when you check out to get 15% off your Sudio purchases. You'll get free worldwide home delivery!
Anyone out there who uses Sudio earphones as well? Share with me your experience, or tell me what you're looking for in earphones when you travel.
The earphones in this review were sponsored by Sudio, but the reviews are all my own.