Earlier in the year I was invited by the good folk from Daylesford and Macedon Ranges Tourism to go check out their region in the Victoria region of Australia.
But wait a minute – where on earth is Daylesford? That was the first question I asked – most people think of Australia as just Melbourne and Sydney and Perth, but don't remember that Australia is actually quite a large land mass and not just made up of outback! Still, Daylesford was a place I had never heard of before, so I really was quite keen to check out what this alternative destination had to offer.
However, the thing about being an Occasional Traveller is that life often gets in the way of things, and without much leave days left, it didn't look like I was going to be able to make this trip up (boo~~). So I decided to enlist a little bit of help from a friend who was going to be up in Melbourne that month, and asked her to take a little detour from her month-long Melbourne adventure and check out what Daylesford was like on my behalf – you might have seen some of the pix if you're following me on instagram.
So please say hi to guest writer J who also helped me visit Bintan, and I'll let her tell you a little more about her awesome experience in Daylesford and how you can get up there for a quick getaway. I put all the spots in a convenient google map for you.
---
J:
So, this is long overdue. Lesson learned – it may not be a very good idea to come out of a month-long break away from home and hit the ground running the very next day. But all the same, thanks Jac for this amazing opportunity. I'm STILL dreaming of Daylesford, so here's a throwback to my Winter Staycation in August 2014.
Daylesford was beautiful to behold – None of the shine of the modern city; just all things natural and soothing for what makes a person so at home in a place that calls itself the Well-Being Region. While the area is known for its spas and bathhouses, I think Daylesford has a lot more to offer to anyone who needs a good getaway. I could have stayed a lot longer than three days easily!
Once upon a time back in the 1800s, alluvial gold was discovered in the ground that is now Lake Daylesford resulting in a local gold rush. It's an interesting thing to know because when I got there, there was no sign of the area having been a gold mining area at all. It's all gardens and forests everywhere, and even in the more "industrialised" aspects – Daylesford definitely holds true to the classic Australian value of respecting and protecting the environment. A highly recommended road trip for anyone visiting Victoria, Australia!
GETTING THERE
In case you had no idea, Daylesford and the Macedon Ranges is an area northwest of Melbourne, still within Victoria. Here's a map for visual reference, including some of the places of interest that I'll be talking about below.
It's about 1.5 hours drive by car, and you definitely want to be able to drive yourself around to really enjoy the area. Loved the journey, but I wouldn't exactly recommend a stiff suspension vehicle unless you don't mind the bumpiness and gravel at some parts – it is a natural area, after all.
---
PLACES TO VISIT
Hepburn Bathhouse and Spa
Visitors generally see Daylesford and Hepburn Springs as the same area, so that makes the entire area similarly known as a Spa destination. I had the privilege of visiting Hepburn Bathhouse with my travel buddy. It's one of the many spa facilities in the area, but I'd think it's the place to go.
There are several similar spa facilities set in the Hepburn Mineral Springs Reserve, but this historic bathhouse one is the place to go. Just off the main Daylesford area, it is the only one that draws mineral waters directly from the Hepburn Springs so you get the best of the mineral waters, and for the history buffs, really feel what it's like to soak in the vibes of what communal bathing must have been like back in the day.
Hepburn Bathhouse and Spa opened way back in 1895 as a communal bath and was the only bathhouse in the area back then. This was about 30 years after residents in the area successfully petitioned for the mineral springs to be protected from the gold mining work (gold rush days, remember?) and thus the Springs Reserve was set up. The bathhouse compound underwent a major overhaul about 7 years ago, giving it a more modern look these days, none of that historical period look you might expect when you first enter.
Cool, serene surroundings, modern – zen, if you will. The public bath actually looks like a hotel swimming pool, with a distinct light mineral scent in place of the heavy chlorine smell of swimming pools. Lots of corners for people to relax in. Obviously, I couldn't get a decent picture with all those folks sitting in the bath, but you can find all that on their website. The waiting area is sort of a big den covered with parquet set in the ground of the first floor, and comes with such attentive service staff. All you really need to do is relax and sip some complimentary tea.
The only "work" we had to do was pick out the mineral scent we wanted for our private bath. That was a bit of a headache since I'm not a huge fan of essential oils, perfumes, aromatherapy et all – I always worry about these aromatic scents being too strong. With the help of the friendly staff, I ended up with something called Mummy Me Time (Mummy?? REALLY??) – It apparently is one of the favourites for its light scent and relaxing effect, and I highly recommend it to anyone with an aversion to strong aromatic scents.
The private spa we got was a surprise. It certainly kept to that old-school bathhouse look – nothing like the rest of the now-modern compound that we walked through. Honestly it didn't look very comforting at first glance, what with all that smooth stone and the hard angles. The walls reminded me of a dungeon, albeit with a sizeable (translucent) window. Somewhat exciting, I guess.
But wow, the warm water was a different story.
With a small diffuser bag of "Mummy Me Time", the 45-minute session was relaxing to the bone. I'm not sure if it was my imagination but I thought I could actually feel the tension seeping out of me. I have been in a hot tub before, but the mineral bath was something more despite my initial skepticism, and its relaxing effect would last for days!
Hepburn Bathhouse & Spa
Mineral Springs Crescent, Hepburn Springs VIC 3461, Australia
Spa/bathing packages can be found here, and can include accommodation as well, though you most basic package would be bathing and tea at A$32/pax.
---
Wombat Hill
I don't know about you, but I absolutely LOVE wombats. They are such underrated creatures amidst the various Australian marsupials. They might look cute and cuddly, but are really a solid mass of muscle and power. Unfortunately they are also nocturnal, so we didn't get to see any out in the day.
Anyway here's a wombat. Sort of.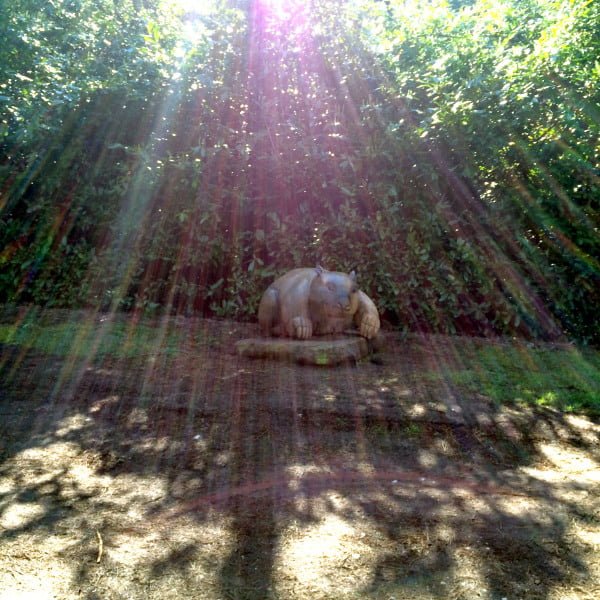 Fun Fact: according to wikipedia, Daylesford used to be called Wombat, that's probably true because it is home to the Wombat State Forest, AND the Wombat Hill Botanical Gardens, among other Wombat-ty names!
You should visit Wombat Hill just because it makes for a real breath of fresh air. It's a lovely place for a stroll – there is this creepy tower right at the top, though there isn't much to see from the top of the tower.
The drive around the top of the Hill is incredibly beautiful, even in the winter when I was there. In spring, the Botanical Gardens will definitely be even more of a sight!
---
The Garden of St Erth
This quaint cottage at The Garden of St Erth is all that is left of the little gold rush town area in the middle of the Wombat State Forest. It was built by a traveller who decided to settle in Daylesford during those days – complete with its own butchery and pig pen! Today, this cottage is the only tangible memory of that time, and the area has been transformed into a lovely organic garden by The Diggers Club.
The Diggers Club are advocates for clean growing and clean eating, providing educational tours of the gardens to show people that all sorts of edible plants can be grown right at home, no matter how much or how little space you have.
These gardening enthusiasts must be doing something right because the animals from the neighbouring forest like to come into the compound and help themselves to the edibles sometimes. They even have a regular wombat who visits and burrows around the plots!
In any case, this place is a must-visit for anyone who wants to try their hand at growing their own foods, something that is becoming more popular these days. The staff talked about how people sometimes underestimate the types of plants that can be grown in warm climates (like eternally-hot Singapore), but many of our much-loved fruits can actually be grown with just a balcony space.
The gardens were already beautiful when I was there in August (that's winter down under), but they are expecting fields and fields of daffodils and other brightly coloured flowers in full bloom at year's end  so take the weekend to check it out if you are in the Victoria region!
The Garden of St Erth also has a family-friendly cafe with lovely al fresco seating, and you can imagine how good and fresh the air is out there. For those who are unconvinced about clean foods, they have the most amazing dishes whipped up from their very own organic produce that will probably change your mind. I'd always been a skeptic of all that hype about going organic, but these gardeners certainly put their money with their mouths are as advocates. Great full flavour from both the pasta and the vegetable-based sides accompanying that bratwurst.
The Garden of St Erth
114 Simmons Reef Road, Blackwood. VIC 3458
The Garden of St Erth is quite far out from the main Daylesford area, though – you definitely need private transport as it is about 45 minutes to an hour's drive out from the main Daylesford area. It is an easy leisurely drive so even if you're not a very experienced driver, you don't have to worry much about crosswinds and stuff like that.
---
Creswick Woollen Mill
My sister and I often joke that our dad loves "things that keep things warm" – this includes thermos flasks, woolly gloves, and of course, sweaters, so he would have had a ball of a time checking out the Creswick Woolen Mill.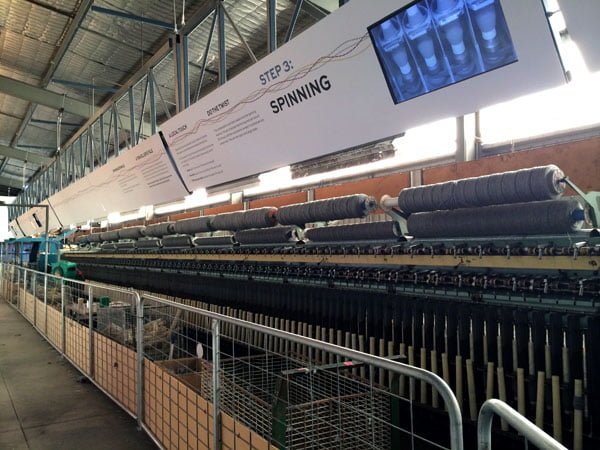 They only spin the yarn at the mill, then ship the yarn elsewhere for manufacturing. What I found most fascinating was their showcase of the history of yarn, and the journey of fibres from harvest to spinning. If you're not an avid fan of "things that keep things warm" like my dad, you probably didn't know that there is such a variety of fibres used to make what most of us just call "wool".
Besides being quite an educational experience, the visit to the mill is quite a treat for kids and adults alike as you are able to read, see, AND touch the stuff. They also sell a lot of natural fibre toys and wearables on-site, and of course, FEED THE ALPACAS!
Creswick Woolen Mill
Railway Parade, Creswick VIC 3363, Australia
The Mill is one of those places that doesn't quite have a precise address – it's located in Railway Parade just off the Clunes Road – look for road signage to direct you there, or check at the Visitor Information Centre
There are tours daily of the Creswick Woolen Mills every hour from 11am – 2pm, tickets cost A$15 for adults
---
Sault Restaurant Daylesford
Dinner at Sault was the standout meal of the trip for me and my partner, an especially magical experience with the sun setting over a quiet lake.
It's funny that most of the crowd came after dark and missed the sunset view – I'd definitely recommending going there about half an hour before sunset and enjoy some wine till your stomach is ready for dinner, especially if you are looking to impress your significant other. (There's also a barn by the lake that's popular for weddings, which you may have reason to take a look at :))
Good food, good wine, great service, and an amazing view. It is a fine dining restaurant with all the trappings and multiple cutlery, but with none of the stuffiness. The wait staff were excellent, and were even able to make specific recommendations of wines to go with whatever we ordered.
The food itself was a gastronomic adventure, with unusual dishes that somehow just came together so nicely. I wasn't sure what to expect, but i was certainly impressed by the dynamic flavours and
how good they tasted together.
Sault Restaurant Daylesford
2349 Ballan Daylesford Road, Daylesford 3460. Victoria, Australia
Mains cost around A$30-$40 on average. See website for detailed menu.
---
Where to stay
Hotel Frangos and Frangos
This is a boutique hotel in the main Daylesford area. It has only 13 rooms, but is such a charming place,
with every single room and the corridor personally designed by the owners. This hotel is definitely for
those who enjoy a little flamboyance and eccentricity as the interior design has a lot of character.
Also, a shout out to the Hotel Manager Bernard, who really went out of his way to show us around and personally see to our comfort – in keeping with the personal-touch approach the Hotel seems to be centered on.
There are two casual dining places at the Hotel which are popular for lunch, dinner and anything
in between. While we only had dinner at the one called Jimmy's Bar – which has brilliant food and great local beers, it should also be noted that Cafe Koukla just across the hallway boasts Daylesford's only
wood-fired pizza place!
Hotel Frangos and Frangos
82 Vincent St, Daylesford VIC 3460
---
This short road trip to Daylesford was courtesy of the folk from Daylesford and the Macedon Ranges Regional Tourism Board. Follow them on facebook or twitter @wellbeingregion. Photos, text and opinions thanks to guest writer J on behalf of The Occasional Traveller.
Looking for more unusual spots in the state of Victoria? Why not check out Gippsland with the beautiful  and the tiny town of Walhalla in the hills?