I was flicking through Netflix recommendations when I chanced upon this trailer for a reality show called New World 신세계로부터. The basic premise of this show involves 6 Korean celebrities playing a survivor-like game on a remote island, but what really caught my attention was that I actually recognised and have visited that island they were on! Surrounded by beautiful manicured landscapes and ocean views, 외도 Oedo is an island in South Gyeongsam province is a short day trip away from Busan and if you're keen to see the filming location for New World for yourself, I thought I'd share a little guide to Oedo and what you can see there, as well as the surrounding Geoje area.
Last Updated on 10 October, 2022
---
About Netflix's New World (2021)
The official show description is as follows:
In this reality show, six celebs strategise and sabotage to earn virtual currency they can cash in on the final day of their stay on a utopian island.
The six celebs in New World are all pretty well known names if you are into Korean variety shows: Park Na Rae is one of the most prolific female comedians, while Kim Hee Chul, Eun Jiwon and Lee Seung Gi are K-variety stalwarts as well as famous for their music. KAI is part of the Kpop group EXO while Cho Bo Ah has been acting for a long time even if she is fairly new to variety shows.
The premise of the show puts them in an imaginary place known as the 'New World' with its own fake currency to live for a week, and in that week fantastical events happen, like time shifts, meteorite showers or a real estate monopoly type game, all of which allow the cast to earn or lose this currency and determine how much actual money they will win at the end of the show.
Curious about the results of Netflix New World Season 1? Scroll right to the end of this article to see who escaped the island first and how much they ended up winning!
Note that this guide may contain some spoilers to the New World show, so stop scrolling if you're planning to catch the show! I've also used screenshots taken from Netflix's youtube playlists for New World to compare against my own photos for location references.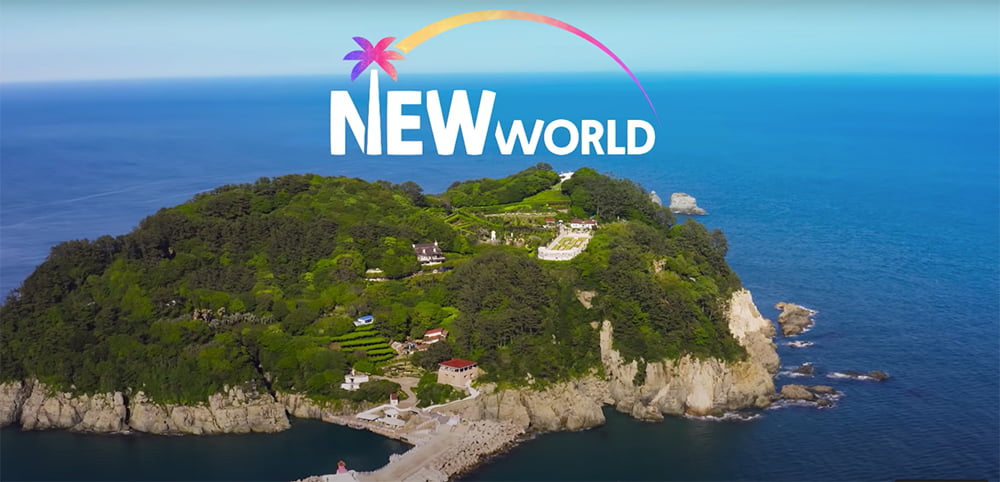 Oedo Botania외도
Oedo (Oe Island, pronounced as weh-doh in Korean) or Oedo-Botania pretty much started out as an uninhabited island until a couple decided to call it home sometime in the early 1970s. They tried farming at first but when that didn't pan out, turned their efforts into transforming it into a beautiful botanical garden instead. This private botanical garden was opened to the public for tourism money to help keep it going and over 20 million people have visited since.
How to get to Oedo
Oedo is part of the Hallyeohaesang National Park 한려해상국립공원, a marine national park that stretches from Geoje to Yeosu that offers some great hikes if you are so inclined. The island of Oedo is located south of Geoje Island, which is part of the South Gyeongsam province. I was in Busan looking for a day trip option and was particularly interested in offshore islands – I thought Geoje sounded interesting and it was also relatively nearby.
Thinking back now, it was a real chore to get around on public transport (about 3 hours in total 1-way), and I remember I missed one of my buses on the way back and ended up with a 1.5 hour wait because it was a weekday, so I highly recommend having your own transport if you visit this area. But if you want to do the intrepid solo traveller on public transport like I did…
Busan Sasang Seobu Bus Interchange 부산서부사상버스터미널 to Geoje:
I took a bus from Busan Seobu Intercity Bus Interchange in Sasang [Naver Maps] to Gohyeon Bus Terminal in Geoje [Naver Maps]. Journey took about 1.5 hours and buses leave every 10-20mins usually from 6am to 11pm. A round trip ticket costs me 8,200 KRW (S$9.50).
The opening of the Geoga bridge connecting Busan and Geoje means that if you drive, this journey would probably take you under an hour so it might be worth hiring a driver or renting a car instead of taking public transport like I did.
Gohyeon Bus Terminal 고현버스터미널 to Dojangpo Harbour 도장포:
From there I took another bus #55 from Gohyeon Bus Terminal to Dojangpo Harbour [Naver Maps] that takes a rather meandering route and stops at like over 40 stops so that journey was something under 2 hours long. I paid for this using T-money so don't remember the cost here.
Dojangpo Harbour 도장포 to Oedo 외도:
At Dojangpo Harbour, I found a ticket office 도장포유람선 dojangpo yulamseon [Naver maps] selling ferry tickets that take you on a round trip from Dojangpo to Haegeumgang and then to Oedo and back again. This whole journey takes about 2.5 hours in total and costs 28,000 KRW (S$32) – 17,000 KRW for the ferry ride and 11,000 KRW for the Oedo ticket. There is some running commentary on the boat about the area but again it's all in Korean.
Here's Oedo Island on Naver Maps.
Dojangpo isn't the only harbour that serves Oedo – Jangseungpo 장승포 선착장 [Naver Maps] is another popular harbour though it's further in distance from Oedo, but it has more major facilities around it. Near Dojangpo are Wahyeon and Gujora harbours. More here.
---
Locations on Oedo featured in New World
It was pretty fun watching New World and actually recognising some of the spots that I had visited while walking around Oedo. I'll show you some of my pix compared to screenshots from the show. There is also a map on Oedo Botania to refer to though some of the translated names aren't quite the same.
You only get 1.5 hour on the island so there's not a lot of time for in-depth exploration, unlike the cast who spends almost a week living on the island 24/7, but there is a general route that you can follow to see the main sights, which is what I'll follow in this guide.
Wharf / Lighthouse of Hope
This is the landing point on Oedo for the ferries and also where we see the New World cast getting welcomed on their first day. It gets featured several times during the show, like when they are searching for the hidden security cameras (ep 5 & 6), and it plays a major role as a time portal in ep 7 & 8.
Interesting thing about the lighthouse is that it is apparently created in the shape of the Oedo Island itself and it looks like there are some cool murals inside, but unfortunately I didn't check it out when I visited.
Oedo Square
Oedo Square is what you see after you pass through the first archway, and where you truly realise as you look at the upslopes ahead that the island is one giant hill. It's all uphill climbs at the start and it gets fairly steep at some points – I can attest that the golf cart Heechul drives in the show is a real godsend because everything here is on an incline.
Here's also where you take those obligatory selfies with the Oedo island sign.
Management Office
You'll walk past the fountain intersection here, and that's where you can see the management office, which is a charming little building with a balcony overlooking the hillside. It also serves as a dormitory for staff, and one of these houses was the room that Eun Ji Won lived in.
Unfortunately I didn't see the clock tower that's at New Times Square in the show. Perhaps it's new or I just somehow missed it?
Venus Garden
The Venus Garden is one of the highlights of Oedo and features very prominently in the show right from the get go – the Pandora's Box activities in Episode 1 took place here, as well as the real estate wars in epis 4 & 5. This garden has a very strong Mediterranean and western influence, from the white sculptures and the Grecian columns, to the centrepiece garden which apparently has some Buckingham palace influence.
Lee House
The house that Cho Bo Ah is assigned to live in during the show is actually known as the Lee House and is a private residence and named for one of the owners of the island, Lee Chang Ho. K Drama fans might also recognise it from Winter Sonata or Hospital Ship.
The house definitely has a western vibe with the white walls and arched windows, but its interior architecture is also apparently modelled after traditional Korean hanoks which had separate areas for men and women. You're not allowed to go in usually, although on the New World show we do get a sneak peek of its interior looking quite modern too. This house has a lovely view of the ocean and also a nice airy courtyard and fountain in the centre.
While it looks like a single storey house from the main entrance, it apparently has two levels with a basement which is the room that Kim Heechul's house lives in – he enters via the garden which slopes downwards just off Venus Garden. You can see Bo Ah looking down over Hee Chul's door from her sitting room area in Episode 8.
Benvenuto Garden
There are several different gardens around the island. During the real estate wars (epis 4 & 5), this garden was referred to as Blooming Garden though its current name is Benvenuto (after the Italian word for welcome, it was just 'flower garden' when I visited). It's a pretty landscaped garden where they plant a lot of seasonal flowers. There's a cactus garden nearby too.
Panorama Observatory
You see a shot of this somewhere in Episode 1 when they drive Seung Gi up to his house but I don't think they featured it specifically. It's located somewhere past the shaded bamboo garden, a lovely lookout point where you can admire the rocky cliff face and seaview. It's east facing so great for the sunrise.
Cafe Oh! Beautiful
Right at the top of the island is where Na Rae and Seung Gi's house is located in New World. Normally this is the site of a lovely little cafe called Cafe Oh! Beautiful which lets you admire the view of the surrounding area from one of the highest points on the island while grabbing a drink, but they've turned it into accommodation for the show.
The cafe setting is probably why Na Rae has a pretty substantial bar and kitchen area which you can see when they shoot the interior of her house. Though it looks small from the top, it actually extends down the cliff to a 3-storey tower – the 2nd level which is where Seung Gi is housed in the show. This blog by HelloSihui shows you more pix of what it looks like inside.
Eden Chapel
At the end of Episode 1, the crew are introduced to the mysterious Shadow Store that only opens "when the moonlight shines down". In New World, this shop is dark and has a counter that sells power-up cards that the crew can buy with their fake currency that offer them advantages to winning the games that they play.
In actuality, this is actually a small chapel called Eden Chapel with a nice outdoor area for contemplating your faith and meditation. I didn't go into the church when I visited, but spent some time just sitting around outside instead.
Somewhere past this spot is the Hill of Love aka the Goddess Hill with more statues, but apparently I didn't find it interesting enough to take photos in this spot…
Stairway to Heaven
There are several scenes of the cast climbing up and down this lovely flight of stairs – Hee Chul bought this location during the Real Estate game and grew the golden apples here too. Known as the Stairway to Heaven, this landscape consists of 3,000 citrus trees and 8,000 cypress trees to create!
Observatory / Memorial Gallery
This picturesque spot near the harbour is where the yoga classes take place in the show, but normally it's a nice empty pavilion with benches to enjoy the view. On the lower level is a little museum explaining the history of Oedo.
---
What's Nearby
I thought I'd point out some of the other cool landmarks around the area that weren't featured in the show so you can check those out as well when you visit.
Dojangpo Fishing Village 도장포어촌체험마을
Dojangpo is the harbour that I visited Oedo from but it's not the only harbour serving Oedo. Walking down to Dojangpo requires going downhill a little bit – this is why Korean ajummas are so fit because they're climbing hills all the time – but this little town is mostly just a stopover for those looking to visit Oedo or explore the Hallyeohaesang National Park.
도장포 어촌체 dojangpo eochonche [Naver Maps]
It was about 1pm by the time I reached Dojangpo so I hunted around for a place to eat and ended up at Deul Moe Sikdang 들뫼바다횟집식당 to eat some abalone porridge aka Jeonbokjuk 전복죽. This meal cost me 15,000 KRW (S$17). The menus were completely in Korean so I basically just pointed at the pictures on the wall.
Windy Hill 바람의 언덕
Another landmark here in Dojangpo is Windy Hill [Naver Maps], named for the windmill that was built here. This particular spot also became popular after being featured in Korean dramas in the early 2000s like Eve's Garden, Merry Go Round and variety show 1 Night 2 Days. It's popular for photographers and just to relax and enjoy the view on a nice grassy hill, but apparently there is a tomb here – more of that here.
Sinseondae Observatory 신선대 전망대
Further up the main road from the Dojangpo bus stop is the Sinseondae Observatory [Naver Maps], a platform to let you better appreciate the rock formations of Sinseondae. The legend goes that supernatural beings came to frolic in this area back in the day, but today's it's just mostly a very pretty spot especially in summer when the flowers are out.
Haegeumgang 해금강
Haegeumgang is also known as the Sea Diamond for its lovely views, and once called Galgot Island because it was shaped like the arrowroot. It's a large uninhabited island east of Dojangpo with some impressive cliff faces that you can admire from the sea, and the tour takes you into a very narrow cave of sorts called Shipjagul (cross) because it apparently looks like a cross when seen from above. The various rocks around the island also have special names – read more about it here or watch this video on Youtube to see the cross shape.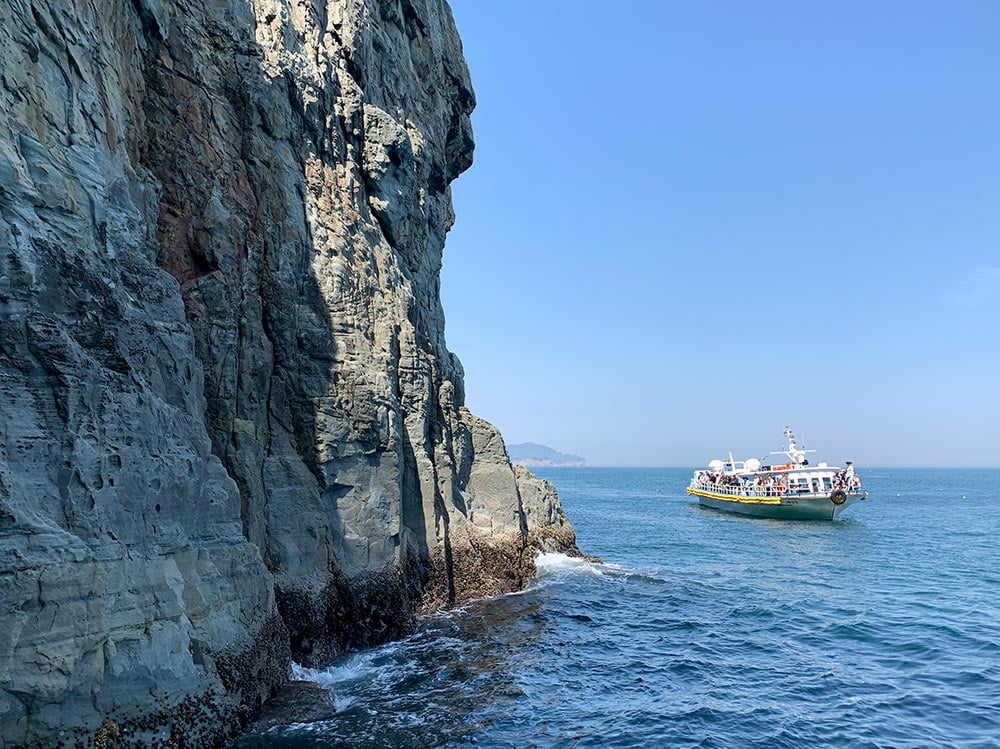 ---
Planning a trip to Busan and want to explore the southern region more? Check out these other posts for more ideas, or see all my South Korea posts.
---
Final results of New World [SPOILER]
If you're curious about how New World ended, who escaped the island first and how much they won when they converted Nyang to Korean Won, here are the final results of New World.
In order of Nyang won at the end of Day 6:
Park Na Rae: 1,400,500,000 Nyang (as per end of Day 5)
KAI: 1,268,400,000 Nyang
Lee Seung Gi: 828,000,000 Nyang
Cho Bo Ah: 119,000,000 Nyang
Kim Hee Chul: 264,500,000 Nyang
Eun Ji Won: 263,200,000 Nyang
In order of escaping the island:
Lee Seung Gi – 1:1000 nyang to KRW exchange rate for Hee Chul
Kim Hee Chul – 1:10000 nyang to KRW exchange rate for Ji Won
Eun Ji Won – 1:10000 nyang to KRW exchange rate for Bo Ah
Cho Bo Ah – 1:10000 nyang to KRW exchange rate for KAI
KAI – 1:10000 nyang to KRW exchange rate for Na Rae
Park Na Rae – last to finish, unknown if she 'left the island'
Ultimate standings based on KRW received:
Lee Seung Gi: 828,000,000 Nyang = 8,280,000 KRW (approximately SGD $9,500!)
Kim Hee Chul: 264,500,000 Nyang = 264,500 KRW (approximately SGD $305)
Park Na Rae: 1,400,500,000 Nyang (as per end of Day 5). Unknown if she escaped the island, but if she did she would have received 140,050 KRW (approximately S$161)
KAI: 1,268,400,000 Nyang = 126,840 KRW (approximately SGD $146)
Cho Bo Ah: 1,190,000,000 Nyang = 119,119 KRW (approximately SGD $137)
Eun Ji Won: 263,200,000 Nyang = 26,320 KRW (approximately SGD $30)
Another option given to participants was to withdraw the money or transfer to another New World. Only Seung Gi is shown opting to transfer his money to another New World.