I finally made my first international trip in two years since COVID hit! I decided that my first trip would be Spain and thought I'd share some of my trip prep work to help you plan your own trips in the near future. COVID has changed travel quite a lot and while we're steadily opening up, the rules are changing quite often and quickly but I thought I'd give you a detailed run down on what my Singapore to Spain trip in 2022 was like and what to expect.
Last Updated on 21 October, 2022
Why Spain?
I picked Spain because I wanted to use my languishing Spanish a little bit, and rules-wise it didn't have any particularly strict entry requirements which was a plus for me. I've been to quite a lot of Spain – Barcelona and the quirky Dali museum when I'd just graduated, Valencia and Madrid during my career break and more recently Bilbao where I checked out 'Dragonstone'.
I'd also spent some time in Andalusia's Seville and nearby coastal towns like Chipiona, I kinda missed the southern Spanish vibe and wanted to see all that again so on this trip, I made a return to Seville but also added on coastal town Cadiz and Cordoba to see the famous Mezquita-Cathedral.
Also, back in February 2022, prices for nearby VTL flights like South Korea and even Malaysia were more expensive than usual, and it just seemed more worthwhile to pay a little bit more to fly a lot further to Europe.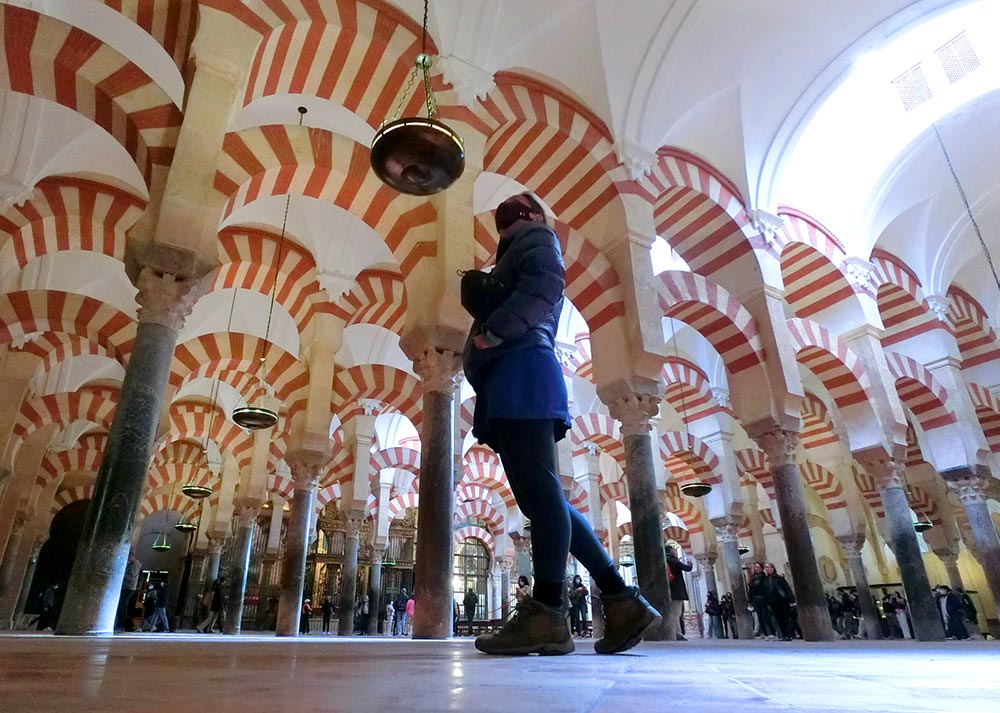 Disclaimer: All this info is based on my experience and correct as of late March / early April 2022. I bought my tickets for a VTL flight in Feb 2022 before they announced the Vaccinated Travel Framework. COVID rules change quite quickly and while I will try and update as much as possible, I highly advise checking the official sites to be sure.
Official Resources
I spent a lot of time poring over fine print and changing rules to make sure I was comliant for my trip. Here's what I recommend you check out:
Singapore to Spain: Entry Requirements
As of March 2022, Spain does not have specific tests or requirements needed for entry into Spain as long as you are fully vaccinated. If you are not fully vaccinated, you may need to either have an exemption certificate or take a test beforehand, but for fully vaccinated folk like myself, it's pretty straightforward.
Things to prep
Vaccination Certification:

Spain requires the EU Digital COVID Certificate, but the great thing is that the Singapore Vaccination Certificate is recognised as an equivalent. What Singaporeans need to do is download your immunisation records from Notarise, follow the steps and you should receive your certificate almost immediately via email. The PDF will have both an online QR code (for all your shots) as well as EU-DCC compatible QR codes for offline verification (1 QR for each shot you take)
I recommend saving your PDF to Dropbox/Files or something you can access easily even offline. For iOS users, I suggest opening the certificate on another screen and scanning the QR code with your phone camera. It will automatically trigger for you to add the immunisation records to the Health app on your iphone, and from there you can also save to Wallet so you can easily pull out the QR codes when needed.
When this was checked: at the SIA check-in counter

SpTH Form:

Spain also requires you to do is to fill up a Health Control Form (FCS) before entry into the country. You can actually can fill it in as early as you want (you will need to add flight/seat details so have that on hand), but you can only complete the form and get the Spain Travel Health Pass QR code 48 hours before your departure.
You'll need your phone – they will send you a pin number which will be your password (reusable if you login multiple times so save that number), and the final QR code in PDF form/passbook form will be sent to your email so you can save and add to your Wallet as well.
When this was checked: at Spain's airport before going to the baggage claim

Singapore Airlines:

Online check in was pretty standard, but one additional step was that SIA asked for the QR code to need to verify my vaccination cert before I could get my boarding pass. I was on my laptop so I took a screenshot of the QR from the PDF and uploaded that file as an image which worked for me.
Situation In Spain
Masks
Update: Spain's COVID mask rules now are that masks are only required in public transport and healthcare institutions. You'll noticed I'm masked up in many pictures because as of March 2022 when I visited, face masks were still mandatory in indoor areas, tourist attractions and on public transport.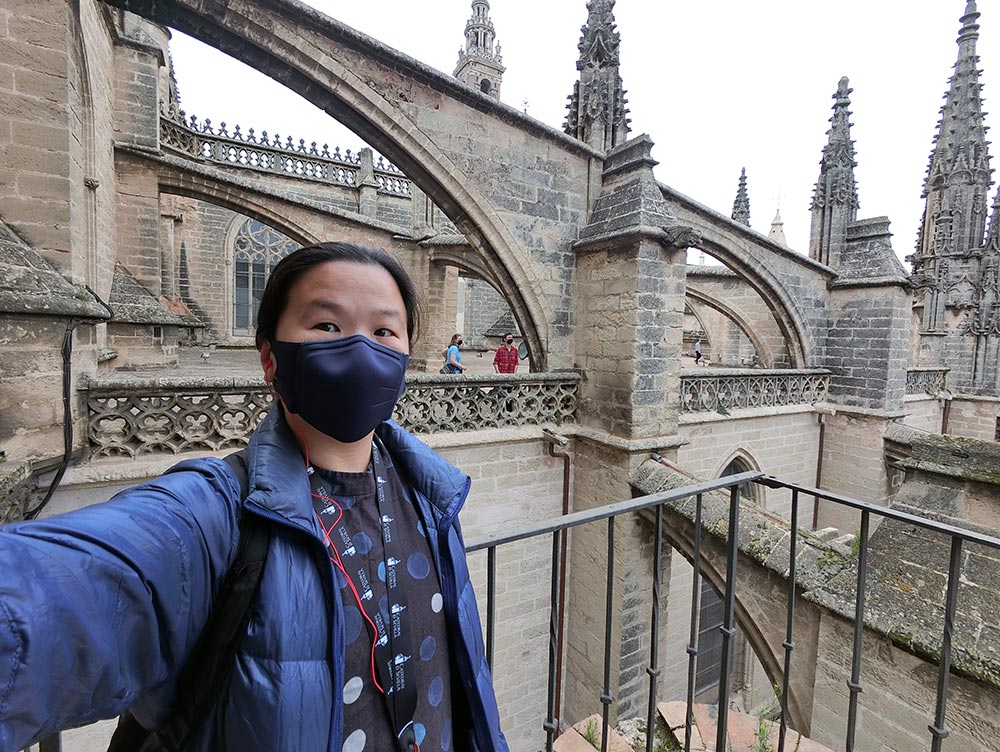 The Spaniards were actually pretty good about the mask rule when I was there. Sometimes people would be reminded to wear their masks when indoors, and while outdoors I did see some people keeping their masks on still especially in more crowded town centre areas without being reminded, which I think is a great sign that most people understand how and why the masks work.
But the weather was pretty cool when I visited Spain so having the mask on wasn't much of a hardship, and sometimes quite welcome for keeping my face warm on windy mornings. Might be a different story in summe!
What happens if you get COVID in Spain?
According to Spain's Safe Travel website, the advice is to stay in isolation for 10 days if you have COVID symptoms or at least 3 days after you stop having symptoms which would be a real bummer on your trip. Honestly, unless you have an official diagnosis from a doctor and are really sick to the bone, it's not like they track this strictly like they did in Singapore for a bit.
But the more important question for most travellers is when will you be allowed to fly back to Singapore if you get COVID, and basically you need to have the first officially recorded positive COVID test be MORE than 7 days from your date of departure before they allow you on the plane. So that means if you get COVID late in your trip, you'll have to push back your departure date till at least 7 days after that positive result, so making sure you have travel insurance and flexible flight plans is definitely something to consider.
At this point, you will need to show a negative test that's within 48 hours of your trip and both mandatory and supervised, so if you suspect you have COVID while on your trip, you'll probably want to test earlier so that hopefully it doesn't impact your return date too much.
Spain to Singapore: Entry Requirements
Update: Now there's no need for ART/PCR tests to enter Singapore if you are fully vaccinated! Predeparture tests only needed if you are unvaccinated according to ICA.
With the vaccinated travel framework in April 2022, there are actually a lot less rules now when travelling from Spain to Singapore. Here's my experience in March-April 2022 flying in from Spain to Singapore as a Singaporean citizen.
Things to prep
Supervised ART Test:

Singapore requires everyone to do a pre-departure test within 48 hours before departure time – minimally this needs to be a supervised ART. My initial plan was to book an ART test time slot at Barcelona Airport via Fly COVID Test Center at 30 Euros, but I found out that Spain is one of the countries where Singapore allows for remote supervised ART swab tests via online means.There are several options listed, but this is a lot cheaper with prices around S$12-15 instead.
You will need to take into account time difference when booking your test, and also provide your own COVID test kits that have been HSA approved. Minimally you need to have at least 2 kits on hand per test, but I suggest you carry more in case you actually do get COVID.
How the test works:

I did my test with Kingston and received a Google Form link an hour before my test time to fill in some basic information about your self and the test kit that you are using, as well as the Zoom Link for the test itself
At the time you booked, you login the Zoom room like a typical meeting call with all the other people getting tested during that timeslot. The host checked our names and then shuffled us individually into smaller breakout rooms with the person who will actually monitor you doing the test. You may still have other strangers in the same breakout room as you but much fewer.
After doing the test, you are shuffled back into the main holding area to wait for your test results. The host will call your name when the 15-minutes is up and ask you to hold up the test results to the camera for verification, and once they've confirmed what they've seen, you can leave the room and they will email you the results in the next few hours.

When this was checked: at the SIA check-in counter at the Barcelona airport

Singapore Arrival Card with Health Declaration:

This arrival card is not mandatory, but apparently will help speed up paperwork checks at immigration as it basically declares your health status. You can fill it up to 3 days before your arrival in Singapore.
I'd actually forgotten to fill up the form and only did it on my phone right when after my flight landed in Singapore and while waiting to disembark. It's pretty easy to fill up.
---
My Spain trip planning
A big part of my consideration for any of my bookings on this trip was to ensure that I would not be penalised as far as possible in the event I got COVID before/during the trip. Flexible bookings were something I actively looked out for, and I also highly recommend getting travel insurance (a must for me regardless of COVID), but make sure your plan has COVID considerations and cover.
Singapore to Spain Flight: Singapore Airlines
I booked my flight to Spain in February because it was a VTL flight (so no quarantine on return) and because Singapore Airlines promotional flights were about $980 for Singapore-Spain flights at the cheapest tier, which is what a decent promo price SG-Europe ticket would have cost pre-COVID – I added luggage so paid just slightly over 1k SGD.
But the biggest draw for me was that SIA was allowing free unlimited flight changes all the way till 31 March 2022 at that time (currently I see it extended to May 2022) no matter what tier you bought, so that gave me some assurance on being able to make last minute changes in the event I caught COVID unexpectedly.
Note that if you are redeeming miles, you might be locked into fixed dates without room to change, so check your T&Cs quite clearly before you book.
Flight review: SIA has an amenity pack that comes with a surface wipe, 2 sanitary handwipes and a disposable facemask. I used the surface wipe to clean all the contact surfaces (window, headrest, arm rest, tv screen, table…). The flight wasn't super full – I had an empty middle seat in my row thankfully, and they were serving food and drinks as per usual, though they would remind you to put your mask back on after meals.
Barcelona-Seville Flight bookings: Vueling
Now I had to go from Barcelona to Seville, and while I did consider taking the Spain's high speed rail (takes about 5-6 hours), the timings didn't really work for my flight arrival time so I opted to fly via their low-cost Vueling airline instead which has several flights a day linking Barcelona and Seville.
Vueling's tickets are best bought as early as possible to get the cheapest prices – it gets steadily more expensive as days go by, and for my Optima tier, they offer one free change of flight per leg in case you have to do last minute changes. They have a TimeFlex tier that lets you do unlimited changes, but doesn't seem to include check-in baggage in the price. If you use your free change and need to change again, you can consider cancelling and getting full refunds as credits and rebooking again.
Flight review: Generally quite fuss free, though as a low-cost airline there aren't always a lot of staff on hand to help with the self check-ins and stuff, so I suggest going early when it's less crowded to get your check-ins settled. You're not seeing Heathrow-level type of crowds, but general advice is to do as much as you can online in terms of check-in and go early to avoid queuing too much.
Inter-city Train bookings: Rail Europe
Most of the Spain train websites will tell you that the official Renfe website is pretty finicky especially with accepting overseas credit cards, so I booked all my train tickets with Rail Europe (Trainline is another good option) which has an excellent interface and is really easy to use. They charge a one-time 6.95 euro booking fee no matter how many tickets you book, so best to book all your tickets at a go. Prices also increase closer to date so book early to get promos.
You'll get the train tickets as a PDF, and you'll usually need to scan the bar code either at the entrance to the station or when they check on the train itself. I printed mine out to be safe, but I think it still works if you scan the codes off your phone.
Hotel bookings: Booking.com
My go-to website for accommodation bookings is booking.com [affiliate link] because it's easy to use and compare places and reviews, and use filters to find what works for me.
Now typically I tend to book hostels and my usual budget is around $30/night, but given the COVID situation, I decided to splurge a bit more and book private rooms with private bathrooms instead. I'm still trying very hard to avoid getting COVID, and while I'm happy to share space usually and I like the social nature of hostel dorms, this first trip back I decided to be more cautious, but it did spike my accommodation budget to about S$100+/night, which is ok if you are travelling as a couple but a bit steep for a solo traveller.
My accommodation [affiliate links]
SIM Card: Airalo eSIM
My usual MO when it comes to connectivity is to either buy a SIM card at the airport or ask my accom reception to point me in the direction of a mobile shop, but this trip I thought I'd try the eSIM card instead, in which I wouldn't have to manually swap out my SIM card (I have so many random SIM cards lying around and I always lose my tray ejection pin).
I opted for Airalo [affiliate link] and bought a 10Gb Guay eSIM card for US$18 (US$15 after using someone's referral code) and installing it in my iphone was pretty easy. It worked the minute I landed and connected to the network and was generally well connected throughout the trip except for a few hours where signal just dropped unexpectedly.
What I liked about it as well is that I can toggle between my primary SIM card and this e-SIM so I can still receive my bank's PIN number SMSes (through my primary line) when making online purchases while accessing the internet (through the eSIM's data plan). I switched off roaming on my primary SIM card to make sure I didn't incur any roaming charges.
I do like this eSIM card, and if it the prices are reasonable for my next trip, I'd probably opt for it instead of
Check out Airalo [affiliate link] for yourself, and you can use my referral code JACLYN4873 to save yourself US$3 (It'll give me US$3 credit too!).
Travel Insurance: SOMPO
I highly recommend travel insurance whether you get COVID or not just to be safe. I've written extensively about how travel insurance has bailed me out in the past, so now with these uncertainties, it's even more essential. Some countries require you to have mandatory COVID-related insurance and adequate coverage – Singapore is one of those countries (if you are not local), but luckily Spain is not, but I still got myself a package anyway.
Why I got SOMPO? Honestly it's because my Insurance agent recommended it, I don't have a better answer for you.
Attraction Bookings
Many of the major sights in Spain require a booked time slot to enter and I highly recommend checking the website to see if you can buy tickets beforehand. This will save you from having to queue up in person, which many people still do and honestly is a real waste of time! Examples include Barcelona's La Sagrada Familia, Seville's Real Alcazar and Cathedral, Cordoba's Mezquita-Cathedral and Viana Palace.
Buy your tickets online, and you usually receive a QR code or bar code which you just need to scan at the door when you enter. Another thing to note is that several of these attractions have also shifted their audio guides to online websites or specialised apps that you should download beforehand. Carrying around earphones with you so you can listen to the guides as you walk around!
Trip Planner: Wanderlog
I usually throw my trip itinerary into a Google Doc and put all my docs in a dropbox folder, but on this trip I tried using something called Wanderlog and it's been a pretty cool experience. I like how it automatically organises your accommodation and transport and it does make it easy to figure out potential itineraries and routes. I can also upload attachments there and access it offline in the Pro version, and even add my spending there too so it was very useful just to have all my stuff in one place.
Here's a mock version that I did up so you can see what I mean for yourself! I'm not sharing my actual trip plan because there's a lot of personal info in there, but I did use this a lot throughout my trip and I quite like it.
---
Any questions? Drop them in the comments below, am happy to answer them! I'm also hoping to work on more Spain blogs so stay tuned for those.