This particular memory is from one of my graduation year trips with my good friend R who was studying in Montpellier, France at the time. I spent a week in France with her before we travelled to Spain together, checking out Barcelona, the weird-ass Dali museum in Figueres, and finally the southern Andalusia region. We hadn't really planned on it but we somehow found ourselves in Chipiona, a tiny seaside town on the southwestern coast of Spain usually overshadowed by its historically significant neighbour to the north Cadiz.
We'd just finished exploring Seville and picked up our rental car, ready for the long cross-country drive to Granada in central Andalusia the next day. We decided to stay overnight outside of Seville and R had found a cheap hotel in Chipiona, about an hour's drive from Seville with a lovely route lined with fields of sunflowers, corn and windmills.
To be young and fearless again – we didn't even have GPS or a map at that point but still managed to follow road signs and ended up at our hotel, the Hotel Playa de la Regla [booking.com affiliate link], sitting right along the beachfront with an awesome view of the ocean.
It was around 8-9pm when we finally reached Chipiona, but summer days in Europe are long and it was still quite bright when we reached. Our hotel room unfortunately didn't have much of a view (#106), tucked away at street level in the back facing the carpark, but after days of sleeping in shared dormitory hostels in Barcelona and Seville, we were just so relieved and awed by the privacy and size of this private room with an attached bathroom.
But we didn't spend too long admiring our room, we parked the car (just 6 euros/night at the hotel!) quickly put our stuff down, changed out and ran onto the beach. Given the late hour, the beach was pretty empty so we had it mostly to ourselves and I jumped into the chilly Atlantic waters even if the chilly sea breeze had me screaming. R decided to play it safe and hung out on the beach with a book while I frolicked (and froze) in the waves.
We take a walk along the beach after our little dip. The view from our hotel was pretty amazing – a stately old church on one end, and a tall lighthouse on the other. We didn't know it then, but the Faro de Chipiona or the Punta del Perro Lighthouse is apparently the tallest lighthouse in all of Spain.
It only got properly dark at about 10pm since it was summer. We stopped at a little restaurant bar by the beach for really, really yummy fried Calamari and 1 euro (!) beer outdoors, and later we had coffee and ice cream on the hotel patio, chilling out and enjoying the cool night air.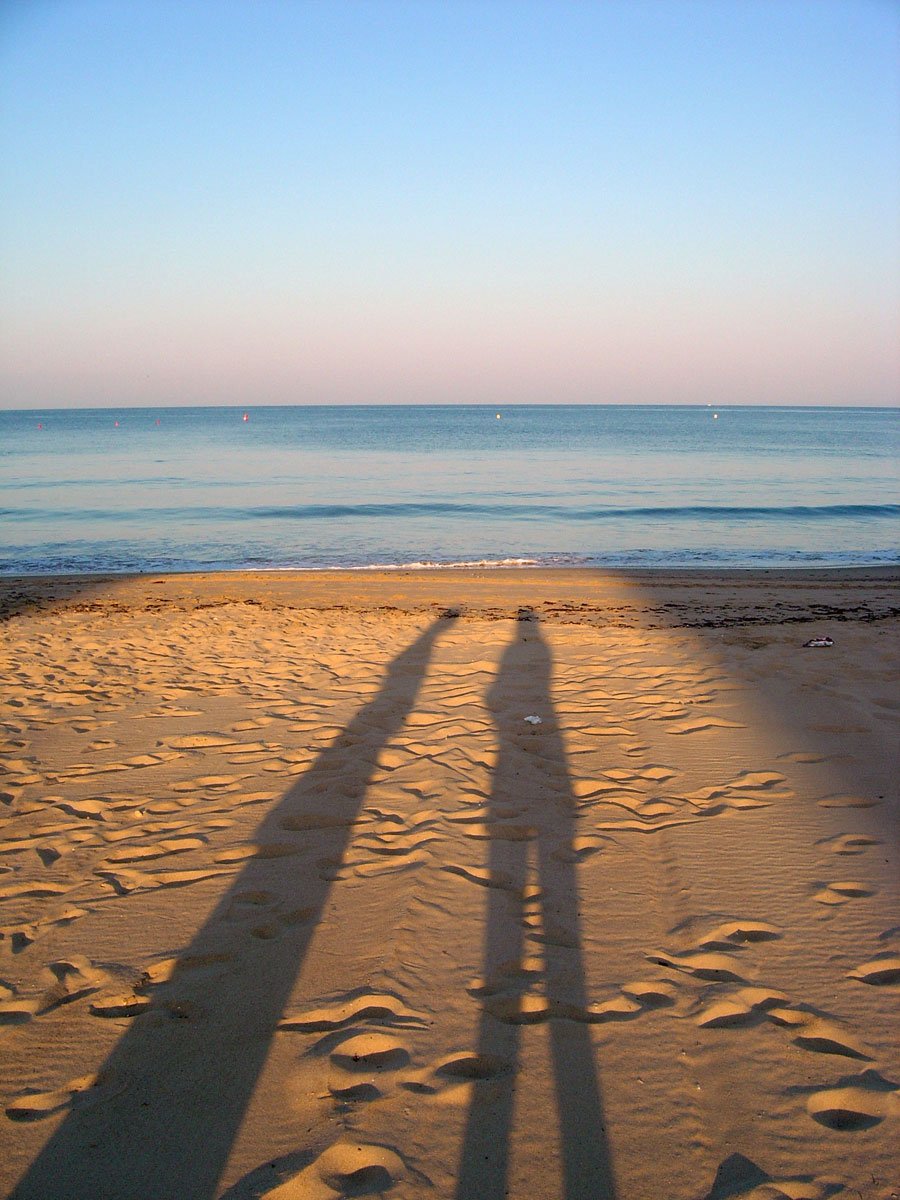 It was so beautiful that we even made ourselves wake up early the next morning to enjoy the beach as much as we could before we took breakfast in the open lobby (awesomest breakfast of the trip at that point), and finally drive off east towards Jerez de la Frontera. It would be a madcap day seeing dancing horses and drinking sherry in Jerez, driving through the misty mountain roads and stopping by the massive gorge of Ronda before finally reaching our destination, Granada.
Chipiona isn't a typical tourist destination and we barely spent 24 hours there, but it's one of those places that's left a lasting impression in my travel memories. I hope to go back one day and properly explore this quaint tiny coastal town and enjoy another lovely summer evening along that tranquil beach.
---
Looking for more articles on Spain? I've been all over: