One of the things I did while in Prague was to take a day trip out to nearby Kutna Hora, about an hour outside Prague by train. This town is little but its center is a UNESCO heritage site I spent an afternoon there with my hostel mate J just walking around and taking in the sights.
Sedlec Ossuary
Its most popular attraction is Sedlec Ossuary, also the Sedlec Kostnice or the Bone Church. It's rather grisly sounding moniker is a result of the fact that all the decorations inside this church are actually made up of… you guessed it, human bones!
The interior of the church is quite small, and you descend into the lower chamber where you're surrounded by bone decorations made up by more than 40,000 skeletons!
Seriously everything is made up of human bones! It isn't as eerie as one might imagine though, the massive number of bones were due in part to lots of deaths from the Hussite Wars and the Plague, and because this was a very popular burial site due to it being sprinkled with some blessed soil from the Holy Land, Israel. Overwhelmed by the sheer amount of bones, what started out as a church was converted into an Ossuary, and at some point a carpenter was employed to decorate, and this is what the end result turned out to be!
It's something you need to experience and see for yourself to truly appreciate, read on for more pix and commentary:
Besides the lower chamber, there is an upstairs chamber which you can access from outside the church, on the right side of the main entrance. There you'll see some info on the history of the ossuary on some panels, including the fact that there actually used to be more decorations, just that time and tourists had made them relocate some of these. It's also an exhibition space, so there was a pretty random mini art exhibition happening in the chapel as well.
How to get there
Sedlec Ossuary (Kostnice Sedlec)
www.sedlecossuary.com
Getting there: It's about a 10-15 min walk from Kutna Hora's main train station – exit the station and walk down the main road. You'll see a large church along the road on your left side. Cross the road to your right and take one of the side roads in, look for signs that say Kostnice. The town is pretty small and signage is good so you shouldn't have too much trouble finding it.
Cost: It costs 90 CZK to enter the ossuary. You could get a combined ticket if you're planning to go into other attractions and save a little bit.
If you get the audio guide, it's another 40 CZK. The audio guide has 4 chapters in it, it's not very expensive so good if you want to listen to some history while you're walking around, but not completely essential. If you're looking for a Kostnice souvenir, buy it from the front counter here.
After the ossuary, we decided to head over to the town centre to get some lunch and check out the other sights. You could take a bus in, but it was pretty good weather so J and I decided to take a slow stroll into the town. No worries about getting lost because there's really only one main road leading to the main town centre! It took about 30 mins though, and I was quite ready to sit down by the time we reached.
The town centre itself is your typical cobblestone streets and narrow roads, we found our way to what felt like a town square of sorts called Paleckeho, or Palecky Square, and had lunch at Fresh Burger and Cafe. Good homemade burgers (although I got served a wrap by mistake instead, sadly) and free wifi, woot! Nice to sit outside and people watch too – they even had blankets for those who got cold.
---
St Barbara's Church
We walked on towards another must-see in Kutna Hora, the cathedral of St Barbara. The church is perched on a cliff side of sorts overlooking a valley, so great views all around. This church was quite beautiful and grand, all baroque gothic style.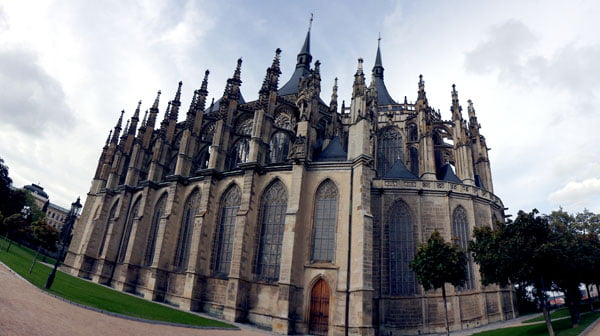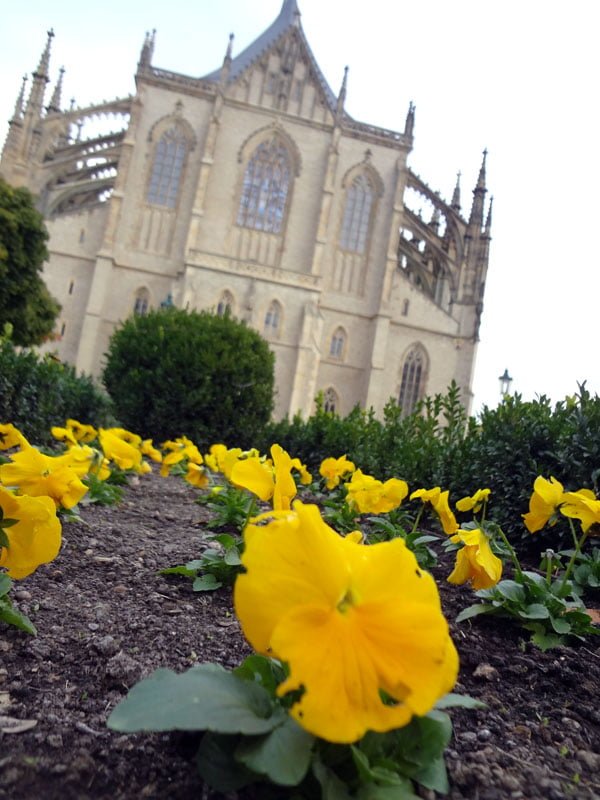 The inside of the church was no less grand. St Barbara was the patron saint of miners, and back in the day Kutna Hora was famous for silver mines, and apparently this church was meant to be even bigger, but when mining declined, so did the grand plans for the church. It took 500 years for the church to be built to completion.
How to get there
St Barbara's Church
www.khfarnost.cz
Getting there: St Barbara's Church is located in the town centre, so it's about 30mins walk from Kutna Hora main train station, though you can take a bus as well. There is another train station (Kutna Hora Mesto) closer to this side, which can connect you to the main train station as well.
Opening Hours: 9am – 6pm (Apr-Oct), 10am – 4pm (Nov-Mar), more here
Cost: 60CZK. There is no English audio guide, though they will hand you a sheet of English descriptions in a plastic folder so you can read some facts of that.
One thing I really wish we got to check out was Hradek and the Silver Mines which is just up the road from St Barbara's, but unfortunately when we reached, the last English tour for the day had left and only the Czech one was available, so we skipped it in the end. Silver mining was the main way of life for Kutna Hora back in the day, and you would actually be able to walk through the silver mines. If you're ever there for a day trip, check on the timings first so you don't miss out!
All in all, Kutna Hora was a nice and easy day trip outside of Prague, and I would recommend it for people who want to get out of the tourist centre and just chill out in a small Czech town.
Check out all my posts for more ideas of things to do in Prague.