My trip to Dublin and Prague was a seriously alcoholic one – Dublin is of course famous for Guinness (and Bulmers Cider and Jameson Whisky), but Prague is also another serious contender for the top city for beer – did you know that the Czech Republic has the highest beer consumption per capita at around 160 litres per person in a year? That's proof that there's something awesome brewing in that country!
Of course one major factor for the beer (or pivo as they say in Czech) love is the low cost of it. The average cost of a pint of draft beer in a typical Prague pub in the main town area is somewhere around 30-40CZK. Based on the current exchange rates, that puts a pint of beer at something around 2 euro/S$3. Seriously. In Singapore, a pint of beer is a good S$12-15 on average, so it was pretty hard to say no when the beer was often cheaper than the water or soft drinks on the menu.
The most common type of beer you'll find on tap in Prague are pilsners, which actually takes its name from a Prague city called Pilsen – these are generally golden in colour and rather foamy so you'll need to let the head sit for awhile. Here are a couple of the local brands you should definitely try.
THE BEERS
Pilsner Urquell – see picture above, it's the original Pilsner beer as brewed in the 1840s. There are lots of Pilsner Urquell restaurants around Prague that you can try out.
Gambrinus – also quite popular and belonging to the same brewery as Pilsner Urquell. The name Gambrinus is also apparently the name of the unofficial patron saint of beer brewing.
Budweiser Budvar – Definitely not the American Budweiser (whom they've had name squabbles with – it's known as Czechvar in North America), this one I found actually has quite a strong taste. There is apparently a brewery that you can tour in Ceske Budejovice, about 3 hours from Prague by train.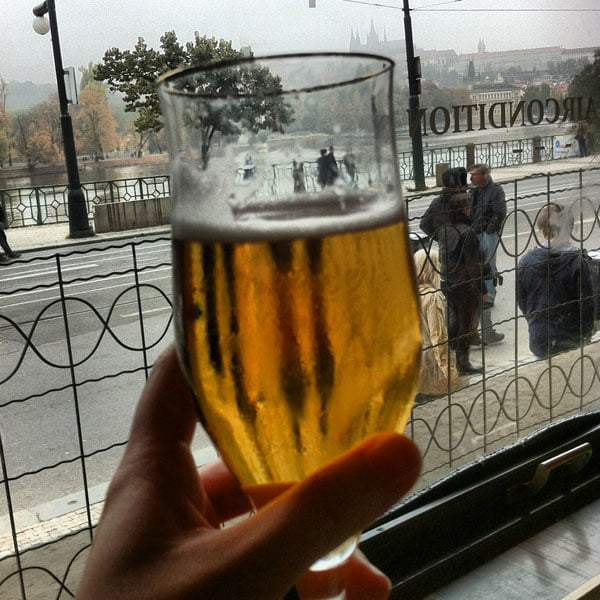 Staropramen – translated as "old spring", it's the second largest brewery in Czech and the original Prague brew. I didn't know this then but they have converted their old brewery location in Prague 5 into a visitor centre and you can do a 50-min tour in English with tasting – more details here.
Kozel – the Cerne version is a dark beer that's quite tasty and apparently the Czech Republic's best selling beer in the world! It's brewery is out in Velke Popovice, more details on brewery tours here. The funny thing is that I usually like my lighter beers at home, but when in Europe I tend to favour the darker ones which are tastier and less bitter.
In line with that, my favourite beer from Prague ended up being Rezane, which isn't actually a beer brand, but a direct translation for 'cut beer' wherein the pint is a combination of light and dark beers mixed together.
MY DRINKING HOLES
Some of the places I got my drinks in, some recommended, others just chanced upon:
Cafe-Pub Atmosphere (Smetanovo nabrezi 14, Prague 1)
This place was recommended by our receptionist at Hostel Downtown – about 5 minutes walk from Narodni and pretty close to the river and Charles Bridge as well. Nice warm atmosphere inside.
Kavarna Slavia (Smetanovo náb?eží 1012/2, Prague 1)
It's got a great location just opposite the National Theatre Narodni Divaldo, in front of the Legion Bridge and along the Vltava river. I was pretty lucky to get a seat right in the corner at the window facing Prague castle (see the Budweiser pic above). Free wi-fi is definitely a bonus! Good food too.
Restaurace Stara Praha (Vít?zná 530/11, Prague 5)
I found this place after crossing the Legion Bridge and contemplating if i wanted to go up to Petrin Tower / Petrin Park. It was raining and rather miserable overall, so I ducked into this warm looking restaurant and stayed there for 2 hours eating, nursing my Staropramen and catching up on journaling.
U Provaznice Pub – (Provaznicka 3, New Town, Prague 1)
Just off Wencelas Square, my hostel friend J and I were taking a break from wandering around Prague and trying to find a decent place to eat. We poked into about 5-6 other restaurants but couldn't find something suitable and within budget (he admits that he's a stubborn dude), and finally chanced upon this little pub just off the main Wencelas Square area. Decent food, great Rezane, nice traditional pub atmosphere, good enough that we came back a 2nd time!
So if you're in Prague, grab your beer mugs and say Nazdraví!
What do you think of Prague's beer? Give me some tips in the comments!
Read more about what I did in Prague, including checking out the Opera and visiting the famous Charles Bridge.