I love Bangkok and so do many Singaporeans – I've been to the city at least 6 times for its nearness, fabulous food and great shopping. But if you want to enjoy a weekend break away from the concrete jungle, head south to Hua Hin, a quiet beach resort town on the Gulf of Thailand. I spent a little time here thanks to the Radisson Blu folk and discovered some rather unusual sides of Thailand, from a tropical vineyard to a royal train station. Here's a little guide to Hua Hin that I put together with some suggestions on things to do if you only have time for a weekend trip to Hua Hin.
What is Hua Hin famous for?
Hua Hin is popular among Thai people for its beaches and being a good seaside resort town to just kick back in, but it also gained popularity because it has been a favoured destination by Thai royalty in the last couple hundred of years. The late Thai King Rama 9 lived here for a few years before moving back to Bangkok, and other Thai Kings before him had their summer palaces built here.
Fun fact: according to some of the Thai people I spoke to, the late King had a special love for two things: stray dogs and jazz music. You'll notice that there are very few stray dogs or animals wandering around in Hua Hin, and that there is an annual jazz festival held in Hua Hin.
---
Things to do in Hua Hin
Visit the beaches
Located on the Gulf of Thailand, Hua Hin is a seaside resort that is thankfully not as overrun with tourists as other more popular spots like Phuket. Many hotels have a lovely beachfront location offering a great view of the coast. If you are into watersports, kite surfing is apparently quite popular in these parts, though it is quite dependent on the wind and water condition.
Ride the historic railway
Hua Hin is home to a little railway station reputed to be one of the oldest and most beautiful in all of Thailand, and definitely worth dropping by when you are in town. The cheapest and most traditional way of getting to Hua Hin from Bangkok is by train… if you can spare the time. The train journey takes anywhere from 4-6 hours on average based on various online accounts, whereas driving or taking a bus takes just 2.5-3 hours if you don't run into any crazy traffic jams.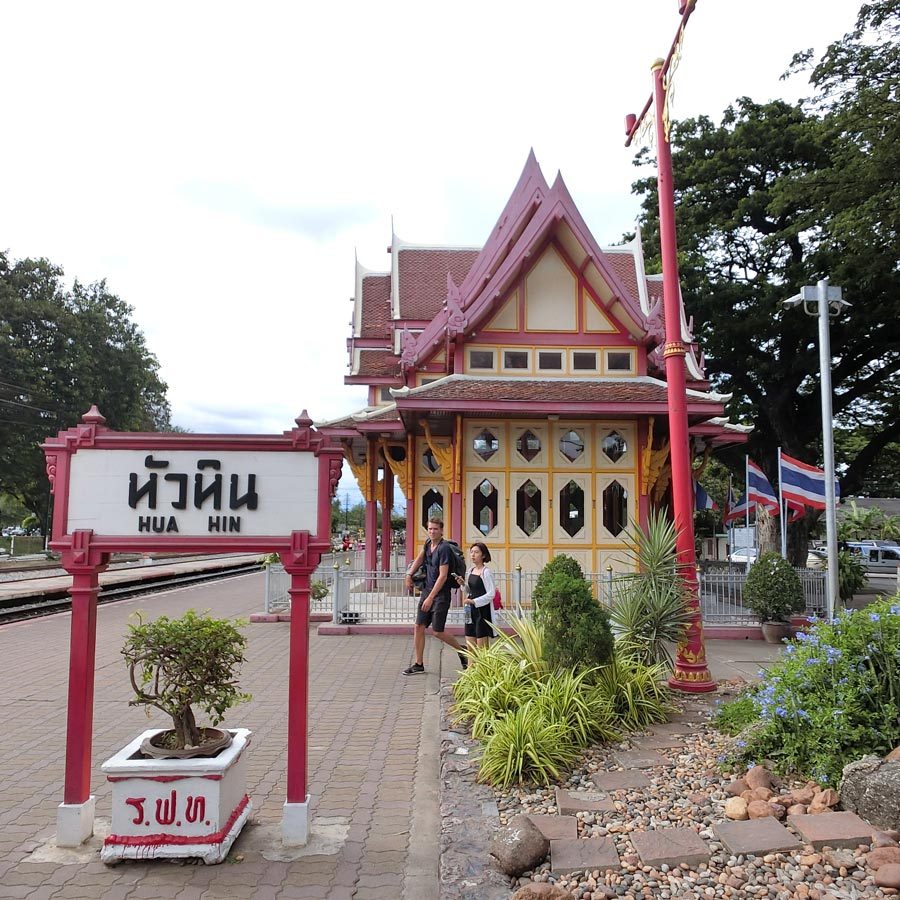 Visit a tropical vineyard with elephants
Thailand is not your traditional wine-producing country, but there exists a working vineyard in Hua Hin that you can visit and sample some locally produced wines. Previously known as Hua Hin Hills, Monsoon Valley Vineyard produces what is known as new latitude wines, a name given to non-traditional wine producing countries like Colombia, India and Algeria.
A note that while you can visit the vineyard in Hua Hin, the wine is actually produced in a factory about 2 hours away right outside Bangkok – the grapes are transported to Bangkok via refrigerated truck every day, though there are plans to eventually produce on site in future.
Do some wine tasting here, and have a scenic lunch overlooking one of the few wineries that actually has elephants wandering around in it.
Our guide told us that this area in Hua Hin is known for traditionally working with elephants, and this is probably the only vineyard in the world I know of that has elephants in. You can buy some food to feed the elephants. They do offer elephant rides which I personally don't recommend, but I could see that the elephants (30-40 years old) were well treated and well cared for.
Lunch with Alpacas
I spent 4 months in South America, and the last place I expected to see this ubiquitous South American creature is anywhere in Asia. We had lunch at the Alpaca Restaurant in Cha Am and they had a little air-conditioned and amazingly smelly room that housed several alpacas.
The restaurant's food was decent (and if you were wondering, Alpaca wasn't on the menu) and it has a nice open feeling, making it quite family friendly and a good place to stretch your legs before a long ride back to Bangkok.
Visit Hua Hin's night markets
Thailand is always good for street markets, and Hua Hin is no exception. We checked out the night market near the train station, a nice option for a post-dinner stroll, filled with your typical tourist souvenirs and street food. We went after dinner, but there were a bunch of seafood restaurants in the vicinity if you want to grab a meal.
Unfortunately, we were there on a weekday so we couldn't check out the weekend Cicada Market, a craft market that some people say has a better selection of souvenirs than the Hua Hin Night Market.
---
Where to stay in Hua Hin
I stayed at the beachfront Ace of Hua Hin Resort (previously the Radisson Blu Resort Hua Hin) which was a lovely hotel and located in Cha Am, a short distance from downtown Hua Hin. See my review here or check out Ace of Hua Hin Resort on booking.com [affiliate link].
Some of these links are affiliate links which may give me a small % in earnings but at absolutely no extra cost to you. Think of it as helping me to keep this site running.
Want to explore lesser seen spots in Thailand? Why not check out Amphawa or Khanom, see all my Thailand posts.
This trip to Hua Hin + accommodation was sponsored by Radisson Blu, with flights sponsored by Thai Airways. All opinions in this article are my own