Hunting down street art has led me to some interesting corners around the world, from former military barracks to once unassuming residential estates, but little did I think that it would take me to Sawankhalok, a tiny town in Thailand's northern Sukhothai province that's better known for its history and culture. I spend a very quick weekend exploring this city, and here's why a little Sukhothai Weekend Guide that I put together with things to do in Sawankhalok and why you should visit this little town.
Thanks to the folks from Assajan Collective and Tourism Authority of Thailand who sponsored this trip and introduced me to this under-the-radar spot in Thailand.
---
Where is Sukhothai?
Sawankhalok is a town in the larger Sukhothai province, located in the Northern part of Thailand and was the first capital of Siam. Sukhothai was the centre of the Siam Kingdom in the 13th-15th century and also considered the birthplace of Thai culture and the first Thai script and literature. This area is most famous for its UNESCO World Heritage Sites where you can see ruins and other remnants of this golden era.
Sukhothai overall is a pretty quiet region that sees more local than foreign tourists. Sawankhalok itself used to be much busier, but unfortunately with direct roads leading from the airport to the historical sites, it often gets bypassed today, which is a bit of a pity because it is a charming small town if you just want somewhere quiet to chill out.
The best time to visit Sukhothai is generally from October onwards when the rainy season ends and the cooler weather begins. I visited in September where it was still relatively warm and slightly wet.
---
Things to do in Sukhothai
The most popular spots to visit in Sukhothai include the Sukhothai Historical Park, Si Satchanalai Historical Park and Kamphaeng Phet, but if you are looking for more than just historical relics and ruins, here are some other suggestions on things to do in Sukhothai, namely in the town of Sawankhalok.
Sukhothai Airport
Sukhothai's Airport (THS) is privately owned by Bangkok Airways, and while it is very small and quaint and built to feel like a tropical resort with an open-air concept, traditional Thai sala-style architecture and the cutest little people-movers crossing the tarmac that make you feel like you're in a theme park.
But what's truly fascinating about this airport are the adjoining attractions that make up the airport grounds. There is a private zoo right next to the airport – I didn't have time to check it out properly or get a great photo, but I spotted some zebra and deer, and they apparently have giraffes as well. They are currently building a dinosaur museum of sorts as well.
Organic Agriculture Project
I did visit the Sukhothai Airport Organic Agriculture Project, a mini showcase farm with paddy fields and livestock. It is often visited by students and other visitors keen to learn about organic farming.
Rice is a key feature here – Sukhothai is pretty famous for its rice, and you can learn all about how they grow rice organically and buy some as a souvenir as well. There is a restaurant on site as well if you rather just eat the rice instead.
If you want to try planting rice, they have a short 'outdoor classroom' experience where visitors get to put on a uniform similar to what their workers wear and do a bunch of different activities that include riding buffalo, planting rice and collecting duck eggs. It's a fun way to spend a few hours.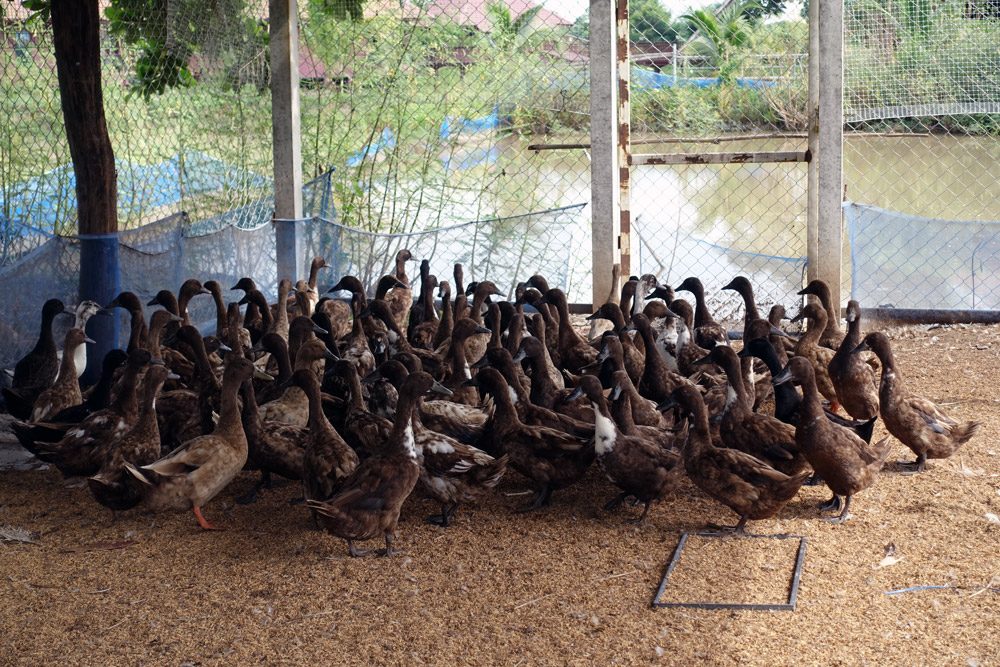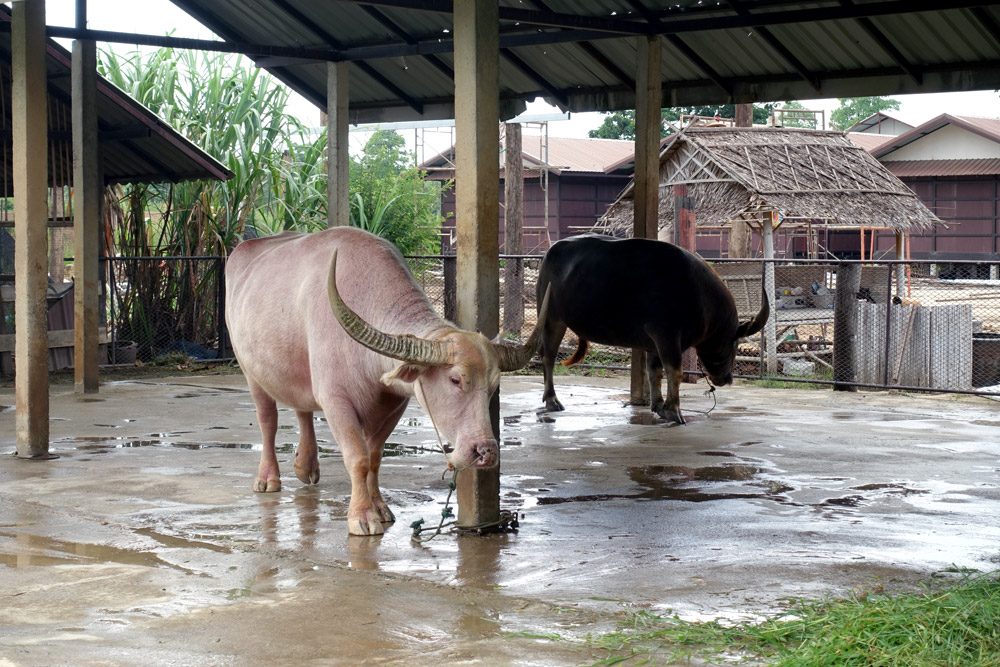 How to get there: The Organic Agriculture Centre is right next to the Sukhothai Airport on Klong Krachong.
Contact: The Outdoor Classroom usually runs from 9am-12pm and costs 900 THB/person. Check out their website for more details.
Sawankhalok Train Station
The Sawankhalok Train Station is over 120 years old and was the centre around which the town revolved back in the day. It was built by the then-King to commemorate the birthplace of his Queen.
Back when trains ran on steam, Sawankhalok was the perfect halfway stop for the trains to refill their steam engines en route from Bangkok to Chiangmai. The train station is also a very short distance away from the Yom River, making it convenient to transfer goods from boat to train.
The wooden buildings around the train station are around 90 years olf and were once hotels that housed guests passing through Sawankhalok. Most of them have been turned into shops today.
How to get there: Sawankhalok Train Station is considered the heart of Sawankhalok and located along Thanon Phisan Sunthornkit
Sawankhalok Street Art Alley
Earlier in 2019, several artists from around Thailand and the ASEAN region were invited to Sawankhalok to create murals along a stretch of road near the town centre. Known as the Experiencing ASEAN Pop Culture project, it saw artists from Singapore, Malaysia, Cambodia and Thailand come together to create a lovely alleyway of art to liven up the city.
The artworks have been quite well received, drawing curious tourists and increasing sales in the surrounding businesses, and they just might extend this project to other parts of the city, stay tuned!
Visit on Saturday evening when they block off the street and set up a stage and some stalls for a mini weekend market.
Here's a little bit more about each of the art works and artists. I love how they were inspired by the local community and painted things that reflected Sawankhalok and Sukhothai's culture.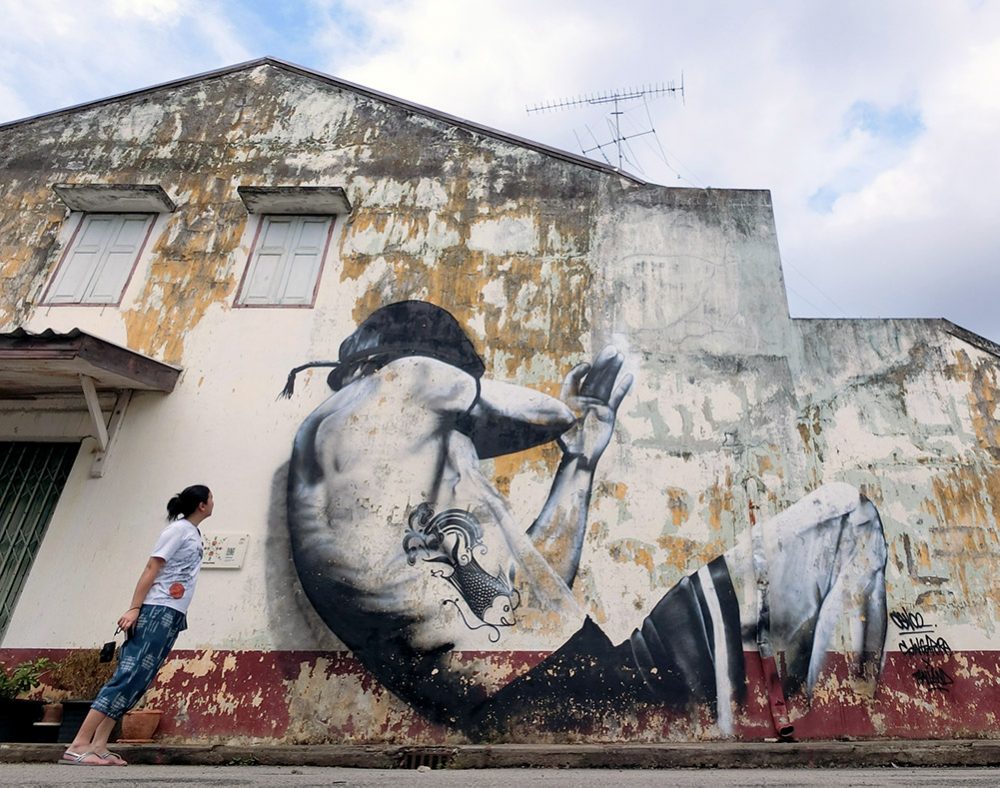 How to get there: Cross the road from Sawankhalok train station to Klang Muong. Walk down it and you should see the first street art work (Ceno2's Muay Thai Fighter to your right) along Thanon Phisan Sunthornkit.
Hai Coffee Shop
If you need a coffee break after all that walking around, make a pitstop at this little coffee shop, a family-run business with over 90 years of history.
I was pretty lucky to meet the owner of Hai Coffee Shop. The coffee shop was opened by his parents and named for him, and his son is the one making coffee these days.
How to get there: This coffee shop is on Thanon Phisan Sunthornkit at the cross junction along the street art lane, directly opposite Ceno2's Old Lady
Learn some local craft
Make a Dok Tan Ta Wan
Migrating from Luang Prabang in Laos 65 years ago, the Tai Klung have managed to preserve their language, food and traditions and welcome visitors curious to learn a little more. Something I really enjoyed doing was making my own Dok Tan Ta Wan (translates to Sunflower), a traditional craft by the local Tai Klung ethnic group who are known for their craft in textiles, wood and basket weaving.
You can buy a ready-made Dok Tan Ta Wan from them, but it costs the same (just 20 THB for a little one) and it's frankly more fun to try your hand at making your own. The process basically involves tying some coloured string around a wooden frame and forming your own colour story – each colour does represent a certain wish. I found it quite simple and finished quite fast, and while my companions took a bit more effort to get it done. It's a nice souvenir to take home with you.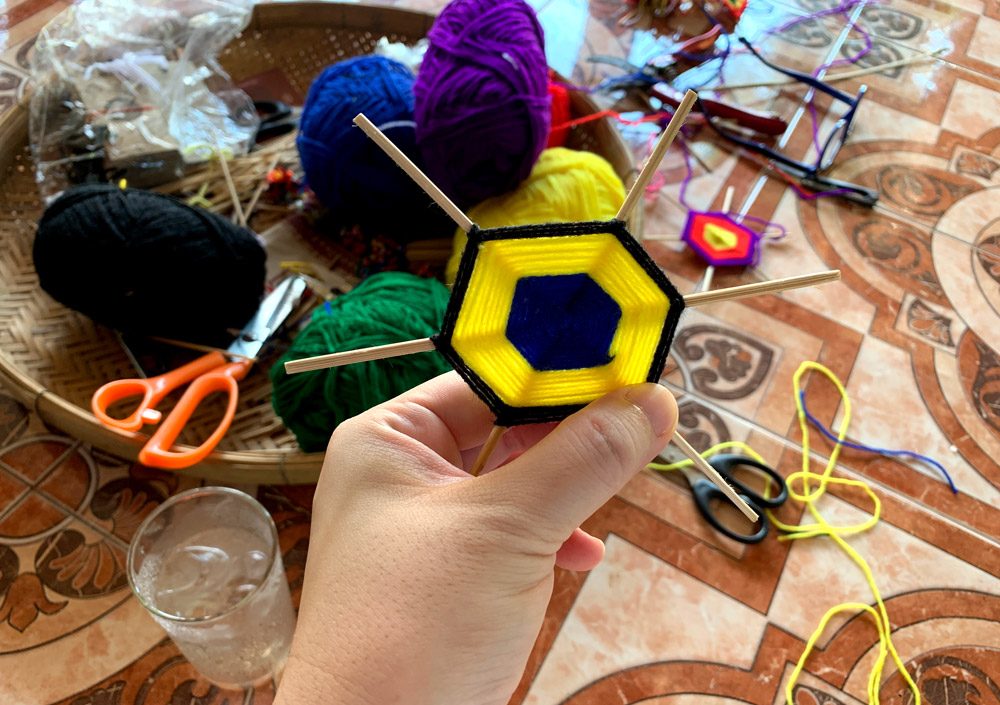 If you have more time, sit down for a Tai Klung traditional meal of So Le Kai consisting of minced chicken with a lot of relish.
How to get there: The Tai Klung Cultural Centre is located in the village of Ban Koh Noi in Nong O, north of Si Satchanalai Historical Park and the Yom River.
Contact: Check out their facebook page (Thai) or contact +66 89 643 1687
Design your own Sangkhalok Ceramic
Sawankhalok is pretty famous for a style of ceramic known as Sangkhalok Ceramic, which is said to be inspired by the white and blue Chinese ceramics, though the flower and fish patterns are quite uniquely Thai.
I visited Prasert Antique which manufactures and sells Sangkhalok style ceramics, but also conducts workshops that lets you try your hand at making your own Sangkhalok-inspired ceramics. Here's an interesting article on ChinaDaily with more about the history of Sangkhalok Ceramics.
How to get there: Prasert Antique is located off Highway 1201 in Ban Nong O, north of Si Satchanalai Historical Park and by the Yom River.
Contact: Check out their facebook page (Thai) or contact +66 89 643 1687
Sawankhaworanayok National Museum
Many old fragments of pottery dating back to the 13th century have been unearthed around the Sukhothai region, and there are old kilns that you can explore as well if you are interested to learn more. History buffs should check out the Sawankhaworanayok National Museum, a little 2-storey museum with lots of ceramic artefacts on display.
---
Eat
Sukhothai Noodles
I wanted to try something unique to this area, so my guides brought me to Kala Noodle Shop – it's a little house along a quiet stretch by the Yom River. This meal was really affordable – we ordered 6 different dishes which cost 180 THB (~S$8). That works out to one hearty meal costing just S$1.30!
Sukhothai noodles or Kuay Tiew Sukhothai is essentially a rice noodle dish. What makes it special are the toppings: essential ingredients to make it 'Sukhothai' are sliced long beans, salted turnip and lime juice.
Guay Tiew Kala Rim Nam Yom (short name: Guay Tiew Kala). Contact at +66 87 312 3220 or check out their facebook page (thai)
---
How to get to Sukhothai
By plane
Unfortunately, there aren't any direct flights from Singapore to Sawankhalok. You'll have to fly to Bangkok, transit from the International to the Domestic terminal, and then hop on a 1.5 hour Bangkok Airways flight to Sukhothai Airport (THS). Sukhothai Airport is about 15 mins drive away from downtown Sawankhalok.
Here's the Bangkok Airways flight schedule from Bangkok (BKK) to Sukhothai (THS):
---
By Bus
You could take a bus from Bangkok's northern Mochit Bus Station up to Sawankhalok, but it will take about 8 hours in total.
---
By Train
There is just one train that goes directly from Bangkok's Hua Lamphong Station to Sawankhalok Station.
Alternatively, there are more trains that go to Phitsanulok in about 7 hours, where you can change to a bus that takes about an hour to get to Sawankhalok.
---
How to get around Sukhothai
Sawankhalok is a pretty small town, but the best way for tourists to explore is to rent a car or a motorbike for the day to get around. I highly recommend getting a local guide as there really isn't a lot of English in this small town, so communication might be a bit challenging on your own.
If you are looking for an English guide for Sawankhalok and Sukhothai, you can reach out to Miss Saeng at +66 97 924 5655 via LINE or phone.
---
Where to stay in Sukhothai
Sukhothai Heritage Resort
I stayed at the Sukhothai Heritage Resort just 5 minutes away from Sukhothai Airport. It was a pretty nice resort and had a pool though I didn't have time to use it, and while it is very conveniently near the airport, it is a bit of a distance away from Sawankhalok and the historical parks and you definitely need to drive to reach any sort of amenities.
Check out Sukhothai Heritage Resort on Booking.com [affiliate link]
Other options
If you are looking for somewhere in Sawankhalok itself, Swankaburi Boutique Hotel [booking.com affiliate link] is very close to the Sawankhalok train station and more centrally located.
My trip to Sawankhalok and this post was sponsored by Assajan Collective and Tourism Authority of Thailand.
---
Looking for more places in Thailand to visit? Check out these lesser-known destinations in Thailand for change from busy Bangkok and touristy islands: