In early December, the Tourism Authority of Thailand invited a bunch of Singaporean media up to Bangkok to attend the commemoration of the late Thai King Bhumibol's birthday on 5th December 2016 – I was really honoured to be a part of this group and see this ceremony firsthand.
Now Thailand is a really popular destination in South East Asia for tourists, and especially for Singaporeans. It's a favourite spot for shopping, eating and just having a nice relaxing time – I've visited Bangkok multiple times, as well as many other parts of Thailand.
After the passing of the Thai King, there has been a lot in the news about appropriate dress code and events being cancelled in the mourning period, so I thought it'd be good to share what my experience was like there in early December, especially for those who are planning their quick getaways then.
I was mostly in Bangkok and can safely say that for tourists, very little has changed and it's mostly business as usual, but I'll point out some more obvious things you might want to note in this period:
THE KING IS EVERYWHERE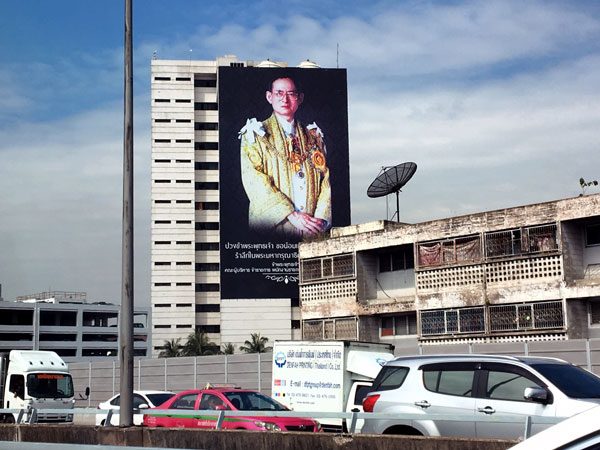 If you didn't know about the King's passing before heading to Bangkok, you can't miss it when you are in the country because there are signs, billboards and posters along the major highways and on the sides of buildings. On a smaller scale, there are little altars and smaller shrines just about everywhere you walk or turn in the city. It's one thing to read about how much the Thai people love their King, but to physically see his presence everywhere is quite something.
I'm just going to state the obvious here: Be respectful of the King in your speech and actions. You can get into serious trouble if you blaspheme the King at any time whether he's living or not…
TONE DOWN THE DRESS CODE

As a mark of respect and mourning, Thai people have been donning black and white outfits in their everyday life – it's not something you might notice immediately, but one thing you'll definitely see is that there are many stalls in the markets dedicated to selling black and white clothing, with many also selling brooches and pins with the Thai symbol for number 9 (the King was Rama IX).
Note: Tourists are NOT required to go around in black – more on that in this advisory here – though on our part as visitors I suggest dressing in more muted shades if you can as a gesture of respect, and so you don't stick out like a sore thumb. It's no hardship to put away the fluorescent clothing just for a little bit.
THE BIRTHDAY REMEMBRANCE CEREMONY
I was a privileged guest at the remembrance ceremony on 5th Dec 2016 that I mentioned above – we woke up really early in the morning and joined a whole crowd of Thai people at Bhumibol 1 Bridge. Not only is this bridge named for the King, but it's significant as it was a King or Royal project, an initiative introduced by the King to help the Thai people, in this case to alleviate transportation woes and flooding at this particular bend in the river.
It was dawn by the time the ceremony started proper – we were quite lucky to be seated quite near the front so we had a pretty good view of the stage. The government in attendance drew the most attention from the press, though there was a row of extremely handsome Thai TV stars sitting right behind us as well.
The ceremony included an 89-second silence to mark the years of the King's life, as well as making offerings to 999 monks, and the singing of the National Anthem and some of the King's very own musical compositions – he was a man of many talents and an accomplished musician to boot. You could also see a lot of people crying, especially during the singing part of the ceremony.
It reminded me a little of the passing of Lee Kuan Yew, the most prominent Prime Minister in Singapore's history, though we didn't observe such a long mourning period. It's also interesting because a few days before this ceremony, the crown prince had accepted the invitation to the throne to become Rama X, something that's been delayed for a bit. It will be interesting to see him take over the monarchy and how his rule will be like.
But in the meantime, life goes on in Thailand. Christmas and New Year celebrations are ongoing as usual, so don't cancel your trips to Thailand just yet.
Thanks to Tourism Authority of Thailand for inviting me up to explore Bangkok and Amphawa – stay tuned for more about these places that I visited.
Looking to visit Thailand? Check out my other posts about Thailand or see some other spots that the King loved as well, like Amphawa and Samut Songkhram and the coastal town Hua Hin.