If you're wandering around Singapore on the weekend, one favourite way Singaporeans like to escape the heat is to pop into one of the many hipster cafes that have been sprung up all over Singapore. We love our kopitiams but sometimes you just want a cute and preferably air-conditioned cafe to sit down and chill out in. I don't get out that much and I'm not much of a coffee drinker myself, so I asked my readers to tell me about their favourite cafes in Singapore and compiled this list for you.
Thanks to all my readers who contributed recommendations!
Note: This article was first written in 2014 for Skyscanner Singapore and has since been amended and updated accordingly.
Cafes in Central Singapore
These hip spots are closer to the tourist attractions and downtown area, a perfect place to chill after a long day of sightseeing.
Toby's Estate
The coffee from Toby's Estate is regarded by many of my readers as one of the best, and the beans come from a finca or coffee plantation in Chiriqui, Panama, not far from Boquete where I tasted Geisha Coffee, some of the most expensive coffee in the world. While there is only one cafe in Singapore, Toby's Estate Coffee is served by many establishments all around Singapore, and even as far as Kuala Lumpur, Penang and Sri Lanka. My readers also recommend the pulled pork burger if you need to grab a bite.
Toby's Estate: 8 Rodyk Street, #01-03/04 [Robertson Quay area]
I AM Cafe
If I AM makes you think of Amsterdam's tourism campaign, you're on the right track – that's exactly what you'll find in this cafe with some Dutch-inspired dishes like Bitterballen and french fries with mayonnaise. Located at the end of hipster Haji Lane (not the side where everyone is taking pix with this Jabaone mural), this halal cafe always long queues of people waiting to pop into I AM Cafe in Kampong Glam.
I AM Cafe: 674 North Bridge Road [Kampong Glam / Bugis area]
Nylon Coffee Roasters
"Great coffee" is a common refrain I've heard from most people who have visited Nylon Coffee Roasters. It's not quite a proper cafe – think of it more as a no-frills place for the coffee lover to get their fix, not particularly a place to while away a long day in. Hidden in the housing estate of Everton Park on the outskirts of Chinatown, you can find some cool heritage murals nearby and some lovely traditional shophouses, it's a much quieter but no less interesting area than downtown Chinatown.
Nylon Coffee Roasters: 4 Everton Park Road #01-04 [Outram area]
Ronin [Now Closed]
Ronin's menu is small but precise – come here for good Genovese coffee or their signature mochas, and a sandwich or eggs on toast to go along with. This coffee joint was one of the more popular recommendations among my readers, who praised its 'consistently good coffee and smiley service crew', and many liked the chill out ambience as well.
Ronin: The original location at Hong Kong Street / Clarke Quay is now closed, but you can still find some of their 'spirit and DNA' at Gather Shop
---
Cafes in the Heartland
These cafes are located in heartland residential areas and not your typical tourist zones. Still, distance never stopped a true blue cafe-loving Singaporean from visiting – in fact some cafes are popular because of their unusual locations.
Creamier
A popular ice cream cafe located in one of Singapore's older public housing estates, Creamier offers up some delectable homemade ice cream and are famous for their waffles. I like to pop by when I'm in the area and pick up pints of the Orange Milk Chocolate when it is available. Weekdays are best to visit because this place gets super packed on the weekends.
Nearby: Macritchie Reservoir Park is great for an outdoorsy time, and one of Singapore's iconic heritage playgrounds shaped like a dragon can also be found here.
Creamier : Blk 131 Toa Payoh Lorong 1, #01-02 [Toa Payoh area]
Habitat Coffee
This cafe located along Upper Thomson Road is not the easiest to get to by public transport as there's no nearby MRT yet ( They're building it as we speak), but the journey here is made worthwhile by the coffee which has pretty rave ratings all around. They have quite a wide selection of food, but if you just want to pop in for dessert, there are plenty of other food options along this Upper Thomson stretch.
Habitat Coffee: 223 Upper Thomson Road [Thomson area]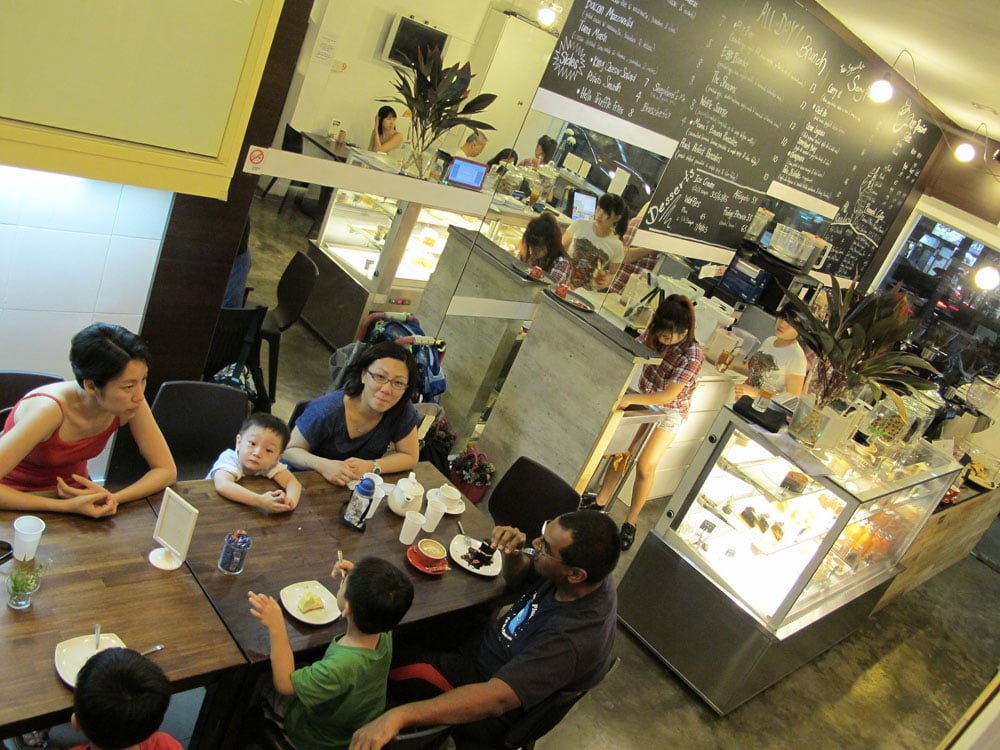 Hatter Street Bakehouse and Cafe
You can tell straight off from the name that this Alice in Wonderland inspired cafe has some quirky desserts in its menu. Their desserts are quite instagram-worthy like the Unicorn Whoaffle. They have a second branch now at Jalan Sultan if you rather not make the trip all the way to Hougang just for their desserts.
Hatter Street Bakehouse and Cafe: Blk 212 Hougang Street 21 #01-333 [Hougang area]
Chock Full of Beans
This cafe is located in the far flung eastern corner of Changi Village, very close to the airport. They are well known for their 3D latte art, but you have to be prepared to do a little bit of waiting if the cafe is crowded. Perfect place to hang out if you are staying at the Village Hotel Changi.
Chock Full Of Beans: Blk 4 Changi Village Road #01-2090 [Changi Village Area]
Wimbly Lu
This place is hidden quite far inside a private housing estate so it's not the easiest place to get to without a car – speaking of which, look for the classic VW Beetle that's perpetually parked outside this shop. The oddly named Wimbly Lu specializes in chocolates and has some really delectable sweets for sale – the rootbeer cake is divine. There is another branch in Serangoon Gardens near Chomp Chomp Food Centre as well.
Wimbly Lu: 15-2 Jalan Riang [Serangoon/Braddell area]
---
Looking for more things to do in Singapore? Check out some other cool things here: