Bangkok is Thailand's current capital city and great for a quick weekend getaway with good food, shopping and entertainment. But you're missing out if you only stay within the city! Just 1 hour away is Ayutthaya, Thailand's old capital and a UNESCO World Heritage Site, a perfect day trip for those looking to learn a little Thai history. Here's what I saw and my recs on on things to do in Ayutthaya.
Thanks to the Tourism Authority of Thailand folk who invited me on a FAM trip to Bangkok. I was really happy that a day trip to Ayutthaya was a part of the itinerary – while I'd visited Bangkok several times on my own, I never had had the time or inclination to explore outside the city, so this was one of the first experiences I had of Thailand outside of Bangkok.
Ayutthaya reminded me a little of Bali and visiting temples – Thailand's's history has a similarly strong Hindu influence, and you can see quite clearly how Indochina and the surrounding regions have left their mark. I definitely recommend checking out Ayutthaya, especially because it's so close to Bangkok and a nice break from the typical itinerary of shopping, spa and eating.
How to get From Bangkok to Ayutthaya
The historical city is actually an island within Ayutthaya – we travelled there by coach, which was about an hour's drive from Bangkok. You have to take into account Bangkok's peak hours and heavy traffic getting in and out of the city, though you can see the surrounding city melt away as you leave it.
Train is another popular way to get to Ayutthaya – you can take a train from Bangkok's Hua Lamphong station – check out seat61 for more details.
When you are on the 'island', cycling is one of the more popular ways tourists like to see the place, and bicycles are available for hire, or hop on one of their little tuktuks – these are different from the Bangkok ones, our guide described them as 'rat-like'.
Temples galore
There are many wats (that's the Thai word for temple) that you can visit here – over 400 in fact! According to our guide, temples were built in abundance by the richer folk as they provided education for their children. We visited just two of the temples in the morning while we were there, which I thought was enough to see similarities and differences without getting 'templed out'.
Remember that while you're in a tropical region, you are visiting religious places, so while they aren't super conservative, avoid the super short shorts or inappropriately revealing tops. I carried a light scarf with me just in case.
There isn't much shelter either, so make sure you have appropriate sun protection and stay cool and hydrated!
Wat Maha That
This was once the royal temple of Ayutthaya and housed Buddhist relics, located right next to the royal palace though it's mostly in ruins now as it was sacked by the Burmese back in 1767, and you're left to wander around the remains of this once grand place. It's quite peaceful, save for the tourists roaming around getting in the way of your awesome panoramic shots.
There are lots of Buddha statues scattered around as well though most are headless now (apparently also courtesy of the Burmese); one iconic image from this place is this particular Buddha statue's head which is entwined in the roots of a tree – there's something a little surreal and beautiful about how nature has taken over.
Opening hours: 8am – 6pm
Entry for foreigners: 50 baht
Wat Chaiwathanaram
The next temple we visited was Wat Chaiwathanaram. Built for the King's mother, it lies on the west bank of the Chao Phraya river and commands some pretty amazing views. Check out the scale model near the entrance, so you can admire the beautiful layout of this place.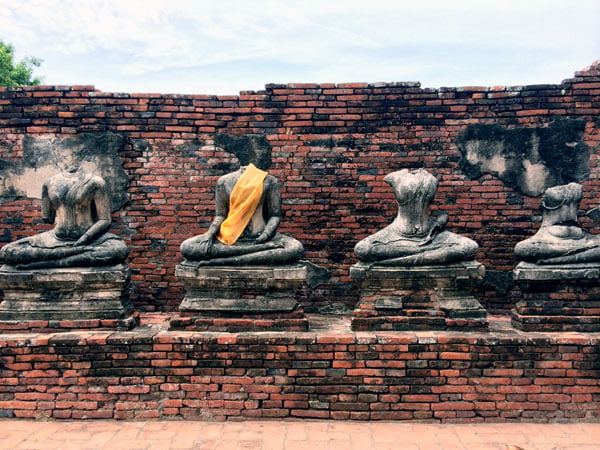 What's special about this temple is the very tall and steep central Prang, which apparently draws much influence from Khmer (Cambodian) style architecture. You can climb up the almost ladder-like stairs on all 4 sides to the top, and I recommend that you do because there are some pretty amazing views from up there!
Opening hours: 8am – 6pm
Entry for foreigners: 50 baht
What to eat in Ayutthaya
Seafood
We ate at Ban Mai Lim Nam (it seems to go by Ban Mai Rim Nam on the internet though) by the river, which involved a whole lot of Thai style seafood, including some humongous river prawns and catfish. Very filling lunch and known to be a good place overall.
33 U-thong Road, Tambon Pratu Chai, Amphoe Phra Nakhon
Roti Sai Mai
As you walk around the streets of Ayuthaya, you might spot a lot of shops selling this interesting concoction. Roti Sai Mai is a famous local snack which is basically straw like sticks of candy floss rolled in popiah/spring roll skin. It can be a little sweet, but the skin does temper the sugar nicely (I had 3 rolls for supper, oops)
Is that all you can do in Ayutthaya? Definitely not! I would have loved to go on a cycling tour and explore a little more.
Some resources online that I found quite useful:
– Travelfish has quite an extensive guide on how to get to Ayutthaya and get around on your own
– Tourism Thailand's official site gives you info but not much on actual reviews
This trip to Thailand was sponsored courtesy of Tourism Authority of Thailand and Thai Airways International. All views are my own.
---
Have you been to Ayutthaya? Share your tips and experience in the comments
Check out my Thailand posts, and if you're tired of Bangkok, how about heading to lesser-known Amphawa or Hua Hin?