Offerings are a common sight in Bali. Those little baskets of coconut palm leaves, known as Canang Sari, are a Hindu custom that can be found practically everywhere in Bali, from roadsides to shop entrances, adorning doorways and hanging off motor vehicles.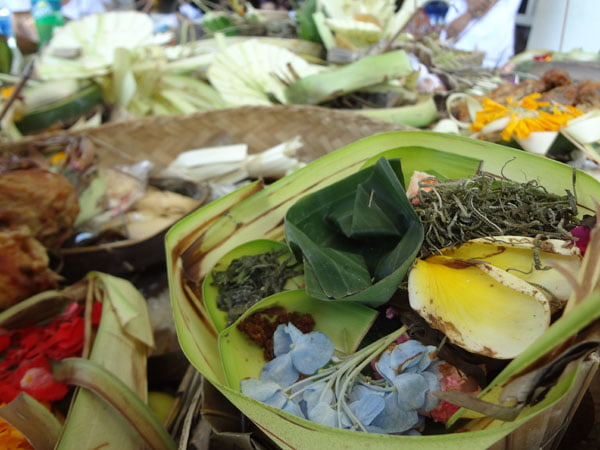 What is less common is an entire table full of these offerings in the driveway of the Sheraton Bali Kuta where I was staying at for the weekend, along with a small crowd gathered around the area, instead of the usual Balinese dance and music that was the typical welcome for guests.
I curiously sidled up to the crowd and noticed that it was mostly made up of Sheraton's Indonesian staff. Men and women alike dressed smartly in their uniforms, sitting on mats in a little huddle in a corner of the hotel's entrance, talking among themselves as they observed the proceedings. The lone Caucasian man in their midst noticed my curiosity, and greeted me with a smile. "It's a traditional ceremony they call Tumpek Landep," said the hotel's General Manager Dario Orsini as I gestured to the crowd with a puzzled look. He beckoned one of his staff over, "he'll be able to better explain."
'He' turned out to be Putu Suwendra, Sheraton's Chief Engineer who guided the construction of the very building we stood in, though in his generic uniform and cheery smile, he could pass off as any of the hospitality staff on duty. "Tumpek Landep," he explained, as he carefully spelled the words out for me in my notebook, "is a day where we celebrate mechanics."
'Mechanics' is a strangely modern term to use, especially in the context of a ceremony that seems so old and traditional. Putu chuckled at my observation, "Landep actually means sharp – this festival has been around since the days where we made swords. We believe that everything we have comes from the gods, and we want to thank them for blessing us with the ability to make things that help us in our daily lives."
While there aren't many swords around these days, the Tumpek Landep tradition seems to have evolved to encompass all modern man-made items, in particular tools made from metal as well as motor vehicles, which explains why the ceremony is being held in the front entrance of the hotel, next to the driveway where all the hotel's vehicles are parked.
The chief priestess, or Genta as Putu called her, presides over her table of offerings, taking a flower in her hand and muttering a short prayer over it. When she is done, she rings a little bell, sets the blessed flower aside before picking up another one and starting over again.
I took a closer look at the table which is filled to the brim with various offerings – the Tumpek Landep offerings are more elaborate and fancier than the daily ones you see along the street, larger and with more decorative elements, and they are accompanied by a tall six-tier fruit tower and burning incense.
The Genta smiled at me as I looked over her table of offerings, and continued with her blessings while the crowd milled around the table, talking amongst themselves. One of the hotel's cars has been draped with a white and yellow cloth over its hood, a fresh woven charm hanging off its front grill and a little square basket in between its front tires. A queue of cars snaked down the driveway behind it, waiting their turn to be blessed.
I thanked Putu for his patient explanations and headed back up to my room, my mind still whirling around the idea of a day to celebrate the man-made. When I pass by the driveway again later that day, the table was packed away, and the Balinese dancers and musicians are back at their posts welcoming new guests to the hotel. It felt a little like I had been let in on a secret part of Bali that morning, and I was more careful to avoid stepping on these offerings as I headed to the beach that day.
Tumpek Landep happens on the 310th day of the Balinese Calendar, the year I witnessed it fell on 24th August 2013.
My stay was hosted by Sheraton Bali Kuta Resort which I was reviewing, though this particular ceremony was a coincidence and something I chanced upon. All opinions are my own. For more posts from this trip, click here.
---
See the rest of my posts about Bali.