Here's my first post as a 30-something year old blogger! I'm fresh back from a short family trip up to Bali – it's my third time in the last two years (for my 29th birthday and the Sheraton Bali Kuta FAM trip), which is saying something since before last year I'd never actually been there!
This time around, I headed up with my whole family for some chill out time, our first full family trip in a while and my first with my toddler niece and nephew in tow. No pre-trip post because I was super busy (and still am!), but here's a little bit of a recap if you haven't been following me on instagram @jac_theocctrav already:
Thanks to my sister's miles, I flew up via Singapore Airlines, and we stayed in some pretty swanky digs this time around – a 3-bedroom villa with a private pool at The Villas in Seminyak. Lots of space for my niece and nephew to frolic, a fabulous private pool and quite excellent service – overall a pretty amazing place, though it was some way off from the beach. Look out for the detailed review soon.
For some of my family, this was their first trip to Bali, so I ended up back in places I'd been to previously, like Potatohead on Seminyak beach and the beach at Kuta. Like last year, some days were overcast with not much of a sunset, but on other days, this happens: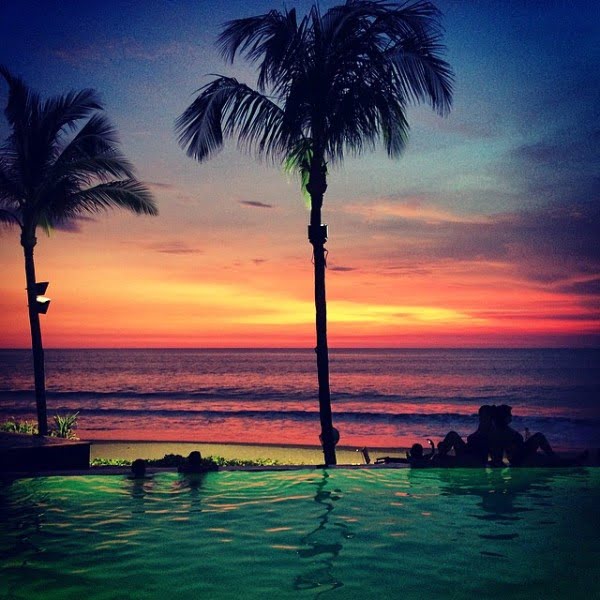 But I did manage to check out new places I hadn't seen previously, like the famous Tanah Lot temple, where I drank some holy water and got a prosperity blessing:
I also finally visited the arts and cultural area of Bali – Ubud, and while we didn't spend that much time around there, we did check out a couple of touristy things, like the Taman Ayun Temple of Mengwi:
And of course took in the view of some nice rice paddy fields:
Popped by the Monkey Forest for a lookaround:
And sampled Babi Guling (Suckling Pig) from one of the branches of the famous Ibu Oka restaurant:
And even found some time to get a massage and a pedicure done for cheap:
All in all a rather satisfying jaunt – I have so much I want to post about from all my trips but so little time to write! Lots to catch up on, stay tuned for more exciting things up ahead!
Thanks to long-time supporter Telecom Square for providing me with mobile wi-fi through their handy Wi-Ho device: being able to post stuff on the go and while waiting for tiny children to be ready is a god-send.