So I spent a whirlwind weekend away in Bali where I was invited up to check out the new Sheraton Bali Kuta Resort, as well as their newly launched FnB concepts. If you're looking for a 5-star hotel experience that's just a stone's throw from the colourful Kuta beach life, this might be the place for you.
LOCATION

View Birthday in Bali (2013) in a larger map
Kuta is just 5km from Denpasar's Ngurah Rai Airport, so the journey from the airport to the Kuta area is usually less than half an hour, definitely convenient if you're on a short weekend trip and don't want to spend too much time travelling.
Sheraton has a pretty prime location along Jalan Pantai Kuta – just further down the road from the Hard Rock Cafe hotel – the beach is just across the road from the hotel! It's pretty convenient to just pop down to the beach for a dip in the mornings and run back to the room for a shower before heading off for next activities.
The hotel is directly connected to the neighbouring Beachwalk mall, a fancy new lifestyle mall with lots of international brands and FnB options, as well as other amenities like a posh cinema and children's playground. For a more 'traditional' Bali tourist experience, the famous Popies Lane is just a short walk down the main driveway where you'll see the usual tourist souvenir shops and sports bars.
ROOMS
The rooms were pretty comfortable all around – generally spacious with the necessary amenities, no complaints from me here! I appreciated the turn down service and the leaving of little yummy goodies, but the ants tended to get to them first >_<
It's easier to show than tell:
The toilet was also quite spacious, with the option of a bathtub or a rainshower. The taps took a bit of figuring out though, not the most intuitive!
The room I stayed in was 4061, on the 4th level and on the side directly facing the Beachwalk Mall. Here's a look at the view from my balcony chairs.
Pros: the balcony faces the west so I get a terrific sunset view from my room if I'm inclined to sit there.
Cons: Afternoon sun because of the facing, and for the rooms along this stretch facing Beachwalk, people can see you lounging on your balcony, or look into your room if you don't close the curtains so not much privacy there. Also there's a club on the 3rd level of Beachwalk that plays pretty loud music way into the night that you can hear muffled booms even with the balcony doors and curtains shut – so if you're a light sleeper and plan to sleep early, don't get a room along this stretch – the other media folk had rooms in the other wings of the hotel that did not face the shopping mall and had no noise issues at all.
ARCHITECTURE/LAYOUT
The entire building (along with adjoining Beachwalk) is inspired by the paddy fields of Bali and has quite a lot of greenery and in general has a very open concept feel – the hotel is elevated above the street level so you don't get the bustle of the busy Kuta streets, and it feels cooler as well, never too sweltering even without air-conditioning in the lobbies.
The main driveway has traditional Balinese dancers and musicians to welcome guests as they enter, and the lobby area is actually up a flight of escalators, which has quite a Wow window effect as you enter a space with a wide open view of the ocean.
It can get a bit confusing to find your room because the different wings are quite spread out, and signage in general is a little small, but the main facilities are quite centrally located on the first and second floors.
FACILITIES
Since this is Kuta, there aren't any private beaches here, but there is a small pool on the 2nd level which gives pretty awesome views of the beach/sunset, so lounge around here if you don't want to face the crowds down on Kuta Beach. It's a lounging type of pool, not for serious swimming in! The pool closes at 10pm. If there are no free chairs around the pool, there are lots of deckchairs in the courtyards as well, which are nice options to suntan and are generally quieter. (p/s there is a pretty awesome Stay Surf Spa package you might want to consider! I really wanted to do it but we didn't have the time >_<)
Of course besides the pool, I managed to squeeze in a spa session:
The Spa is called Shine Spa, which can be found in Sheraton hotels worldwide. I did the 60min Balinese massage (usual price 320,000 IDR). There are only 4 treatment rooms, so make your bookings early especially for the busier weekends. There's a changing room with a small shower and sauna. The rooms itself are decent and clean, the only pity was that there was construction happening while we were there, and the hammering were pretty audible throughout the massage! The spa session itself was ok, but if you like it deep tissue, you need to tell them to really dig it in.
For those wanting to stay fit, there's a small gym that's open 24 hours next to the spa and swimming pool which you can access with your keycard. Technically you could go run on the beach, but one of the staff told me he gave up because it was just too damn crowded most of the time.
FOOD AND BEVERAGE
Sheraton has a couple of options when it comes to food, all led by head chef Rossano Renzelli who hails from Italy but has had an impressive resume working around the world for over 20 years! Here's something I wrote about my thoughts on the food.
Bene
Bene is an Italian restaurant by the pool side, it overlooks the Kuta beach and offers pretty spectacular sunset views while you dine on homestyle Italian cooking.
We attended the Sunset Gathering (149k IDR) from 5-7pm, which gave us access to the 4th floor, an open air area above Bene's table sitting which has absolutely fabulous views of the beach below as they plied us with wine and sangria. It's also breezy and less crowded than the beach, so it was definitely nice enjoying the pinkish skies as the sun sank into darkness. There was a pretty good female DJ as well whose music set the ambiance for the night.
But the food itself is quite something – 'homestyle' Italian is basically like Chinese food servings, where instead of individual plates, the servers come around and dish around servings to you. In general the food was simple and really hearty, I would eat it again in a heartbeat!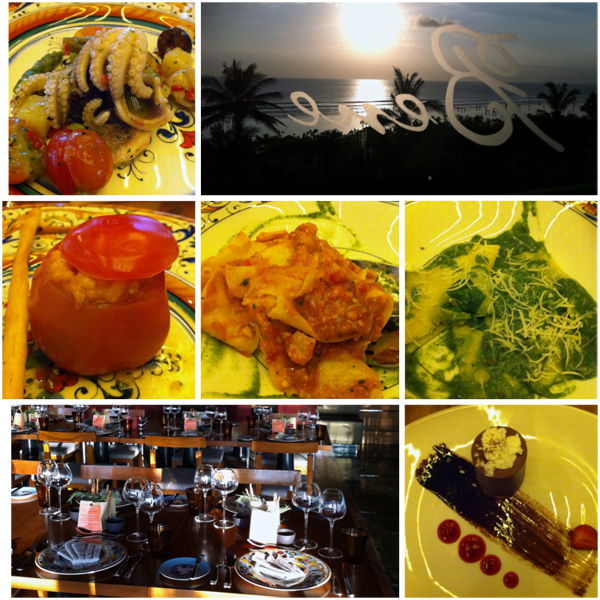 Bene @ Sheraton Bali Kuta Level 2
Opening Hours: 5pm – 1030pm
Sunset Gathering @ 149k IDR
Average check (2 courses, no drinks) est 150k-300k IDR
The Lounge
The Lounge in the level 3 lobby is where you can enjoy the awesome view of Kuta Beach and the ocean while having a drink. There are comfortable chairs to lounge in, and is quite an ideal spot to spend some time if you want to stay in the shade as it overlooks the pool.
We were quite lucky to be there for their Lazy Afternoon Tea, where besides getting served up scones and Dilmah tea, we got to enjoy a fashion trunk show in collaboration with Satu, an Indonesian multi-label boutique located in Beachwalk mall. Two designers were shown, a Norwegian dude called Espen as well as a Balinese designer Oka Diputra. Turns out my media folk are also fashionistas and ended up getting stuff each form Satu – I got myself some Uluwatu Handmade Lace, something I've been thinking about since my previous trip.
This is my dress, the Sabrina Dress, just that I got mine in Black – look at the pretty detailing!
The Lounge @ Sheraton Bali Kuta Level 3
Lazy Afternoon Tea 2 – 5pm @ 149k++ IDR (299k++IDR for alcoholic beverages)
Feast
Feast is their main restaurant located on level 1 – directly opposite the road from Kuta Beach, it offers outdoor seats on their patio for lounging if you don't want to deal with sand on the beach! It's also where the breakfast buffet happens every morning.
We popped in here for a late lunch upon arrival, and I had a pretty interesting cocktail – a Chocolate martini laced with Balinese peppers, very yummy, I'd recommend this to anyone!
Also, we attended the inaugural launch of the Sunday Market Brunch held in Feast. Besides the usual international buffet spreads, Sheraton had also invited several other local Balinese retailers offering a selection of organic and specialized food for sampling and for sale. It's a little bit unusual, especially for this area of Kuta where all you can find on the streets are Western sports bars and burgers! We had a chocolatier from Pod Chocolate, a salami and cheesemaker as well as fresh organic vegetables alongside all the other food.
I have to give special credit to the Indonesian food though – the oxtail soup, beef rendang and curry chicken were amazing~
Here's a video that was filmed during our stay there!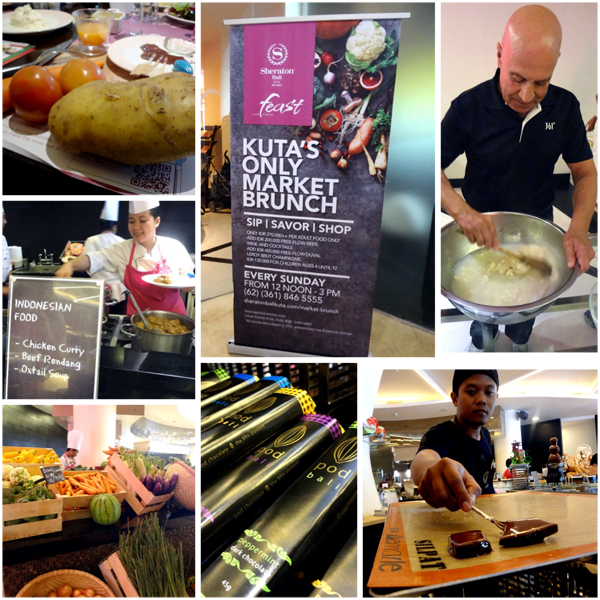 Feast @ Sheraton Bali Kuta Level 1
Opening Hours: 630am – 1030pm
Breakfast Buffet – 630am – 1030am @ 200k IDR++
Dinner Buffet – 6pm – 1030pm @ 250k IDR ++
Sunday Market Brunch – 270k IDR++ / w Alcohol 470k IDR++ / w Bubbly 720k IDR ++
---
Important details
Sheraton Bali Kuta Resort
Jalan Pantai Kuta, Kuta Bali 80361
+62 361 846 5555
[email protected]
Room Rates range from 170+USD/night to 215+USD/night based on website's promo prices as of Aug 2013. Click here for more on booking.com [affiliate link]
This trip was hosted by Sheraton Bali Kuta Resort. All opinions are my own.