Hola mi amigos! It's been a bit quiet on the blog as I've embarked on my inaugural South America explorations in the last bit of my Career Break and spent most of January in the country #46 – Colombia. Curious about why this Singaporean girl ended up travelling solo in Colombia? Read on and let me tell you a bit more about what I've learned and loved about Colombia so far.
Why Colombia?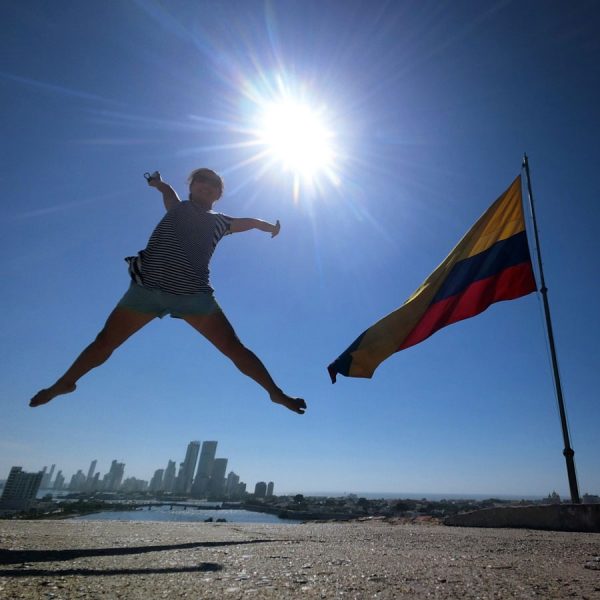 Honestly, I'd never felt any particular desire to see Colombia – it's never been a country that pinged my radar for some reason. I picked it largely because of its location in the north, as a jumping-off point for me to head towards my dream destinations like the Galapagos Islands in Ecuador, Machu Picchu in Peru and the salt flats Salar de Uyuni in Bolivia.
Also, Air Canada had decently priced flights from Vancouver (where I was visiting friends over Christmas) to Bogotá, which is how I found myself jetting off on New Year's Eve as everyone prepared to celebrate, and landing in an extremely quiet Bogotá where practically everything was shut on the first day of 2017.
I'm actually more surprised at how long I've ended up spending in Colombia than anything else. It's got a bit of an unsavoury reputation because of its recent history – most people only know Colombia as 'that country in Narcos with all the drugs warfare' or 'where the singer Shakira is from', but it's a country with a lot of natural beauty and rich culture. It's starting to get more attention and incoming tourists overall but tourism is still fairly new to many spots. The infrastructure and ways of life remind me a lot of the South East Asian region actually, except everything is in Spanish.
The importance of speaking Español
Being able to speak Spanish gives you a huge advantage in travelling South America. Of course speaking the local tongue will help you in any country, but unlike South East Asia where each country has its own language, Spanish will be able to get you through most of South America, and you'd probably have an easier time even in the Portuguese-speaking areas like Brazil as there are some language similarities as well.
I picked up some vocabulary in an app called Memrise in months before coming to South America, and even my pathetic Spanish vocabulary knowledge has proven useful (if insufficient to be any sort of conversational). It's a bit of a pity because Colombians by nature are pretty friendly and outgoing and seem quite happy to start a conversation with you in public, and you can sense there are so many interesting stories they want to share but alas, entiendo y hablo un poco español (I understand and speak only a little Spanish), so I feel like I'm missing out.
I did consider taking up Spanish lessons, (added later: I did end up studying Spanish in Panama for 3 weeks and I've continued my Spanish lessons in Singapore), but with limited time and I do think you need a few weeks at least to really get into the swing of things, it was about balancing the need to see new things versus slower travel and cultural immersion. I do want to come back to see a lot more of South America and even places in Colombia I'm missing this time around.
Chino, Chino!
Given the distance, South America is not a popular destination for Asians – most of the tourists I've met are Germans and Dutch, followed by about an equal smattering of Americans, English and Australians. After 3 weeks in Colombia, I can still count on both hands the number of Asians I've run into so far – at group walking tours I'm often the only Asian person represented; I sometimes hear 'Chino!' being said when I'm walking around – I guess it's less annoying that 'ni hao' or 'konnichiwa'.
(Funny story about how a Colombian guy called out 'SAYONARA' very loudly to me and an Asian-Australian guy as we were walking down the street while trying to get us to look at his wares. Aussie dude speaks some Spanish and informed the Colombian guy that he was telling us goodbye rather than hello. Colombian guy's friends proceed to crack up so hard at his faux pas and so do we)
And fellow Singaporeans? Not one hair of them in sight. The closest encounter was my Palomino Hostel guy remarking that they had 2 Singaporean guys check in a few weeks before, and in Cali I was the first Singaporean person there since they opened 3 years ago!
As a Singaporean abroad, there's always a fair bit of education involved when telling people about where I'm from. Most people know vaguely that Singapore exists as a country, though where it's located and what the culture is like is often quite a bit fuzzier. I've written articles about things I get asked the most often, and while I sometimes sound a bit grouchy about it, I honestly think it's a great thing to be able to educate people about my country. It forces me to be quite a lot more aware of things in Singapore as I try to figure out how to explain things succinctly and in a meaningful way to people who have never been there, like why our cars are so dang expensive and that yes, English is my first language, really. Maybe it's small country pride – I am proud of where I'm from and want more people to know it better.
How safe is Colombia really?
I'd say that Colombia feels about as safe as most other countries I've visited around the world. There are no major conflicts or wars happening in the major cities, and while you can't compare it to Singapore-levels of safe, honestly the same rules apply anywhere you go in the world – listen to where the locals tell you to go and not to go, don't be ostentatious about your belongings and have some common sense.
I uber or mostly take licensed radio taxis, I still use my iphone to navigate though I keep it out of sight when possible and hide/split up my cash, I've taken public buses on my own but mostly during the day and I keep my bags locked… it's simple things that maybe you don't do at home in Singapore but you should practice wherever you are in the world.
Yes there are stories of people getting mugged and pickpocketed especially in the bigger cities in Colombia, but that can happen anywhere in the world. Sketchy people do peddle drugs on the street from time to time – again nothing uncommon especially in areas renowned for serious partying, but do note that they do quite a number of random drug checks as well. I've had police randomly pop onto the public bus for a look around, sometimes with sniffer dogs and had my bags patted down quite thoroughly.
A lot of the touristy areas are patrolled by armed police – for Singaporeans it might be a bit disconcerting at first to see uniformed people carrying big guns around, but one does feel a little comforted in seeing a visual reminder that Colombia is concerned about the safety of its people and visitors.
Where I went in Colombia
I would love to go into detail about everything I've seen in Colombia, but I'm also facing the backlog of the year with alllllllllll the equally amazing places I've seen from my Career Break year, so I suspect it will be awhile before I get around to them, so here's a bit of a summary post to give you a taster of my adventures so far. I'll probably do up a more detailed post in future, but feel free to drop me a comment or email to ask for more details and I'll help as best as I can. Meanwhile my Instagram page @theoccasionaltraveller is probably the most updated.
Booking.com affiliate links in the post below.
Bogotá
At over 4,000m above sea level, the capital city Bogotá is cool in both temperature and culture. Had an awesome bike tour (we played tejo!) and I also enjoyed the graffiti tour here. One of my best memories that you can read about is a really serendipitous day trip to La Chorerra, highest waterfall in Colombia just an hour away from Bogotá.
Where to stay: Fernweh Photography Hostel had a really great vibe and lots of little nooks to chill out in, highly recommended.
Medellín
See my post on things to do in Medellín and Guatape for more details.
I loved the vibe of Medellín with all its Botero art, and it's the only one in Colombia with a metro system that includes cable cars – excellent birds-eye views for cheap! The day trip out to Guatape and El Penon was amazing, especially getting to play paintball in Pablo Escobar's old summer house was a pretty bizarre but cool experience.
Where to stay: I stayed at Grand Hostel Medellin because there wasn't room at the Black Sheep hostel which I wanted to stay at. It's a cheap option but not much for ambience.
San Andres
This dream diving paradise adventure was not meant to be as we encountered the worst weather there with all boats getting cancelled, being rained on a lot so we ended up cutting short our visit and heading to Cartagena early.
Where to stay: Hotels were expensive here, so I stayed in an Airbnb called Ms Ethel's. It's got a great location but no view or windows to speak of, it really is just a private room to sleep in at night.
Cartagena
Cartagena was probably the most touristy city of those I visited but also the prettiest – there's a reason this old town is so popular with its charming houses and narrow streets . I loved the views from the Castle San Felipe and the old walls, and hipster Getsamani is a great hangout as well. I did manage to dive here at Isla Baru, largest of the Rosario Islands and visited the mud volcano for a rather unusual spa day out.
Where to stay: I arrived here earlier than expected so I stayed at Mamallena's first – it's a decent hostel with its own tour desk downstairs so it's convenient, but the area outside can be a bit dodgy at night. I wanted to stay at El Arsenal in Getsemani but I ended up at Casa Escallon because of a mixup. Casa Escallon has a great central location and great facilities though it's not the most social.
Santa Marta
The town of Santa Marta is nothing to shout about so I'm glad I stayed at a really vibey hostel called The Dreamer in the suburbs. Concha Bay was a beautiful beach, but Tayrona National Park was something else – a hike that's definitely worth the effort through the forested terrain and you end up at the loveliest beach at the end.
Palomino
Tubing down the river to the sea in Palomino was an absolute treat though I wouldn't suggest swimming in the sea here because of the pounding waves – we saw 2 people nearly get in trouble even though they were waist-deep and really close to shore!
Where to stay: I stayed at Hostel Primaluna which was kinda rustic to be honest. I was plagued by mosquitoes and even though there were nets, there were holes in them. Great location near the beach though.
Cali
Cali is the Salsa capital of Colombia, though I'll remember it more for a crazy hike up to Tres Cruces and a less arduous hike to Cristo Rey! I did manage to hit a Salsa club (fun!) in my time here and even the well-rated Cali zoo.
Where to stay: The first place I stayed at was called Hostel Encuentro run by a really nice older man and I loved the balcony and its view. I did spend a night at the more vibey Hostel Viajero which was a bit more of a party hostel but they had free salsa lessons and a pool!
Ipiales
Ipiales is the border town between Colombia and Ecuador and there isn't much to see around there, but it is home to something called the most beautiful church in the world aka Las Lajas Sanctuary.
Where to stay: I found a cheap hotel called Hotel Metropol which I booked there and then at 2am in the morning (read my Las Lajas post to learn why!)
Next up for me… Ecuador! Read about my career break to find out how that went or check out more of my posts from Colombia.