One thing I love about Seoul is how they've managed to preserve quite a large proportion of their traditional housing, also known as Hanoks. You can find these quaint wooden houses along narrow alleyways in popular tourist areas in Seoul like Bukchon Hanok and Namsangol Hanok, but did you know that you can experience living in these houses for yourself with a Hanok Homestay? Here's a closer look at my Hanok homestay experience in Seoul's Bukchon Hanok and what you can expect if you are planning your own.
How to book a Hanok Homestay
I didn't quite know where to begin because typical booking sites don't usually have a 'hanok' specialty, but Carol from the Korean Tourism Organisation (KTO) directed me to BnBHero's Hanok Stays to start looking. I narrowed it down to two choices and nearly went with Doo Guesthouse, and I ended up picking this particular hanok homestay instead for my 2-night stay.
Location of the Hanok
My Hanok homestay was located in the Bukchon Hanok area between the two palaces Changdeokgung and Gyeongbokgung, a very central location when it comes to seeing the tourist sights. While I love the quaint hilly neighbourhood of Bukchon Hanok, it is pretty overrun with tourists and can get rather crowded and noisy at times.
Thankfully, my Hanok was located off Gyedong-gil, a quieter end of the Bukchon Hanok area. Also, the Hanok itself isn't quite along the main road – it is located off a small fork road, so it was much quieter than I expected in the Hanok was practically a sanctuary.
How to get to Bukchon Hanok: The closest subway line is Anguk Station on Green Line 3 (exit 3) and there is an airport bus stop for Bus #6011 (Changdeokgung station) about 10mins walk down Gyedong-gil, so it is pretty convenient whether you're coming from another part of Seoul or the airport.
A closer look at the Hanok
My host Jihyun was friendly and welcoming – she speaks enough English to be conversational and even prepared hot citron tea for my arrival, and helped me figure out which bus numbers would take me to Hyehwa (where Ihwa Mural Village is – it requires a few train line changes by subway, or quite a bit of a walk as I ended up doing…)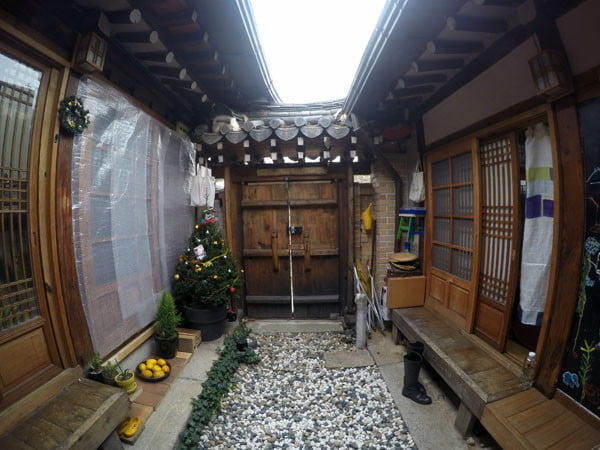 The Hanok itself is very cosy – olden-day housing was very compact with low ceilings and doorways, so tall folk might feel rather cramped. This Hanok housed a family of 3, with one separate spare room for guests to stay in. Jihyun let me look around the main house a little – you'll be quite amazed at how much you can fit into a tiny space!
My Hanok room
One key feature of the Hanok is that there are no beds and you sleep on the floor. I had a large thick blanket to lie on and another thick cushy duvet to snuggle under. Because it was winter, my host also spread an additional blanket on the floor which helped to trap some heat and keep me warm.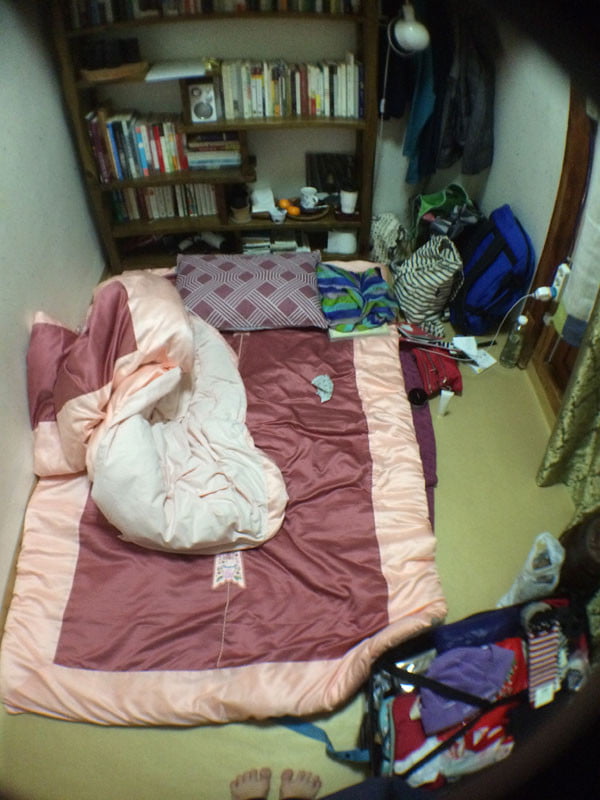 Ondol – Korean floor heating
The features of the Hanok are meant to effectively regulate temperature during hot and cold weather. Doors and windows are covered with thin rice paper which keeps you cool in summer but aren't great at keeping out the cold in winter. To combat this, Hanoks have a distinctive floor heating feature called Ondol – in olden times it consisted of a furnace under the Hanok stone foundation that was lit to warm the stones, thus warming the entire Hanok from the floor.
These days the heat comes from piping laid into the flooring. I was quite concerned about whether the Hanok would be warm enough, and it definitely is very cosy, especially when you are sitting on the floor. The various blankets and duvets help to trap the heat in as well, so I ended up curled up and snuggled in a nest of blankets on the ground, reluctant to move in the morning.
The bathroom
One of the reasons I booked this Hanok over others is because it has an attached bathroom. This is quite rare as most Hanoks have an outhouse-style toilet which means I would have to brave the outdoor winter air just to pee or shower.
Note that I still wore track pants, a thin windbreaker and woollen socks to sleep. It's still not as warm as a heated hotel room (where I can make do in a t-shirt and shorts even in winter) and you can feel the chill seep in a little through the paper-screen doors, but I found the temperature mix quite pleasant. The paper on the screen doors (called Hanji) is supposed to help filter the air as well as block the draft.
But it also made showering a really, really chilly affair. I was very glad to be able to jump right under the blankets and change without having to brave too much of the cold, but I didn't wash my hair for 2 days because I found it just too cold! My big plan was to head to a Jimjilbang (Korean bathhouse) and wash up there, though that sadly didn't pan out~
Cost of my Hanok Homestay
My stay cost US$60 per night – with the additional BnBHero fee, the total came up to US$157 for 2 nights (US$78.50 per night, or around S$110 per night).
Comparing prices on the BnBHero site – there were cheaper rooms in Seoul going as low as US$30, and for other parts of Korea, there were prices in the US$20 range. On the more expensive end, there were entire Hanok houses or rooms going at up to US$350 per night.
For those on a budget, it might be considered expensive as there are widely available and cheap hostels where you can get a bunk bed for US$20 and a private room for under US$40 per night.
However, I did enjoy my stay and the personal interaction with the homeowners. I recommend trying out the Hanok for a night or two just for the experience, but I've been pampered by a comfortable bed at home – though I love Ondol, sleeping on the floor does make my back ache. There are Hanok Hotels nowadays to cater to those who want the Hanok experience without the 'discomforts'.
---
Have you stayed in a traditional Korean Hanok? Tell me about your experience.
See what else I did on this trip to South Korea in winter: