The thing I love about South East Asia is the really awesome scuba diving we have in this region – back before this blog began, I headed up to Cebu in the Philippines and visited Moalboal for a little scuba diving action and a short holiday with some friends.
(This was the first post on my blog – I've edited it a little for clarity and had to replace the pix because of some blog issues, but I thought I'd leave most of the text unchanged for posterity. It's definitely not how I blog these days!)
Check out my other adventures in the Philippines, or more scuba diving stories in neighbouring Malapascua and Anilao
GETTING TO MOALBOAL
We flew by budget airlines from Singapore – there was some promotion going on so we managed to get tix for about S$250+ all in. Cebu Pacific Air is surprisingly spacious. Didn't hurt that we managed to get the emergency escape row on the way down so there was lots of leg room, but even the trip back was quite a lot more comfortable than I remember Jetstar being.
From Cebu's Mactan airport, it's a 2.5 hr road journey to Moalboal on the western coast of Cebu, which is a rather small town place by the coast. We stayed at Tipolo Resort on Pangasama Beach, which is pretty new and a nice cosy place right next to the clear sparkling blue waters of Cebu, sort of on the outskirts of downtown Moalboal. The view from our verendah was fantastic~ we even had deckchairs and a hammock right next to our door, where we spend quite a lot of time just chilling out. The rooms were basic but pretty decent and clean, and not expensive at all.
WHAT WE DID IN MOALBOAL
On our first day we headed to the White Beach by tuktuk to check out the surroundings. That was a bumpy, bumpy ride on unpaved 'roads'. Good thing we took a ride though, the locals said it 'wasn't that far', but man it was not a walkable distance in my book! Not much going on there cause it was a blazing hot afternoon and the heat was sapping everyone's energy. Fantastic looking waters  and view though.
We had a couple of dinners at Lantaw restaurant, an open air place on the 2nd floor with a view of the sea. Decent food there. Between dives we usually popped into any ol' place and indulged in… instant noodle soup. Yes, we weren't really big fans of Filipino food. And surprisingly, instant noodle soup is extra great post-dive. At night you can explore the main town centre (it's not the busiest…) and there are bars to hang out in, though they're not the cheapest. You can get beer for really cheap from the minimarts if you're really looking to save, but overall, stuff isn't expensive.
SCUBA DIVING IN MOALBOAL
We headed to Moalboal Cebu mainly for the diving, and we dived with Savedra Dive Center, just a short walk away from Tipolo Resort. Good dive center and equipment – lucky us, considering we didn't do any pre-bookings or research before we came! Also, our local guides Jaime and Oz took pretty good care of us and were quite fun to hang out with. You can pay by card or by cash (a little cheaper, no processing fees, though we were wiped out of cash after that cause there aren't any ATMs in the area).
In total I dived 7 times on this trip – 1 check out shore dive on the first day at the Savedra house reef, 3 the next day and 3 the following day. It was kinda intense doing so many dives, and diving always makes me rather hungry and tired, but man was it fun! Sucky part was that for some reason my air always finished so quickly (suspect it was because it was my first time taking pix underwater, it affects the breathing) that I had to come up earlier on some dives. But overall… fantastic diving.
I brought along underwater casing this time so I have some shots, but my camera's flash was spoilt and left most of the pix looking rather murky. Did the best I could in terms of photoshopping, but I'm no pro… (Updated 2017: golly my photoshopping skills in 2010 were REALLY inadequate. Also my photography, so I only left behind the nicer pix :P)
As evident from the distinct colours on the water surface, the Cebu sea beds are usually a gentle sloping reef for about 10m (light blue) before a sudden deep plunge downwards (dark blue), so most of the time it's a wall dive, where all the corals are growing vertically rather than horizontally on a sea bed. Can be quite intimidating looking down into nothingness – some chasms drop till 70m or so; but definitely an experience – sometimes the fish even swim sideways to accomodate the fact that the corals are all growing sideways as well.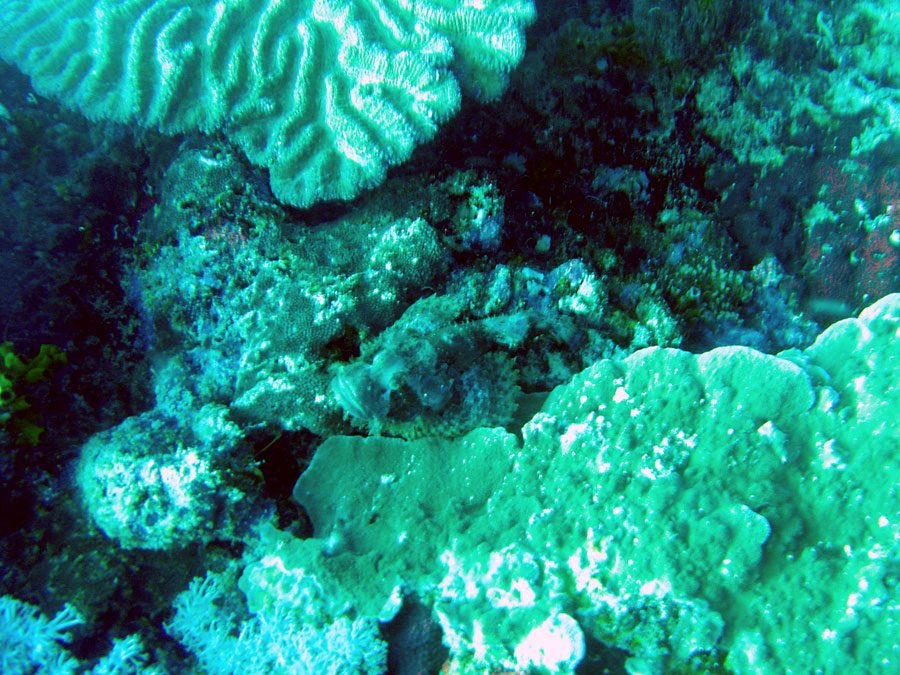 Best waters of all the dives would be Pescador Island the first time we went there. The waters were crystal clear and SO blue, at least 30m visibility. Sadly, it wasn't quite so clear the next day when we went back though. Pescador Island is really just a very small island (we dived around the island) with 1 single lighthouse on it.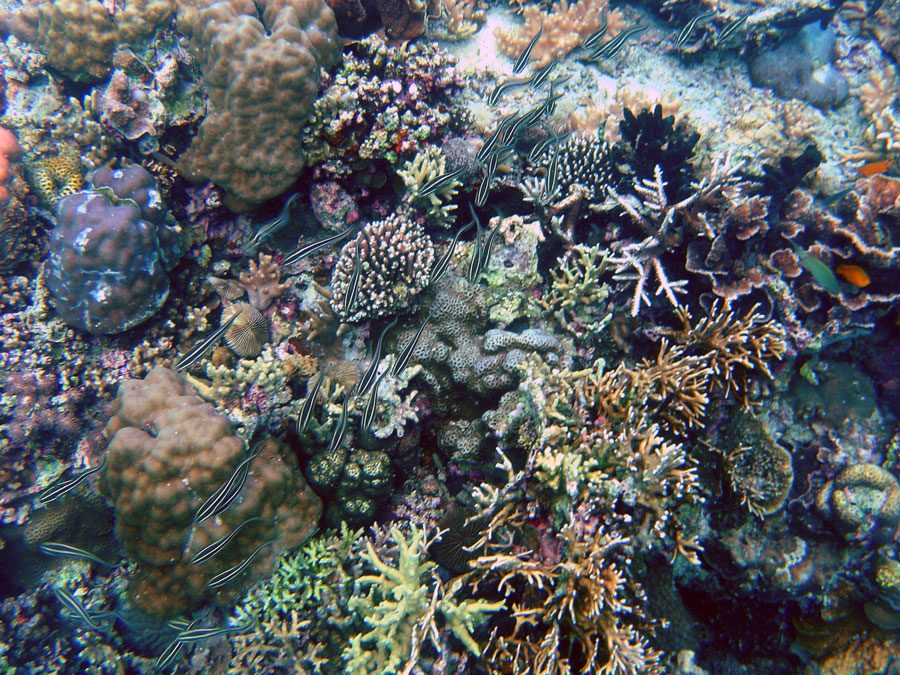 Some were really up close and personal encounters, where the turtle would just swim very gracefully (they look like they're flying through the water really) by you, or chomping away at the corals (not sure what they eat?) just an arm's length away. In one such instance I was just finning by, minding my own business and I turned my head to the right, lo and behold a turtle staring right out at me~ that was really cool!
Other interesting animals seen – Lionfish, a black and white seasnake, nudibranch (which look like slugs, but are really only about half the length of your thumb so its amazing the guide could spot them in the first place), pipefish, a tiny seaweedy looking sea horse, camouflaged scorpion and stonefish… no sharks or rays though. Apparently there's a resident whale shark, which we unfortunately never caught sight of.
RIVER CLIMBING TO KAWASAN FALLS
Besides diving we also went river climbing, which was really fun. Just at the entrance to the rooms is a little booth run by Planet Action, which is a part of the Tipolo resort. They have a whole bunch of adventure stuff, from caving, to horseback riding and even canyoning. During peak season these activities are run almost everyday, but we were there during off-peak, so we only had the option of river climbing at Kawasan falls on that day.
The big boss came along with us to record our trials and tribulations into a video which he put on youtube (check it out below, omg), plus we had 2 other great guys with ropes helping us along. We're basically equipped with a life jacket and booties, and sent on our merry way.
It started out pretty ok at first, just trekking along the river, occasionally dipping into it. Then we had to swim against the current at points, and climb waterfalls and trek through the river… it got tough at points and I got a couple of scratches on my legs and hands from slipping on rocks and vegetation but it was really fun!
Currents are quite scary though, I almost got swept off down mini waterfalls once or twice. As the boss says in his snide German accent, "now you have Big action!" Pity we weren't there long enough to do canyoning, that would have been really fun!
As promised, here's us in all our youtube glory, this video gives you a pretty good idea of what to expect when you're river climbing. Good thing he didn't include anything embarrassing!
A BIT OF CEBU CITY
It all had to come to an end though. We headed into Cebu City before heading to the airport, where we got accosted by 'tourism officials' claiming that our vehicle wasn't 'tourist registered' and hence not allowed to fetch people around (how bullshit is that, I'm pretty sure that was a bogus official). I think our driver paid them off in the end so that's that.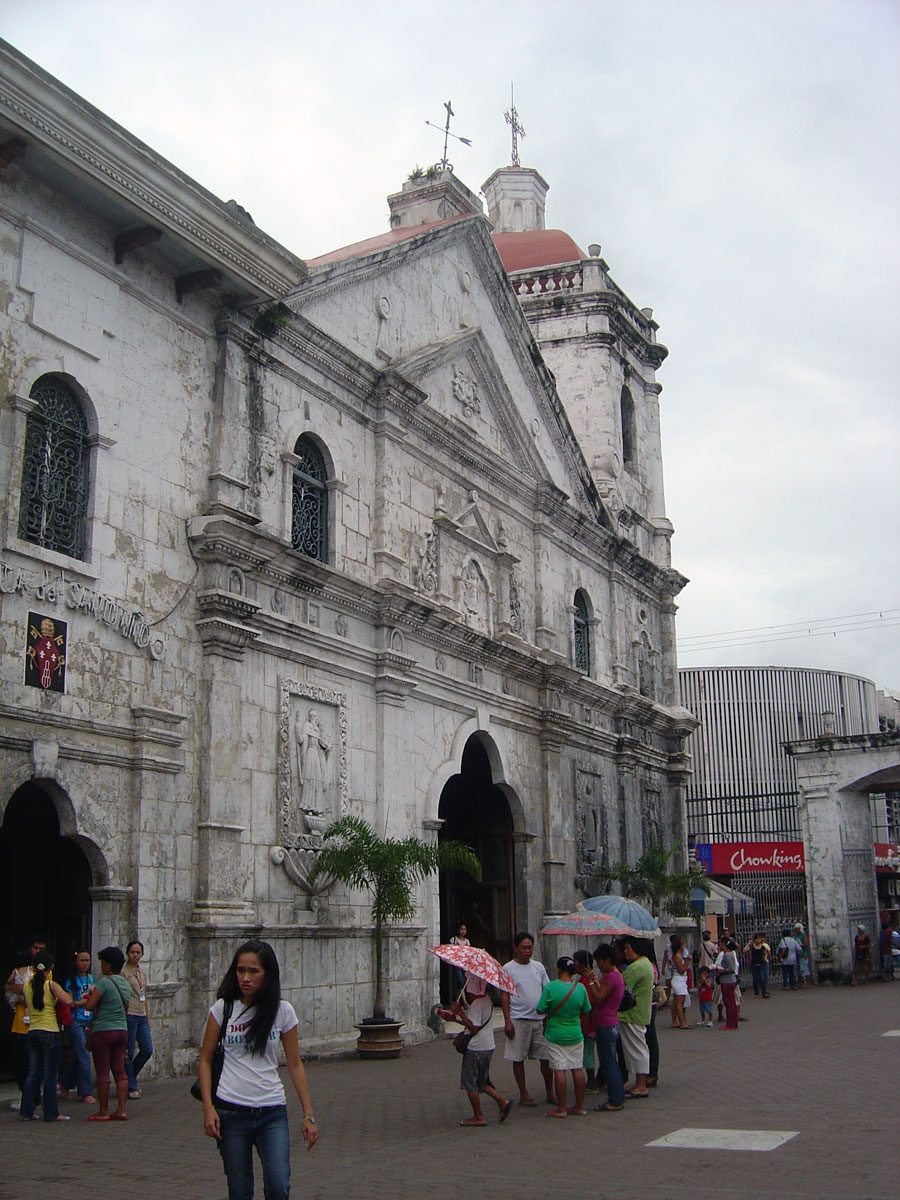 Took a quick peek at Magellan's Cross and Santo Nino, the oldest church in Cebu city before we headed to SM City, huge ass shopping mall which felt just like being back in Singapore, before we headed to the airport and home!
Funny story would be how we thought we had to pay airport taxes so after putting that money aside, we were cashless in SM City and hence didn't shop much. Only upon reaching the airport did we realize we only had to pay 1/3 that amount we put aside, and we ended up with quite a lot of peso left over, grrr.
Overall, I enjoyed myself thoroughly, and look forward to visiting that little town again!
Thinking about the Philippines for a scuba diving holiday? Why not consider Malapascua if you want to scuba dive with the rare thresher sharks, or head to Anilao for tiny interesting creatures!