For this particular dive trip to Manado, my group of 5 were a little tired of the cramped and occasionally icky conditions of our past dive accommodations, so this time around, we planned our stay at a pretty nice boutique hotel resort called Cocotinos Manado. The dive centre Odyssea Divers is based in the resort, so our dive package was settled by them as well.
Getting There
Manado is located on the tip of North Sulawesi, about 3 hrs flight from Singapore (no time difference) so it's pretty easy to get there. The Manado airport Sam Ratulangi is pretty small – basically a strip of tarmac and one small main building with some basic food outlets and souvenir shops. Most of the airlines there are domestic Indonesian ones – Silkair seems to be the only major international airline that services the airport at this point, so we had lots of Caucasians on our flight over. It also seemed like everyone headed there was mostly for diving as we saw loads of dive gear getting unloaded!
Cocotinos is pretty near the airport – about a half hour drive away in the Kima Bajo district or Wori, which lies on the western coast of Manado. The Cocotinos folk were there to receive us and pick up our bags and all, but our driver to the resort was probably not one of their staff as he was not very familiar with the location, so we took a rather scenic route to get there!
The Resort
The resort is pretty small and cosy – It's got about 22 rooms in its compound and most of its guests are divers so it's fairly quiet during the day. We were in Room #9 which has an adjoining terrace to #11 next door where our friends were. The red baskets were for our dive gear which was usually carted around on the boat
Me and my dive buddy P shared a standard garden room and our jaws just about dropped when we entered the room – a spacious room with large beds for each of us AND a day bed by the window… there was no tripping over bags or people in this room! The kicker would be the large clean bathroom with segregated shower and toilet areas and tiled prettily with natural coral/stone and well ventilated so you had lots of space to freshen up after a long day of diving, a luxury you hardly get when you're cramped on a boat!
What I liked in particular was the attention to detail and thoughtful room design, you can tell it's been considered especially for divers: Lots of space for large dive bags around the room, a bucket for wet towels and a line for wet clothing in the bathroom, a hairdryer for the ladies, an outside deck for when you're wet, choice of fan or air-con in the room…
It was definitely the most comfortable stay I've had diving, and one of the nicest holiday resorts I've been to!
There are nicer rooms with a pool view or a sea view but of course you pay more for those, this was more than sufficient for our needs!
Facilities
Our package included full board so we never really had any reason to venture out of the resort. Considering we spent most of our day time diving and were usually knackered by nightfall, we never bothered heading out to the Kima Bajo village just outside.
Meals usually took place in the Deho restaurant and bar – breakfast was buffet style with a mix of Western and Asian food, and an egg live station. We only ate lunch there for 2 days as most of our lunches were packed on the boat – we're not talking just sandwiches, but usually a choice from 3 main dishes with 2 side ones that changed every day so we never went hungry while diving. Dinners were served for sharing for our group, but buffet style on the weekends. I like how they made the effort to change up the menu, serving style and even the table settings everyday so you never feel like you're eating the same food over and over again.
The restaurant area was the main social spot where you ran into fellow divers, guides and the boss Martinas would often come around to say hello. Most importantly though there was free wireless internet there – you had to pay if you wanted to access the wireless from your room.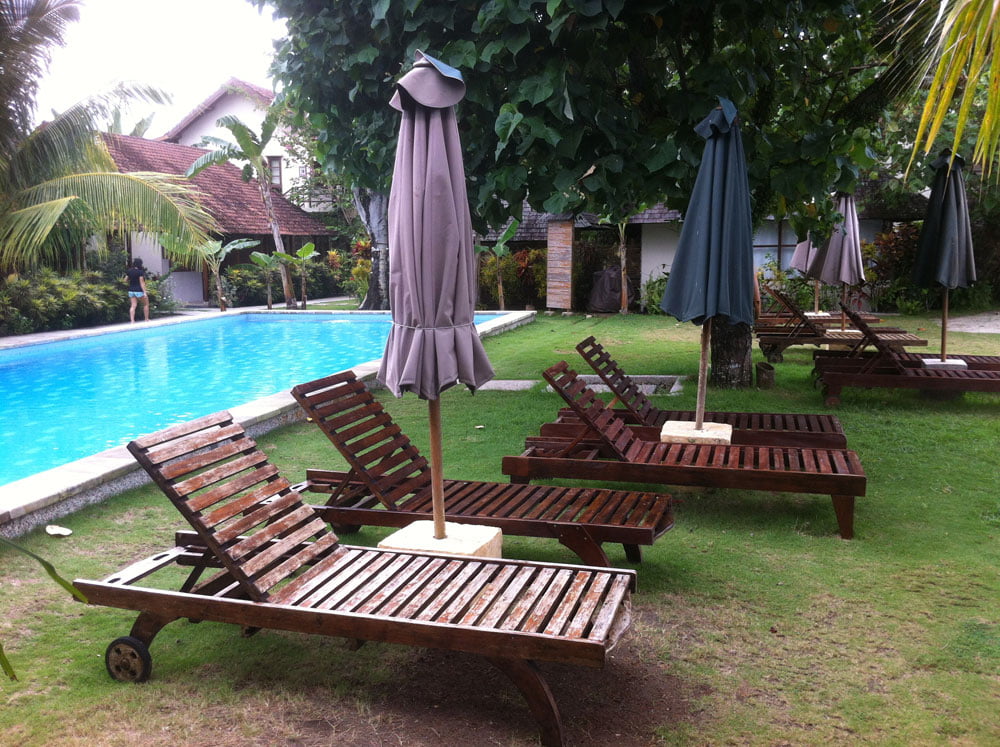 There's a spa which is pretty decent but not particularly cheap by Asian standards. What I enjoyed was the small pool located between the spa and the restaurant. It had a great view of the sea and nice deckchairs you could chill out on, and you didn't have to bring your own towels out as they provided them by the poolside. It was nice to have a soak in here after a long day of being immersed in salt water!
Beyond the amenities, the service here is impeccable, and all your needs are taken care of – we had a faulty safe which refused to work and that crazy lock spent an entire night locking and unlocking, and the next day they had someone come over and fix it immediately. And sometimes it's about the small things – when we returned from dives, someone would welcome us back with either a hot or cold towel depending on the weather, or welcoming us on the first day with a coconut drink… overall I've never been treated better!
Scuba Diving
The diving was awesome! I have several posts to whet your appetite, but you can see the full recap post of all the weird and wonderful critters that we spotted here.
Cost
All in all, it's not the cheapest place to stay at, but you're definitely getting what you pay for with a great room and excellent service. You can check out their rates here, but all in all I paid about S$1.2k for a 6D7N dive package, but that's not including other incidental costs like tips, dive gear (if required) and additional drink expenses if you're ordering from the bar.
Some other costs you need to factor in: 150k rupiah for the Bunaken marine park fee and 100k rupiah for the Manado airport tax. Including that and the cost of the air ticket (around S$470), I'm estimating that I spent around S$2k in total
Click here to go to booking.com to find out more about Cocotinos Mando [affiliate link]
Cocotinos Manado