On my trip to Busan, I wanted to spend some time outside of the city and explore a little more of the rural Jeollanam region in the southern region of South Korea. I visited Gwangju a few years back on a whim – this time around I headed to Suncheon 순천 and found it a serene escape from busy Busan. Here's my 2-day Suncheon itinerary with a list of things to do in Suncheon if you only have a weekend to spare, and some tips on how to get around on public transport in Suncheon for budget travellers using Naver Maps.
Last Updated on 10 October, 2022
Why visit Suncheon?
I picked Suncheon as my base to explore the southern coastal region of Korea – it's kinda in the middle of the country and about 2-3 hours away from Busan and easy to access by both bus and train (more below). Suncheon has both awe-inspiring natural wonders as well as some interesting historical and cultural sights so you get a good mix of culture and nature.
An unexpected bonus: I must have visited during a special period or at an off-peak time because many of my ticket prices were actually discounted from the listed prices online~
I could probably have spent an additional day or two here to really see all the sights or check out the city itself, and I might have been able to cover more ground if I drove instead of taking the bus, but ultimately I think I managed to see the major highlights of the area in 3 days and enjoyed my short time here. More on this in the navigating Suncheon my public transport section.
Looking for other spots to visit in the southern Jeolla district? I took a day trip to nearby Yeosu, or you can check out my time in Gwangju. I also spent some time on this trip in Busan.
---
Day 1
Spend the morning at the Drama Film Set when it opens at 9am and hopefully is less crowded so you have more room for selfies without photobombers. Go for lunch and then head to the National Gardens in the afternoon – there's not much shade here, so bring sun protection or hide out in the Eco-Museum, then swing over to the Wetlands Reserve in the late afternoon and time your hike to reach the Yongsan Observatory for sunset. Grab dinner at the Suncheon Bay area right outside the entrance before calling it the end of a long day.
Suncheon Drama Film Set 순천 드라마 촬영장
The Suncheon Drama Film Set (or Open Film Location) is the largest of its kind in South Korea with over 200 houses in the Jorye District of Suncheon. It's famous for showcasing how South Korea looked in recent history (50s-80s) before rapid modernisation and skyscrapers started popping up. It was used as an actual film set for various Hallyu K-Drama favourites including Gangnam Blues, East of Eden and A Werewolf Boy – this blog by Ruffeecola has some screenshots.
One popular thing to do here is rent some retro school uniforms from the shop on site and then take all the selfies you can while roaming around the lot. Even on a weekday when I visited, there were plenty of couples on dates armed with tripods and matching uniforms, as well as groups of friends reenacting famous drama scenes in just about every nook and cranny available.
The Drama Film Set is split into two main areas – the lower set is a mini 'town' consisting of Korean streets with buildings that harken back to an earlier time. My favourite was probably the classic movie theatre and there was even a mini disco of sorts with pumping music and spinning lights.
Climb up a slope to the upper set which is fashioned to look like a Daldongne or Moon Village, the shanty area where poor people lived with rickety shacks stacked on top of each other along steep slopes. What I found fascinating was that these buildings weren't just flimsy fronts that you often see on movie sets – you can actually enter most of these buildings and there are doors and room partitions.
I don't watch any Korean dramas so a lot of the nuances of the location were probably lost on me, but I do love me some good Korean variety, so that evening I ended up watching Running Man Episode 116 for a hilarious time-travel themed episode where the cast chased each other all around the very film set I walked in earlier that day. Even though that episode took place way back in 2012, it looks like very little has changed!
Suncheon Drama Film Set Info
순천 드라마 촬영장 suncheon deulama chwal-yeongjang
Open daily 9am – 6pm
How to get there:
24 Biryegol-gil, Suncheon-si 순천시 비례골길 24 [Naver Maps] [Google Maps]
I took Bus #77 from Jungang Elementary School stop to the Drama Film Set stop 드라마촬영장 (~30 mins). From there, you have to walk about 10-15 minutes to the actual location, just follow the signs. Bus #99 also goes to this stop.
You can also take Bus #670 that takes you right to the Drama Film Set carpark, but this bus comes pretty infrequently
Cost:
Entry costs 3,000 KRW, but I only paid 2,000 KRW that day
Uniform rental costs 2,000 KRW per hour
Suncheon Bay National Garden 순천만 국가정원
The Suncheonman or Suncheon Bay National Garden is a large sprawling park made up of many different-themed smaller parks within its midst. Garden enthusiasts and flower lovers can easily spend an entire day exploring the various World Gardens – the Dutch park with a picturesque windmill is apparently very popular in April when the tulips are in bloom. Other featured countries include Spain, France, Turkey and Thailand.
My favourite section is the Suncheon Lake Garden – manicured hills lined with spiralling paths designed by a famous American landscape designers Charles Jencks that reflects the surrounding mountains and rivers. There's something very meditative about watching people spiral up and down these paths.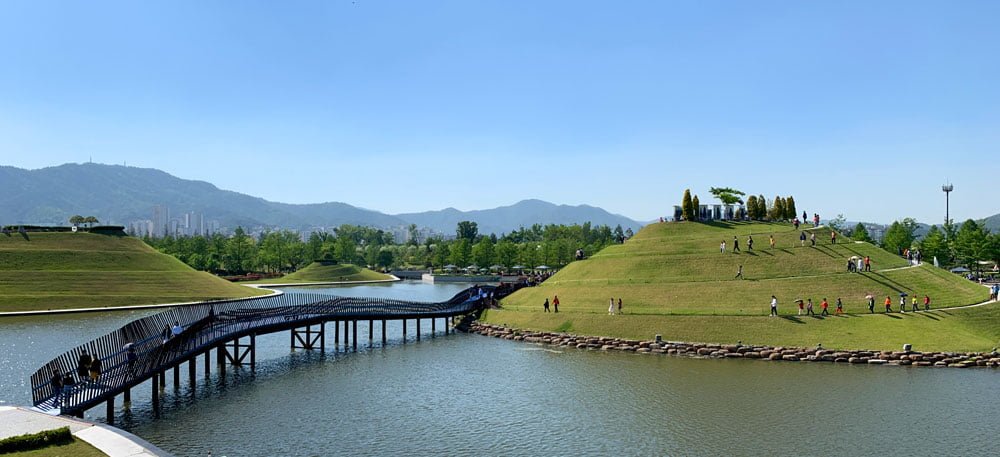 I started from the East Gate, walked around the Lake Garden, skipped the World Gardens, and then crossed the Dream Bridge to the west side of the park. It was late afternoon by the time I reached, so I had to skip the Wetlands Eco-Museum and some of the other gardens to have enough time to explore the Wetland Reserve area.
Suncheon Bay National Garden Info
순천만 국가정원 suncheonman guggajeong-won
Open daily 9am, closes at 7pm (May-Sep), 6pm (Mar, Apr, Oct), 5pm (Nov-Feb)
How to get there:
47 Gukgajeongwon 1ho-gil, Suncheon-si [Naver Maps] [Google Maps]
From Suncheon station, take Bus #52 or #66
From Suncheon Drama Film Set, I walked about 15 minutes to take Bus #100 from the Daeju Apartment Board and stopped at the East entrance of the National Garden.
#Bus 670 takes you from the Drama Film Set to the East Gate of the National Garden with the least amount of walking, but it comes pretty infrequently
Cost:
Gardens entry costs 8,000 KRW and includes entry to the Wetland Reserve as well. I only paid 7,000 KRW that day – there seems to be some sort of discount for 2019.
I took the Skycube from the Gardens to the Wetlands. A 1-way ride cost 6,000 KRW while a round trip ride costs 8,000 KRW
More about Suncheon Bay National Gardens at Visit Korea
Suncheon Bay Wetland Reserve 순천만 습지
After the Gardens, I hopped onto the Skycube and took a short ride towards the Suncheon Bay Wetland Reserve, one of the largest tidal flats or saltwater wetlands in the world. It is famous for having the largest colony of reeds in Korea and is also an important place for migratory birds including the rare hooded crane.
The reeds in Suncheon Bay are one of the main attractions and some are impressively tall, even taller than humans! I spent a lot of time on the Reed Walk, a 1.2km boardwalk built over the swampy land and reeds. When I was there in June, most of the reeds were a mix of fresh green and dry yellow, but in the right season, it turns into a visual spectacle complete with flocks of rare migratory birds.
Another highlight is to make the trek up to Yongsan Observatory to get a bird's eye view of the Suncheon Bay area. Brace yourself as this involves about half an hour of climbing up some steep paths and stairs (I was DYING), but the view of the S-shaped river from above is definitely worth it.
I managed to time it right and arrived just in time for sunset. It will get dark on the way down if you're there for sunset, so make sure you have a torchlight on hand just in case.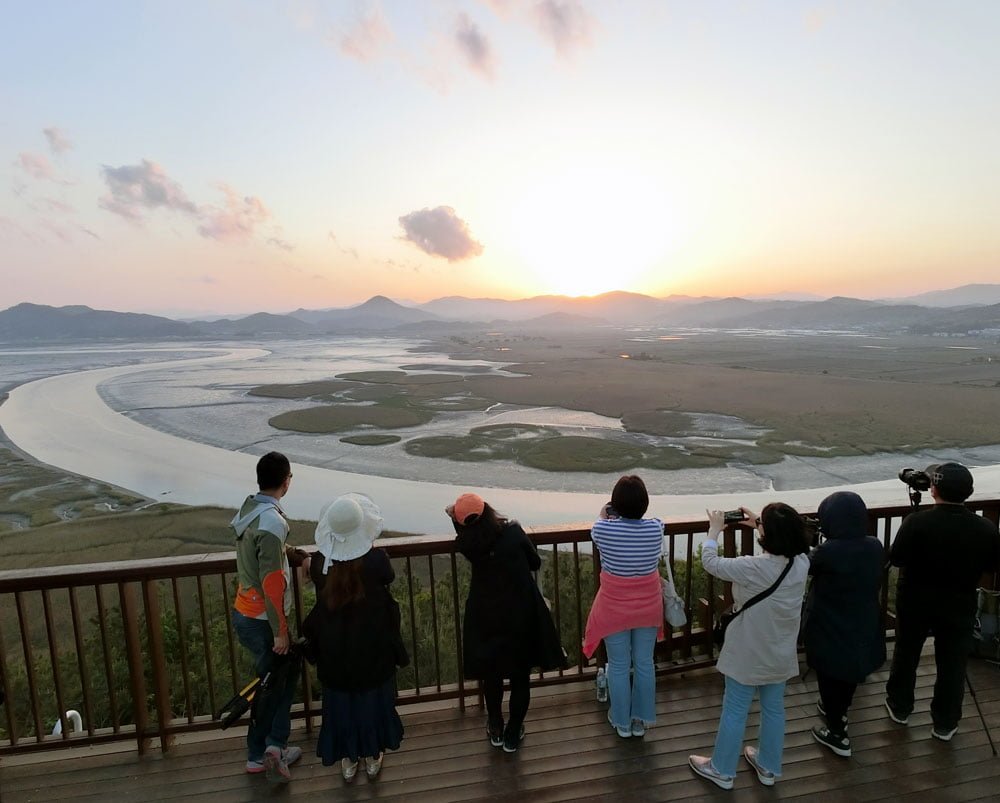 You could easily spend an entire day exploring the Wetland Reserve – I skipped bits like the Eco-Museum, Literature Museum and the Astronomical Observatory due to a lack of time.
Suncheon Bay Wetland Reserve Info
순천만 습지 suncheonman seubji
Open Tuesdays – Sundays (closed on Mondays), 8am – sunset. You probably don't want to come in here after dark because there isn't that much lighting!
How to get there:
513-25, Suncheonman-gil, Suncheon-si 순천시 순천만길 513-25 [Naver Maps] [Google Maps]
From Suncheon train station, take Bus #66 or #67 and stop at the Suncheon Bay bus stop. It should take about 30-40 minutes.
I took the Skycube from the Suncheon Bay National Gardens. The monorail ride was about 5 minutes, but from the Skycube station it took me about 40 minutes to actually walk to the Reed Walk area
From the Reed Walk area, it took me about half an hour to hike up the hill to Yongsan Observatory. By the time I hiked back down, it was about 8pmish and pretty dark
I ended up taking a taxi from the Wetland Reserves entrance back to my hostel near the Suncheon Train station because it was night and I was pretty pooped. It cost me 8,900 KRW (about S$10) and took about 15 minutes.
Cost:
The Wetland Reserve entry costs 8,000 KRW and includes entry to the National Park as well. I only paid 7,000 KRW that day – there seems to be some sort of discount for 2019.
More about the Suncheon Bay Wetland Reserve at Visit Korea
---
Day 2
Go west and visit some of Korea's UNESCO World Heritage sites – start your day early by heading to the Seonamsa, a temple home to many historical treasures located in the Jogye mountain range. Then head over to Naganeupseong, one of Korea's most well-preserved fortresses that harkens back to the Joseon Dynasty.
Seonamsa 선암사
There are two main temples to check out in Suncheon, but with limited time, I decided to just check out Seonamsa. The temple is about 1km away from the entrance, so be prepared to hike a little when you get there.
The path to the temple cuts through a lovely shady forest, and a pretty stone arch bridge known as Seungseon Bridge which dates back to 1713 and was designated a National Treasure – I didn't know it when I was there and merely thought it reminded me of the Billy Goats Gruff story and trip-trapping. Climb down to the river bed to get the best view of the bridge with the small Gangseonru Tower through the arch.
The Ilju Gate that leads to the Seonamsa compound is perched up a slope and consists of several traditional style buildings that you can walk around and look into. I've always loved the colourful roof eaves that you can find in these old Korean buildings, but I was particularly enamoured with the unrestored, faded wooden eaves instead. You are surrounded by history as some of these buildings date as far back as the 17th century.
Many of the Buddhist themed paintings and statues that you can see inside the temple buildings are designated National Treasures, but if you come here in Spring or Autumn season, you can also catch the cherry blossoms in full bloom or vibrant autumn colours in the various courtyards, and it's supposed to be one of the most beautiful sights in Seonamsa.
Temple lovers can also organise a temple stay at Seonamsa
Seonamsa Info
선암사 Seonamsa
Open daily 7am, closes at 7pm (May-Sep), 6pm (Mar, Apr, Oct), 5pm (Nov-Feb)
How to get there:
450 Seonamsa-gil, Seungju-eup, Suncheon-si 순천시 승주읍 선암사길 450 [Naver Maps] [Google Maps]
Take Bus #1 or #16 from Suncheon Train Station and stop at Seonamsa, the journey will take about 45 minutes. Note that the Seonamsa bus stop serves both directions, so make sure you get on the right bus going in the right direction on the way back.
#16 also connects Seonamsa to Naganeupseong but this bus only comes 2x a day at 1040am and 230pm – I had lunch near the entrance as I had more than an hour to kill waiting for the 230pm bus.
One popular thing to do is hike 20km through the Jogye mountains to get from Seonamsa to the other popular temple in Suncheon known as Songgwangsa. I'm not much of a hiker, but There She Goes Again did it in about 4 hours and lived to tell the tale.
Cost: 2,000 KRW to be paid at the entrance
More about Seonamsa at Visit Korea.
Naganeupseong 낙안읍성
Naganeupseong is a UNESCO World Heritage site that is one of the most well-preserved folk villages in Korea and showcases what a typical fortress town looked like during the Joseon dynasty over 600 years ago. It is still an actual residential community today with about 100 families living there, but tourists are welcome to wander around and check out the old castle walls and participate in cultural activities.
Naganeupseong's most notable feature is the thatched roof houses or chogaijip that you see all around the village – these are less commonly seen today compared to the traditional tiled-roof hanoks that you see in Seoul's Bukchon Hanok. These straw roofs are the dwellings for common citizens and reflect the agricultural heritage of Nagan county.
My favourite bits of Naganeupseong were the pavilions located on top of the fortress walls above the main gates – they offered great views of the surrounding houses and mountains in the distance, and it was nice to just rest in these shaded windy pavilions after a long day of walking.
Naganeupseong has also been used to film period dramas, the most notable being Dae Jang Geum, and you can see some standees and information panels in a corner of the village. The rest of the time, you can look for different cultural activities that showcase what life was like in the village back in the day, from dying and weaving cloth to traditional gayageum music performances.
I was more interested in the architecture than the actual activities, so I mostly wandered around the outsides of houses and didn't go into the buildings much.
Naganeupseong info
낙안읍성 nag-an-eubseong
Open Daily 8.30am-6.30pm (May-Oct), 9am-6pm (Feb-Apr, Nov), 9am-5pm (Dec-Jan)
How to get there:
30, Chungmin-gil, Nagan-myeon, Suncheon-si 순천시 낙안면 충민길 30 [Naver Maps] [Google Maps]
Take bus #61, #63 or #68 from Suncheon Train station, the journey takes a little over an hour. The bus stop at Naganeupseong leading back to Suncheon is located right outside the GS25 convenience store, and they have put up a printed bus timetable in the store to help you plan your departure.
Bus #16 takes you from Seonamsa to Naganeupseong without passing through downtown Suncheon in a 50-minute journey, but there are only 2 buses a day (10.40am and 2.30pm from Seonamsa to Naganeupseong) so make sure you time it right. It can also take you back to the Suncheon train station but takes almost 2 hours.
Cost: 4,000 KRW
More about Naganeupseong at Visit Korea.
---
Other sights I missed
If I had a little bit more time, here are some of the other sights I would have had liked to see:
Songgwangsa – the other iconic temple in Suncheon with a thousand year old history
Suncheon Culture Street (Munhwauigeori) – this is supposed to have the same vibe as Insadong in Seoul, seems a bit of a pity I missed out on this. You can see some pix on Mini en Monde
Aretjang Market – I spotted the Aretjang (lower) market happening as I passed by it on the bus near my hostel, basically there were old ajummas with their produce along the roadside and it was a really bustling looking wet market. It apparently only takes place on days that end in a 2 and 7, and there is also a night market that takes place on Fridays and Saturdays which sounds like it'll be fun for tourists. Valleygirl In Korea has some pix.
Utjang Market – this upper market only takes place on days that in a 0 or 5 and is famous for an entire row of stalls dedicated to Gukbap (A rice soup dish with pork), one of the delicacies of Suncheon. See a pic on Trip Advisor
Eco Village Youth Hostel – this hanok style youth hostel near Suncheon Bay Gardens looks like it might have been quite a cool place to stay at
Suncheon Integrated Ticket
You can also get an integrated ticket for 12,000 KRW (valid for 2 days) to save a little if you are going to see the following attractions.
Suncheonman Bay National Garden + Suncheonman Bay Wetland Reserve (u.p. 8,000 KRW)
Nakaneupseong Folk Village (u.p. 4,000 KRW)
Suncheon Open Film Location (u.p. 3,000 KRW)
Suncheon Recreational Forest
Ppurigipeunnamu Museum – next to Naganeupseong (u.p. 1,000 KRW)
---
Fly from Singapore to Busan
I flew nonstop direct from Singapore's Changi Airport (SIN) to Busan's Gimhae Airport (PUS) back in May 2019.
Update in 2022: Since Silkair was folded into the main SIA family and COVID, there don't seem to be any direct flights from Singapore to Busan anymore unfortunately! Your best option would be to fly into Seoul and either take a domestic flight (1 hour) or high speed train (2hr 15 min) to Busan. Scoot now flies to Jeju, which is also about an hour away from Busan by plane or an overnight 12hr+ ferry ride away.
Silkair SIN to PUS Nonstop Direct (not currently operating)
Silkair launched the nonstop direct route from Singapore's Changi Airport (SIN) to Busan's Gimhae Airport (PUS) in May 2019. It flies 4x a week. For this 3-day itinerary in Busan, you have 2 options:
Dep Fri late night, return Tue afternoon (Sat, Sun, Mon) – 2 days leave
Dep Wed late night, return Sun afternoon (Thur, Fri, Sat) – 2 days leave
Singapore to Busan
SIN>PUS: MI876 2315hrs – 0700hrs (+1) [Monday, Wednesday, Friday and Saturday]
The red-eye flight to Busan is great for weekend warriors trying to maximise their trip but minimise leave needed, but the downside is you'll probably be pretty tired when you land early in the morning and not be able to check-in until later in the afternoon.
Busan to Singapore
PUS>SIN: MI875 0815hrs – 1415hrs [Tuesday, Thursday, Saturday and Sunday]
The flight would require you to get to the airport pretty early in the morning, so sleeping overnight in Busan and catching the Airport Limousine bus (bus runs every half hour, takes about 45 minutes, 6,000 KRW) would probably be the easiest option. You can take the MRT to/from the airport but may involve 1-2 transfers at Sasang and Seomyeon. More info at Gimhae Airport website.
---
How to get from Busan to Suncheon
Can you take a daytrip from Busan to Suncheon?
If you plan to visit Suncheon from Busan, I'd recommend staying overnight for at least one night because Suncheon is about 2 hours away from Busan even if you self drive, and 3 hours by train or bus. 1 day in Suncheon in my opinion is a little tight, though it might be possible to see most of these sights if you're driving and have long summer daylight.
2-3 days will give you more time for exploring and properly admiring the natural wonders that Suncheon has to offer.
S-train from Busan to Suncheon
Surprisingly enough, the tourist S-train is the only train that takes you to and from Busan to Suncheon (and all the way to Boseong).
Busan to Suncheon: I took the #4871 S-train from Busan at 8.25am and reached Suncheon in about 3 hours at 11.30am. I made an online booking on the Korail website with my credit card and printed out an e-ticket so I didn't even need to queue at the train station. The 1-way ticket from Busan to Suncheon cost 22,500 KRW (about S$27)
Suncheon to Busan: The #4872 S-train back from Suncheon leaves at 6.05pm and reaches Busan only at 9.20pm. I didn't take this train as it was too late for me, but if you are trying to maximise your time in Suncheon and have a hotel booked at night at Busan, this is not a bad option.
Read more about the S-Train at Korail.
The S-train is a tourist train and other than the standard seats, there are some special cars that you can visit for some Korean experiences, like a tea experience car with floor seats and a school cafeteria car.
Busan to suncheon by Inter-city Bus
Inter-city buses run between Busan and Suncheon fairly frequently, every half to 1 hour, so it's quite easy to get a seat without prior booking during off-peak times. I just turned up at the bus station and bought my ticket from the counter. The coaches are large and quite comfortable with a pit-stop in the middle for a toilet break.
It's cheaper to take the bus as well – a 1-way bus ticket from Suncheon's Jonghap Bus Terminal 순천 종합 버스터미널 to Busan's Seobu Bus Terminal (West, Sasang) 부산 서부 버스터미널 cost me 12,100 KRW (about S$15) and took about 3 hours, the same time as the train.
---
Navigating Suncheon by public transport (Updated 2022)
It is possible to get around by public transport easily in Suncheon. Here's how I did it and some essential tools to help you get around more easily.
Maps: Naver Maps
I usually rely heavily on Google Maps, but for South Korea, my go-to maps app is Naver Maps which not only gives you more accurate locations for Korea, it also gives you bus and train directions and timings, very helpful for the solo indie traveller trying to get around by public transport.
There is an English map interface, but sometimes the spelling/spaces of the English names aren't always accurate, so having the Hangul name on hand to search is also useful. If you search for a restaurant, it automatically brings up reviews and even menus + prices, but it's all in Korean. In this guide I'll include the Korean names that you can use to search.
Download Naver Mapsfrom Apple App Store or Google Play store. You'll need to sign up for a Naver account to use it but it's free and easy to do, I highly recommend this for navigating in Korea.
Buses: T-Money Transportation Card
Pick up a T-Money card (2,500 KTW or S$3) at the for all your public transport needs – it makes it quick and easy to pay fares by tapping on the terminals at the front and rear entrances of buses and not having to constantly queue for tickets. You can even use it to pay for some taxi fares and convenience stores. In addition, the transportation card rate is usually slightly cheaper than the cash rate (about 100 KRW cheaper for adults) and you can get transfer discounts within half an hour (make sure to tap out at the exit for buses).
From what I can tell, both T-Money and Cashbee can be used throughout most of Korea, though T-Money is the most widely used, and Cashbee cards can be found mostly in Busan. One thing to note is that it seems you can only top up your card using cash only, both at the machines in the subway and at the convenience stores. More info here.
I bought a T-Money Korea Tour Card (4,000 KRW or S$4.60) that I purchased from the convenience store at the airport light rail transfer station. On top of the standard T-Money functions, it also offers other attraction, tour and shopping discounts, though I didn't really make use of them. The good news is your T-Money card doesn't expire so you can always reuse on future trips.
They launched a Namhaean Coast Korean Tour Card in 2019 that offers discounts on some of the places in Suncheon that I visited, as well as Busan, Yeosu, Tongyeong and Geoje, but it wasn't available when I took this trip, but something you can consider.
For Android users, there is even a mobile phone version that you can use to make payments and top up with your credit card.
Check out the KTO site for a detailed rundown on the use of transportation cards in Korea.
Taxis: Kakao T Rideshare app
Sometimes buses aren't the most efficient way to get around, especially in more remote areas. Kakao T is a really useful app where you can easily book a taxi. You can key in the information or set location via map so you won't even have to worry about communication issues with the driver and you can track the route on your phone. It has a whole host of functions but I've really only used it for getting a taxi.
In terms of making payment, you can select Pay Direct to Driver (because you won't be able to link your credit card directly without a Korean ID) when you make your booking. Most taxis take credit card as well, so you don't have to worry about handling cash either – my Wise card [referral link] worked in most places all across Korea and I liked how easy it was to .
Download Kakao T from Apple App Store or Google Play store. You'll need to download Kakao Talk and sign up for a free Kakao account to use, and you can use your own phone number (no need Korean number) as well to verify the account.
Roaming Data
I cannot stress how important it is to have data when trying to navigate in South Korea as you will need it for maps and translations, or trying to hail a rideshare. Get an unlimited data plan if you can so you don't have to worry about using up data.
Data isn't that expensive and there are plenty of websites offering different plans and ways to connect. See what works best for you, but here's a quick run-down of what's available:
eSIM cards: My current go-to option for data overseas because you can easily install a data plan without removing your existing SIM card, have access the moment you touch down and no need to worry about where to pick up the card. Cons are that you don't usually have a Korean phone number which may be an issue with making reservations/taxi drivers trying to call you, but it's not a big issue in my opinion. Here's the unlimited data Frewie eSIM I used on my latest 12-day trip to Jeju from Klook [affiliate link] that cost about S$38 or you can check out eSIM sites like Airalo [affiliate link].
Prepaid SIM card: SIM cards are usually the cheapest option with a variety of plans/time-periods available and you can often pick up in both Korea (mobile stores and at the airport), or Changi Recommends has several Korean SIM card options that you can pick up at the Singapore airport. I'd get this if I was on a budget or needed a local Korean number, but check as not all SIM cards offer domestic calls/texts. Klook has a KT-Olleh 4G LTE unlimited data-only SIM card [affiliate link] that allows you to top up 11,000 KRW (about S$11) for some voice calls.
Portable Wifi Device: Good if you are more security conscious and have multiple devices like tablets and laptops to connect, or you're travelling in a group and looking to save money but can be cumbersome because it's an additional device to carry around that needs to be charged, and you have to pickup/return usually at the airport. On this trip in Suncheon I rented a KT-Olleh portable wifi device (unlimited data) from Klook [affiliate link] for 9 days that cost S$27.45 because I had some credits and there was a sale.
Suncheon City Bus Tours
One easy way to navigate most of the sights that I've listed above is to take the Suncheon City Bus Tours provided by the Suncheon tourism board. You have to make prior reservations by phone or online at the Suncheon City website (Korean only – get someone to help you if you can't read Korean), or head to the tourism office located at the Suncheon Train Station to make a booking (go around 9am to be safe). Read more about these tours at Visit Korea.
There are 2 fixed route full-day tours that run from 10am – 5pm that begin and end at Suncheon Station and cover Naganeupseong, Suncheon Bay National Garden and Wetland Reserve, but go to different temples depending on the day:
Songgwangsa: Tuesdays, Thursdays, Saturdays (16,800 KRW, admission included)
Seonamsa: Wednesdays, Fridays, Sundays (15,700 KRW, admission included)
Tours are closed on Mondays
Bound for Busan has a blog post about their experience on the Seonamsa Route. Tours are in Korean only so for English speakers, it really is about the transport convenience more than anything else.
There is a City Circular Course, a 1-day bus ticket with a hop-on-hop-off concept with a special bus route that stops at Suncheon Bay National Gardens and Wetland Reserve, Drama Film Set, Yeonhyang Dong Fashion Street, Utjang and Culture Street (5,000 KRW, not including admission. Keep the ticket to hop on and off). It runs from Tuesdays to Sundays (closed on Mondays) and there are 10 buses a day – you are provided with a timetable so you can plan your own journey.
I wanted more flexibility with my time so I ended up going my own way on public transport – I'm glad I had time to enjoy the Gardens and Wetland Reserves without rushing, but I think the City Circular Course would have been useful for Day 1 of the itinerary and might have allowed me to see some of the city sights that I ended up missing. These buses are great options for solo travellers with transportation concerns, or those with a very limited amount of time.
---
Where to stay in Suncheon
Baguni Hostel 바구니 호스텔
I read about Baguni Hostel on a blog review about Suncheon and was immediately captivated by its designer decor, and booked a stay in the 8-bed female dormitory room for 3 nights. Besides shared dormitory rooms, they also have private and family rooms. Note that there is a curfew at midnight so you need to inform them if you are arriving or returning later.
Here's an interesting article on Daramji about the basket design concept for Baguni Hostel.
The dorm beds are capsule style with a curtain and a small mirror, shelf and power point. There are large number-code lockers next to the bed that you can use to store your things. Mine easily fit my backpack. A towel is provided free of charge.
The female toilet was pretty big and airy – the toilets are separate from the showers, and toiletries are all provided as well. Like the other hostels I encountered in Korea, there is a separate powder room as well where you can change, dry your hair and put on make-up, with basic amenities all provided.
The hostel is 3-stories high – there is a small pantry on the top floor and a common lounge next to my room. The lobby area of the hostel connects with a small cafe and craft beer bar called Basterds, which is also where you have breakfast and hang out.
The one unique thing about Baguni hostel is their 'token' system. For every night you stay there, you receive 5 tokens (I had 15 in total), which you can use to redeem different services. Breakfast is 3 tokens but I usually don't eat much in the morning so I skipped this and ended up using my tokens to do laundry (2 tokens), drink Cass beer (3 tokens per beer – you have to pay for the good craft beer), and you can even use it to redeem other amenities like a toothbrush, facemask or even to rent a bike to cycle along the river right beside the hostel.
바구니 호스텔 Baguni Hostel
Address: 153-16 Jogok-dong, Suncheon-si 순천시 조곡동 153-16 [Naver Maps] [Google Maps]
The hostel is located in between the Suncheon Train Station and the Bus Station, about 5-10 minutes walk in each direction. The closest bus stop is the Jungang Elementary School bus stop.
Dorm rooms range from 30,000 – 34,000 KRW while private rooms range from 85,000 – 110,000 KRW
Check out Baguni Hostel on Booking.com [affiliate link]
---
Have you been to Suncheon? Tell me if I missed out anything cool on this trip.
If you are exploring the Jeollanam area, why not check out Gwangju, or head to nearby Yeosu as well? Oedo Island also makes for a fun day trip, or check out my other posts on travelling in South Korea.