Many of you might have seen this list by now – the Lonely Planet Best Country to Visit in 2015 list, which puts Singapore right on top as THE country to visit in 2015. I had seen the list for best city in my feed, but imagine my surprise when I get an email from the BBC asking me to comment on live TV about my thoughts on why Singapore made the top of the list and how it compared to the other countries.
That was one exciting day, and 3 minutes of my life that went by in a blur. I actually overslept my initial appearance at 6am (I had to take up at 5am but I only woke up at 555am and I have NEVER not heard my phone alarm go off! *%#*&) but luckily they managed to reschedule my slot, so I still manage to make the show, but man that was precarious!
You can watch the clip at the bottom of the post to see how the interview turned out! Thanks everyone who has been really encouraging and keen to see it, though I must warn you first not to set your expectations too high…
I can't help but be somewhat embarrassed about how unfocused I sound – I did spend a fair amount of time the night before prepping for it and had (what I thought at least) were some pretty decent points, but when I was on air and the questions were coming at me, I think everything pretty much flew out the window and I ended up looking more startled than anything else. But oh well, first time for everything~
Well which is why I ended up blogging and (obviously) not becoming a TV personality. I'm not good at off-the-cuff answers or even looking natural on screen (it's like my facial muscles don't respond naturally~ this is why I can't watch myself I get hyper-critical) – I like taking my time to think about stuff, and my blogposts usually go through at least one round of editing before they get posted. The hyperfast nownownow pace of the newsroom is not for me!
But more importantly, other than being great for my portfolio, this was a pretty interesting exercise in thinking about Singapore – because it still is a little bewildering to me why we would make the top of the list out of all the countries in the world, even after reading the Lonely Planet article explaining why several times. But here's what I really think about Singapore topping the list and why you should visit us in 2015.
THAT MILESTONE YEAR – SG50

A large part of what probably propelled Singapore to the top of the LP list is that 2015 is a milestone year for us – our 50th year of independence aka SG50. But why is 50 years important anyway? By country standards, that's a really short time – many other countries have hundreds, even thousands of years of history behind them.
Personally, I think 50 is significant to Singapore  because we have done some amazing things to get to where we are today so quickly, and maybe as a Singaporean this sort of efficiency and progress is something we've come to expect, but truly, it's nothing to sniff at. A lot has happened these past 50 years, some of it good, some of it less so, and I think as a nation we need to start becoming more introspective and more reflective of our actions, rather than just going with what is dictated to us by the government which is how things have tended to be. The great thing is being able to see that happen now, and it's starting to throw up some quite interesting debates which would never have made the light of day in previous decades.
But more importantly for visitors to Singapore who don't really give a hoot whether we're 50 or 500, the government has decided to make SG50 the galvanising call to rally Singaporeans to celebrate being Singaporean, so it's going to be an entire year of celebrations throughout the country which obviously means that you'll probably be in for a treat if you time your visit right!
SINGAPORE IS SURPRISING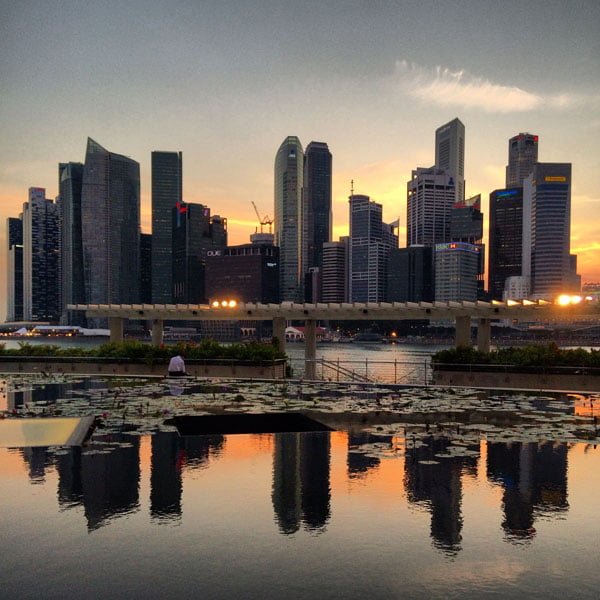 Asking people what they thought about Singapore was quite an interesting experience – I posed the question to a bunch of non-Singaporean travel bloggers on Facebook before my interview just to get a sense of what people thought about my country and got quite the variety of responses.
The answers weren't unexpected: a nice enough city, great food, small, super clean, efficient; or in less favourable views, boring, dull, not much to see here, regimented.
I'm a travel blogger and really I spend most of my waking time dreaming about getting out of here and exploring new places in other countries, so it might seem odd that I am advocating for others to visit a place I'm seemingly always trying to escape. But I've lived here all my life, and 30 years later, whether it's because of rapid change or my inherent laziness, there are still corners of Singapore left to explore and experiences to be had.
Singapore does have a rather unique culture, an odd mix of traditions, stories and histories borrowed from its neighbours that has slowly evolved into a truly Singaporeaness over time. Some people say we don't have an identity, but how else can you explain being able to identify a Singaporean anywhere in the world just from the way they speak Singlish, an accented English and vocabulary spanning several Asian dialects? Or crave Hainanese Chicken Rice when you're away because Singapore, not even Hainan, is the only place that does it right? I am proud to say that I am Singaporean.
So give this little country a chance – or a second chance if you found yourself turned off for some reason the first time around. If anyone wants someone local to bring them around Singapore, drop me a note and I'll be quite happy to take you around if I can, and hopefully give you a better impression of Singapore to take home with you :)
 MANY MORE MILES TO GO
Of course Singapore is not perfect, though I do like that we try to be top of every list there is. One of the other questions posed to me was what I thought Singapore had to do keep its position on top of the list.
My hope for Singapore is that as a country that prides itself on being multicultural and embracing diversity, we need to truly embrace what it means to be a melting pot of cultures in an era of rapid globalisation and find a way to integrate that into a part of the Singaporean DNA. Right now we have a rather fixed (and limited) definition of multicultural in Singapore, basically the 4 official races (Chinese, Malay, Indian, Others) and sadly in recent years it feels like Singapore has become a lot more xenophobic and unwelcoming towards foreigners, despite the fact that most of us are descended from immigrants ourselves. I think sometimes we can be quite casually racist even as we preach multiculturalism, and I probably don't feel it as much since the Chinese are a dominant group here in Singapore, but I'm guilty of stereotyping as well though I try to be a bit more aware nowadays. When we can be accepting of our neighbours no matter where they are from or what their roots are, that's the day that Singapore will have succeeded as a truly multicultural country and will be a place that people will want to visit, whether it's on a list or not.
So there we go, some of my thoughts in the 18 hours of prep time that I had for this interview! I hope this is a better reflection of the babble that came out of my mouth on screen…
I'd love to hear what you guys thought of the Lonely Planet list, and whether you think Singapore is worthy of its top position. I'm still not sure it should be on top, but I definitely still think people should come visit Singapore just to decide for themselves whether the stereotypes are really true!
And now my patient readers (or those who just tl;dr and scrolled right down, here's my video interview where you can watch me blabber on screen:
Thanks to BBC World News for the video clip