We've gone to Nara, and to Kyoto and even to more out of the way places like Awaji… finally we're talking about Osaka itself! On the first and last days of our trip, we spent our time roaming the general Osaka City region. Here are 2 of the main highlights in Osaka:
Osaka Aquarium Kaiyukan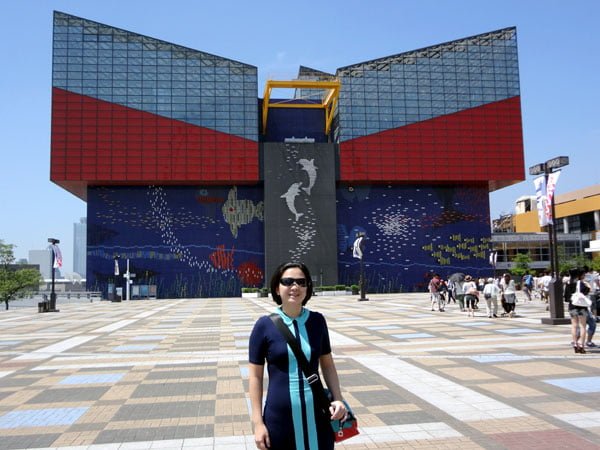 The Osaka Kaiyukan Aquarium is the largest in Japan and one of the largest in the world, and you can't miss this distinctively 'butterfly' shaped building against the skyline. We hadn't actually intended to come here at first, but we were a little tired of temples, shopping and walking around in the heat – the aquarium was a welcome relief! (details on getting there at bottom of post)
You start off by heading up a massive escalator to the top of the aquarium, and slowly winding your way down the pathways inside. There's quite an impressive but short tunnel teeming with stingrays and hammerhead sharks at the entrance (the Aqua Gate). It's followed by a sudden opening into a tropical rainforest like place (very reminiscent of Singapore's new gardens by the Bay Cloud Forest) where you can see (and smell) the cute little Japanese river otters.
Then you descend into the darkness where the tanks are. There is some method to the way they've set up the tanks, I'll leave you to plow through the explanation here to find out more, but what you need to know is that they've categorized the tanks according to different countries/regions based on water type and temperature, and that your path spirals amidst these tanks, so you'll eventually get to see the surface, underwater and the sea beds of each tank as you progress.
What's interesting about this aquarium is that besides the fish and coral you see in most aquariums, they've also amassed some other creatures which are neither fish nor traditional sea creatures, like the Capybara and squirrel monkeys from the South American rainforests.
Fish-wise, the highlight would of course be the whale shark in the main tank, surrounded by various other sharks and rays which occasionally chased each other around. In the aquarium you can also see dolphins, seals, penguins and lots and lots of different types of fish.
Do carry some paper or bring a blank notebook around with you. There are some stations where you can get a cute animal stamp (Yes, I happily queued with little Japanese children to stamp my book). These were all that I managed to collect, wonder if I missed anything? I have a full collection of stamps collected throughout my trip on Facebook, check it out here!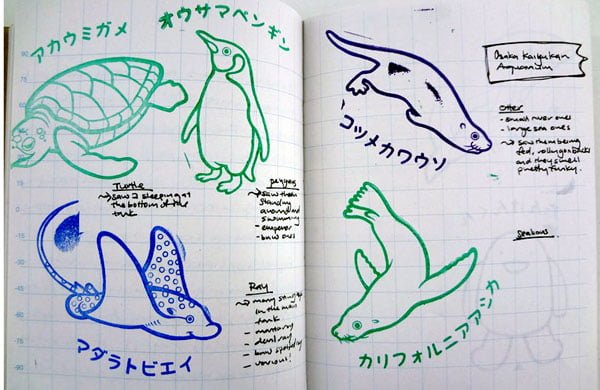 All in all, it was a pleasant 2+ hours diversion that we spent roaming the aquarium, getting educated while staying out of the hot, hot sun.I dive fairly regularly and I like animals, so it's a great way to see the creatures up close without getting wet, and the aquarium is quite extensive and diverse so there's lots to see.
Be prepared for an onslaught of children and families… it was a monday when we were there and there were a lot of rampaging children already, so i can't imagine how it must be on weekends! There are animal feeding times as well, get info about those if you're interested in a particular creature and it can get packed. Also, the glass they use for the casing is very thick and has quite a magnifying effect, which can be a bit headache-inducing if you stare through it too long!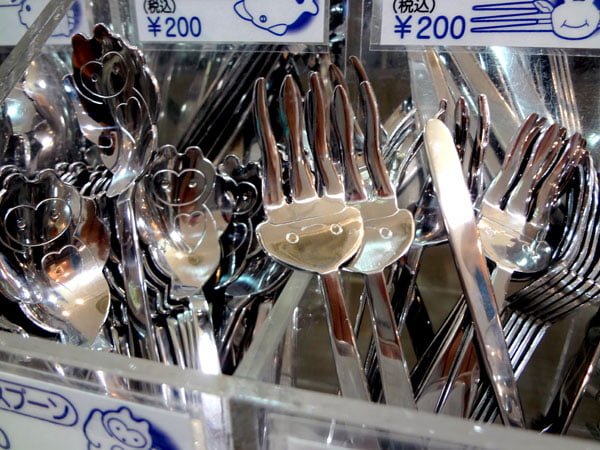 After we were done, we horsed around with the giant wall mural outside for a bit…
then we headed into the mini mall Tempozan Harbour Village next to the aquarium where there was a mini-market place of sorts to sit down and have some food. Naturally i got myself another coke float to combat the heat.
We skipped the ferris wheel and headed back to the train station on to our next stop…
Getting to Osaka Aquarium Kaiyukan

Take the green chuo subway line to Osaka-Ko (Osaka Harbour) station. The aquarium is a 5-10 minute walk from the station – the signs should get you to the right exit quite easily, but if you somehow get turned about, look out for the colourful rainbow ferris wheel and head towards that. The aquarium is right in that vicinity.
More directions can be found on the Kaiyukan website here.
Opening hours are from 10am – 8pm (last admission at 7pm, though I think you need at least 1.5 – 2 hours to wander around comfortably) It costs 2,000 yen for adults to enter the aquarium, and is one of the more expensive entry fees that we encountered throughout the trip! If you're planning to ride the Ferris Wheel, there is a combined ticket that is a little bit cheaper.
For something closer to home, Singapore is now home to its own aquarium, which boasts its own shark and ray tank as well! More about my experience camping overnight in the SEA Aquarium at Resorts World Sentosa here.
---
Umeda Sky Building – Floating Garden Observatory
It really was a bit of a lazy day for us that day! After the aquarium, we headed to Umeda and contemplated heading up to the Ramen museum but it was already 3pm+ and it would be closing by the time we reached there by train. Since we were already at Umeda, we decided to take a stroll to the Umeda Sky Building and its Floating Garden Observatory.
The tower seemed ordinary when we approached it from the side, but seen from the front, it does have a unique structure, where two parallel towers are joined at the top by a platform which has a round hole in the middle.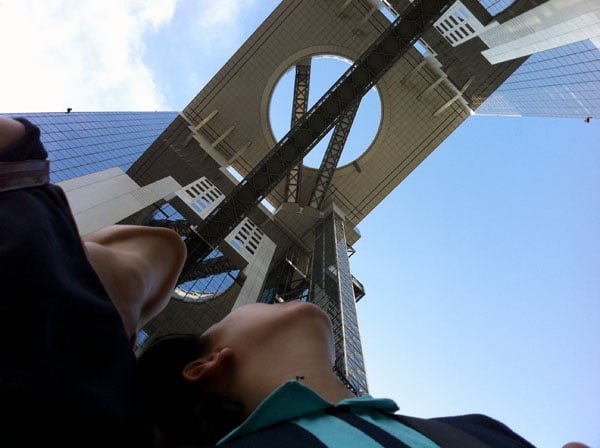 The lift ride up to the top is a bit harrowing, you suddenly pop out from darkness into light and realize that the walls are all made of glass. The two Japanese girls in the lift with us were totally freaking out.
Once at the top, you have to ride up another escalator to get to the main reception, and now this is scary because the lift straddles the round circular hole on top. In essence, you're riding an escalator that is only supported on its two ends about 170m up in the air. Eek!
There are two levels to the Sky tower – there's the level where you buy your tickets and do various touristy things, like admire the city view in lovely couple seats on the South side…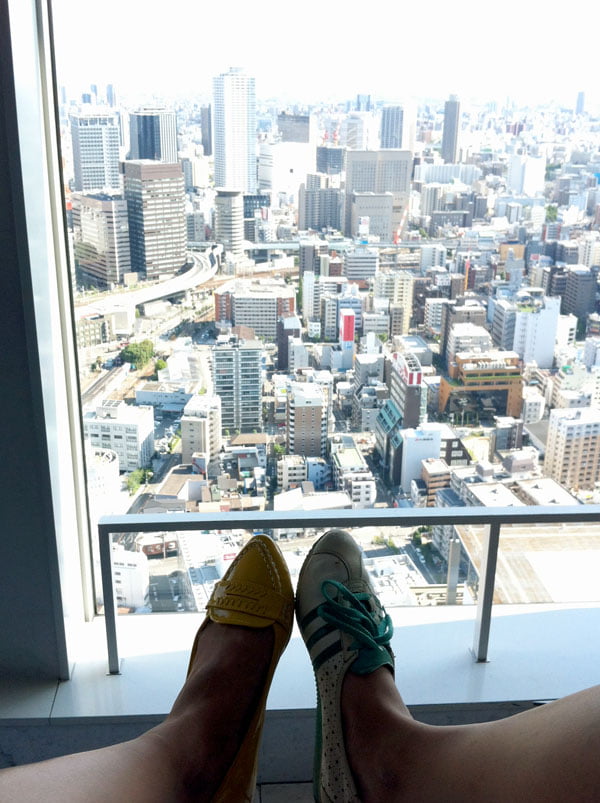 Or get your fortune told for 100 yen, which Y and I did just for fun…
Naturally we had a beer up here and took some time to admire the North-facing view (facing the river) instead.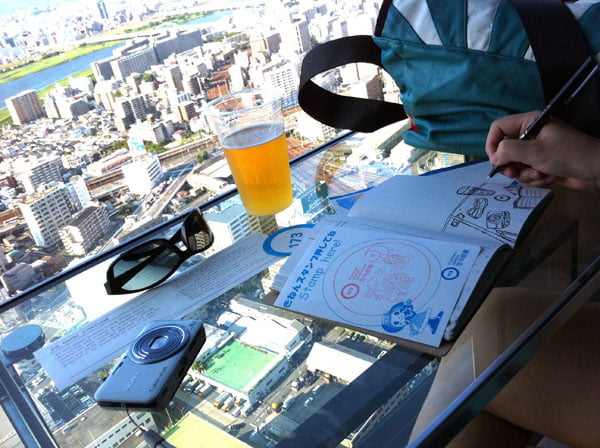 And on the upper level, there's the open air 'garden' (there's no grass in this garden, it's all concrete!) on top of the building where you can admire a 360 degree view of Osaka city. It was quite a hot and clear day up there so while the sun was blazing down on us, the view was awesome.
If I could, I would like to come back here again at night. Like most cities, the true beauty lies in the city lights which you can only see when it's dark, and there are a bunch of gimmicky things to do if you're in the mood for touristy, like the floors that light up with florescent patterns, or the Lumi deck which lights up according to how 'true' your love is.
All in all, Umeda Sky Tower's Floating Garden Observatory is quite a nice place to visit if you want to do just one touristy thing here in Osaka.
Getting to Umeda Sky Building
Umeda Sky Building is a bit of a walk from the Umeda main train station. You walk on the road past Yodobashi on your right and make a left. Quite a lot of construction happening now but just walk till you get to an underpass. Cross that and another road and you'll end up at Shin Umeda City where the Umeda Sky Building is. While the building is quite distinct looking, it's not very obvious when you approach it from the side because you can't see the split tower structure, so don't be worried if it seems like you're just headed towards a normal building.
Opening hours are 10am – 10.30pm (last entry 10pm, though check because the timings can change with the seasons) and it costs adults 700 yen to enter. You can enter through either tower – they'll both lead you to the lift where you head up to the 39th floor where you buy your entry ticket, which gives you entrance to the open-air 40th floor.
Umeda train station is huge and one of the major interchanges for the various Japan railway lines. It's quite easy to get lost there, and sometimes their signage is not great, in that destinations tend to disappear and reappear at various points of signage along your way.
There is a tourist centre though which is quite helpful and has maps as well. You could probably do quite a bit of shopping and eating in this area alone.
Looking for more posts on Osaka and this trip to Kansai? Or why not see where else I've been in Japan?