I have been in a little bit of a diving withdrawal since all those whale sharks and manta rays in the Maldives, so when Resorts World Sentosa (RWS) extended an invitation for me to check out a program called Ocean Dreams, where you get to stay overnight in the S.E.A. Aquarium and learn more about the fishes… I was pretty stoked! Diving with fish is one thing, but sleeping with them is something I haven't done yet!
Naturally I invited dive buddy P to join me on this overnighter. The program started at 5pm on Friday, which meant having to leave work a little earlier than usual. There were about 50 people in that particular session, a mixed bag of locals and tourists, families, kids, friends and couples. We were split into 3 groups – Sea Jellies (my group), Sea Stars, and Manta Rays (whut, how come their group name is so cool when everything else is… lesser so).
As with all things, we also got some free swag!
After an initial welcome, we started out with a tour of the Maritime exhibition at the entrance level. It's basically a walk through dioramas of the various historical Asian ship ports. Good perhaps if you're interested in history, but I was more keen to learn more about the fish, so this was just filler for me.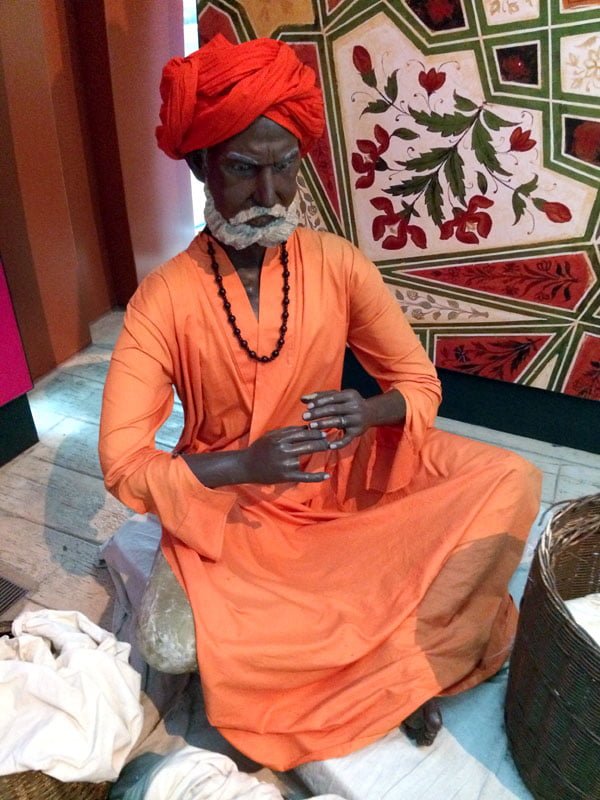 The tour is targeted very much at families, parents and their kids, so it wasn't that much of a surprise that the activities and group leaders (called Captains) were all something reminiscent of a school orientation camp – the enthusiasm was a bit overwhelming for me. Me and P mostly just skulked around the back of the group and let the kiddies have their fun with the games and cheering.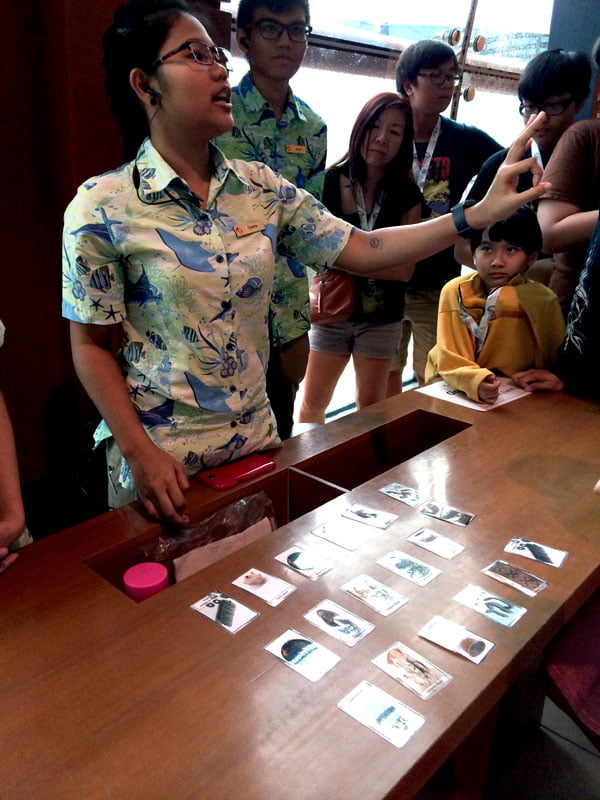 We had dinner after that, all meals are provided for though frankly they're not much to shout about. Next we headed to Typhoon Theatre, which is one of those 4D experiential theatre things where you're watching stuff on an IMAX-like screen, and you feel the waves splashing on you by way of actual water squirts.
Not to spoil it too much for anyone, but I think the end reveal is probably the most worthwhile bit, when you exit into the aquarium itself! The artificial wreck reef is pretty impressive looking as a first impression!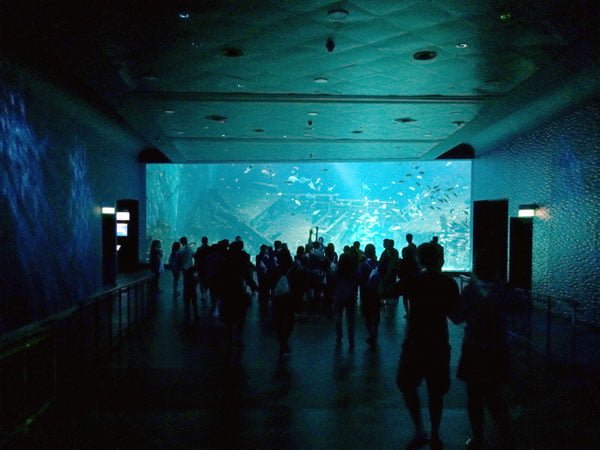 The highlight and what I enjoyed most about Ocean Dreams is that we got a guided tour of the aquarium after everyone had left! I had visited the aquarium earlier in the year with the family, and while I enjoyed it then, just having to deal with the massive crowds was a bit of a downer. Here, not only did we have the aquarium all to ourselves, we also had a guide to tell us a bit more about all the animals that we saw.
Here's a little bit of what I saw, without all the various tourist heads in the way. Pictures obviously don't do these justice.
After the tour, we then grabbed the sleeping bags and blankets provided for us and headed to our bedroom for the night – the main Open Ocean Habitat room, with the largest viewing panel in the world!
My group was really lucky and got to sleep on the lowest tier, right in front of the panel! P and I lined up our sleeping bags right up along the edge of that warning tape line. We had some free time before lights out at 1030pm (where they switch off the exhibit lights for the fish and people to sleep), so we spend a bit of that trying to get decent selfie shots with the fishes.
In case you are wondering, there are showers there to freshen up (some in the bathrooms there, others in the staff toilets on an upper level), and they provided some night time snacks like cookies for supper. What I also appreciated was that they let us roam the aquarium on our own during this free time, so we could revisit some of the tanks that we passed by too quickly earlier. For the crowd averse, this is well worth paying for!
We picked a spot to the right of the main panel, a place where our guide told us you could see a fish vortex form around the only light source left on when all the lights were turned off. Me and P stayed up talking and staring at fish till at least midnight – something about it is quite hypnotizing.
The manta rays are the highlight of course, and there were three of them who spent their night following each other around. The other rays, both large roundish ones that rippled when they swam or smaller ones that flapped like little birds, and a whole school of little cow-nosed ones. Also lots of sharks – a speedy leopard shark, a couple of guitar sharks and a shark that turned out to be a ray (which we just called ray shark) – to be fair there are lots of convenient electronic touch screens in the area which you can use to ID the fish, but just making up names for them is quite fun (we do that a lot while diving, really)
This is what my view was like as I closed my eyes that night, it was pretty magical (and also very cold, I had track pants, a windbreaker, a scarf and a blanket and I was still so, so, so cold)
The next morning, we woke up bright and early at 7am, and waking up to fish is a pretty nice thing to do. We took a morning walk through the aquarium to wake up, which was nice.
After that we grabbed our bags and were herded up by their internal fish lift which is used to transport animals, and smells to high hell of fishiness. We found ourselves in Adventure Cove, which is a part of the whole Marine Life Area, and had breakfast in one of its eating places. We then headed off to one of their back-of-house areas, which houses the top of main Open Ocean Habitat tank – no pictures allowed unfortunately, but we got to watch them feed plankton to the manta rays, which basically involves them holding a small bucket full of plankton out on a long pole, and pouring it down the manta's mouth when it swims up very quickly.
All in all, I had a pretty awesome time. I'll be quite candid and admit that I might be a little bit past the whole 'school camp' experience, and I think they could do quite a lot of interesting things if they considered catering some of the programme to the adults who participate, or had different groups for them separate from the kids. I would have liked to spend more time exploring the aquarium, whether through guided tour or on my own, and I would have loved to see more back-of-house experiences like the manta feeding, because you can't experience that on your own.
If anyone has questions about the program, do drop them here, I'll be happy to answer what I know :) It's not the cheapest thing to do, but it's a pretty educational one and definitely a unique experience sleeping so up close and personal with the fish.
If you're interested in checking out Ocean Dreams, check out their website here for details on pricing, programming and future dates. It costs $158/adult and $138/child or senior, with $20 discounts for RWS Invites members and Annual Pass holders, and they do have a family package for 2 adults + 2 children at $548/$468. You can get discounted tickets to Adventure Water Cove for the morning after if you're so inclined.
The Ocean Dreams experience was courtesy of Resorts World Sentosa. Thanks to Gerald for the opportunity, and the entire group of RWS staff for making the experience such a fun one!