I'd like to make a confession: Sometimes I think I make a shitty travel blogger.
I sometimes feel a little bad that I don't take nicer photographs for you on my blog which is supposed to inspire you to travel more. The truth is I really don't like carrying around bulky professional cameras with me, despite the fact that I know they'd produce much more beautiful and travel inspiring photos. I actually rely very much on my trusty iphone to capture the moments because I find it less obtrusive to most people, less of a hindrance to my own travel experience, and these days the quality of camera phones are good enough for me and my memories.
So it was probably going to be the same for this trip to Portugal, but the kind folk from Oppo Singapore reached out to me and loaned me a rather pretty mint-green Oppo N1-mini to see how good this phone could be for the traveller. I'll have to say, as someone who's been using the Apple iPhone since I started using smart phones (before that? Loyal Nokia user to the core, love you classic 8210 & 8250), I had my reservations about using an Android phone – Oppo phones run a system called Colours, which is a version of the Android OS.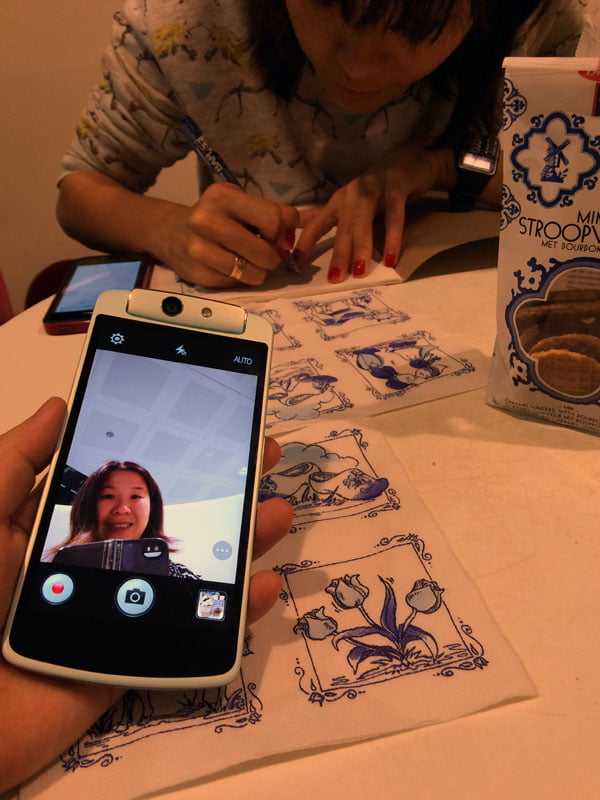 And also, you might have noticed that I invested in some smart phone camera lenses by Photojojo to see if that would help me get better photos. The lenses attach to the phone via magnets – you stick a little metal ring around the camera which is really easy to remove. I carried around a wide-angle lens (with macro function),  a fish-eye lens and a polarizer (which I don't use very much). Mostly you'll see the wide-angle being deployed, especially for the building, interior and street art shots.
SWIVELLY SELFIES GALORE
The most outstanding feature of the Oppo N1-mini phone that got the most attention was the swivelling camera head. Instead of the usual system where a high res camera is set on the back and a lower-res camera faces the front, the Oppo N1 Mini has just one 13 Megapixel camera with flash that is installed on a head that can rotate up to 195 degrees, so whether it's a normal photo or a selfie, you're always ensured a high resolution shot.
I liked that swivelling the head towards you automatically toggles the camera without having to switch it on. Otherwise, drawing a circle on the screen toggles this off-screen gesture that brings up the camera!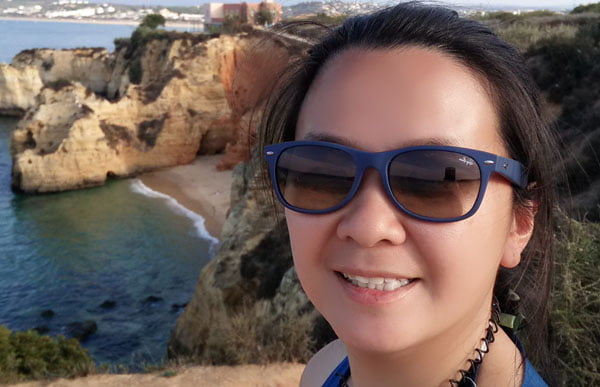 Also, having the flash in your selfies – I didn't realize this was necessary until I was trying to take a backlit sunset selfie with my iphone and realize I couldn't use the flash because it was only installed on the back, doh~
The swivelly head doesn't stop at your standard photography and selfies. It was pretty helpful in taking rooftop and ceiling shots as well as I could adjust the camera to various angles, which made it possible to use the screen to focus the shot, especially helpful when it came to areas where we couldn't enter. Being able to stick your hand through the grills and take a shot of beautiful roofs was really useful.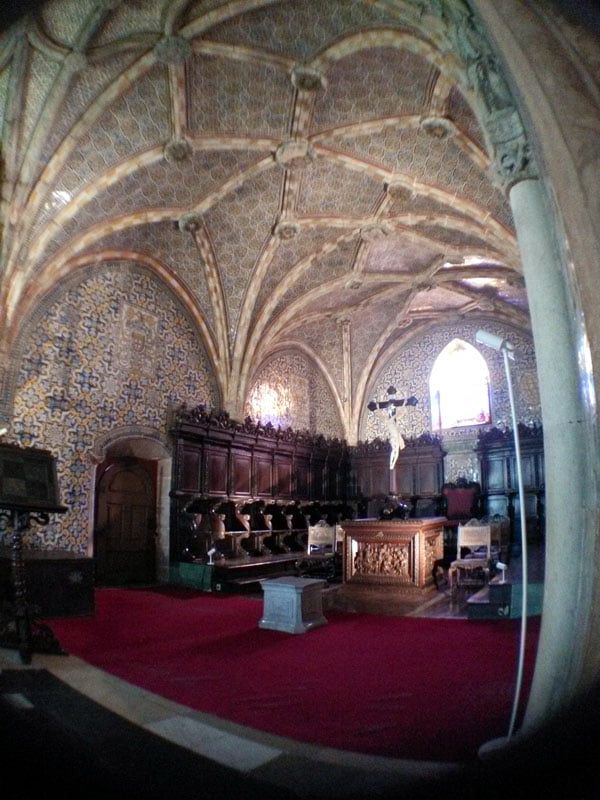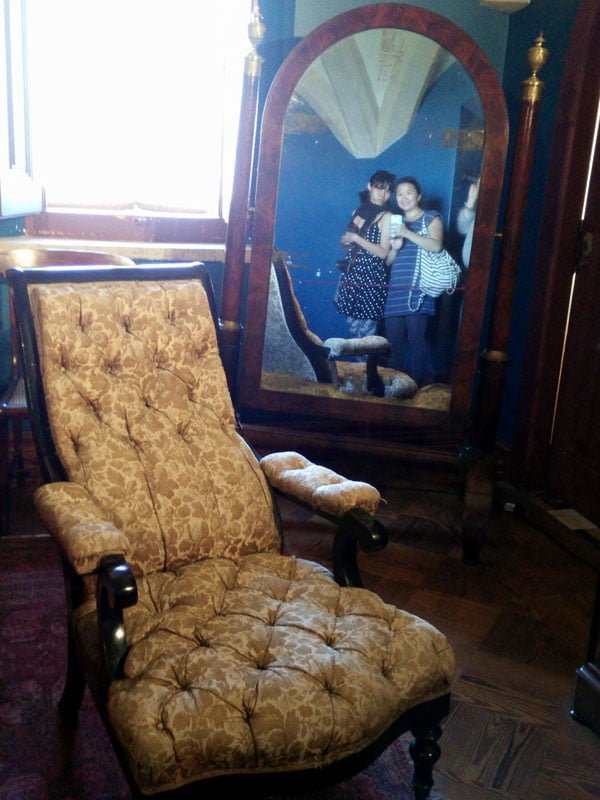 MY LOVE-HATE RELATIONSHIP WITH BEING BEAUTIFIED
As a selfie camera created by an Asian brand, naturally the default mode for pictures is something they call the Beautify Mode. In short, what it does is automatically makes your skin look super smooth in photos, as well as enlarge your eyes, mostly by making your pupils larger and rounder (Like those contact lenses).
Behold:
Now in theory, that's something quite awesome. I will admit to photoshopping away some of the zits and other blemishes in my photos occasionally, especially if I was having a bad skin day on my travels because that's not something I want to remember, nor distract you from the wonders of travel with my spottiness. But if you're not used to it, you might feel a little bit weirded out by your suddenly beautfied portraits.
And also, while Beautify mode should help Asians who generally have smaller eyes enlarge their peepers, it often makes me look like an alien instead because it made my eyes look like they didn't have whites at all. For now the default mode is in Beautify mode, not sure if you could toggle it not to be so you don't have to switch it off every time.
And just so you can see for yourself how the camera did overall, here's a selection of various shots from my trip taken by the Oppo N1-Mini.
Some of the other camera functions that I didn't use but could be quite useful for other people – I'm really a very basic point and shooter, but some of these sounded quite interesting:
Slow Shutter Mode: With a 32-second long exposure, you can capture scenes with alternating light exposure creates for unique photo effects. Or get some awesome light trails.
Audio Photo: Record audio on your photo – probably the closest you can get to adding a soundtrack to your life!
GIF Photo: Record GIF animations – this definitely takes away the hassle of trying to string it together in photoshop or an app! I definitely regret not trying this.
Ultra-HD: They have something called Pure Image 2.0 technology that picks out the best parts of six consecutive images and combine them into a 24megapixel HD picture. Considering I usually have to resize my photos, not particularly useful for me, but if you're looking to blow up your shots, this would definitely be helpful.
Slow Motion Video: Because nothing is more dramatic than slooooowing it down.
Besides photography, I did use the Oppo N1-Mini quite extensively for some of its other functions to help me travel.
WIFI/DATA
Compared to my iPhone, the Android system definitely is more sensitive in detecting wifi spots – I don't know if my iPhone is being wonky, but quite often, I wouldn't be able to detect any wifi signal while the Oppo had a strong connection, which is something I'd also notice previously when reviewing the Google Nexus. Then again, it could be an issue of my casing because Y uses an iPhone and she didn't have those problems…
Also, unfortunately I wasn't able to get the wifi dongle that I usually have on trips, so I ended up getting a SIM card instead for this trip at 15 Euros for 1GB from Vodafone at the Lisbon airport – that lasted me for about 12 days, perhaps if I had been a little more judicious in using it I could have made it last! I like the handy drop down menu that made it easy to toggle wifi/data on and off without having to always go into the settings – iPhones do have this setting but it's less extensive than the Android system.
MAPS
Google Maps was quite the lifesaver in helping me stay un-lost. I liked that even when my SIM card ran out of data, I could still use the GPS to at least locate myself. Of course this isn't unique to Google Maps – Apple Maps has this function as well, but what was really useful about the Google Maps app is that the little blue dot signalling where you are has a compass/arrow to it which the Apple maps lacks. It's a really small but functional thing.
I nearly forgot to get off my train when I reached Coimbra – only by checking my GPS did I realize I was actually at the right stop! Never have I moved so fast to get off a train… The Portuguese really aren't very good with signage!
Some other cool features
Off-Screen gestures: The phone detects gestures and swipes on the screen even when the screen is off, which makes it great for those who want a more hands free experience.
Privacy: Besides App encryption where you can password protect various apps, you can even set a guest mode/password that restricts contacts, photos and apps from other people who might want to use your phone!
Of course as a long time iphone user, there were a bunch of things that I really couldn't get used to – I wish that the main power button wasn't on the top left hand side. Perhaps I'm too used to the iphone's buttons (the power button is on top), but I kept locking/turning off my phone by accident because I kept hitting/holding that button, which meant having to unlock or restart the phone at several junctures.
The large screen took some getting use to, but it was nice looking at photos on the OPPO after you're used to a small iPhone screen – Instagramming is always a joy on a larger screen. However the Swype keyboard also drove me crazy at points, as it really alters the way that you type on your phone. I can see how it could make typing faster and easier, but I hate the way it auto-corrects words and I often don't notice it until after my posts go up, which is especially annoying on Instagram where you can't make edits after posting. But I guess this is more a matter of getting used to it…
WHERE TO GET OPPO
The OPPO N1 Mini is retailing at SGD549 in Singapore and available at all authorized OPPO retailers, including Singtel and M1 shops. They just opened a flagship concept store at Suntec Tower 3 #01-627/630.
The OPPO N1 Mini is available in white and cool mint-blue (erm, it's really mint green to me but well semantics), and there's quite an unusual and pretty limited edition lemon yellow colour that will only be available on Lazada Singapore or at their concept store.
For more information, visit the OPPO Singapore website, Facebook, Twitter or Instagram.