When we were in Lisbon, we hadn't planned to visit Cabo Da Roca at all (not that we did much planning prior to the trip). We were just going to spend the day at Sintra checking out the fairytale castles, and then go see the beaches in Cascais, but since Cabo Da Roca was along Bus #403's route, we decided to do a quick stopover and see what it was about.
All I knew from the travel brochures that I picked up was that Cabo Da Roca, aka Cape Roca, was the western most point of Europe, thus making it the western most point of the entire Eurasian continent. I didn't know what there was to see, nor if there was any historical significance to the place, nothing much at all.
But none of that mattered as we stepped off the bus 45 minutes later, into blustery winds and one of the most amazing views clifftop sea views I have ever set my sights upon. The blue waters of the Atlantic stretch endlessly into the horizon, and the weather was just about perfect that day – sunny with clear blue skies.
Some research post-trip: This area is actually part of Sintra-Cascais Natural Park, so it would be a very scenic walk for the nature and trail lovers. For those less keen to tramp like Me and Y, you don't have to go far to get away from the tourist crowds – just a short walk down one of the cliff paths to put some distance between us and the hordes, and let us admire the view somewhere quieter and take all the ridiculous selfies that we wanted against this glorious backdrop.
Be warned – up ahead are lots of beautiful picturesque reasons you need to visit this place!
And if you turned around and faced inland, you were rewarded with views of green rolling hills, though the greenery around the paths isn't your usual type of grass, instead a succulent sort of plant that has squishy 'leaves' and probably stands the strong winds better than your usual flimsy plants.
It was only later while doing my blog research that I realized I had actually read about this spot before coming – I read a bit of news about a Polish couple who plunged to their deaths in front of their children while trying to take a selfie on a cliff, and I remembered that it was in Portugal, but I hadn't realized it actually happened right there in Cabo Da Roca.
It's a pretty sobering thought for sure – I had wondered about the seemingly insignificant barriers, but I guess people have short memories, or are too distracted by the view to bother. Most people ignore the barriers, and so did we at some points, but use your common sense and be careful – those cliffs are a steep vertical drop into pounding surf below, I suggest you take your selfies inland where it's a little safer because you never know how crumbly these rocks get…
Concerns about cliffs didn't stop us from doing our jumpshots though!
Other than the view, there isn't really anything else there to visit. The lighthouse on the hill but it's locked up. It does have a really friendly resident dog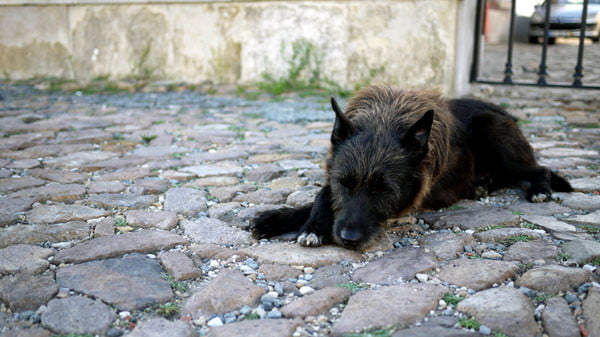 And according to the internet, there is a tourist office right where the bus stops where you can buy a souvenir certificate to commemorate your visit to Cabo Da Roca if that's what floats your boat. We didn't though we mainly mooched around, and spent about an hour or so there before deciding to head off to Cascais.
The bus however, had different ideas. We were supposed to catch the 6pm bus and head to Cascais for the sunset, but it was 645pm by the time the bus came properly, and dark by the time we reached Cascais, ah well. We did manage to catch some of that evening glow before we left this pretty spot though!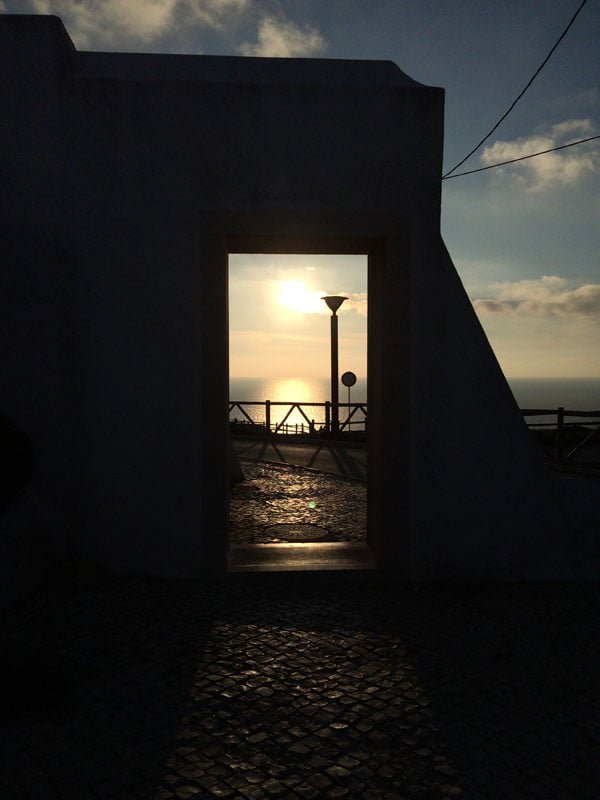 Getting There
Take bus 403 from Sintra Train station or Cascais Bus station. It's about 45 minutes from Sintra and about 20 minutes from Cascais. There's a Scotturb bus guide here if you can read it!
What we did was to get a single bus day pass for 15 euros – it covered the CP trains to get you from Rossio Station in Lisbon to Sintra, and the Scotturb buses (which is what you use to get around Sintra's attractions and to Cabo Da Roca/Cascais) for unlimited rides within Sintra. I like that it gave us some spontaneity in moving around despite being confined to bus/train schedules.