The only thing I loved about Munich more than the beer were the Christmas markets. In Singapore where it's tropically hot all year round – the only way you know Christmas is coming is when the shopping malls start playing all the Christmas carols.
Being in Munich in December made me feel like I was truly experiencing Christmas for the first time – sipping hot gluhwein in frosty temperatures, browsing rows of squat little wooden stalls selling nativity items, glittering lights and brassy Bavarian music…
In other words, it was impossibly festive, I don't think I've ever had this much Christmas spirit in me.
Onward now to ALL the Munich Christmas markets that I visited in my time there. I walked most of the Christmas markets in the downtown area, and there was even one at the Munich airport which I sadly didn't have time for. The Christmas markets are usually open from the end of November and close by 23rd Dec – Christmas Eve and Christmas are very quiet.
---
WEIHNACHTSMARKT @ ENGLISCHER GARDENS
Walked in this park in the late afternoon to check out the river surfers, and as it got dark, my companion S and I found this bastion of civilization Weihnachtsmarkt twinkling amidst the trees at the Chinesischer Turm (Chinese Tower) area, with a recognizable tall pagoda-like structure in the middle of it. There was a beer garden in the first level of the tower, and a brassy traditional German band on the second level playing songs very intermittently.
As with all Christmas markets, there were stalls set up all around with food, and we happily dug into our dinner while standing around the large Christmas tree – a round of Gluhwein and Bratwurst for dinner, topped with a fab Grand Marnier crepe and Nutella waffle. MMH YUM, and definitely a great way to keep warm in the cold wintery night.
This was my very first Christmas Market experience, and it definitely left me hankering for more.
Getting there: To get to the Englischer Garten, we took the U-bahn to Odeonsplatz and walked through the Hofgarten to get to the Southern end where the Einsbach and river surfers are. Heading towards the central area, you'll eventually reach the Chinesischer Turm. A closer station to the Chinesischer Turm would be Universitat on the U3/U6.
---
DASWEIHNACHTSDORF @ RESIDENZSTRASSE
 Dasweihnachtsdorf is set up in the courtyard of the Residenz and was absolutely bursting with people. The entrance to the courtyard was flanked by Christmas trees and lit with a greenish light, and there was a large windmill feature in the center of the market.
There were also these weird diorama things that seemed to feature fairy tale scenes and had German talking heads. I also found the perfect bobble hat for S here, but it cost 54 euro! Seriously, I was not going to pay 50 euro for a knit hat, so we kept looking…
I visited this market on the first night, and again on the second night when some family friends I was meeting in Munich took me there for some Christmas punch before heading for dinner at Ayingers.
Getting there: It's quite conveniently located near the Odeonsplatz U Bahn station and in the open space of Odeonsplatz itself was where they sold Christmas trees.
---
KARLSPLATZ – MARIENPLATZ
The market stretched down from Karlsplatz, little pockets of stalls along the main pathway until you get to the main square at Marienplatz, marked by a huge Christmas tree right in front of the New Town Hall. This was probably the market I passed through most often since it was in the center of everything. I first saw it in my first morning in Munich while waiting for the city tour to begin, and dropped by or walked through every day.
A skating rink was set up at Karlzplatz as a two storey set up, with food stores along the first level, and a platform from the second floor where you could look down and watch the people skate. Didn't have the chance to skate, looked like fun though.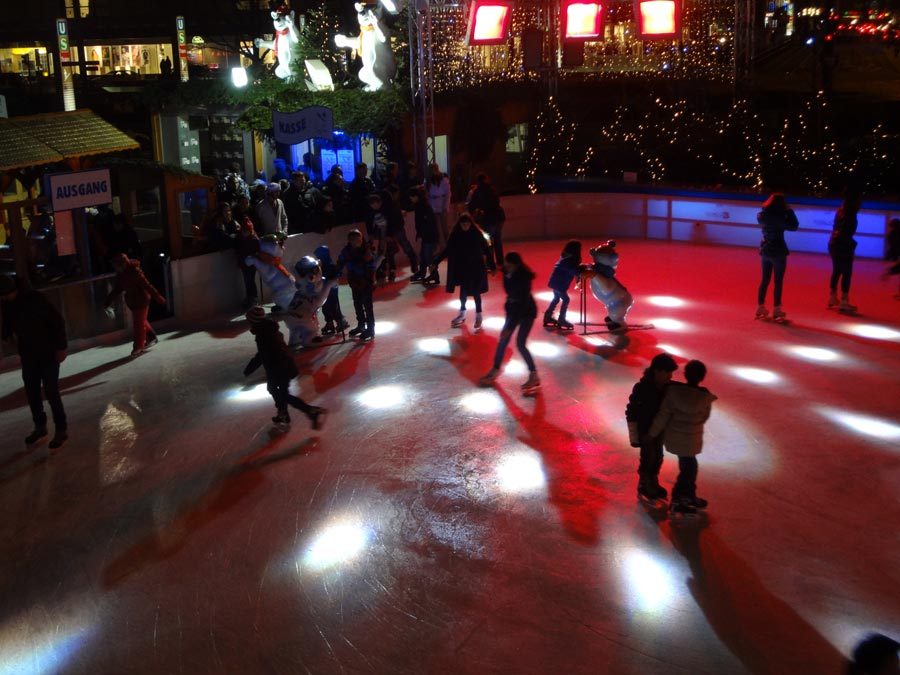 There was a stall selling absolutely delicious weiss wurst (white sausages) and Schinitzel. Also tried the currywurst, which is really just a sausage with curry powder on it. You just stood around at the tables and ate, even in the light drizzle.
And wandering further around the Marienplatz area on the last night without S, I found this last Christmas market which we hadn't discovered previously. It too had a windmill centerpiece, but my best find there was a stall that sold everything made our of intricately carved chocolate.
---
TOLLWOOD WINTER FESTIVAL @ THERESIENWEISE
Home of the famous Oktoberfest, the Theresienweise area plays host to the Tollwood Festival in summer and in winter. There are performances to watch, but the main highlight for me was the "Market Place of Ideas', which is really just another name for the whole array of Christmas stalls both indoors and outdoors. You definitely need more than one day/night to explore this place, and it was possibly one of my favourite spots of the trip, highly recommended to anyone visiting Munich.
Highlights here include realistic looking beer mug candles, a flaming gluhwein drink called feuerzangenbowle and this really potent thing called Grogg. We just pointed at what the other people at the counter were drinking, and man that was really strong stuff. The ground is mostly loose gravel and it can be pretty damp in the winter, so boots are definitely a good idea.
Munich is excellent for Christmas  Markets, but these are just a handful of what you can find if you are willing to explore a little. I definitely recommend asking the local folk where to go, and maybe just wander around and see what turns up. Remember that the festivities end after 23rd December as everyone heads home to spend time with their families during Christmas Eve and Christmas.
Here's a map on all these places right here.

View Munich Meandering (2012) in a larger map
Do you have any Christmas Markets in Munich to recommend? Also, go check out more of my Munich posts