The Margaret River region in Western Australia is chock full of wineries – about 3 hours south of Perth, most of them are situated between the two major parallel roads Caves Road and Bussell Highway, and between the small towns of Margaret River and Cowaramup. What most people do in their time here is spend their days hopping from one winery to the next, tasting and buying good wines, enjoying the scenery and having some good food.
I really enjoyed my little break there, and thought I'd share with you the list of all the Margaret River wineries I popped into – by no means is this the definitive list on wineries you have to visit, but it's a start in helping you narrow it down because seriously, the sheer amount of wineries you can visit is a little intimidating if you don't know where to start off! It's a collection of my thoughts and other people's recommendations, but feel free to let me know if you think I missed some place awesome. More maps, links and resources at the bottom of this post.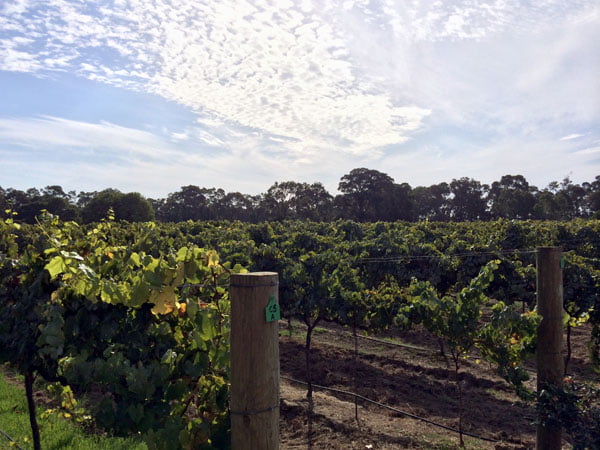 Also, I'm not much of a wine expert though I prefer whites to reds in general, so you're not going to get too much expert wine critique here. Wine really is a matter of personal taste, so while I didn't end up buying anything from some of the places my friends raved about, everything we had was pretty decent and these people know their stuff and are really friendly as Aussies are, so don't hesitate to ask them more questions!
---
The Berry Farm
We stayed pretty near The Berry Farm, located in Rosa Glen, so we popped over for breakfast at the Cottage Cafe one morning, and sat outside under the trees. As its name implies, this place specializes in berry items; while I ordered a Ham and Cheese sandwich because I was craving something savory, S had a pretty decent boysenberry pie and between the two of us, we shared a Strawberry-Rhubarb tea and a Raspberry-Lime tea (i preferred the latter).
Wine tastings take place in the Cellar Door, a separate building just next door, where you can buy jams and other produce as well, and apparently they're famous for avocados if you're there in the right season! For the wine tasting, you can taste up to 6 liquors for free – I tried just 3: a Lemon-ginger port (bit odd combination for me) and an Apple-Vanilla port (decent), but ended up getting my first choice which was a medium-dry pear-boysenberry cider for $12. S bought a Dark Plum Port which is completely distilled from plums for $24 – I'm not a big fan of ports in general because I tend to find them syrupy, but this one is pure plum and not bad tasting.
THE BERRY FARM
43 Bessell Road, Rosa Glen
---
Vasse Felix
This winery came quite well recommended by friends and is a beautiful winery closer to the Cowaramup area. It covers quite a large land area and the first thing you'll notice after the vines are the various large art installations on the grounds.
There's more art in the main building, with an actual gallery on the first level – there was an art exhibition called 'Coast' featuring artworks inspired by the sea and coast while we were there. There is a restaurant on the 2nd level, and overall the feeling you get is that it's quite an elegant looking place – S thought it felt a bit too posh for his liking, and the wines on average were around the $30 mark, so we headed out without trying anything, which is a bit of a pity on hindsight! But there are seriously a lot of wineries around the area, you aren't really going to be able to try everything unless you have a lot of time to spare (and a driver!). I would have liked to have a meal here though, very pretty place.
VASSE FELIX
Caves Road, Corner of Tom Cullity Drive (Formerly Harman's Road South)
---
Cullen Wines
Cullen Winery is a little winery just next to the sprawling Vasse Felix along Caves Road and is quite a charming looking place overall that was also recommended and well-liked by other friends. There is a restaurant available for dining, but we were just there for the wine tasting. Both S and I tried the white wine flight, a series of 4 of Cullen's white wines, and while they all tasted okay, nothing that particularly moved us to want to buy at that point.
If you do have a large group of 5-7pax, you can actually opt to stay in the Cullen Winery Homestead, which might be a pretty nice experience!
CULLEN WINES
4323 Caves Road, Wilyabrup
---
Woody Nook
This winery wasn't one we planned to check out actually, it just happened to be along Metricup road on our way out from Bootleg Brewery where we had lunch at, and we were looking to buy some wines back for the evening. It's a little different from the other wineries in that the main building isn't located in the middle of vineyards, but in a little wooden shack in a forested area, a literal woody nook! We tried the white wine flight which included a Sauvignon Blanc, Semillon and Rose, but decided on getting a bottle of the Woodcote Chenin Blanc 2013 for $20 which was a little sweet and easy to drink.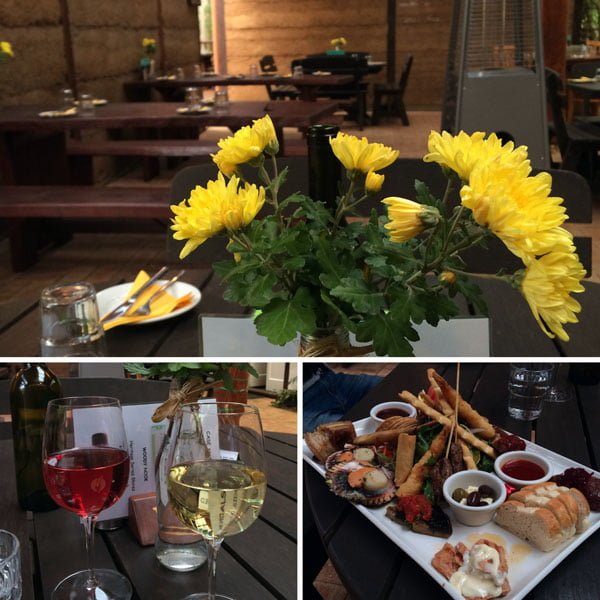 Our wine tasting lady host was really friendly and invited us to come back for lunch again, and we did stop by again for lunch in The Nookery Cafe on our way back to Perth. By some stroke of luck for us, the restaurant had just opened when we reached around 1130am and we were their first customers so we were served pretty quickly. We sat outside and while it was a pretty cold day, thankfully they had space heaters, but it's quite a charming setting. Pretty interesting menu, but we decided on sharing the tasting platter for 2 and paired it with a Rose and Chardonnay. Decent food overall with large portions!
WOODY NOOK
506 Metricup Road, Wilyabrup
---
Knotting Hill Estate
Look at the awesome scenery – that panorama could not be any prettier, there is no touch up on that picture whatsoever!I'd call this one of the more beautiful wineries that we visited in our trip. To be quite honest most of the vineyards started to look the same after a while, but this one is a little unique as it has a large lake situated in the middle of the grounds, and a beautiful arched bridge that leads from the carpark to the main house which sits over the pond. There's a little balcony of sorts where you can enjoy a glass of wine and the great view.
We tried the red wines in our first visit, and came away with a Cabernet Merlot for $28 to go with the white wine we picked up at Woody Nook just next door earlier that day – it was pretty dark red with sediments, but easy to drink, and went well with our barbecued beef steak for dinner :). We went back again the following day when heading back up to Perth and tried the white flight this time around, but S and I agreed that the Cabernet Merlot still tasted the best, and S managed to score a 12-bottle case of the Cabernet Merlot for just $100 (it was going at a promo price of $120 already, so this was an extra great deal!).
KNOTTING HILL ESTATE
247 Carter Road, Wilyabrup
---
Leeuwin Estate
This is one of the most well known of the wineries in the Margaret River region, and a really popular one too – we tried to book a Saturday dinner here but it was so full that our landlady only managed to get us a Sunday lunch booking instead. It's a very large estate, lots of empty green fields for running around in and a large main building where the dining room and tasting areas were. There's an art gallery which we didn't visit, and they are well known for holding concerts here – Diana Krall was the last one to pop by in February!
For lunch, we ordered oysters (natural and crumbed) for starters which though a little small in size, were generally fresh and tasty, and paired this with the 2005 Art Series Riesling. For mains, I had the Big Red Sous-vide pork fillet and pork belly, while S had the Blue-ridge roast marron tail and crispy duck with Chardonnay, which we both paired with the 2010 Siblings Shiraz. Generally the food and wines were pretty good and the ambiance quite lovely, but it was also our most expensive meal, totaling A$170 for the both of us. Ah well, you gotta have one splurge on a trip!
LEEUWIN ESTATE
41 Stevens Road, Margaret River
---
Voyager Wines
Just next to Leeuwin Estate, you can't quite miss the huge Australian flag as you enter the grounds of the Voyager Estate. It has lovely manicured gardens and lawns, almost like a fancy English estate (although the architect is South African and this style is known as Cape Dutch according to their website), that gives it that air of classiness. There is a restaurant on site as well when you can have lunch at.
The wine tasting happens in their cellar door, a beautiful large mansion in the middle of the gardens. You can do the usual free wine tastings, though there are guided ones as well which you can pay for, where you will have access to more expensive wines or even get to sit in their special tasting rooms instead of standing at the counter. Once again we tried the white flight of 4 white wines, and came away with the Semillion Sauvignon Blanc for $24.
VOYAGER WINES
Stevens Road, Margaret River
---
Ibizan Wines
We stayed at this little winery which isn't actually located on the main Margaret River tourist map because it doesn't offer tastings. We enjoyed a complimentary bottle of the Semillon Sauvignon Blanc 2012 as part of the room package. It was quite a dry wine but not a bad drink, we enjoyed it while watching DVDs in our room. They are stocked at Witchy Liquor in nearby Witchcliffe town and these other places here, or you can order directly from their website.
IBIZAN WINES
115 Bridgeland Road, Rosa Glen
---
Getting around Margaret River
Wine Tasting dos & don'ts
It's usually free for a few tastings (usually 4-6) unless you're looking at tasting some very specific or expensive wines, or doing pairings with food. You just approach the wine tasting table, and there's a sheet of paper with the various wines and descriptions on it, and you pick something that you want to try. If you're a little bit lost, ask for recommendations, or choose to either try the Whites or the Reds, and then go from there. You're not obliged to buy after trying – it is a tasting to see whether any of them are to your taste, but if you do like something, just let the server know and they'll pack it up for you!
Maps and more
Check out this very comprehensive map here on margaretriver.com that shows you all the attractions in Margaret River, and the detailed visitor guide is very useful as well. I marked out the wineries that I recommended above in RED on this map (the other colours represent other places I visited that I'll write about soon!) or for those who prefer digital, here's a google map for you.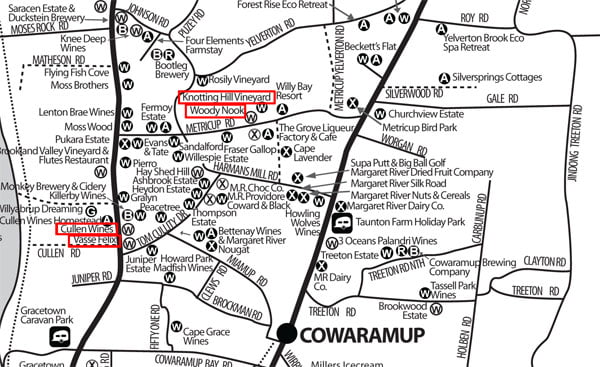 How to get around
I'd highly recommend self driving so you can do your own thing, but it's best if you're in a group and someone remains mostly sober (the 'skipper' as the many reminders posted up at the various wineries say) because the police are also out in force, especially during public holidays – we spotted several speed traps and others with breathalyzers! There are wine tours available, but you're stuck on a fixed timetable that way which doesn't give you much flexibility, so another option is to hire a driver to take you around instead so you don't have to worry about drink driving.
Closing times
Most things start closing around 4-5pm, and as most things in Australia, things get real quiet at night, so make plans for that. The main Margaret River town does have a couple of restaurants that you can eat at in the evening (we had Mexican on Good Friday, where almost EVERYTHING is closed), and there are some restaurants listed in the Margaret River map that are open at night.
I would love to go back and visit Margaret River again, there's so much still left untried!
---
Have you tried the wines of Margaret River? Which wineries would you recommend?
Margaret River is still awesome even if you prefer beer breweries and gourmet food
See all the rest of my Margaret River posts, or check out other awesome places in Australia