Now I'm not the most artsy or cultured person out there despite my job, but one thing I've started to really appreciate while travelling is street art – which is a rather loose term used to apply to any type of art found in the streets. There are no boundaries (usually), nor restrictions about getting up close and personal with a street art work – that makes it feel more personal and relatable somehow, and the good ones usually make great use of the environment they are in to provoke you into a smile or thoughtfulness.
Street art is also something travellers seem to love – one of my more popular posts here on The Occasional Traveller is this one on where to find street art in Penang's George Town, so I knew that when I came up to London for the arts, I had to make some time to check out the London street art scene too.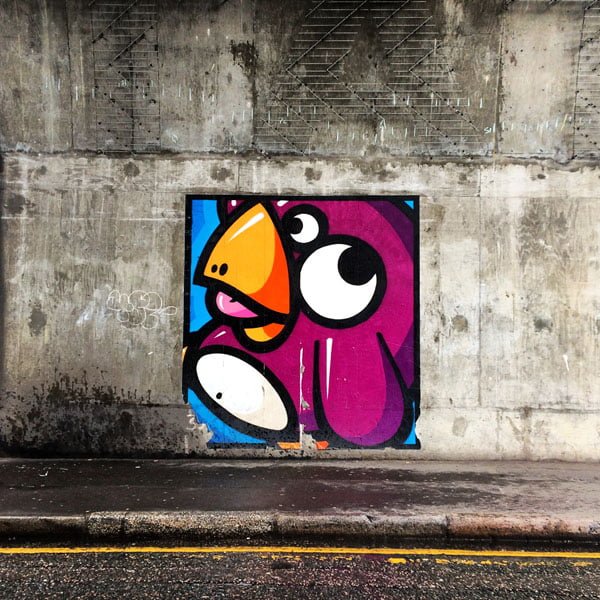 The street art scene here is thriving, and while some of it is still illegal work and rather unsightly tagging and vandalism, there are a lot of beautiful murals and street artworks, some of which are specially commissioned by building owners and it really does a lot to brighten up the area. London's East End, or the Shoreditch area, is home to streets full of creativity.
I decided to take a street art walking tour and workshop with Alternative London to find out a little more about the art and artists, though you can really just wander around on your own and chance upon awesome. More on the tour and workshop right at the bottom of this post…
We saw quite a lot of artworks in just 2 hours of walking, but I thought I'd highlight some of my favourites which I think you shouldn't miss. Also, trust me when I say it's different seeing these works in my blog and experiencing them in person and, and it was definitely helpful having someone who knows the scene tell you their stories.
If the guy in the grey shirt appears a lot, that's Andres my Alternative London guide who talked himself hoarse about all these amazing street artists, and I thought having a person in the photo provided a useful scale to show how large some of these artworks really are!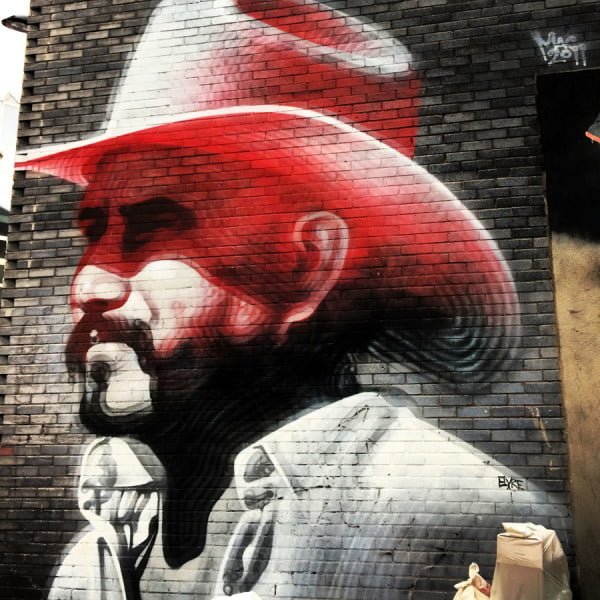 MY TURN TO BE BE A STREET ARTIST
So after a rather eventful morning walking around Shoreditch admiring street art and getting rained on, we took a short break for lunch before coming back to the Alternative London HQ in the turquoise double decker bus for the workshop part of the tour. We weren't going to be anything too fancy, basically just learn to create our own stencils and get to spray paint them with aerosol cans… just like the pros!
I'm not the most creative, so in the short time we had to ponder, I turned to my faithful paper airplane – you will recognize this from the blog's logo! Andres helped me to figure out that I actually needed to do a 2-layer stencil and how to cut out the right shapes. You think it would be easy to envision, but no, apparently I do not have the spatial ability to see layers of shapes. At least I cut the stencils out right~
After we were done cutting, we trooped outside to graffiti covered walls where we were given aerosol cans of various colours, some stenciling tools and after a brief demonstration, let loose to create! We had the option to pay an additional 3 pounds to get a tote bag to spray paint our design on if we wanted to bring it back with us, which is a nice souvenir for yourself!
(If mine is looking a bit blotchy, I blame the stencil covered with purple paint that I didn't realize was still wet T_T think of it as… artistic~)
Overall I really enjoyed myself and learned quite a lot with Alternative London, so I would recommend checking them out if you want a primer on the street art scene in Shoreditch, before walking around on your own. The tour+workshop that I joined cost 25 pounds (add 3 pounds for the tote bag), and if you're on a budget, their walking tour is pay-as-you-want, but don't stiff the guides because they really do a good job! Spaces do fill up quickly so don't dither too long – the walking tour was fully booked about a week before.
There are several other street art tours and workshops run by other companies, so look around and see what works for you. If not, Inspiring City has a pretty good self-guided walk you can follow.
Looking for more street art? Check out my full list of street art guides from around the world, including this one of Manchester's Northern Quarter. I also have a ton of posts about things to do in London if you need a break from street art hunting.
What are you favourite street art finds in London? Share them here!