Last Updated on 8 June, 2020
So I'd been wanting to write about the whole COVID/pandemic situation since shit hit the fan for Singapore in January, but things kept changing so quickly that it was hard to put my thoughts coherently – the travel industry has been hit tremendously by this and even as a small fry in the bigger scheme of things, I've been feeling the impact as well. I decided that it made more sense to write this journal as a fluid, evolving record of what's happening and my own thoughts of the situation in Singapore and the impact I'm feeling on my life and travels which I will update as things unfold.
January 2020: Singapore spike
COVID-19 (or what we first knew as the Wuhan Virus as that was one of the first major cities to be hit) became a real concern in late 2019 but here in Singapore where I live, it really only started getting out of hand in January 2020 where tiny Singapore rapidly became one of the countries with the most cases of infection outside of China.
Because of that, the local disease threat level in Singapore or DORSCON level went from Yellow to Orange, triggering some particularly unpleasant Singaporean traits of kiasu-ism as people decided to stock up supplies like wartime was looming, and disinfectants and masks were wiped off the shelves. There were insane queues at pharmacies for those that had masks, but at other times normally crowded shopping malls were almost comically empty.
Temperature checks and health declarations were started in most major buildings, but it wasn't a particularly smooth process – there was a different procedure every morning for the building I worked in in that first week of implementation. You were often greeted by someone pointing a thermometer gun at your forehead wherever you went, and many companies started implementing Business Continuity Plans – some people rotated shifts to go into office, others worked from home more. My company gave us the flexibility of working from home depending on our own comfort levels.
The amount of weird news going around on Whatsapp and Facebook was eyeroll-worthy, but I have to say the Singapore government did a great job of setting up official Whatsapp accounts to debunk falsehoods and putting up really detailed information about where potential cases had been to facilitate contact tracing. If there's one thing I really appreciate about Singapore is how efficient our healthcare system is and how much trust the people can place in it, which is something I've started to realise isn't the case in a lot of other countries around the world.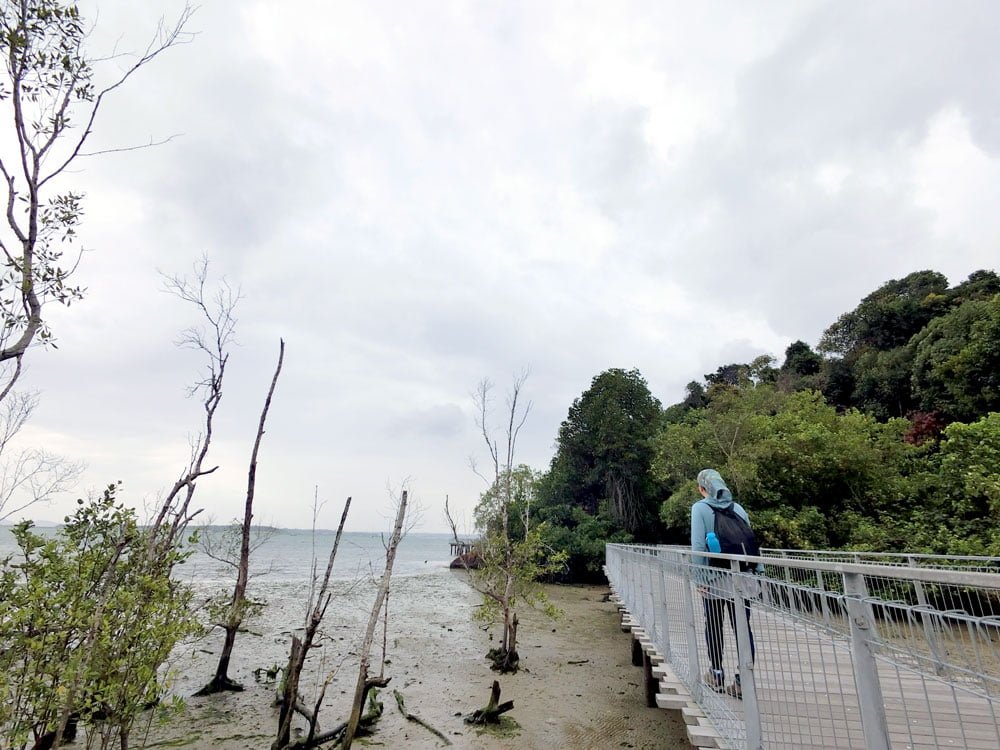 ---
February 2020: To travel or not to travel
As someone who loves travel, it's not often I feel apprehensive about a trip, but as the number of cases in Singapore rose in February, so did my concern about my upcoming trip to London and Rome. This was a blog/work engagement that had been planned months before that would take me to London for a few days, and I'd also used this opportunity to see the sights and visit family in Rome.
I wasn't even entirely sure I'd be able to travel to be honest. Every day saw a barrage of news about isolated cases popping up in different countries and how they'd caught the infection. A lot of these cases were linked to Singapore because so much testing was underway and we were finding a ton of new cases every day which were causing people to be increasingly concerned about visiting Singapore and Singaporean travellers.
I was most concerned about travel bans against Singaporeans – Singapore had banned Chinese nationals and anyone coming in from China in the last 14 days. I kept an eye on the news and checked the MFA websites as well as those of the UK Consulate since I was flying into London. At that point there had only been sporadic infections in the UK, though one guy did catch it from a conference in Singapore, but they hadn't made any bans at that point. The main notice was a warning to self-quarantine yourself at home if you did travel from Singapore or other affected countries and were feeling flu-ey, but that was it.
Lots of travel was getting cancelled all around me – my mum cancelled a trip to Indochina she was planning around the same period. Interest in travel around Asia was definitely low as my web stats dropped quite significantly in the month of February, which subsequently the lowest of my ad revenue in the last two years.
I figured since I wasn't going anywhere with a high infection rate (at that point) and I personally think one of the best ways to manage this is to try and keep a sense of normalcy, so I decided to keep calm and carry on. Keep in mind this may not be the best idea right now, but given my situation then it seemed ok to keep living life as usual, albeit with more wet wipes.
On the road: Singapore to London and Rome
My flight was out of Terminal 2 and Changi Airport was way quieter than it usually is. I've never thought it weird that people hung out at the airport because it's a pretty common thing for Singaporeans, but the emptiness of the terminal was palpable even as I walked towards immigration.
In February, surgical masks, hand sanitiser and antiseptic wipes were still pretty much sold out all around Singapore, and it was no different at the airport. I popped into a Guardian just to see if I could pick up any last minute antiseptic wipes but wasn't surprised when I was mostly met with a shrug when I asked if they had any available.
Still, the flight up from Singapore to London was pretty full, and I would say about 30-40% of people in the waiting lounge had surgical masks on. Some of the mask-wearers were Caucasian folk, it wasn't solely limited to Asian faces. I did carry a mask with me just in case, and I attempted masking up for awhile on the plane because the cold was making me sneeze, but the mask just irritated it more, so I decided to go without.
I'm a window seater, and usually I do a simple wipe of the window and the area where I rest my head, but this time I used more sanitiser than I usually do, and also wiped down my hand rests and buttons, head rest, TV screen and foldable table. I wasn't the only one doing that – the young Caucasian dude next to me whipped out his own wet wipes to thoroughly clean his chair as well. What I started doing in recent years as well is to always wear a thin long-sleeved hoodie whenever I'm in the plane (I favour the Uniqlo Airism UV Cut long sleeve mesh hoodie – great for sun protection and when it's not super cold, and also quite breathable) so I can rest my head and arms on the plane seat with at least a thin barrier.
Everything else in the plane was pretty normal except that the flight attendants are all masked up as well. I tried to drink less water and not go to the bathroom as much because all I could think about it is that airplane toilets can get pretty grotty. I did wash my hands and whip out the hand sanitiser a lot more than usual. Also I generally avoid putting my belongings in the seat pocket and this time around I left the inflight magazines alone.
London and Rome in February 2020
In London and Rome, life was pretty normal at that point in mid February 2020. I got lucky as the virus really hit Italy only after I left, and mostly up in the northern region while I was down in the central area. On hindsight, my time in Rome was probably some of the last few normal days that Italy will enjoy in awhile.
For me, that trip was an escape from the tension of being in Singapore when everyone is high strung about the pandemic – god forbid you clear your throat or even cough in public because you get some serious death glares when you do. I don't blame people for being nervous, but it was nice to have a few days without the shadow of the virus looming overhead.
I enjoyed the trip as I normally did, watching Come From Away on West End in London (excellent!) and seeing the major sights in Rome like the Colosseum and visiting the crowded Vatican City, and even taking a day trip out to nearby Tivoli. I did wash my hands a lot more than usual and tried not to touch my face (especially hard when the weather is cold and if you're sinusy like I am). And yes, I reflexively side-eyed people who were coughing too openly though no one else seemed to care. Thankfully, no one called me a virus as far as I can tell, and my sibling who I was visiting and living with in Rome concurred that no one there was concerned about the virus whatsoever.
The flight back to Singapore was much less crowded than usual, I'd estimate about half-capacity? I had a whole row of seats to myself in the back half of Economy as did many other people sitting in that zone. Singapore Airlines had announced that they were cancelling several flights in the coming months as well due to low demand.
I headed back into the office as per usual when I returned from work, but it was around this time cases in Italy had started multiplying exponentially and suddenly I was back under scrutiny because I had just returned from a potentially infectious area, never mind that at that point very little of it seemed to have affected the central and southern region where Rome is. The Singapore government at this point had declared Northern Italy a cautionary area along with South Korea and Iran and people coming back from these regions had to serve 14 days of Stay at Home time, but I wasn't affected by this at all.
---
March 2020: Everywhere else explodes
In March 2020, the situation in Singapore seems to have calmed down a bit. Singaporeans have started to emerge from their holes. Temperature checks are still the norm for most major buildings that you enter, and many large scale events have been cancelled, but still, life goes on.
Where things have really become crazy is everywhere else in the world. A lot of western Europe is infected and it's kinda insane seeing the contrast especially in Italy and UK where I was just a few weeks earlier. Everything I read about the USA from its incompetent President to their frankly abhorrent healthcare system is depressing. I feel a little desensitised by everything I see on the news these days about the virus, but also can't stop scrolling my feed to see what madness descends next.
Singapore's dropped out of the top infections list and is being sited as a country with good measures to emulate, but we're starting to pick up more imported cases from people who caught it from their travels. The government advice now is not to travel unless absolutely necessary – Singapore and other countries have started to close our borders and restricting foreigners, so going overseas is starting to be quite impossible anyway.
I suddenly thought about my epic career break back in 2016-2017 where I travelled to 35 different countries over 15 months, and I am additionally thankful I'm not on the road right now. I'd have to turn back around and come home, a necessary but disappointing measure. It's a personal reminder to never put off dreams for too long if you can help it because look how crazy things can get so quickly.
A virus scare and staying at home voluntarily
My sibling in Rome came back home as schools there had been cancelled and it looked like the situation wasn't going to be any better. If anything, they would be safer back here in Singapore with the access to our healthcare system. But when that sibling came down with a sore throat and decided to be cautious and get it checked out even though she didn't have a fever, the doctor immediately directed her to the hospital to get properly tested to be safe.
I got the news on a late Wednesday afternoon that she'd gone to get tested for potentially having the virus, and immediately my mind starts to whir with some panic – we live in the same household after all and I had even picked them up from the airport when they returned. The news that day had just been about having social responsibility and making sure you don't catch and pass on the virus to other people. Despite not having any symptoms myself, I informed my boss about it and spent the next two days working from home, and skipped my usual gym and exercise sessions.
Now I'm no stranger to working at home given that's what I'd done for the past 2 years of freelancing before I went back to an office job, but there's something about working at home on your own volition and being 'forced' to stay home because you're potentially infected/infectious that just feels makes you feel more caged somehow.
But here's one thing I think this pandemic has made very clear – beating the virus is really more than just about you and your life. I personally don't believe we should be too paranoid about everything and act like we're under siege, but I do live with a parent at home of that vulnerable age range who's particularly nervous about getting infected alongside young school-going children as well. While I might gripe about the inconveniences of voluntarily quarantining myself, delays and other red tape I have to jump through, I'm not going to unnecessarily risk other people just for the sake of me.
But anyway, the COVID test from the hospital typically takes about 3-4 days to get the results, but the call from the hospital came in on late Friday evening in just 2 days announcing the all clear and there was such palpable relief from everyone at home, me included. To be safe, my sibling would still limit going out and meeting up with friends until the 14-day notice was over, though I was happy to have my usual freedom again. I'm still washing my hands diligently and avoiding touching stuff and my face, and generally limiting exposure while still going about activities that are still ongoing.
---
Obviously my spontaneous Epic Birthday activity didn't pan out – I spent the day at home with the family who did get me a cake and a nice dinner, and I channeled those travel funds into a donation to the Community Chest in the fight against COVID.
April 2020: Circuit Breaker Mode
Things seemed to be under control for awhile, but then many overseas Singaporeans brought the virus home with them and from from late March, my work transitioned into full-time work from home so I didn't even have to go into the office anymore. This wasn't actually that difficult for me – when I freelanced in the two years prior to this full-time job, I mostly worked from home anyway so it didn't feel too different from that.
A week into April and my third week of working from home, Singapore announced its 'Circuit Breaker month' which would basically shut down most businesses and movement to try and contain the disease. Every passing day saw a further tightening of measures because many people basically just want to beat the system for their own convenience. Also, the virus hit the foreign worker dormitories leading to a massive uptick in infected cases in the past week.
That first circuit breaker week was also pretty tension-filled as my start-up company announced some layoffs which thankfully didn't affect me, but included fellow colleagues I've worked with over the past year. These layoffs kinda came out of left field, right after the government pledged 75% payment support for all workers, so that was a pretty unproductive week as we tried to make sense of everything that was going on.
I'm starting to figure out how life goes on through this whole circuit breaker lifestyle and remote connections. I did a couple of group chats with colleagues and friends and realised that while I'm pretty much an introvert, I do miss being in contact with my friends. I'm also pretty glad I get along with my whole family as we figure out how to work, study and live together practically 24/7 – upgrading the internet was necessary, and I caved and got on a Netflix trial too. I'm pretty shitty at exercising on my own accord but I tried out a couple of online tutorials and lessons this week which I might try to make a regular thing, both to support small businesses and get my own fitness back on track.
It's only mid April right now, and it simultaneously feels like it's been forever and no time at all. It's hard to say what the rest of April holds and whether the circuit breaker will actually end in May or be extended.
---
May 2020: Keep on keeping on
We're into May now and as many of my friends predicted, they've extended circuit breaker measures for an additional month till June. Singapore was doing pretty decently managing the virus at first until it hit the foreign worker dormitories, exposing an ugly truth we've always ignored – that the conditions they live in are less than ideal and perfectly ripe for the virus to go absolutely nuts.
Right now we're at over 20k+ infected, but I've stopped really following the numbers in Singapore. I have no idea how most other countries are doing because I'm not looking it up either. Ignorance really is bliss some times, but I'm still doing my part and staying at home. It turns out I'm really, really good at quarantine – I think I stepped out of my home once during the entire month of April.
This month is a bit sadder because I had planned to be in Taiwan during the long Labour day and Vesak Day holiday period. Even had my leave sorted (which I have since cancelled), but I really have no idea when anyone will be able to freely travel for holidays again.
June 2020: Cautiously Reopening
Singapore's circuit breaker is coming to a close and gradually opening up, but at 37,000+ cases as of the first week of June, I feel so desensitised at this point. It looks like I'll be continuing to work from home for a few more weeks or so since I don't really need the office facilities. The office has implemented a ton of social distancing rules and unfortunately, I've had colleagues leave the company as well, so there really isn't much incentive for me to go back into the office other than having a proper chair (my back, ow) and a large monitor for staring at those excel sheets.
I've finally started getting better with exercising on my own, though I still miss being able to go into a studio or gym. I feel like I'm putting on weight and getting too sedentary so I've started being a bit more consistent with the HIIT classes and doing online classes.
It's been about 3 months since my last trip – the last time I had such a long break between travels was back in 2015! Since I started travelling solo in 2011, the longest stretch without a single trip was about 4 months…
---
What happens next?
I wonder when things will take a turn for the better? It will probably take awhile before overseas travel opens up so I'm probably end up exploring more of my home land Singapore and maybe go see the nooks and crannies I've overlooked in favour of travelling overseas.
Many countries are loosening or thinking about loosening measures which I think is great, one can only hope the situation in Singapore gets better sooner rather than later as well.
As an occasional traveller and erstwhile travel blogger, I've never been particularly prolific or dependent on my blog for income – anything I make from display ads or travel writing work is extra money that goes towards my travels – but man, it has been depressing looking at my page stats and ad earnings these past few weeks. I really feel for the people who blog full-time because they have definitely been hard hit.
Do your favourite travel bloggers a service by going to their websites and reading their stuff – it might not be the right time to physically travel anywhere now but you can travel safely with online stories and be inspired to plan your next vacation when this all blows over (hopefully sooner rather than later!).
I'm probably going to keep writing sporadically and finally work on those old drafts that have been sitting around from past trips, and dust off and update some of my old posts as well so you guys have more good stuff to read even if you're stuck at home.
In the meantime, I'll keep this mini journal going for as long as I think it's necessary. It's a way for me to reflect and process what's happening right now, and in future years a way to look back and remember what life was like when pandemic madness descended. Stay safe everyone – let's all be good non-travellers now and keep working towards the day we can properly embrace travel again.