Last Updated on 18 January, 2021
New Year's Day on 1 January signifies the start of a brand new year and is a major celebration all across the world, but for Chinese people, the new year doesn't really start until the Lunar New Year arrives. Chinese New Year is one of the major ethnic celebrations in Singapore and while it is a great opportunity to see a more traditional side of Singapore, this national holiday and festive period can wreak havoc on your travel itinerary plans if you're not prepared for what it entails. Here's what you need to know if you are a traveller intending to spend Chinese New Year in Singapore.
Note: This post was written pre-COVID, so while the general timetable of celebration days and festivities hasn't changed, the actual celebrations (parades, travelling, gatherings) is likely to be impacted by the latest COVID rules in Singapore that prevent mass gatherings and crowding. As of January 2021 maximum group sizes are limited to 8pax, which is sure to have a lot of impact on the typical visiting schedule.
---
How Chinese New Year is celebrated in Singapore
Chinese New Year, or the Lunar New Year, is when the Chinese people celebrate their new year based on the lunar calendar. The corresponding dates on the Gregorian calendar are different every year, though it generally falls sometime between mid-January to mid-February.
Traditionally Chinese New Year is a 15-day celebration and is celebrated that way in China and other countries, but in Singapore, the Eve, First and Second days are the most important days that are celebrated.
Chinese New Year Day 1 and 2 are both official public holidays in Singapore. This is the only public holiday in Singapore that consists of 2 consecutive days, and thus makes it one of Singaporeans' favourite public holidays whether they are ethnically Chinese (which makes up over 70% of the population) or not. Expect lots of people travelling during this period, either taking the opportunity to have a good holiday and escape the festivities or returning to their homelands to celebrate Chinese New Year with their families.
Here's a more detailed breakdown of what to expect in the days before and after Chinese New Year so you can plan your itineraries:

1 month before Chinese New Year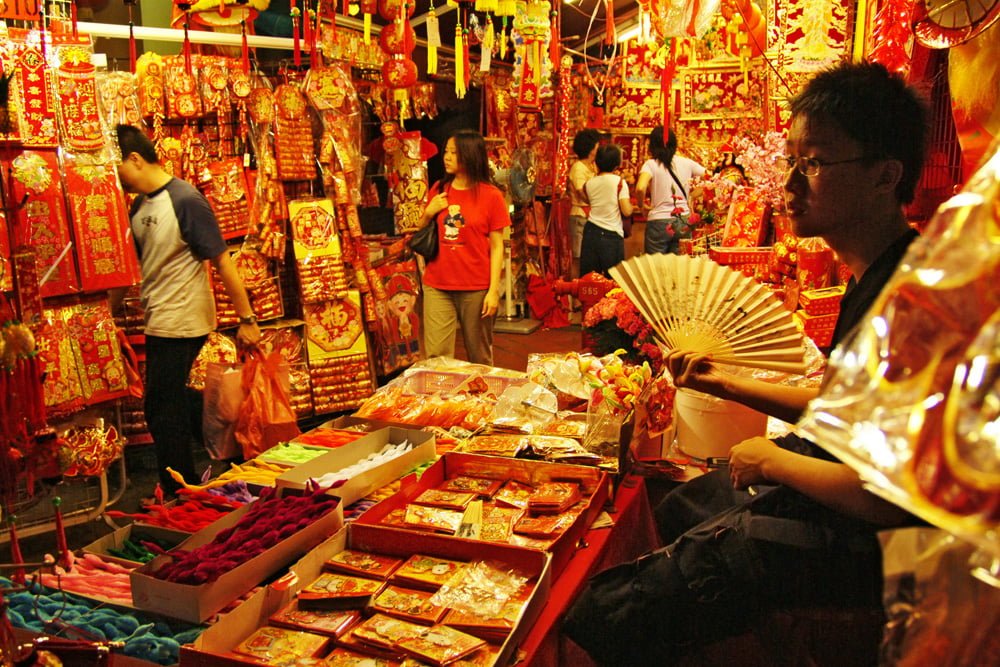 Getting into the festive spirit
In the month leading up to Chinese New Year, the shopping malls will have swapped their decorations from jolly fat Santas to equally jolly Gods of Fortune, and the tunes of tinny Christmas carols have now become a cacophony of cymbals and Chinese music, or what I call 'dong dong chiang 咚咚锵' music. You will probably be faced with a sea of auspicious red and gold decorations everywhere you turn. Chinese New Year is coming and that feeling is starting to spread.
One fun thing to do during this period is to head to Chinatown to partake in the ongoing festivities. Chinatown is one of Singapore's more popular tourist destinations, but it is absolutely bursting with festivity during this period. The Chinese New Year market along the lanes of downtown Chinatown will be filled with decorations, sweets and all sorts of goodies which makes it extra fun to explore and really gets you into the spirit.
But be warned that the area is going to be jam-packed with fellow Singaporeans and tourists doing the same thing as you, and it gets even more packed the closer it gets to Chinese New Year. I usually avoid the crowds when I can, but here's a bit about what it's like to be in Chinatown during Chinese New Year.
The main thoroughfare at Eu Tong Sen Street is usually decorated according to the zodiac animal sign of the year, and the streets will be lit up at night which makes for great pictures. Expect road traffic in the area to be slow, and there may be roadblocks as well.
Snacks and food are a big thing and many street and retail stalls will be selling a whole array. Often they come in clear jars with red lids. Food is an important part of the Chinese New Year visiting ritual, so people are stocking up on their favourite goodies to entertain potential guests. For the casual visitor, this is the best time to sample all that you can even if you don't end up buying anything. Popular Chinese New Year snacks include bak kwa (barbecued pork), pineapple tarts (in various shapes and sizes) and cookies of all varieties.
Spring cleaning and new clothing
Spring cleaning is another big part of the celebrations and you will find plenty of stalls selling traditional decorations like calligraphy scrolls or intricate paper cuttings with blessings and proverbs of good fortune. It's a good time to get new permanent home decor as well, expect lots of sales for furniture during this period.
New clothes are traditionally worn to signify a brand new start to the year. For fashion fanatics, this period pre-Chinese New year and post-Christmas is one of the best times to get your clothes cheaper. Expect mostly bright colours (black is a bit of a taboo for traditionalists) and floral designs as well as Chinese details like Mandarin collars or even qipao cuts.
---
Chinese New Year Eve: Chu xi 除夕
Reunion dinner
Reunion dinner time! This is the day that most Chinese families in Singapore will gather to have the traditional reunion dinner. Some families keep it a small home-cooked affair – My family tradition is steamboat or hotpot with immediate family members, while others have a full-blown many-course meal at a Chinese restaurant with their extended families.
For visitors to Singapore, you actually might want to avoid eating at Chinese restaurants during this period because not only they will be packed full of Singaporean families, many restaurants only offer set meal menus (no a la carte menu) which tends to be more expensive, so those on a budget might want to take note. Getting a table may also be challenging because of high demand – make an early reservation at popular spots if you want to soak in the atmosphere! Certain Chinese hawker stalls may also be closed early or for an extended period from this day.
Lohei and Yusheng
There is a tradition in Singapore of tossing Yu Sheng 魚生 (literally translated as Raw Fish), which consists of a large plate of raw fish, with various grated vegetables, several sweet sauces and crispy crackers.
The preparation of the dish before everyone eats it is called Lohei and is a bit of a performance:
A designated person (or the server) pours each individual ingredient into the main plate, reciting a litany of Chinese well-wishes which are symbolised by the ingredients that are being added
When all the ingredients are added into the dish, everyone at the table then sticks their chopsticks into the dish and tosses it around to mix it together, all the while shouting their own greetings and wishes for the new year. As the point is to toss the food as high as you can (the belief is higher tosses means better luck) you can imagine that it is a rather messy affair with half the food ending up on the floor at the end of it!
What's left in the plate is now an odd sort of tossed salad, which is then distributed to everyone at the table to be eaten.
I personally only like to nibble on the crackers since I'm not a fan of vegetables or raw food, but there's something fun about the whole experience that is fun to try at least once in your life. Best enjoyed in a large rowdy group and have wet wipes on hand to clean up.
Here's a comprehensive video that shows you exactly how Yu Sheng is prepared and the blessing phrases used:
Closures and travel trends
Check whether the places you want to visit are open on this day or if they are closing early – Many companies (especially those with a lot of China or Malaysian Chinese workers) give their employees half or even a full day off on Chinese New Year's Eve so they can have more time to prepare for the celebrations, or in the case of the foreigners, extra time to travel back to their home countries.
Flights to countries like Malaysia, China, Hong Kong and Taiwan are usually booked up quite well ahead of time and tend to be more expensive, so book early as well. If you're planning a jaunt up to Malaysia from Singapore, this period is a singularly bad time to do so because the causeways tend to be jam-packed with Malaysians returning home for the new year so expect slow buses and road traffic overall. I would avoid travelling between Singapore and Malaysia during this period, but if you have to, book way in advance.
---
Chinese New Year Days 1-2: Chu yi 初一 and Chu er 初二
Happy Chinese New Year! Singaporeans spend these two days visiting the homes of their families and friends as custom dictates to wish each other good fortune for the coming year. Younger folk usually pay their respects to older relatives but it really depends on the traditions of the family.
Public transport and Opening Hours
Sadly most of the hawker stalls run by Chinese folk are CLOSED on the first day as they will be making their way around the island visiting their kin – mostly fast food or tourist food joints are available on these two days. More food stalls tend to reopen on the second day, but some businesses take a long break and only open on a fortuitous day in the later part of the new year.
Most major retail outlets, shopping centres and tourist attractions will still be open, though you may encounter higher prices and crowds as this is a public holiday for Singaporeans. Chinese temples will be filled with local devotees making their prayers, so expect those spots to be VERY crowded – I suggest avoiding temples if you prefer not to be squeezing with the crowd
For those getting around on public transport, you are likely to encounter lots of gaily dressed families going visiting throughout the day. Getting a taxi is going to be a lot harder than usual, and more impossible than usual if it rains during this period, even if you try to call for one. For those driving, watch out as you will encounter more weekend drivers who only take the wheel during special occasions such at this, so more patience is needed to ensure you don't spend your public holiday getting your car serviced
Visiting traditions during Chinese New Year
If you are invited to visit your Singaporean Chinese friends' houses during this period, some customs you should take note of:
What to wear: Avoid wearing black and dark coloured clothing, the older folk especially are more superstitious and associate black clothing with funerals. Even if your friends are younger and don't really mind, you don't want to unwittingly offend them or their families. Other no-nos: sweeping the floor or any sort of cleaning (you're sweeping the good luck away), using the scissors or knife (cutting off fortune), and making sure any monetary debts you owe are all settled for an auspicious start to the year (a clean start)
What to say: Learn some simple greetings to accompany the mandarin orange exchange: Xin Nian Kuai Le 新年快乐 (Happy New Year) or Gong Xi Fa Cai 恭喜发财 (Wishing you strike good fortune) are simple traditional greetings to get you through anything in this festive period. If the Chinese pronunciation boggles you too much, just a simple 'Happy New Year' or 'Wishing you good luck and good fortune' in English is sufficient for most folk – it's the thought that counts!
What to bring: If you can, bring a pair of mandarin oranges when you visit and present them to the owner of the house when you enter. You can buy mandarin oranges in the supermarkets or markets easily, and it HAS to be a pair, not just one. The recipients will give you a different pair of oranges in return – the mandarin oranges representing wealth and it's an auspicious thing to exchange this good fortune.
Be prepared to snack a lot. Every house usually has various new year goodies prepared to welcome guests, and you are expected as a guest to indulge a little or it will seem a bit rude. I usually don't bother eating proper lunch or dinner during this period given the amount of food I encounter at every house I visit.
Do travellers need to give out red packets during Chinese New year?
Hong Baos (Ang Bao/Lai See) or red packets with money inside are traditionally given from married folk to the children, elders and single folk as token blessings. Don't be too surprised by all the nosy questions about your personal life because people might be trying to work out if they need to give you a red packet. If you are an older single person (i.e. me), this is when you get nagged about why you're not attached/producing children/etc.
For visiting travellers: you are not expected to follow the traditions if you don't celebrate so it is okay for you not to give out red packets even if you're married. If you're single or have your children with you, you/your children are likely to receive token red packets from the married folk you encounter even if you don't give them out yourself. I suggest just accepting the token with grace if your children are offered red packets and not refusing it as it can be a bit rude.
In case you are eager to partake in this tradition, a rough guide of the amount I've observed in recent years is $10-$20 per red packet for closer relations, and for distant relations or people you run into and just want to be polite to, any amount from $2-$8 is fine. The banks are extra busy during this period, and expect ATM lines to be extra long – everyone wants to withdraw crisp new notes to put into red packets.
---
Chinese New Year Days 3-15
Back to work! Chinese New Year is traditionally celebrated for 15 days, but it's back to the office for most Singaporeans from Day 3 onward. The very traditional will only return to work on particular 'auspicious' days based on their Chinese zodiac, so they may take a longer leave break. Certain industries with lots of overseas Chinese workers institute a longer break for their companies during this period.
You are likely to still hear a lot of clanging and banging all around as one traditional way to celebrate going back to work is to have a lion dance troupe perform in front of the company's premises. One notable part of the ceremony involves the lion dancers climbing to pluck a piece of lettuce or vegetable from a high spot. This is Cai Qing 採青 or plucking the green when translated literally because 'Cai 菜' (vegetable) also sounds like the word for fortune 'Cai 财'. Definitely a sight to see and quite hard to miss because of the racket.
Here's a video of a typical lion dance troupe in action:
Some Chinese also celebrate Day 7 of the Lunar New Year called Ren Ri 人日 or sometimes colloquially called 'Everybody's Birthday' because Chinese people believed that humans were created on the 7th day. The traditional thing to do is eat noodles which symbolises longevity, or some people do their lohei on this day instead.
---
Major Chinese New Year festivities in Singapore
One thing that happens in Singapore every year is River Hong Bao, where activities celebrating the Chinese culture and CNY traditions happen along the Singapore River. It is free for all, check out their website for the exact dates and details.
Another thing worth visiting would be the Chingay Procession, which is an annual parade with extravagant floats and performers that takes place on the downtown streets of Singapore. What's unique about this traditional Chinese custom is that it's morphed into a multi-cultural affair in Singapore, so you'll see lots of Malay, Indian and international performers taking part in the parade.
Here's a video of past Chingays to give you an idea what it's like… think a toned-down Asian Carnival perhaps? Get more details on the Chingay website.
Have you visited Singapore during the Chinese New Year period? Tell me about your experience and share your tips!
---
Check out more of my Singapore articles on the blog for more articles about travelling around Singapore from a Singaporean, or see this account of my foray into Chinatown during Chinese New Year.