It sure has been one hectic March for me! I went diving in Dayang earlier in the month, and last weekend I made a very hectic trip up to Brisbane for one of the Unholies P's wedding ceremony – I flew in on a late Thursday night flight and back out on the following Monday afternoon.
Brisbane is a surprisingly quiet city – though Brisbane is the 3rd most populous city in Australia, the city centre was really rather quiet. We only had about 1.5 days to really run around town aside from the wedding, I thought I'd talk about this trip chronologically since it really wasn't very long.
The flight in via Etihad was delayed for starters, so we reached Brisbane airport 3 hrs late. Thankfully the plane wasn't too full, and I had room to recline fully and sleep, oddly enough though my entertainment system was only showing a quarter of the offerings that other systems had, so I just switched it off and slept most of the way instead. Breakfast was not good, a rather strange omelette with no fillings and of an artificial texture.
The city centre is about 20-30 minutes drive from the airport – we took a cab, and the wonderful thing about Brisbane's taxis is that they have these 10-seater mini vans that you can hire for around the same price as your normal cabs, so if you have a large group like we did, it's a very good and economical way to move around. You can take the train as well into the city, it's about 27AUD for a return ticket, so probably makes sense only if you're solo.
We stayed at the Meriton Serviced Apartments on Adelaide Street, and it's pretty easy to ID because it is the tallest building in downtown Brisbane. More on that in a later post.
Lunch at The Little Larder
We headed out for a late lunch at The Little Larder via cab, a thank-you from the couple to all the friends who had specially flown up to join them for the ceremony. This little restaurant is probably sits about 50pax at max and is located in the suburbs of New Farm – 76 Moray St in the midst of a residential housing area.
While some of the others took the bus back to the apartments after lunch, the Unholies decided to take a stroll back instead (it costs around 4AUD to take a bus!). The weather was rather hot and humid, like a slightly, just slightly cooler Singapore. We passed by a park and had a pretty nice view of the city from the opposite side of the Brisbane river.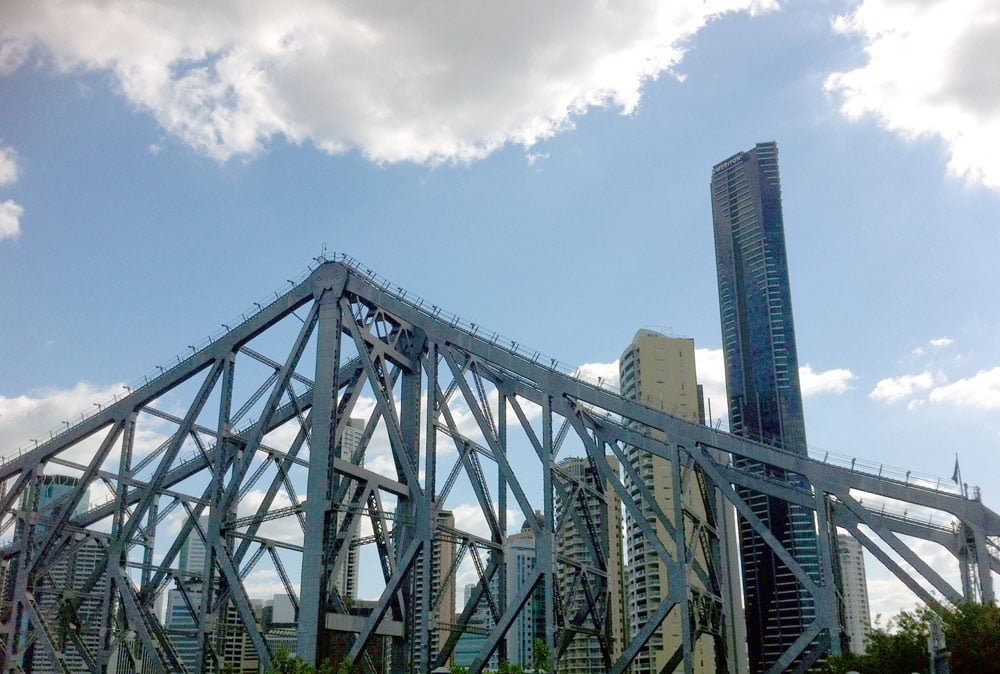 We didn't do very much that day, spent a little time sleeping and recovering from the flight, before heading out to settle dinner. First we visited the supermarkets nearby to procure breakfast and other goodies for ourselves. Here's my favourite sign in the Woolworths supermarket:
SOUTH BANK
That evening,  J and C went one way, while KL and I made our way to the Ferry point – Brisbane's city is situated along the Brisbane river, and the ferry is an integral part of travelling around. From Riverside, we took the CityCat ferry to South Bank, one of the hipper joints in Brisbane – for those without the regular passes that you scan on board the ferry, you just head into the cabin and pay the ticket man directly for your ticket (ours cost around 5AUD), and it's about 10-20 min ride to South Bank on the opposite side of the river.
The South Bank area is a stretch of recreational activities by the Brisbane river. It covers 3 stretches running parallel to the river – the Parklands right next to the river where there is a lagoon for swimming, a large ferris wheel, places to picnic and lots of F&B options for riverside dining. The two streets further in Grey Street and Little Stanley have more restaurants and bistros to choose from.
It was pretty buzzing, though i didn't feel that it was overly crowded and filled with people (like Singapore!), even for a Friday night. The good restaurants were really full though – there was a 30-45min wait at some places! After much pondering, we finally settled at Aquitaine along the river promenade area for some French food. Service was pretty decent overall, and the food was good too -My Pork Loin was a really generous portion, and the scallops were good too, though I wouldn't order the escargots again.
After a really filling dinner, KL and I mooched around the area some more, and chanced upon this wonderful dessert restaurant we had been looking for earlier called Chocolateria San Churro, famous for their chocolate desserts and their churros. Even though we were stuffed, we had to have some and shared a fondue while having a drink each. We were REALLY STUFFED, but so satisfied! The churros are so good, crispy outside yet soft inside. I dropped half a churro on the floor. SADNESS >_< if we weren't sitting on a sidewalk I would have picked it up and eaten it, it was that good. This chilled hot chocolate drink is so thick, feels like you're downing ganache. Good, but not after the fondue!
WEST END
The next day we rented a car and drove to nearby Mount Tamborine for a day trip. Most things in Australia close around 4pm (earlier on weekends!) so we drove back to the city in time for dinner, and since we had the car overnight, we decided to drive to the nearby West End for dinner.
Not the best decision! While the roads were generally unjammed, finding decent parking in the West End area was insanely difficult – we drove around a good 20-30 minutes trying to find a place to park. Being unfamiliar with the parking system and roads made it doubly hard. We ended up parking a really long way from the main thoroughfare where there were hardly any cars around. West End is a grittier sort of place compared to the riverside al fresco feel of South Bank, but luckily the neighbourhood seemed safe enough…
We ended up at this place called Jam Jar, a little nook that's kinda artsy, with graffiti on the walls and local artist's paintings up for sale on the walls. The food was interesting (scallops ok, croquettes meh), but not the most filling.
The Wedding
The next day was Sunday and we spent most of it outside Brisbane city at the Ocean View Estates Winery where the ceremony was held. It was such a lovely and hot day and a really beautiful winery. It was late by the time we got back, and we flew back to Singapore the next morning.
Here's a google map of the places I visited in Brisbane:

View Brisbane Bumming (2013) in a larger map
Check out more of my posts on Brisbane, or see where else I have been in Australia