Last Updated on 13 May, 2021
Shiny surprising Shanghai 上海 – I first visited this cosmopolitan city in 2014, my first ever visit to China, and returned again in 2019 for a business trip. Both times that I visited, I only had a very limited amount of time to explore, so I put together this weekend getaway guide to Shanghai if you only have 48 hours to spare and want to see the highlights.
---
Day 1
Experience a slice of local culture at People's Park 人民公园
Start your weekend in Shanghai with a morning stroll through People's Park 人民公园, a nice green space at the end of the busy Nanjing Road and great for a leisurely walk. There's a small lake in the middle of the park and even a funfair to entertain the kids. Mornings also see lots of locals exercising, from brisk walkers to groups of Taichi and Qigong practitioners.
Shanghai Marriage Market 人民公园相亲角
As I entered the park, I noticed a little crowd surrounding a bunch of tables and rows of posters lining the walkways and paths. This was no ordinary weekend flea market but the Shanghai Marriage Market, a place where concerned Chinese parents and seasoned matchmakers come together to find a perfect match for their offspring or clients.
There are hundreds, or possibly thousands, of these bulletins in the park. Each bulletin consists of basic information about each individual person, from their age, job, personality and even stuff like whether they own a house. It's usually text-only – few of these bulletins have pictures (for good reason perhaps?) and feature both younger and older people.
I overheard one lady excitedly setting up a meeting for her kid, I wish I could have found out a little bit more.
How to get there: Take the subway to People's Square Station 人民广场 on Line 1, 2 or 8.
Appreciate the traditional at Yu Garden 豫园
Yu Yuan 豫园 or Yu Garden is one of the more popular places to visit in Shanghai. This classical Chinese garden has over 400 years of history, dating back to the Ming dynasty. With beautiful and intricately designed pavilions, halls and lots of intricate rocks and a surprising number of 100-year-old trees, it's a nice way to start off your exploration of Shanghai, though it may get a little crowded with eager tourists wanting to do the same thing.
Surrounding the gardens is the Yuyuan Bazaar where you can find lots of restaurants, eateries and souvenir shops housed in reconstructed traditional architecture.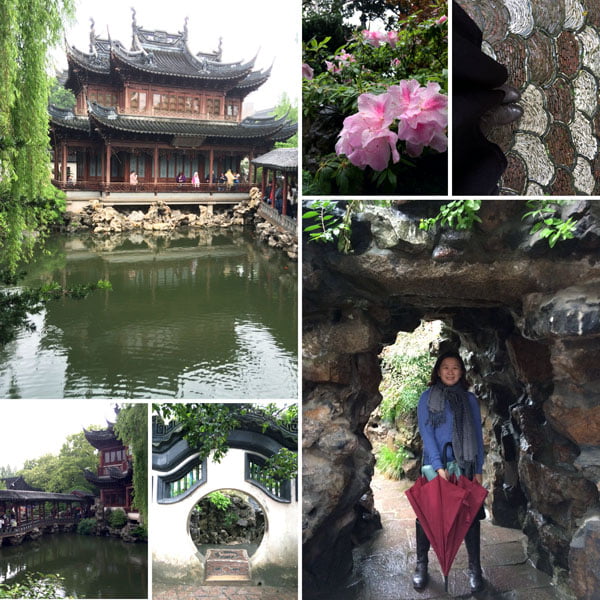 How to get there: Take the metro to Yuyuan Station on Line 10. Entrance ticket to the gardens costs 40 CNY
Old Shanghai Street 上海老街
East of Yuyuan is the Old Shanghai Street 上海老街, just outside the tourist market area on Fangbang Middle Road 方浜中路, a stretch filled with lots of little tourist shops and street food. Walk all the way down and it will eventually lead you towards the Huangpu River and The Bund.
Nanxiang 南翔
One of the more popular things to do in Shanghai is head over to Nanxiang 南翔 and eat their famous Xiaolongbao 小笼包, which are basically pork and crab meat dumplings with soup in them. This 3-level structure each contains a different xiaolongbao eating experience, and the higher you go, the better the service standards and the more you have to pay!
Level 1 is takeaway style served in boxes which you eat while standing along the side of the road. It has the longest queues and lots of people just standing around wolfing down xiaolongbaos
Level 2 (where we ended up) is casual eatery style with a bit more selection of food – you grab a table, place you order at the cashier who gives you the relevant tokens, and someone with a cart will come around eventually to serve you.
Level 3 is the classier restaurant joint with a whole menu range, xiaolongbaos with fancier ingredients and table service
We tried the traditional xiaolongbao soup dumplings (25 CNY for 8pcs) which were quite good, but the more unusual one which I haven't seen before is something called a tangbao 汤包, literally translated into 'soup dumpling', which is a large dumpling around the size of your palm filled with soup that you drink through a straw. Pretty novel, and you can eat the dumpling skin after you consume all the soup though frankly, it's not that tasty. Each tangbao costs 15 CNY.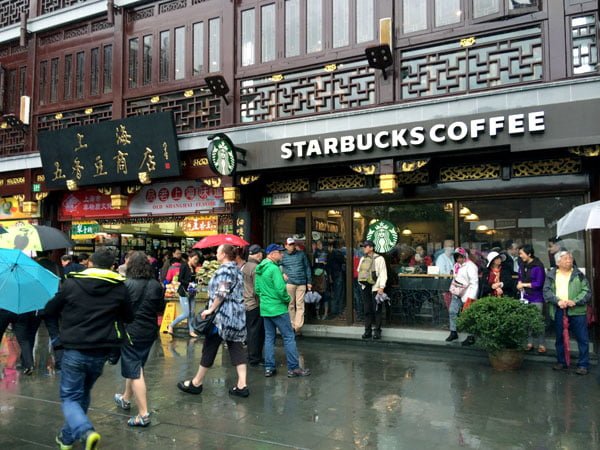 There are other street food options in the area, so if you're not too fussy, just wander around and try whatever catches your fancy. If all else fails, Starbucks is always an option >_<
Old meets new at hipster Tianzifang 田子坊
What was once a rather run-down residential area consisting of unique Shanghai houses called Shikumen (stone gates) has since become a gentrified hipster zone with shops galore lining both side of the narrow stone-paved lanes and alleyways.
I was first introduced to Tianzifang by Sue Anne of Shanghai Street Stories as an example of how Shikumen, the rapidly disappearing traditional Shanghainese housing, was transformed into a modern arts enclave through local community efforts.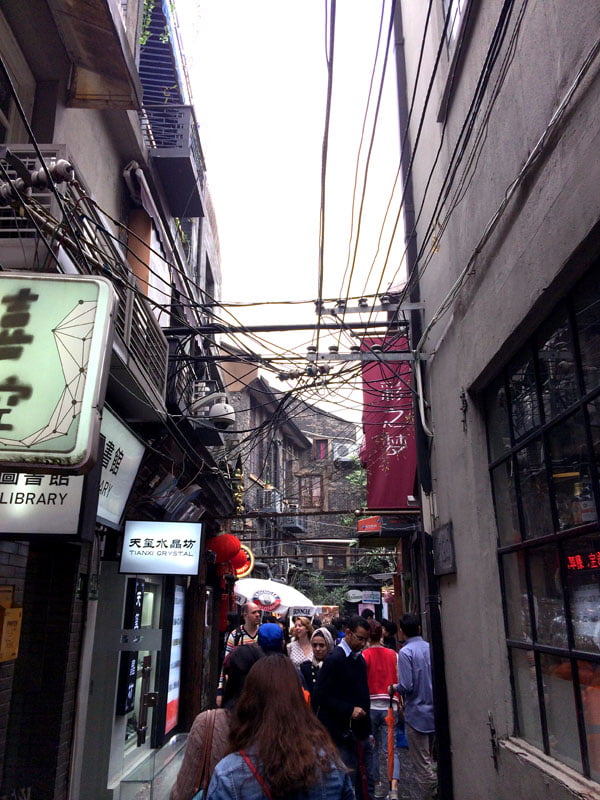 The maze-like lanes of Tianzifang can be a bit of a nightmare to navigate sensibly as there are plenty of random cul-de-sacs and corners to surprise you. On my first visit, I thought it had a pretty quirky vibe with lots of little stores selling quirky knick-knacks and snacks, but it's since become a tad touristy and too crowded for my liking.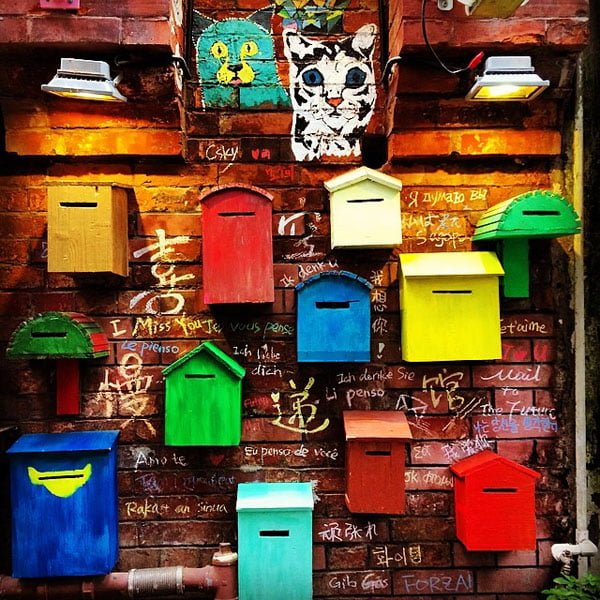 Tianzifang is a part of the French Concession, an area west of the Bund that was once governed by the French for almost 100 years. Many of the roads in this area are typically marked by some of the prettiest boulevards, covered by shady green tree canopies.
How to get there: Take the metro to Dapuqiao station 打浦桥站 (Line 9) and walk towards Taikang Road 泰康路.
Party the night away at Xintiandi 新天地
Xintiandi is an area popular with expats, and also supposedly known for having a large number of traditional Shikumen architecture. That said, locals told me that Xintiandi isn't very authentic as most of the original structures were torn down and reconstructed, compared to Tianzifang which maintained and built around most of its original structures.
These days, Xintiandi is a nightlife area, with lots of little restaurants and bars line the main roads and small lanes, so just walk around till you find a good place to settle down. Most of the action happens along Madang Road and Taicang Road 太仓路.
How to get there: Take the metro to Xintiandi station (Line 10 and 13) and walk north along Madang Road 泰康路, or stop at South Huangpi station (Line 1) and walk south.
---
Day 2
1933 Millfun
1933 Old Millfun or Laochangfun 老场坊 along Shajing Road in the historic Hongkou district 虹口区 was built to be a slaughterhouse back in the day, but after restoration in 2008, is now mostly a rather atmospheric piece of architecture. It's a little bit out of the way from the main tourist attractions
There's a rather random mix of some shops, restaurants and even a pet cafe and wedding photo shop in this 4-storey commercial space, but the main draw is really being able to wander freely amidst the impressive concrete Art Deco structure and experience the gloomy cavernous feel of this building. I spotted a fair number of local tourists all with their fancy cameras trying to get good shots of the place while I was there.
Have a look at this post on La Casa Park for more pix and info of this strange building.
How to get there: Take the subway to Hailun Road station 海伦路 (Line 4 or 10), and then walk about 10mins to find this building along a little river.
Duolun Road 多伦路
You can then walk about 15mins along Hailun road (grab some bites in any of the small noodle shops along the way for some local street food) or if you're coming by subway from elsewhere, to Dongbaoxing Road station on Line 3 over to Duolun Road, or noted on my map as Duolun Famous Cultural Person Street, because back in its heyday in the 1920s and 30s, many famous Chinese left-wing writers and other prominent figures took up residence along this street.
You'll find much of its history and famous people, like Chinese writer Lu Xun and Ding Ling among others, memorialized in statues and wall frescoes as you walk along the streets, so it's a nice way to pick up a little bit of local history – Duolun is quite a charming area to explore with lots of little shops to poke into. If you're keen to spend more time here, there is a Shanghai Duolun Museum of Modern Art which you can check out.
How to get there: You can walk over along Hailun Road from 1933 Millfun, or take the subway to East Baoxing (dongbaoxing) Station (Line 3).
Shop till you drop at Nanjing East Road 南京东路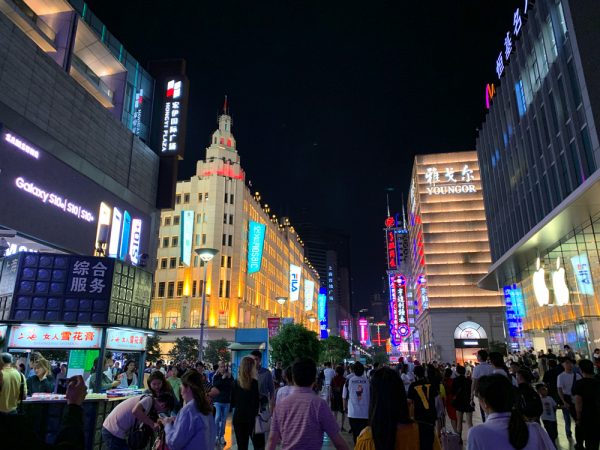 Perhaps the busy commercial area in Shanghai and what I call 'downtown' Shanghai, this famous road is perfect for an evening stroll and a haven for shopaholics. You are greeted by neon billboards, towering shopping centres and a veritable sea of people strolling through. It's worth walking through even if you don't plan to buy anything.
Nanjing Road actually consists of a East and a West section with People's Park right in the centre. You can read more about the shopping along this stretch if that's your thing, but I personally just enjoyed soaking up the busy city vibes and walking around the area. I suggest starting from the pedestrianised section in the evening and then walking eastwards until you hit The Bund which I'll talk a bit more about below.
How to get there: Take the subway to People's Square Station 人民广场 on Line 1, 2 or 8 which takes you right to the pedestrianised area. Alternatively, Nanjing East Road Station 南京东路 on Line 2 or 10 is located on the end much closer to The Bund.
The Bund / Waitan 外滩
You can't leave Shanghai without having seen The Bund. This famous waterfront stretch is located along the west bank (Puxi) side of the Huangpu River 黄浦江 in the evening and where you can enjoy an unblocked view of Shanghai's iconic skyline.
The best times for a shot of the skyline by night would be between 6 -10pm when all the building lights are switched on – the Oriental Pearl Tower's lights go off at 10pm, so don't miss that if you want a great shot! Also, remember to turn away from the water and admire the buildings along Zhongshan Road 中山路, which are quite pretty and fairly historical as well.
The Bund itself is quite a long stretch – around 1.6 km or 1 mile long. I suggest starting from the North end where Huangpu Park 黄浦公园 and the Monument to the People's Heroes 上海市人民英雄纪念塔 is located, and then walking down South.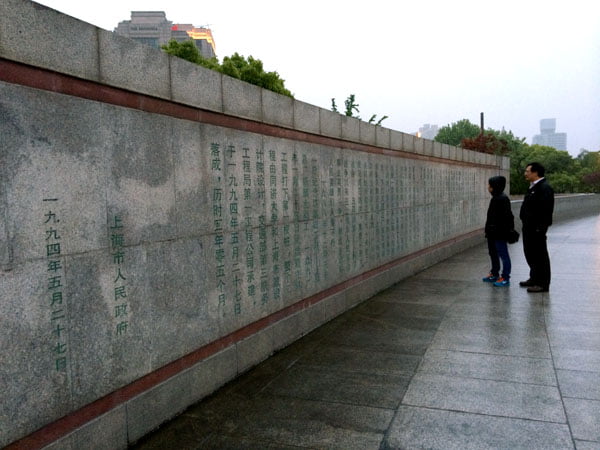 How to get there: The closest subway station to The Bund is Nanjing East Road station 南京东路站 on Line 2, about 5-10 mins walk to the Northern end. This line also brings you across the river to Lujiazui station 陆家嘴站, very close to the entrance of the Oriental Pearl Tower across the river.
The Bund Sightseeing Tunnel
To cross the river, you could go via the Bund Sightseeing Tunnel that connects to the opposite riverbank via little unmanned train carriages and a rather psychedelic tunnel with light effects. In my opinion it's a bit of a cheesy tourist trap and rather expensive at 50 CNY for a one-way trip, but you do end up right in front of the Oriental Pearl Tower in around 15-20mins.
A properly scenic and much cheaper way to cross the river is by ferry, and on the south end of The Bund is Jinling East Road Wharf 金陵东路渡口, where you can catch a ferry across the river to Dongchang Road Wharf 东昌路渡口 on the southern end of Lujiazui for just 2 CNY, which seems like a really cheap and nice way to cross the river, though it involves a fair bit of walking if you're headed to the Oriental Pearl Tower, around 15mins of so fron the Dongchang road wharf. I wish I had done this instead, but unfortunately was a little short on time.
Get a view from up high at the Oriental Pearl Tower 东方明珠塔
There are plenty of towering viewpoints to choose in Lujiazui. I decided to go up the 468m tall Oriental Pearl Tower with its unique balls-on-stick architecture is quite a sight up close, and it is also a viewing tower for you to admire Shanghai from up high.
You pay extra to go up to the Space Capsule (that's the smallest ball which is also the highest up at 342m) or for dining in the revolving restaurant. As with major tourist attractions, be prepared for a fair bit of queuing inside; the lift system isn't the most efficient, as you have to transfer lifts in between the Lower and Upper Ball levels.
You'll start your journey right at the top in the enclosed Upper Ball galleria and walk around for a 360 view of Shanghai below, with labelled buildings and short descriptions on prominent ones.
What's more interesting (or freaky, depending on you) is the Transparent Observatory level just below it – look for the staircase leading downstairs – which as its name implies, is where the walls and floor of the deck going around the tower – definitely not for the acrophobic! The glass walls are pretty high but it's technically open air and can get quite cold and windy, so hang on to your stuff.
After that experience, the open air platform (covered only by netting) in the Lower Ball is less of a thrill, but it does give you the chance to take pretty skyline shots without being blocked by glass.
Alternatively, if you don't want to go up the Pearl Tower, get a drink at the Vue Bar on the 32nd and 33rd floor of Hyatt on the Bund over on Huangpu Road which also commands quite amazing views of the Bund and the city below, and it closes late at 1.30am most weeknights (2.30am on weekends). I didn't get a chance to check it out, though the other bloggers on the trip loved it!
How to get there: Take the subway to Lujiazui station 陆家嘴站 (Line 2) or the Bund Sightseeing Tunnel. There are several options for tickets, I bought Category C for 160 CNY, which includes a visit up to 263m Sightseeing Galleria in the Upper Ball, the Transparent Observatory at 259m and the open air balcony in the Lower Ball at 98m.
---
Getting around Shanghai
By Metro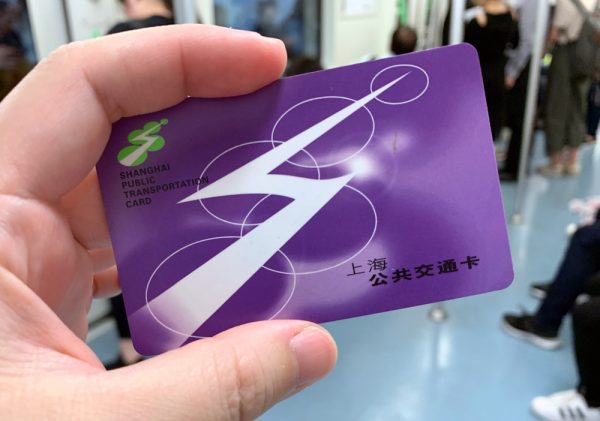 Shanghai's Metro system is very extensive and probably the easiest way to get around in downtown Shanghai. There are 16 lines in total, and with lots of English signage and announcements in the train so it's easy even for non-Chinese speaking tourists to find their way around.
A single trip ride on Shanghai's metro ranges from 2-4 CNY. I recommend picking a Shanghai Public Transport Card 上海公共交通卡 for 20 CNY that you can use to tap in and out of fare gates as well as on buses. You can download the official app and use the card via your smartphone as well.
By Taxi / Didi
Taxis are pretty cheap in Shanghai and worthwhile if you're travelling in a group. Hailing a cab these days can be a bit challenging as they've gotten quite strict about rules as to where taxis are allowed to stop, especially in busy areas.
If you are taking a taxi from Shanghai Pudong Airport to the downtown area, it should cost you anywhere from 180-240 CNY. On my first trip if cost about 200 CNY to get to our hotel in Xuhui, but recently when we took an official cab from the taxi stand, we somehow still ended up with a metered fare of 425 CNY so we definitely got fleeced somehow :( Most of our trips around the main Puxi area cost around 50 CNY average. Some will try to throw you a price, but it is usually way, way more expensive than using the meter.
I would recommend downloading the Didi app (it comes in English!). It works like Uber or Grab where you can easily hire a car or a taxi to pick you up. You can use your Wechat or international phone number, though having a local number would be quite useful in case the drivers need to ping you. For payment, you can opt to pay in cash or use the slightly premium option where you can link your international credit card and make a prepayment for each ride.
By Maglev
For airport transfer, you can consider the Maglev, which is a super-fast Magnetic Levitation train system that reaches speeds up to 300+km/h! I got from Longyang Station to Shanghai Pudong Airport in just 8 minutes. No worrying about traffic jams on this super-fast train.
Longyang Road station isn't particularly central, though it can be reached conveniently by the Subway via Line 2 or 4, about 20-30 minutes from the downtown Shanghai area. A 1-way Maglev ticket typically costs 50 CNY, but if you show them your flight ticket for that day, you can get a ticket for 40 CNY. Round-trip tickets cost 80 CNY.
This post was first written in 2014 on a sponsored Media FAM trip with Spring Airlines, a budget airline that provides a non-stop route from Singapore to Shanghai.
---
Did I miss out any must-sees in Shanghai that you've experienced? Tell me about it so I know where to go if I ever head back there!
In 2019 I visited on a business trip and flew via China Eastern Airlines. Singapore Airlines also flies non-stop to Shanghai's Pudong Airport.
Looking for more inspiration to visit China? Why not see the Shikumen I found in Shanghai, or my posts for Beijing or Xiamen.