So here's another trip that I sadly didn't have time to take – I was in Phuket earlier that same week for a friend's hen's night, so I asked Y to check out the Anantara Vacation Club Phuket Mai Khao on my behalf instead. Eagle-eyed readers might recognise the writer Y as my fellow companion who pops up in the latest Portugal trip recaps as well as some earlier trips – she was in the need for a quick weekend getaway, so this opportunity came in at exactly the right time. Read on for her take on this resort and don't get too envious… I know I definitely was!
---
Y:
I love taking short solo retreats to beach destinations. They are my way of spending time with myself: to read, do absolutely nothing else for anybody, and just recharge. In recent years, I've come to favour going to Phuket as it is one of the easiest and relatively more affordable beach destinations for a quick get-away – this is my 3rd trip to Phuket in the last 2 years! In less than 4 hours, door-to-door, I can get from a congested Singapore to a laid-back Thai resort. Plus, I am almost guaranteed to be greeted by friendly faces and hospitable hosts.
My must-haves for a short weekend retreat: easy pool and beach access from my room is a MUST, simply because that gets me enough (lying) down time to read amidst the soothing symphony of water, sun, breeze. Forget about all the adventure activities, shopping, nightlife – I save those for longer trips with friends. Anantara Vacation Club definitely fulfilled this criteria and I had a terrific stay, now if only my retreat had been longer than 2D1N… #wanderlust.
LOCATION
Anantara Vacation Club Phuket (AVC) and its sister resort Anantara Phuket Villas are located along Mai Khao Beach, just a short 15-minute drive from the Phuket International Airport. (jac: Y was actually with me when we visited Holiday Inn Mai Khao Resorts earlier in the year! Anantara is located in the same area further south)
THE ROOM (or rather, THE VILLA)
I had checked the weather prior to arriving in Phuket, and boy did it look disappointing – the forecast was "Thunderstorms, 100% precipitation". So I was anticipating being holed up in my room with a book, or two for the majority of my time. Imagine my joy when I checked in to this beautiful 1-bedroom villa.
The villa door opened into a living room with a full kitchen and dining area, connected to a walk-in wardrobe between the bedroom and a large, spacious bathroom. Both the living room and the bedroom opened up to the private pool. I definitely didn't mind being cooped up in here!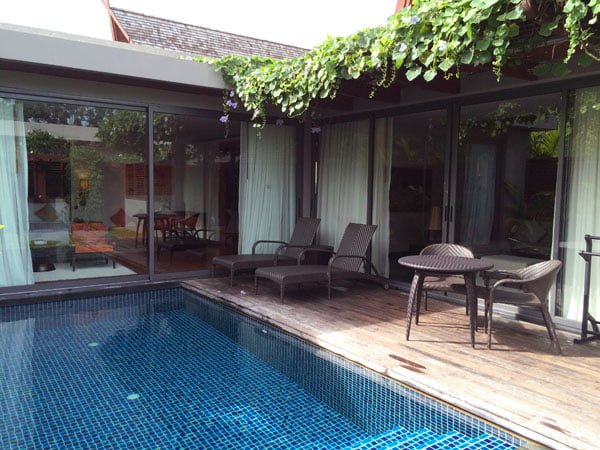 My favourite part of the villa? The bathroom. Yes, the bathroom and it's accompanying outdoor shower. If SIA's 'Chandelier' music video was shot in a modern luxury bathroom, it might just be this. So much space to dance around and with a bathtub in the center of it all to fall upon.
A villa of this configuration can accommodate up to 4 persons, as the L-shaped sofa in the living room can be turned into a bed that sleeps two.
The kitchen is fully equipped with an electric stove, a full-sized fridge (not a bar fridge!) and even has cooking ware all ready for guests to use. I was pretty impressed and slightly tempted to cook just so I could use these amenities. I did get to cook eventually though not in the resort, keep reading for more on that…
THE RESORT
Entering AVC Phuket Mai Khao was like stepping into my own summer home (that is if I was rich enough to have one, a girl can daydream) with the resort staff so welcoming and friendly that it almost feels like they know you. AVC has about 100 standalone villas and 6 floors of apartment suites, spaciously laid out and yet all comfortably within walking distance. The property has its common facilities all conveniently located in one area – the pool, 24-hour fitness centre, kids club, playground and restaurant Chaam.
I was surprised to also find that the only 'shopping area' in Mai Khao called Turtle Village is literally across the road from AVC – in fact Turtle Village actually looks a lot like a retail extension of AVC. It is small, by Singaporean-standards, but has a good mix of retail shops and restaurants. I heard that the Irish pub, Bill Bentley, serves up rather good food too, but I didn't have time to try it myself. And my favourite offering at Turtle Village? The grocery shop called Turtle Mart! It is larger than a mini-mart and offers a wide range of items from the usual snacks to even frozen meat and fresh vegetables.
This place is definitely very convenient for a family vacationing with children. AVC has a signature kids club called 'Jakka Club' (Jakka means 'crab' in Thai!) that believes in arranging activities for children to take them away from their iPads and digital indulgences. Now that's something I agree with, and apparently many parents who come here love the idea too! I grew up with annual family vacations at beach resorts and being 'deposited' at the resort's kids club for a good amount of time, and I loved it – peers to play with, no parents to boss me around, learning new things. In fact, I believed my parents appreciated kids clubs more than I did. Come on parents, it's time to re-acquaint children with what their hands and feet can do besides swipe across digital screens!
For couples and solo travellers like myself, the easy access to Anantara Phuket Villa's facilities is a delight. This sister property adds to the variety of dining options with another 3 restaurants: La Sala (contemporary fusion of Italian and Thai), Sea.Fire.Salt (seafood grill by the beachside), and The Treehouse (Thai-style tapas and cocktails with an elevated view of the resort).
Food choices aside, I really liked the infinity pool and its cabanas facing an undisturbed view of the beach. There was nothing much at the beach when I was there though. The red flags were up, warning against swimming in the waters as there were rip-currents. So the usual sea-sport activities that AVC offered were not available then.
The lack of activity on the shore suited me just fine – I liked the endless stretch of sand pristine and quiet. And Mai Khao beach is just that: a peaceful, tranquil area with just enough to do and more than enough to chill in. It's becoming more popular for visitors who want to move away from the crowd in Patong beach.
Getting from my villa at AVC to the beach was easy – either a leisurely 3-minute stroll through the rustic Anantara Phuket Villas or a short ferry by the buggy service from AVC which is available anytime, even on short notice!
ACTIVITIES
AVC has quite the variety of activities for its guests – I decided to try its signature Spice Spoons cooking class. The process was enjoyable and fun under the instruction of jovial Chef Wat who laughed at my lame jokes and loves answering "Yes Please!" in a boisterous voice. He took a lot of pride in introducing Thai culinary and was very enthusiastic about explaining why certain ingredients come before others. It was great learning for this noob cooking student.
In 1.5 hours I made 4 Thai dishes – Som Tam (thai papaya salad), Tom Kha Gai (a milky version of the popular Tom Yum soup), Goong Phad Nam Prik Pao (stir fry prawns with chili paste), and even a dessert Kluai Nam Wa (bananas in coconut milk). I was pleasantly surprised at how well they all tasted. That could only be attributed to good guidance from the teacher, and of course a diligent student who had…. common sense and working taste buds.
If I had more time to spare, I would have liked to try the other activities which seemed fun yet relaxing: yoga in the mornings, guided cycling tours along the beach and around Mai Khao area, the spa treatments at Anantara Spa among other daily activities. What I thought was a nice touch to its offering was the availability of bicycles to guests. Anyone can simply pick up a bicycle and ride within the two sprawling resort compounds. It's quicker than on foot and for the couples, leisure bicycle rides are kinda romantic :)
AVC Phuket Mai Khao was opened only about 18 months ago, and already they are adding a whole new wing of additional villas; some in time for Christmas this year and the rest will be completed by next quarter of 2015. They are also thinking of introducing outdoor fitness equipment stations all around the resort compound so that guests can chart a fitness routine of their own during their stay at AVC. Additionally, there will be a new inflatable floating screen for the pool, which means guests can enjoy movie nights IN the pool. That certainly seems like a fun vacationing activity to have!
THE COST
A quick check on the Anantara website showed that the rates for the 1 bedroom villa during this holiday period were going at S$650/night, so this would probably be if you're willing to splurge on yourself or if you're going with a small group and can split the cost! The apartment suites are much cheaper at around S$240/night instead.
For more information visit www.anantaravacationclub.com
Accommodation courtesy of Anantara Vacation Club Phuket Mai Khao, but all views and opinions in this review are purely that of the writer and her experience.