Do you ever visit a place and come away feeling like there's a weight in your chest? Visiting the War Remnants Museum and the Cu Chi Tunnels in Ho Chi Minh City felt like that for me. Certain places just suck the joy out of you – perhaps its the knowledge of the atrocities that took place there, or some remnant despair left behind, stuck in the bones of the place even after so many years.
Quite honestly I tend to avoid visiting war-related places, especially if I'm on my own on a trip with limited time, because the thoughts get stuck in my head and that weight in my chest doesn't leave me all day, which is a bit of a downer. Dachau on my Munich trip is perhaps the last such place I visited – I hadn't planned on it – my friend wanted to go so I tagged along. It did leave me feeling kinda somber all day despite the gaiety of Christmas markets. Even writing this post was harder – I've had it sitting on my dashboard awhile.
(Want a happier post? Here's what it's like to be zooming around on a Vespa in HCMC!)
But sometimes it's hard to get proper perspective on a place without seeing the ugly side – Saigon's history and the way the modern Ho Chi Minh City developed is irrevocably linked to its wartime past, and given the world today, these places remain an important reminder for us to treasure the peace that many don't have the luxury of enjoying, and not to commit the same mistakes again.
If you are headed to Ho Chi Minh City and keen to understand it better, do check out these spots. You might have learned about the Vietnam war from your textbooks or documentaries, but seeing it from the Vietnamese point of view might give you a renewed perspective on what you thought you knew. Also, check out this post by Mashable with photos from the war by Vietnamese photographers – pretty insightful stuff.
War Remnants Museum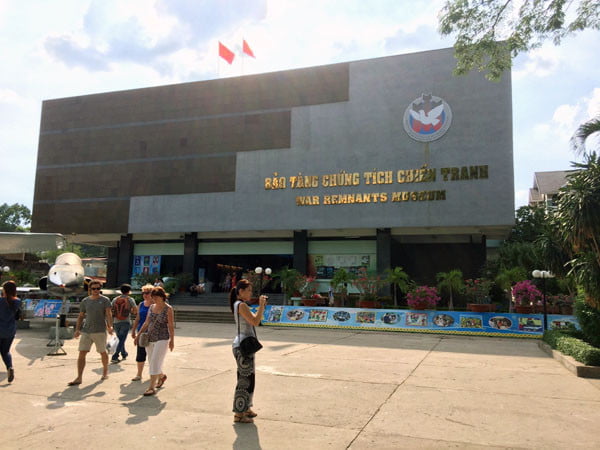 The museum is a stark sharp-edged concrete building – it reminds me a little of the mausoleum building where Ho Chi Minh's embalmed body lies in Hanoi, a very functional looking slab of concrete. The courtyard is filled with various large artifacts from the war period, including bomber planes, helicopters and even a tank.
The museum covers 3 stories – I only had time to browse the galleries on level 2 but that was enough to give me a sense of the museum.
A thing I enjoy when reading stories are the alternate points of view, because context makes all the difference – one man's tragedy is another person's victory. They say history is written by the ones in power, so what we often encounter in media and popular culture often has a strong Western influence to it. But here, to no real surprise, there is some pretty extreme vilification of the West in the war, and the gallery which shows the long-lasting effects of Agent Orange and chemical warfare on the Vietnamese people and land really wrenches the heart.
Recognise that you are seeing another very biased point of view and don't jump to any conclusions just yet. Though honestly it doesn't matter who started it or who was right or wrong – all I've come away thinking is how cruel people can be to each other, and how horrifying the world can sometimes be. See, this is why dark thoughts get stuck in my head after visiting places like these. They are perhaps a little too effective in making me reflect.
730am – 12pm, 1.30pm – 5pm
Admission is 15,000 VND for a standard adult price
---
Cu Chi Tunnels
The Cu Chi (say Koo Chee) Tunnels are a pretty famous relic of the war between the American soldiers and the Viet Cong. They are basically an immensely long and complicated underground tunnel system dug by hand (!) that the Vietnamese soldiers lived in for during war time, used as living quarters, transport route and a stronghold against the enemy. Being deep underground kept them safe from aerial bombing and the narrow tunnels were a natural defense against the larger Western soldiers.
There are two sites – Ben Duoc and Ben Dinh – we headed to the latter. It was quite an immersive and eye-opening experience – we started off watching a rather grainy video of war footage, before we trooped off to explore the surrounding area. It's an outdoors jungle area so be prepared to get extremely hot and sweaty. Also, prepare for giant jungle mosquitoes that can bite you even through layers – bring lots of repellent!
A bunch of photos on what you can see:
One of the things that I'll definitely take away is experiencing the actual tunnels. There are sections where you can actually crawl along – these are already considered the wider ones and it's pretty claustrophobic all around. Others were revealed by our guide – mere holes in the ground and it makes you think how small or malnourished they must have been back then to be able to fit into these spaces.
Cu Chi Tunnels are about 1.5hours drive outside of Ho Chi Minh City – I was on a private tour and we took about half a day, so check out the Wiki Travel Page for details on getting there independently, and the History Channel page has a pretty good video to give you an idea of the place.
Entrance fee: 90,000 VND
---
Looking for more posts on Vietnam? Here's more on Ho Chi Minh City, or why not check out the Northern bits with Halong Bay and Hanoi, or the Central region where I visited Hue and Hoi An?
This trip to Ho Chi Minh City was organised and sponsored by VietJetAir