Hong Kong is a favourite destination for many Singaporeans who love that it's just 4 hours away by plane, has great food and a vibrant cosmopolitan city vibe. I've always been on the fence about Hong Kong, but when UnionPay invited me up to Hong Kong to see some of the typical tourist sights and check out the shopping there, I was curious to see if it would let me see a different side of Hong Kong and maybe change my mind about the place.
I thought this trip was going to mainly focus on shopping, and we did spend a lot more time than I normally would wandering around shopping malls on my own travels, but it did show me what made Hong Kong such a shopping paradise because both Harbour City and Times Square were absolutely popping with visitors and activity every single day, even on typically slow weekdays where malls in Singapore tend to be quite quiet. We ate until we were bursting every day and I even found a whole lot of street art (within the mall!) to my surprise.
Also, we got to check out some of the typical Hong Kong must-see sights that I'd never gotten around to seeing. I last visited Hong Kong in 2015 and spent most of that trip alternating between artsy Art Month activities and heading to the outlying islands, and the very first time I visited was when I was pretty young and I barely remember any of that visit. I like seeing less touristy sights, but also suffer a bit of FOMO (Fear Of Missing Out) and wonder if I'd been missing out all this time. We got to go to Lantau Island and up the Peak to Madame Tussauds so I can tell you definitely for sure what's worth seeing or not.
So keep on reading for more of my thoughts on that, but first, a little bit about the people who brought me up to Hong Kong:
About UnionPay
I'll be honest – all I knew about UnionPay before this trip is that it is a Chinese payment brand. I was surprised to find out that not only is it a global payments network, it is also one of the fastest growing global payment brands in the world today.
In Singapore, 4 partner banks currently offer UnionPay cards – I picked up the UOB card which has a 3-year fee waiver and 2% cashback with no minimum spend. I considered the DBS debit card version which offers overseas ATM fee waivers at some ATMs and NETS Flashpay Integration, and there are also the BOC-Zaobao and ICBC Dual Currency Credit Cards now available.
UnionPay is of course most widely accepted in China, but is quickly gaining momentum in other countries as well, particularly East Asian regions which are popular destinations for Chinese tourists, and they are expanding into South East Asia as well. In Singapore, they've sponsored the Great Singapore Sale since 2016, and an increasing number of large and small merchants now accept payment via UnionPay cards.
What I found useful for travellers was U Plan that you can access via the UnionPay International app which consolidates all the various merchant offers. This cross border marketing platform makes it really easy for you to see what deals are available in the country that you are in, and you get some pretty decent promotions like vouchers, cash rebates or discounts. For example, you get 20% off pocket wifi rental from WifiBB which has a booth right outside the arrival hall of Hong Kong International Airport.
---
Shopping in Hong Kong
Harbour City
Since shopping was the main objective of this trip, and UnionPay brought us to one of the most impressive shopping malls in Hong Kong: Harbour City in Tsim Sha Tsui, the largest mall in Hong Kong located right next to Victoria Harbour and Star Ferry Terminal. It's practically a destination in itself – it actually consists of several buildings all linked in one interconnected chain so you could easily spend a weekend or so hiding out in here if you are trying to escape the relentlessly hot weather that is summer in Hong Kong.
We stayed at the Marco Polo Hong Kong [booking.com affiliate link] which is located on the Ocean Terminal Deck end of Harbour City, so you can always swing back to the room for a breather after all that walking. I enjoyed the dinner that we had at their in-house Italian restaurant Cucina – we were full to the point of bursting by that point (so much food tasting on media trips omg) but still made room for their Wagyu beef platter.
The F&B offerings in Harbour City are quite extensive – I got to try the famous local Mak's wanton soup noodles (I've yet to visit the Singapore branch), a hot chocolate at Ralph's Coffee (did you know Ralph Lauren did F&B? I didn't – this is their 1st outlet in Asia), the ever-popular American Cheesecake Factory (their 2nd branch in Asia) which had a stream of customers as well as the Italian restaurant Paper Moon that has some pretty impressive views of the harbour and is a great top sunset spot for photographers.
UnionPay has a summer promo with Harbour City offering redemption of gift cards upon expenditure on the UnionPay card. The shopping mall kindly gifted us with some of these vouchers in an easy-to-use debit card so we could indulge in a little spending spree of our own. I picked up some new hiking boots to replace my super worn out career break pair from Timberland, and also picked up a cute dress from Goods of Desire when I headed to the Airport Express train station.
Invader Street Art in Harbour City
I was also thoroughly distracted by these familiar mosaics on the rooftop of Ocean Deck Terminal. It turns out that the French street artist Invader had installed 18 pieces of artwork all around the mall in an ongoing invasion of Hong Kong.
In a surprising turn considering most commercial properties would probably have thrown a fit instead, the mall liked the works so much they decided to keep them and even invited the artist to collaboration on a fund raising promotion with them, so if you spot just 3 of his works, post about them on Instagram and make a HK$200 donation to the Hong Kong Blood Cancer Foundation, you can redeem a limited edition Invader print umbrella! Read more it here, but I think it's such a great collaboration.
I found 12/18 of his works just wandering around the mall and some of them are in quite unexpected spots, so keep a look out for them when you are shopping! If you want to see more street art in Hong Kong, why not cross the river to Sheung Wan and Central where there are some large murals that you can check out.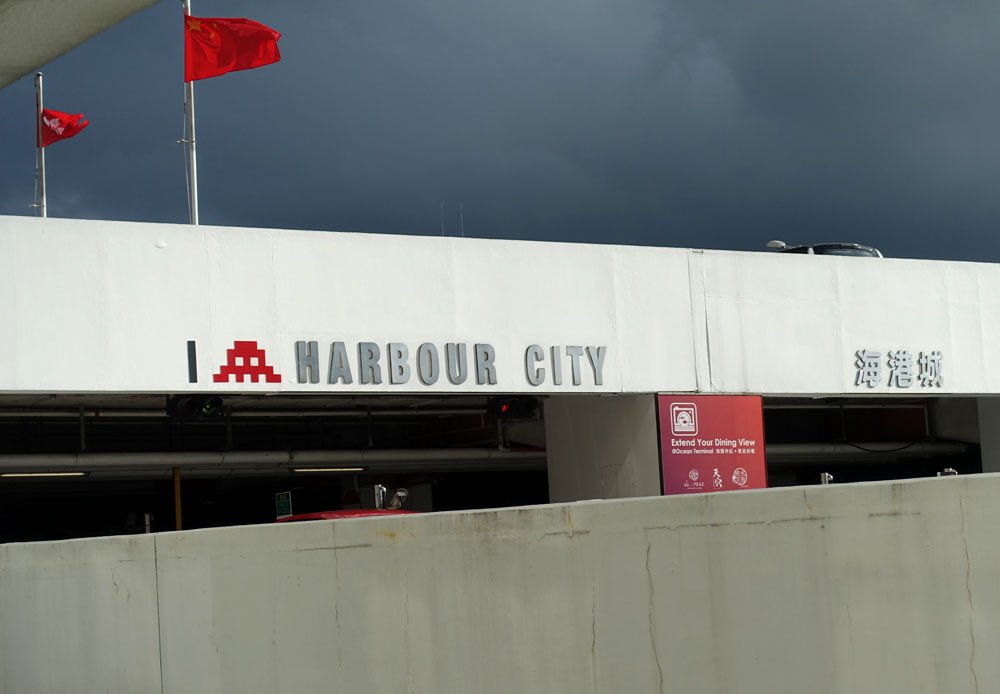 ---
Tourist Attractions in Hong Kong
The last time I was in Hong Kong, I mostly wandered around during their Art Month and checked out some of the outlying islands, but I hardly got to do the typical tourist stuff, so I was curious to see whether I had been missing out all this time.
Lantau Island
I'd visited Cheung Chau and Lamma Island already so I was glad to add Lantau to my list as it had been undergoing some refurbishment back in 2015 so I skipped it then.
Of course we had to ride over to Lantau Island on the famous Ngong Ping 360 cable car, and something really cool: we got to ride in the glass-bottomed Crystal Cabin! There's something very surreal about seeing the world pass by underfoot as you sail across. The more intrepid can hike over from Tung Cheng to Ngong Ping but that wasn't happening in this weather.
Of course once we visited Ngong Ping, I wanted to go check out the Tian Tan Buddha and made the climb up 268 steps to do so. Pretty views from above, but it actually got quite foggy at points so I didn't hang around for that long. There was a paid museum inside the Buddha which would have let you climb to a higher point, but I decided to skip that and took a brisk walk around the Po Lin Monastery near the foot of the statue instead.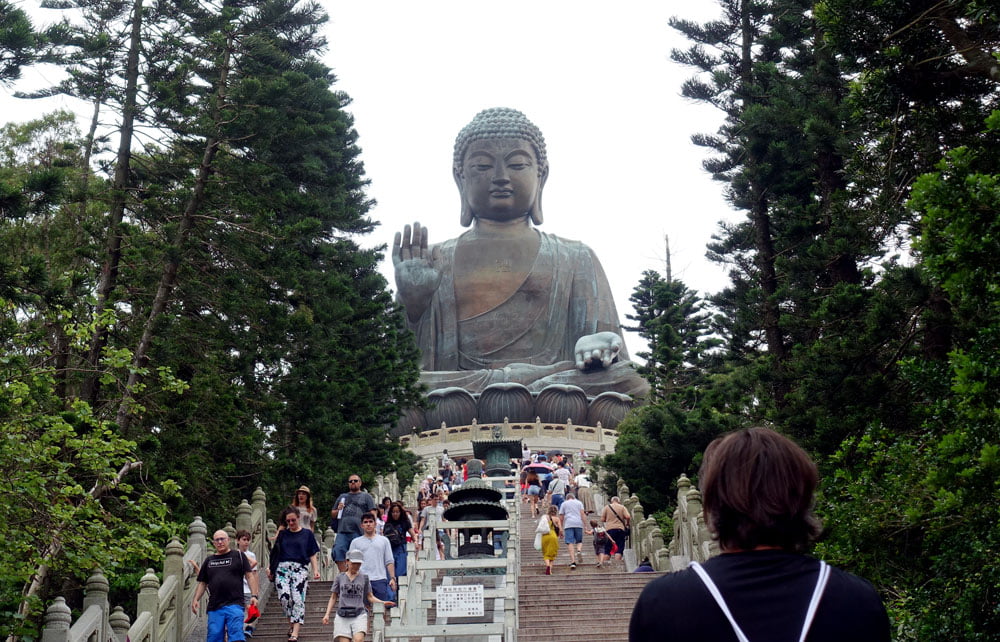 The Peak – Madame Tussauds
I remember coming to The Peak as a child and riding the iconic Peak tram – it was definitely colder then and much foggier – but this time around we took a bus and were gifted with a beautiful clear day up on the Peak. We also got to check out Madame Tussauds Wax Museum – I'd only ever been to Grevins in Seoul, and this is actually fairly similar, with lots of eerily life-like wax figures of famous people past and present, interspersed with fun AR type games to keep things interesting.
I walked through the museum fairly quickly – I'm not enough of a fangirl to really appreciate taking selfies with famous people, but it was interesting because some figurines really captured the likeness, while others seemed quite off. Definitely more fun with friends who like taking ridiculous photos!
---
Final Thoughts
So that was a bit of a whirlwind trip to Hong Kong, now that I've enjoyed some of Hong Kong's more famous sights and practically eaten and shopped my way through some of it, I can see why Hong Kong is a favourite for many people, because it really is quite easy to navigate and there is a certain energy about the city that I can appreciate even if it isn't an all-time favourite to visit.
Many thanks again to UnionPay for taking me to Hong Kong, as well as all the partners who were involved in hosting our little group.
This trip to Hong Kong was sponsored by UnionPay. Thanks to UnionPay and their partners.