A couple of weeks ago after my little expedition to the weird and wonderful Haw Par Villa, I headed back into town to check out Rendezvous Hotel Singapore for a mini staycation.
Earlier in the year, Rendezvous Hotel invited me down to their relaunch, announcing their rebranding as an art-inspired hotel, and as a part of the programme we got a quick walkthrough the hotel, so I was quite happy to come back and check out their newly revamped space.
LOCATION
Rendezvous Hotel is very centrally located in the Bras Basah Arts and Heritage district. You could walk to Bras Basah, Dobby Ghaut and City Hall MRT stations, putting it on practically every one of the major train lines.
It's close to heritage sites like the National Museum of Singapore, Singapore Art Museum and the Esplanade, and shopping centres like Plaza Singapura, The Cathay, Raffles City, Bugis Plus… You can't really get a more centrally located place than this!
THE ROOM
I was put up in a club room up on the 11th floor, the top floor and also where club room check-in takes place. My room was 1129 right behind the registration area; on the plus side I was really close to the lift and club lounge which was super convenient, on the other hand I kinda got the feeling that people were always outside my door – if you want more privacy, ask for a room further along the corridors.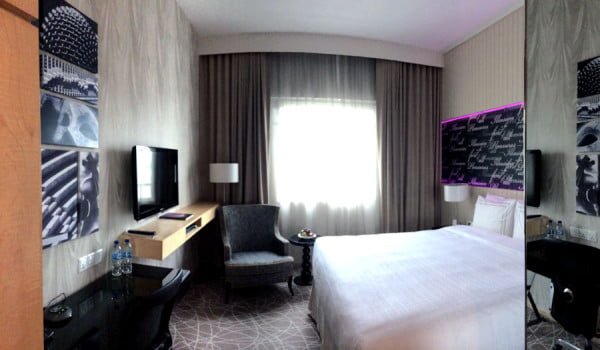 The room is pretty snug – most of it is taken up by the large bed. Not much to say about it other than it's a standard and comfortable hotel room – they put up little bits of art-themed artwork around the room, though it's pretty generic stuff that's replicated across the level.
The bathroom is also pretty small with a shower (no bathtub) and an awesome Japanese-type toilet bowl with the controls and seat warmer, and it comes stocked with FCUK toiletries.
THE FACILITIES
The club rooms on the 10th and 11th floors come with club lounge access, which means free cocktails in the evenings and breakfast away from the masses in the mornings. The breakfast selection naturally is smaller because there are no live stations up here, but there is a lot more quiet and privacy to enjoy your breakfast in peace.
I was feeling particularly hungry that morning, so I decided to have breakfast in the Straits Cafe instead. Pretty good selection of Western and Chinese food all around. Straits Cafe is known for their durian pastries and nyonya laksa, but it felt a little bit weird in casual pyjama type clothes in a street-facing restaurant!
I also had some time to check out the pool on the 3rd level, nice quiet and private even with the buildings all around. There's a heated jacuzzi as well which was such a nice place to soak in. For the fitness buffs, a pretty decent looking gym is also available on this level.
AROUND THE HOTEL
Because of it's uber central location, there really is no shortage of food, leisure or entertainment options outside the hotel. The connected shopping arcade Rendezvous Gallery is home to Balzac Brasserie, a nice French bistro with a faux alfresco feeling and good food, Mexican food Baja Fresh and Chinese restaurant Fung Ding Hung (ceased operations), among an odd mix of tenants which also includes cheap Karaoke franchise Teo Heng.
THE PRICE
The rack rates for the Club Room which I stayed in is currently $330/night, with the cheapest Superior room going at S$250, though there were special weekend rates going at $250/188 as well.
The hotel stay was a good one overall, great location for anyone who likes to be right in the center of things and convenience of being able to walk to many attractions nearby. However as someone who actually works in the arts, perhaps my standards are a little higher, but I think they have some way to go before actually being an art-inspired hotel though!
Thanks to Far East Hospitality for the complimentary stay. All views are my own