Ever since my Career Break, I've been very pro carry-on only when it comes to travelling – I love breezing through customs and not having to wait for my checked bags, or worrying about whether my bag made it to the destination the same time as I did. So when travel goods online store the-Expedition asked me to share a little about my favourite travel gear and road test some stuff from their online shop, I thought I'd share with you my packing tips and secrets and maybe see if I can convert more people to carry-on only life.
A caveat – I like travel gear because it can make your life easier but I do know that travel gear can be pricey and definitely isn't mandatory for your travels. My gear is a hodgepodge of stuff I've invested in, sponsored stuff, freebies from random roadshows and gifts from friends; some I use daily while others are trip specific items.  My suggestion is to improvise with what you have first and to do your research before splurging on specific travel gear.
Also, there are various affiliate links for the-Expedition (2-day free shipping for Singaporean addresses when ordering over S$75!) and Amazon in this post in case you are interested in your own purchases. Clicking on these links doesn't cost you any extra but may give me a small % referral fee. For extra discounts, sign up for TOTmail to get the code to10% off your total bill – more details in the Perks page.
---
Backpack
My backpack of choice is the CabinZero Military 44L – I've carried different versions of the CabinZero which you can see from this in-depth review here, but my favourite of the lot is the CabinZero Military.
I carry this bag on most trips these days whether it's a weekend getaway or 5 months globetrotting. It's easier to navigate street kerbs and narrow train corridors with a backpack on your back. Also fun fact: I've definitely exceeded the weight limit for carry-on just because of how much you can squeeze into this bag, but quite often airlines don't bother to check when they see it's a backpack.
There are cons of course, in that I have to be quite disciplined about what I pack or buy back home as I have very limited space. I have checked this bag several times before when I ended up buying wine or liquids back, and it's managed quite well so far. There are smaller 36L and 28L versions as well now, but I like having the option to max out by cabin luggage if I have to.
Get the CabinZero Military 44L for S$149 from the-Expedition here [affiliate link]
Packing System
Packing cubes and pouches really help me organise my stuff on the go, especially with a bag like the CabinZero that doesn't have many internal pockets.
I have a basic system that I developed from the constant travelling on my career break that helps me pack quickly and I know where most things are immediately and whether I missed out anything.
Typically I pack in 2 layers – the CabinZero and Campers Corner cubes (clothes and misc) go in first to form that base layer and fill out the shape, and then everything else piles on top if necessary.
Clothing
Clothes form the bulk of what I pack, and my general rule of thumb if I don't want to do laundry is to pack (X+1) days worth of clothing. When I was travelling for months at a go, I packed for about 10-14 days worth of outfits + underwear without having to do laundry.
Clothes: I wear a mix of dresses, tunics, t-shirts and singlets, all dependent on the itinerary of course. I prefer cotton/linen pants ('backpacker pants') and rarely carry jeans unless it's very cold, and even then I tend to layer up with tights and leggings instead. It's definitely easier (and lighter) to pack for a summer itinerary than a mixed/winter itinerary
Underwear: I'm kinda lazy to do laundry on shorter trips so I also pack (X+1) days worth of undies, but if you don't mind you can always pack less and handwash on the go – I've known people who live with just 3 pairs over months, but I can't do that! I tend to wear more bralettes or sports bras so there's less underwire (more compact), and I always have at least one bikini with me in case of water activities that can double as emergency undies.
Shoes: I generally always carry 3 essential pairs of shoes unless I know it's gonna be a beach resort thing – I wear my heaviest walking/trekking shoes, carry a pair of flipflops and have a spare foldable pair of ballet flats in case of nice dinner venues.
Toiletries
I'm using Lush products to try and cut down on liquids which is a pain for carry-on – the shampoo bars I like, the conditioner bars not so much because it takes a lot to work on my thick hair. The shower jelly was fun but it's so messy when it disintegrates into little pieces. Other than that, most of the other essentials are:
Facial wash and moisturiser: I don't have much of a skincare routine to be honest
Toothpaste: I'm testing out toothpaste pellets and powder but am still ambivalent
Deodorant: especially when you're on public transport and in hostels
Sunblock: I personally like Sunplay with menthol and is also waterproof but I'm not too picky about it
Insect Repellent: Again as long as it works, but my personal favourite is Detar which sadly I've only managed to find in Ecuador of all places
Tech Gear
I definitely need a good travel adapter that lets me charge multiple devices at a go just because of the sheer amount of tech gear that I carry. Usually I need to charge my phone, battery pack and cameras overnight to ensure I have enough juice for the next day of travel.
External Hard drive: I swear by this particular Buffalo 1TB External Hard drive [Amazon affiliate link] with built in USB wire. I have an earlier version which has lasted me more than 10 years so far!
Several flash/thumbdrives: Just in case for smaller file transfers
SD card adapter + Mini SD card(s): For the camera
AA/AAA batteries
Cables: At least 1 USB/Lightning Cable (for iphone) and several microUSB cables (everything else)
Travel Adapter: Usually I carry 2 in case of configurations or failure
I tried out the Mogics Power Bagel, something I've heard about for awhile and I quite like this. I like that it works almost like an extension cord, so you don't have to crouch down in weird corners just to use your phone while it's charging. There are 2 built in USB ports (so important these days) and another 4 slots for plugs of different sizes/shapes, and it's encompassed into a relatively flat and compact size. Thumbs up for the Mogics Power Bagel, I definitely will be using this  a lot more down the road.
Get the Mogics Power Bagel from the-Expedition here [affiliate link]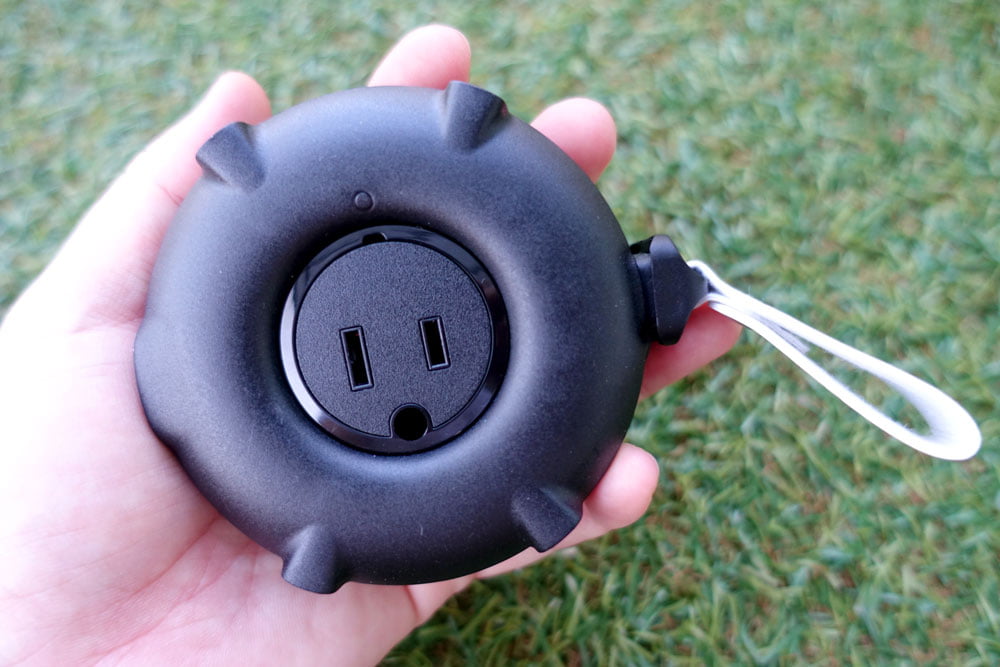 The other adapter I tried was the Zendure Passport Adapter which is a bit of a block but has 4 (!) USB ports which is way more than any other adapter I've used before. It's selling point is that it has an auto resetting fuse which is supposed to make it 'virtually indestructible' – I haven't had the chance to try that out for myself, but I do like have 4 USB ports to use, but the size/shape means it can be a bit tricky if the power outlet space is rather small or squishy.
Get the Zendure Passport Adapter from the-Expedition here [affiliate link]
---
Daypack
I like a small haversack to carry around during the day, and my pack of choice was the Riutbag Crush, the first 'backwards backpack' that I had heard about with the zippers resting against your back instead of facing outwards. I like the Crush as well because it is light and folds up very small, useful if you need to stash it away.
When the Travelab folk contacted me about their Freedom Pack, I will admit to being rather surprised by its blatant similarity to the Riutbag Crush – it essentially is the same concept with the fold-up lightweight backwards zippered backpack, but they have made some additional tweaks to the bag like adding side pockets that I think does improve the functionality of the bag.
Get the Travelab Freedom Pack from the-Expedition here [affiliate link]
I have started carrying more camera gear with me as I've needed to do some filming while travelling, so I borrowed my sister's Peak Design Sling bag and it's a great size that fits most of my stuff while also being very handy and easy to pull out cameras from easily as compared to a backpack. However, I definitely prefer backpack style bags as slings tend to make my shoulders ache unevenly.
Get the Peak Design Everyday Sling 10L from the-Expedition here [affiliate link]
My Essentials
I carry my essential gear in my daypack or in a smaller sling if airlines are being super strict about the one-bag policy. This constitutes:
Wearables
Light scarf: Good multipurpose item for some protection against cold, sun, bad smells, insects… and when you need to cover up for religious sites. My scarf is a translucent silk type material that packs very small and is pretty enough that I use it to dress up casual wear for restaurants
Light jacket: I get cold pretty easily, and I like having a hoodie for planes as well. My Uniqlo hoodie is pretty breathable so I use it a lot for sun protection as well because it has sleeves that hook over your thumbs (great for cycling or scootering under the sun).
Small towel: Especially in summer situations, I tend to perspire a lot, so this is a lifesaver. I have a cheap tiny microfibre towel from Decathlon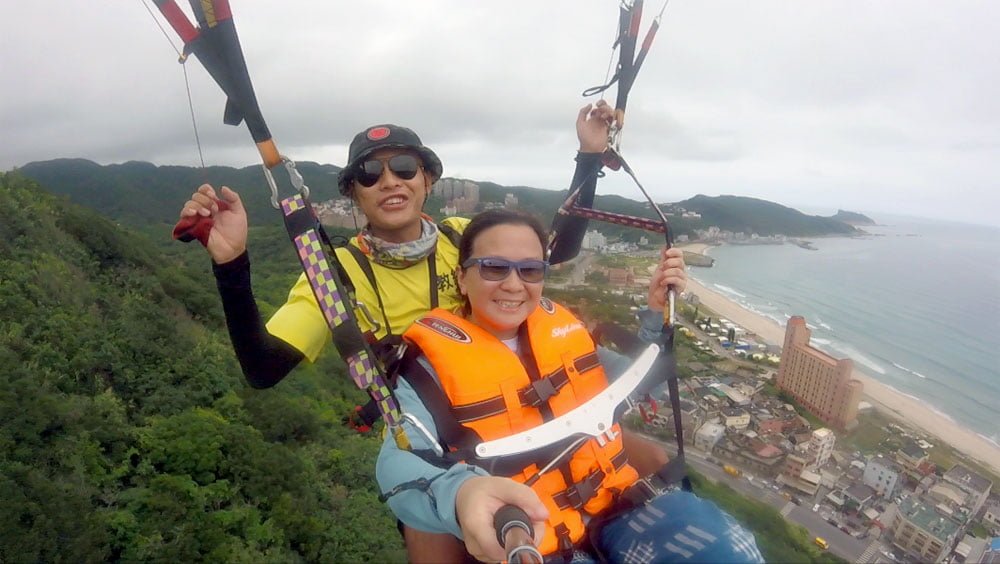 Entertainment
Sound related: I always have at least one set of earphones – I favour the wireless Sudio ones but when I forget to charge which happens quite often, I just pull out the Apple ones. I also always have at least one pair of earplugs.
Camera Gear: I've recently switched to the Sony RX100 III [Amazon affiliate link] for photos, and got myself my beloved Casio Exilim FR100L [Amazon affiliate link], an upgraded version of my unfortunately drowned FR100. The rest of the microphones, mounts and tripods are more for when I need to do serious filming.
Practical
Tote Bags: I have at least one foldable tote bag with me in my daypack in case of groceries or shopping. I usually carry Baggu tote bags, but since I discovered the Notabag in a museum shop in Vienna, I end up carrying that the most as it can convert from a shoulder sling to a backpack which is super useful for spreading out the weight or if you end up cycling. It does cost more than a regular tote, but I think the innovation is worth it, and while you probably shouldn't be carrying too heavy stuff in it to prolonged periods, I've used mine quite a lot and it's still going strong.
Get the Notabag Tote Bag from the-Expedition here [affiliate link]
Water Bottle: I've been looking for a good reusable water bottle that I can compress when I'm not using it, and the silicone Bubi bottle is perfect because you can roll it up tight when you are not using it. The 1L is pretty sizeable – on hindsight I think I should have gotten the smaller one for portability, but 1L means less refills needed.
Get the 1L Bubi Bottle from the-Expedition here [affiliate link]
So in a rather large nutshell, that's how I pack for my travels – happy to try and answer any questions you might have or tips you might want on packing to carry-on, just drop a note in the comments.
This post and some of the items were sponsored by the-Expedition.