Myanmar is just 3 hours by plane from Singapore, and Yangon makes a great weekend getaway option for anyone looking for an interesting and affordable vacation, minus the tourist hordes you tend to get in more popular countries like Thailand and Vietnam. I definitely enjoyed the lack of touts and crowds as I explored Myanmar's largest and most commercial city. Here's a list of things to do if you only have time to spend one weekend in Yangon.
Thanks to the lovely folk of the Pan Pacific Yangon who sponsored the trip and invited me to check out their new hotel in downtown Yangon, but I also stayed additional nights at my own cost in a lovely hostel near the famous Shwedagon Pagoda for those who are on a budget – that you can read about below.
Myanmar is an intriguing country – Yangon reminded me a little of Vientiane in Laos and has a very different vibe from Bagan, where I spent my birthday morning flying over the temples in a hot-air balloon. I definitely want to return someday!

Yangon in one weekend
Things to do
Where to Stay
---
Flights to and around Myanmar
I flew up to Yangon (RGN) via Silkair on a direct flight in 3 hours. Other full-service options that fly direct from Singapore to Yangon include national flag carrier Myanmar National Airlines, Myanmar International Airways as well as budget airline Jetstar.
Direct flights mostly go to Yangon, though Silkair does have a 3.5-hour direct flight to Mandalay (MDL) as well. If you want to reach popular areas like Bagan (Nyaung U airport NYU) and Inle Lake (Heho airport HEH), you will need to take a domestic transfer from Yangon Airport. I flew Air KBZ (domestic partner of Myanmar International Airways) from Nyuang U back to Yangon in 1 hr 15 mins.
Yangon International airport was officially launched in 2016 and pretty modern and I spent a few hours hanging out at KFC waiting for my flight home. The other domestic airports are much smaller and more basic. You can buy your flight tickets online or through the local tour agencies.
International round trip flight prices range around $300-$400 on average, while my internal flight from Bagan to Yangon cost me 130,000 (about S$130) for a one-way. Singaporeans don't need a visa for visits less than 30 days in Myanmar, yay!
---
Things to do in Yangon
Walk around Shwedagon Pagoda
If you only have time or energy to visit one religious site in Yangon, the Shwedagon Pagoda is a must-see as it is the icon of Myanmar and absolutely central to Burmese life.
Standing at 99m tall, the stupa of this pagoda is covered with pure gold and jewels, all donated by devotees. Shwedagon is also home to some sacred Buddha relics – relics are items that once belonged to various Buddhas, including hairs, a staff and a water filter and are much revered by their followers. There is a large pagoda museum that you can visit on site if you want to see more of such treasures.
There's a lot to take in at Shwedagon for history and architecture lovers, and you will find a good mix of and locals and tourists milling around, especially when it gets coolers in the later afternoon. I think it's ok to wander around on your own, but there are people offering guided tours if you want to learn more about Buddhism and the temple, which can be quite insightful especially if you are not familiar with Buddhist customs.
One interesting thing about Burmese Buddhism is the way they pray – you need to know the day of your birth and find the correct corner to pay your respects. There are 8 days according to Burmese astrology known as Mahabote (Wednesday is split into morning and night for some reason), and each day is represented by a different zodiac animal and cardinal direction that affects the way you should face when you pray.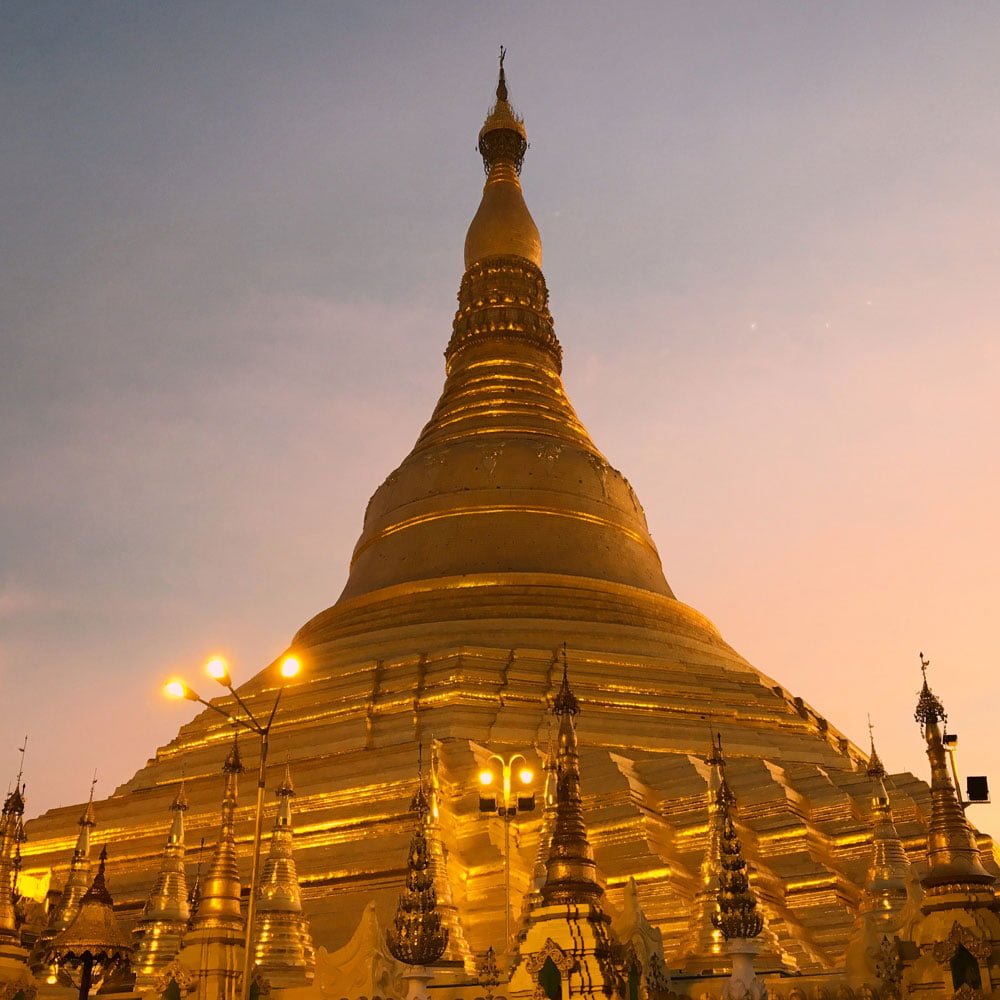 Ride the Circular Train
One of the more interesting ways to get a look at local Burmese life in Yangon is to hop on the Circular Train or Circle Train that takes you around Yangon, a loop train built in 1954 during the period of British colonisation. The trains running are really, really old Japanese trains that run about every half an hour or so and take a total of 3 hours to make the full loop.
I took the train with 2 other hostel mates – we took a cab to the nearest station Kyeemindaing (or Kemmendine or Kyeemyindine – romanised names are not consistent in Myanmar so just try and find something close) and bought our ticket from the station. A short wait later, our train rolled up – we had intended to go north/clockwise and end our journey at Yangon Central for lunch, but somehow we ended up south/anticlockwise so we ended up taking more than a full loop journey.
The train does get quite packed in the south bit as you head closer to Yangon Central – many locals use it to get to the various markets and main city centre, so we actually ended up standing for a bit. There aren't any doors so it can be precarious if you are crowded out by baskets of produce and random live animals, but it is the coolest spot. Or take a walk through the carriages and find the end with more seats – once you're past Yangon Central Station, it's generally easier to find a seat.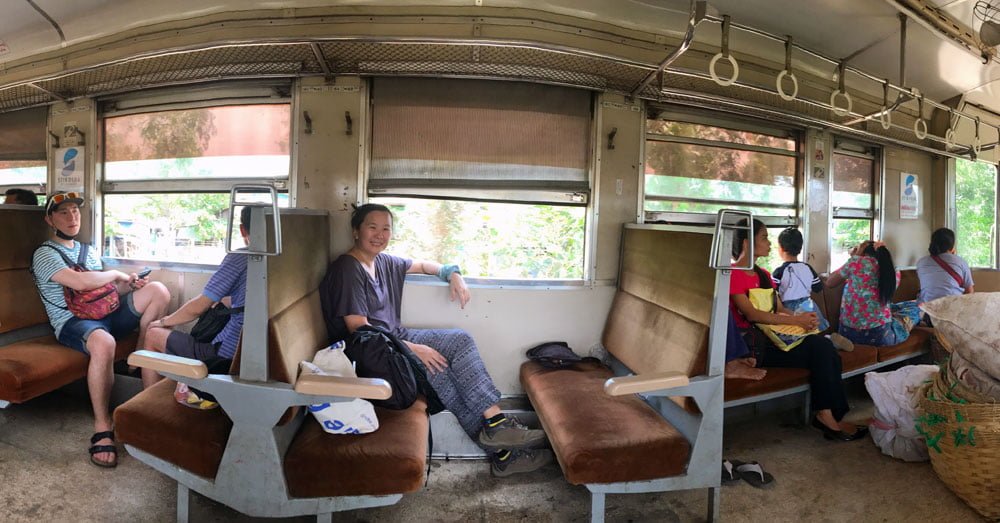 The northern end of the loop is very much more rural and green compared to the southern bit near the downtown area. In some bits you can practically reach out and touch the plants, but sadly you can see a lot of trash as well around the countryside. I love how the train transforms into a mini market place of sorts – vendors selling everything from corn and quail eggs, to strawberries and ice treats parade up and down the passageway. It's a great way to people watch and even interact with the friendlier Burmese folk who might be sitting across from you.
The train does actually stop somewhere near the airport (Mingaladon Station), but it's not directly attached to the airport so while you could possibly use this to get yourself to the downtown area for really cheap, it will take you ages (at least 1.5 hours) and it's not very convenient. If you are looking for a market to take a break in, Danyingon in the north is a good option for a stopover as the market kinda sprawls onto the tracks.
Cost: A round-trip ticket costs 200 kyats (S$0.20?! Yes it's that cheap) – hang on to your ticket because the ticket inspector will come on board to check. You can buy your ticket quite easily at the train station from the ticket window.
Timing: The train runs from around 6am to 10pm. The most bustling time would be early morning as everyone heads to the markets. It gets pretty warm in the afternoon because there's not much ventilation, but it may be a nice way to see stuff without walking in the hot sun.
Shop at the Bogyoke Aung San Market
With almost 100 years of history, the Bogyoke Aung San Market is one of the more popular tourist destinations and where you can pick up souvenirs like Burmese cloth and clothing, jewellery and other knick-knacks.
My hotel Pan Pacific Yangon (more on that below) is connected to the Junction City Mall, which in turn is connected by an overhead bridge to the Bogyoke Aung San Market. Once known as Scott Market, it was renamed in 1948 after Burmese independence for Major General (that's what Bogyoke stands for) Aung San, father of the more renowned Aung San Suu Kyi.
The market is a sprawling place with many interconnected little buildings and shops spread over 2 levels. I walked past seamstresses sewing diligently in corridors, transforming colourful cloth into functional longyis in just a few minutes, and display cases full of gemstones mined in Myanmar like jade, rubies, emeralds and sapphires.
Timing: The market is open 9am to 5pm. It is closed on Monday and some national holidays as well.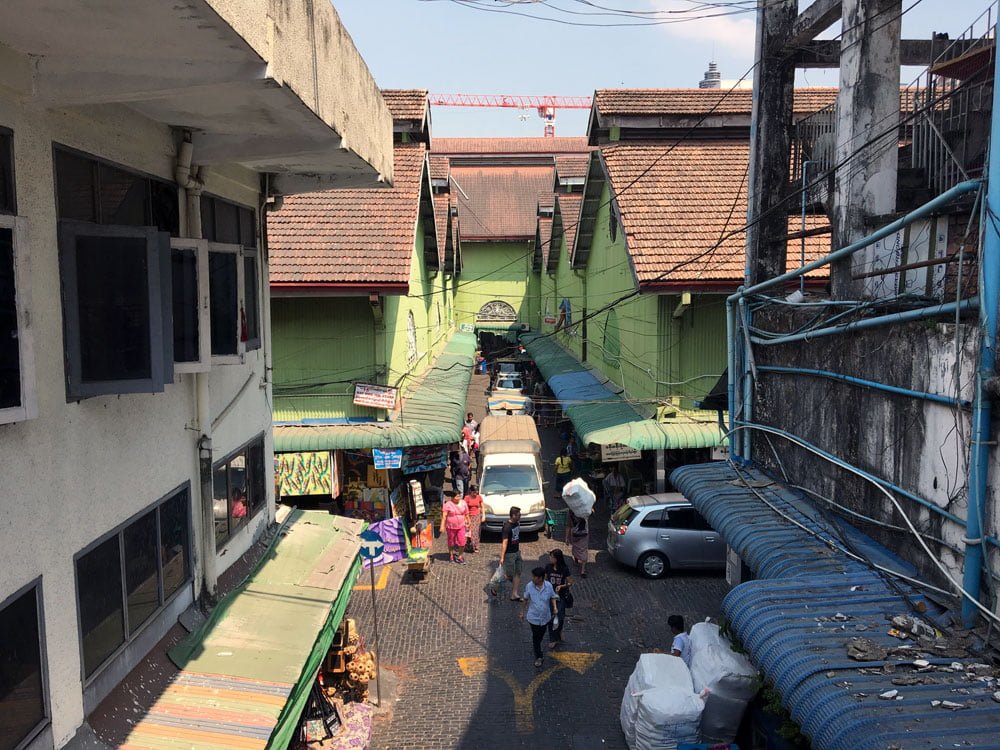 Go up on the Mingalabar Balloon
Most people associate ballooning with Bagan, but there is a balloon that you can ride in Yangon as well – Mingalabar Balloon is a pretty new attraction that opened at Kandawgyi Park and it's more of a viewpoint than an actual balloon ride as this helium balloon takes you 100m up and doesn't actually travel anywhere.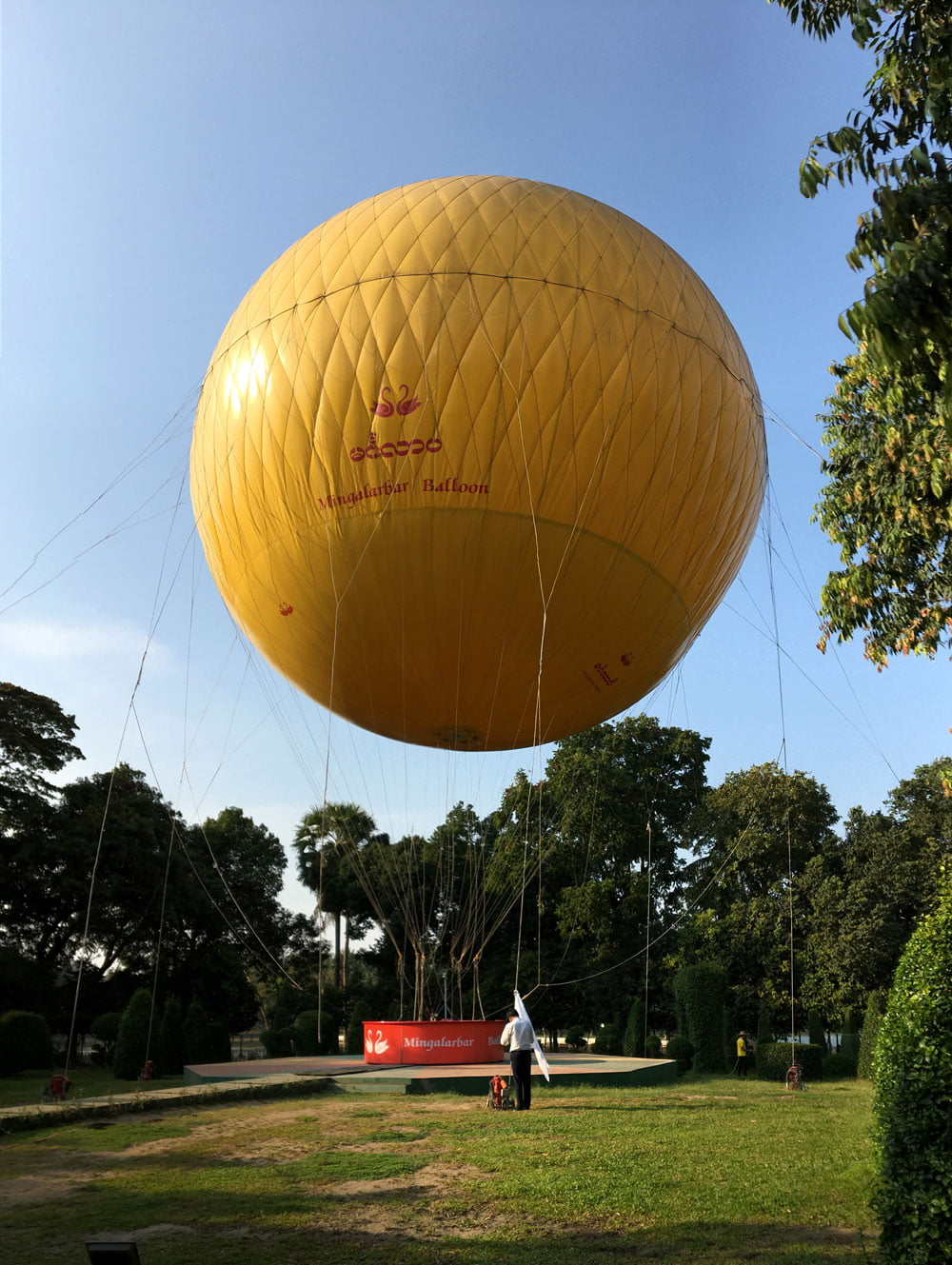 This is a helium balloon and is pretty dependent on the weather conditions – pick a clear calm day to go otherwise you will be subject to some crazy swaying which is pretty fun but can be alarming if you are scared of heights. Our balloon was swaying quite intensely so we didn't get to stay up for very long, but we did manage a little bit of view before our pilot brought us back down.
Kandawgyi Lake is one of the 2 major lakes in Yangon, so it might be nice in the cool morning or evening. Also around the area – the Yangon Zoo as well as Karaweik Palace, a replica of the royal barge that is a buffet restaurant popular with tourists as it is one of the few places you can catch a cultural performances of traditional dance and music.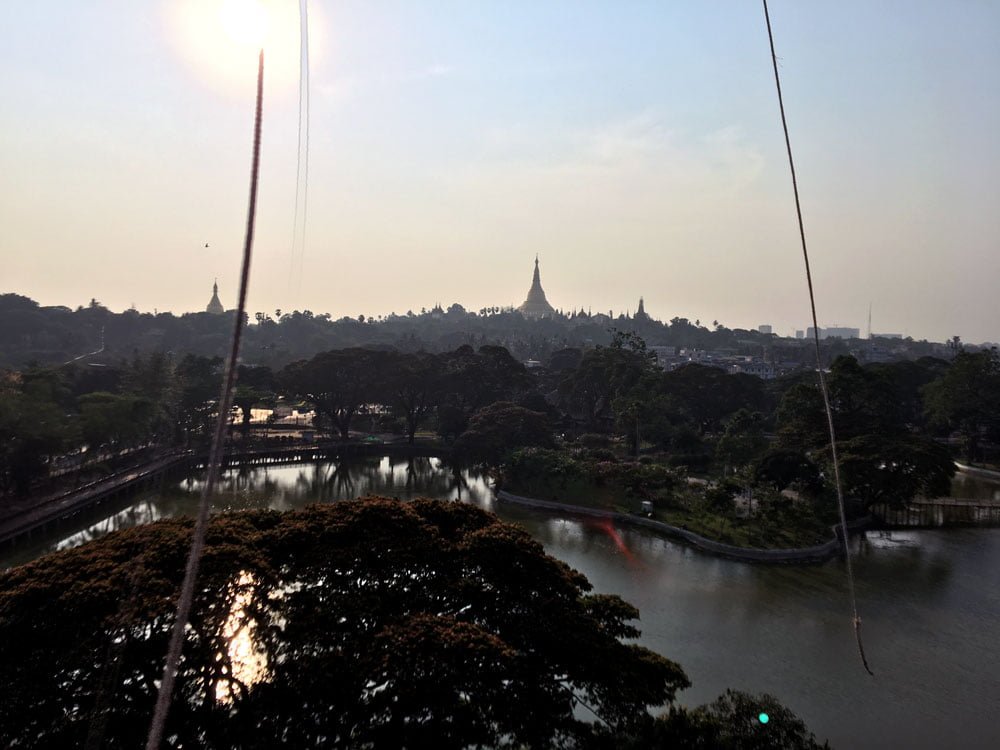 Location: Kandawgyi Lake – southwest corner off Kan Yeik Tha Road across the road from the Yangon Zoological Gardens
Cost: It costs US$22 for adults and US$11 for children 12 years and under
Timing: Mingalabar Balloon runs from 10am to 6pm, with each ride lasting about 15-20 minutes for a max of 15 pax.
Top Tip: Morning is apparently the best time to go because it's a lot less windy, so less likelihood of your flight getting cancelled. Also, it's much cooler and less blazing hot. Consider November when Kandawgyi Lake hosts boat races for a bird's eye view.
See the Secretariat Office
One of my hostel mates had been invited to check out an exhibition on Burmese Film, and we followed her to this building called the Secretariat Office.
What's so special about this building? It is listed as one of Yangon's heritage buildings but others might know it better as the building in which Bogyoke Aung San and several other Burmese ministers were assassinated on 19 July 1947. It was used as a government administration building until 2005 when they all moved to the new capital Naypyidaw.
Cost: It cost 10,000 kyats (S$10) for a ticket to enter the premises. I was there for this particular exhibition though from what I found on Tripadvisor, you can take a proper tour with a local guide to visit the place which sounds quite interesting.
---
Where to stay in Yangon
Luxe: Pan Pacific Yangon
I visited Yangon on the invitation of the Pan Pacific Yangon who put me up for 2 nights at their brand spanking new hotel connected to Junction City in downtown Yangon, right next to the Bogyoke Aung Sann Market.
Both the mall and the hotel feel a bit like an escape from dusty, loud Yangon – it's located on a particularly busy portion with lots of traffic and honking. It does feel like you could be in any mall in Singapore – there are lots of branded shops in Junction City and even a BreadTalk.
My room, oh golly that room, was pretty amazing. I had a Junior Suite that was very comfortable and spacious and had jaw-dropping views of Yangon – you can see Shwedagon Pagoda and Mingalabar Balloon in the distance and the gothic style spires of Holy Trinity Anglican Church right next door.
Being up high means you get some spectacular views of Yangon all around. My favourite would be the infinity pool that puts you right at the roof of the Gothic church just next door, it offers a lower but similar view to the junior suite, so if you can't afford that, this is a lovely place to hang out with a fitness centre and outdoor bar. St Gregory's Spa also has a lovely view and I had a great Burmese massage there.
Room rate: I stayed in a Junior Suite where prices start from US$310 or S$410 per night, but you can get a deluxe room from US$180 or S$240 per night.
More on Pan Pacific Yangon on Booking.com [affiliate link]
Budget: Hostel options
Added 2019: Sadly, the hostel that I stayed (Pickled Tea Hostel) at seems to have permanently closed down, which is a pity because I really liked it a lot. I did a bit of a search and found some alternative options that I would have probably have considered instead [booking.com affiliate links below]
---
Where to eat in Yangon
Shan 999 Noodle
One thing I came to love in Yangon was Shan Noodle – Shan is an Eastern state in Myanmar that borders China, Laos and Thailand and I think those influences really come through in the Shan style noodles.
Location: 130B 34th Street, downtown Yangon. 6am – 7pm (10pm on Fri and Sat). There is another outlet at Secret Garden, Junction Square that opens 9am – 9pm every day.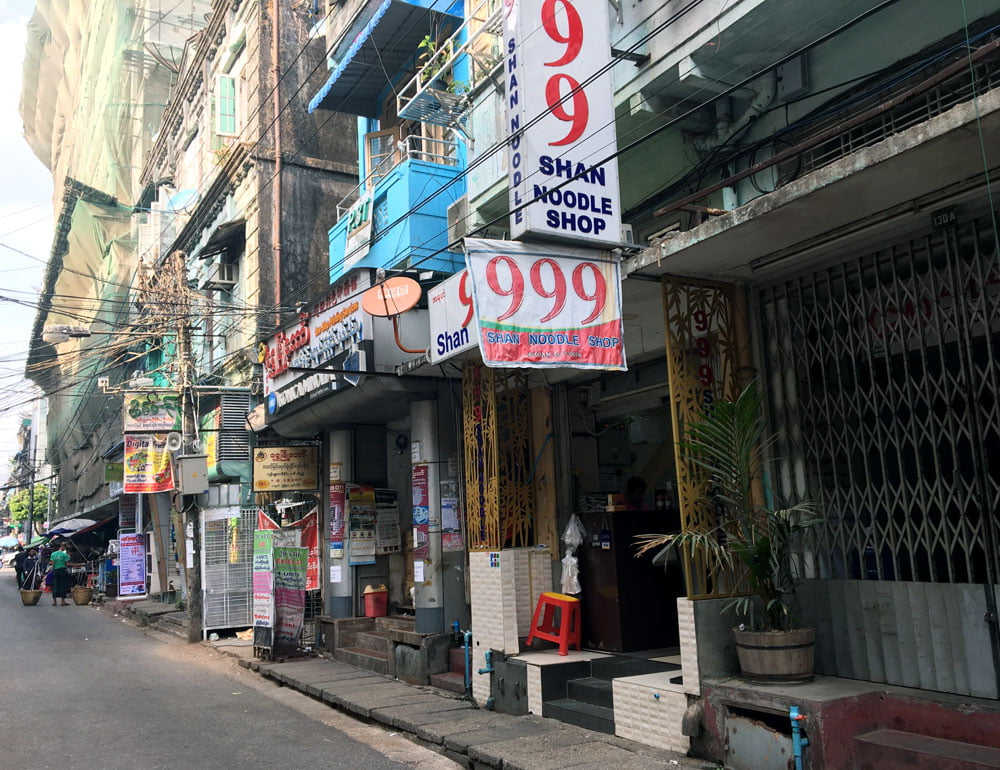 Aung Mingalar Shan Noodle Restaurant
Just to the north of Bogyoke Aung San Market across the railway tracks is Aung Mingalar Shan Noodle Restaurant, with similar offerings to that of Shan 999 and equally good food.
Location: 34 Bo Yar Nyunt Road (corner with Nawaday Road), Yaw Min Gyi Quarter, Dagon . 11am – 10pm
Seeds Restaurant
Seeds Restaurant is located on the northeastern end of Inya Lake and such a beautiful venue, I wish I had better pictures of the venue but my phone doesn't do so great with dimly lit night shots. It's a large glass-walled house on the edge of the lake – very picturesque if you come here in the late afternoon for sunset and in the right season, the lake is covered with lotus flowers. Bring some mosquito repellent because there is a lot of foliage.
Location: No 63A, U Tun Nyein Street, Ward 10, Mayangone Township. Opened 11.30am – 1.30pm for lunch, 6-9pm for dinner.
Run by a Swiss couple, it serves up contemporary cuisine – not particularly Burmese if you are looking for local flavour, but definitely tasty and high quality. It's currently the top-rated restaurant on Tripadvisor – I'd recommend this place if you want a great ambience.
---
Getting around Yangon
One unusual thing about Yangon is the ban on motorbikes, but there are still plenty of cars and traffic can be pretty jam-packed at peak hours.
Taxi
For tourists, this is the main way of getting around, but note that there are no meters so you need to know how much it costs roughly to go somewhere. Get your hotel or concierge to help you negotiate if you need. In general, taxis are quite affordable – check out the Lonely Planet guide as well. There is an 8,000 kyat (S$8) pre-paid option to get from the airport to downtown, and within the downtown area prices range from 2,000 – 4,000 kyat on average.
Grab/Uber
You can use Grab and Uber in Yangon, which is really helpful for getting around the language barrier and keeping track of where exactly your driver is going. Prices are on par (sometimes cheaper depending on the time) than taxis, and this was the main way I navigated Yangon.
First time using Uber? Use jacs75ue to get $3 off your first ride and help me earn perks as well.
First time using Grab? Use JACJACJAC as your Grab Referral Code and both you and I will get discounts.
Bus
Public bus is an even cheaper way to get around at around 200-300 kyat per ticket, but using them can be a bit more challenging. Buses used to only have Burmese numbers but the more modern buses these days have proper numerals, making it easier to identify them. I didn't have a chance to try this for myself though. This website has more info on the Yangon Bus System or YBS.
I did take an overnight bus from Yangon to Bagan that cost me US$20, starting at 8pm and reaching Bagan at about 5am. My hostel front desk helped me book via their mobile app and gave me a written ticket to present at the Aung Mingalar bus station, about an hour away from downtown Yangon by cab. JJ Bus is one of the more established services and fairly comfortable. You even get a snack box and drinks but note that there are no toilets on the bus. They make 2 stops along the way, the first is a mandatory one where they make everyone get off the bus.
---
Google Map
Do you have any tips on Yangon? Tell me what I missed out on?
This trip to Yangon and my hotel stay was sponsored by Pan Pacific Yangon, though I did extend the trip in Yangon and to Bagan at my own cost.