So I had my fair share of drinks in Dublin, and I walked the city till my legs were about to drop off. For something a little different, I decided to check out a more cultural side of Dublin while I was there – the Dublin Theatre Festival. I love a good performance when I'm overseas, and I think it adds variety to the usual tourist attractions and scenery that one usually encounters.
Deciding what to watch was a little stressful because all this artist talk baffles me sometimes, but I decided to stick with a classic and check out Waiting for Godot by Samuel Beckett. Samuel Beckett is one of Dublin and Ireland's most prolific writers and even attended Dublin's famous Trinity College. According to my theatre-loving friends, Waiting for Godot is a classic play one should check out at some point in their life, and it didn't hurt that the dates fit my schedule so that was just perfect.
Waiting for Godot was performed at the Gaiety Theatre, just 10mins walk from my hostel, so it was really convenient for me as well. I bought my tickets really last minute at the door, and sadly missed a super cheap ticket promotion announced on Facebook where they were selling last minute tickets for just 10 euros!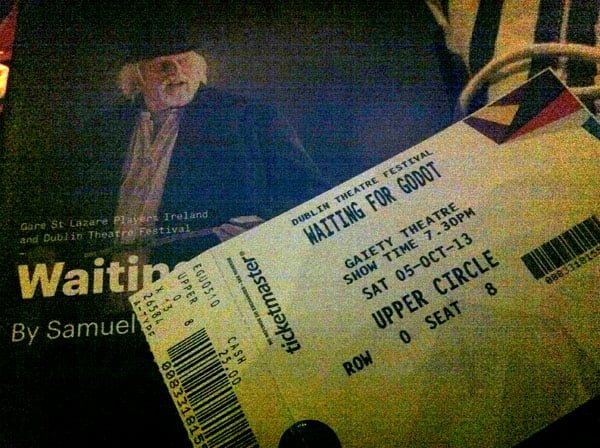 Instead I got my seat in the upper circles for 25 euros, along with a programme for 5 euros.
I wish Singaporean theatres were so pretty – I don't know if European theatres are just prettier because they were built back in the day, but visiting a theatre overseas always just seems more of an experience for me with the intricate decor and chandeliers et all. My seat was the second last row from the back, and I had the aisle seat and whole row to myself so I was pretty comfortable, though everything was pretty small. Also, food! I had myself a Magnum as a treat during the interval.
Ok review/thoughts ahead, spoiler warning in case you don't actually want to know about the show!
Waiting for Godot is looong. As its name implies, the entire 2.5 hour show does revolve around two people in the countryside waiting for a guy called Godot, and you never actually get to see Godot, not even at the end. It's quite a talky sorta show, dialogue driven and a little bit abstract – because there's not much action happening, I did get pretty sleepy towards the end of each act.
Ultimately I did enjoy it though, it's a pretty thoughtful show and has a slightly dark humour to it, but I probably wouldn't sit through that again just because it was soooo long.
Gaiety Theatre
http://www.gaietytheatre.ie/
King Street South, Dublin 2, Ireland
Box Office: 0818 719388
See all my Dublin adventures here, or check out what I did in Prague the following week.