When I was in Hanoi, I stayed in Hanoi Guesthouse, a recommendation by a personal friend who had stayed there on her own trip and found them affordable and very helpful. This was one of my first few solo experiences, so when I asked them for help in planning my time in Vietnam, not only did they give me recommendations for my time in Hanoi, but also helped me secure bookings for my time in Hue, Hoi An and my train tickets and pick up as well. Here's a review of Hanoi Guesthouse for anyone keen to find out more.
Location of Hanoi Guesthouse
Hanoi Guesthouse is located in the Hoan Kiem area, the Old Quarter of Hanoi – Bat Su Street to be precise, and less than 10mins walk to Hoan Kiem Lake.
This is a very central location, but I like that it's away from the main tourist zone lined with restaurants and hostels so it's not too noisy. Not so much you can do about traffic noise because that's going to be everywhere you are in Hanoi.
It took me about 10-15 mins walk to the surrounding French and Old Quarters quite easily, and 20-30 mins to get to Ho Chi Minh's mausoleum and The Temple of Literature.
They'll provide you with a map to help you get around and are happy to recommend you places to eat at, though they're most likely to be the more touristy joints with a nicer ambience and an english menu vs the local hangouts. They can also rec you places to shop as well.
How to get to Hanoi Guesthouse
You could take a cab from the airport, but I decided to arrange for the Guesthouse to pick me and drop me off via car from the airport for US$15. The main city centre of Hanoi is about an hour's journey from Noi Bai International Airport. I was left standing around for quite awhile when I first reached Hanoi though – not sure where my driver was, but he did turn up eventually, thankfully.
The guesthouse also arranged my transport to and from the Hanoi train station (Hanoi Ga) for my Hanoi-Hue/Danang-Hanoi train journeys – they called a cab (5-10mins car ride max) and had one of the hostel staff trail me on motorbike to make sure I got to the right place and settled all the taxi payments for me. It was great because on my trip out to Hue, my guy not only made sure I got to the train station properly, he helped me with my luggage, changed my tickets for me and got me straight to my train compartment. And on the leg back, I arrived in Hanoi at 4am, and there was one of the staff with a name sign waiting for me.
Anytime you need a cab or car though, they'll be happy to call you one.
Rooms at Hanoi Guesthouse
The guesthouse is about 8 storeys high! It's built in one of the old-style Vietnamese buildings, which are long and narrow. There are only 2 rooms on each level and no lift, so if you're not keen on climbing stairs, tell them to book a lower level room for you.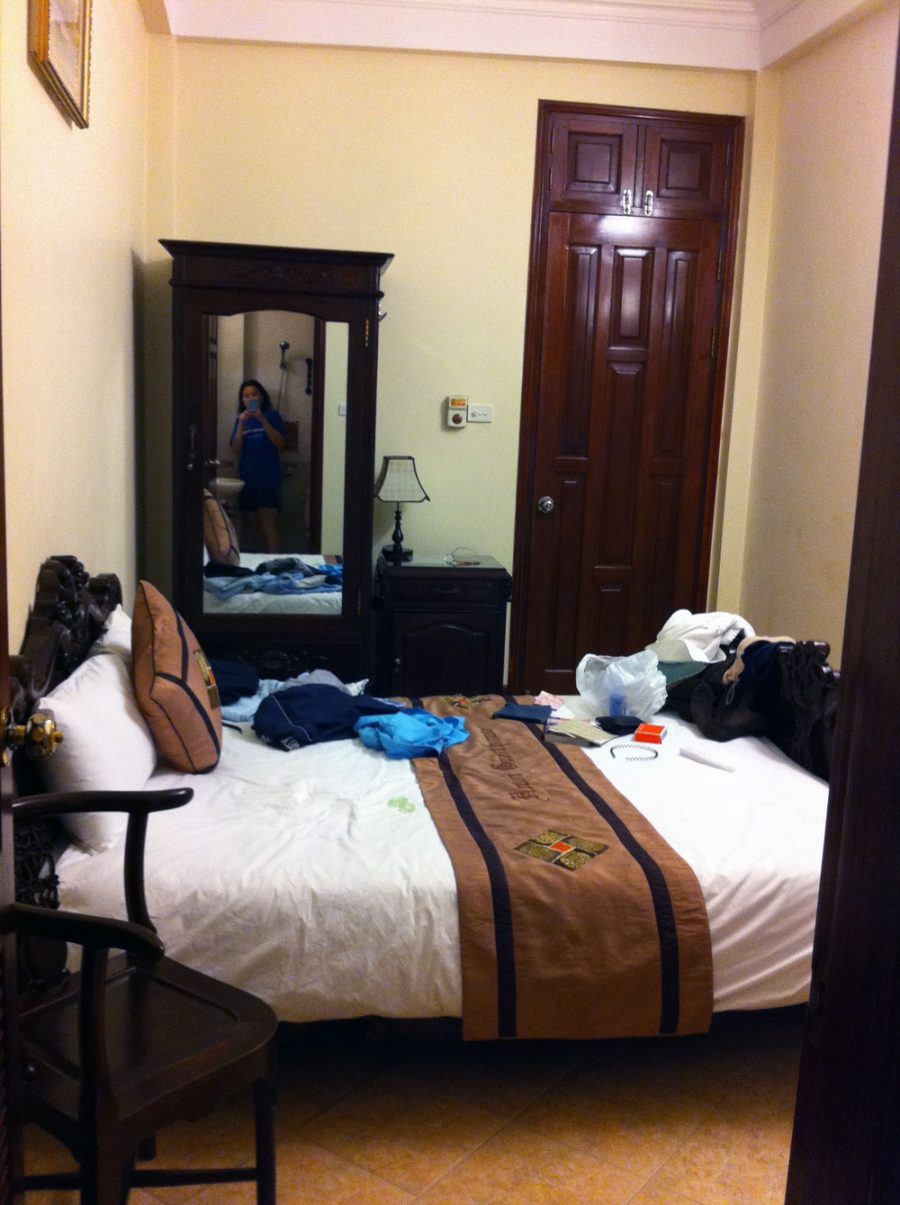 The rooms have the same basic features – large bed with air-conditioning, fan, cupboard, TV and fridge with attached toilet. But the rooms facing the street are slightly different from those facing the wall at the back. I stayed in the wall-facing room (#302) on my first night, and it had a ceiling fan and a simple basic toilet.
My street-facing room (#401) had a bathtub, standing fan, and a balcony. I paid the same price for both rooms, though I'm not sure if there's a price difference if you request on booking…
Price
Pretty reasonable – I paid US$20 per night. Single and double rooms cost the same, but they also have triple and family rooms available, prices range from US$18 – SU$34, but you may also get a discount if you book on hostel booking websites. You also get a simple breakfast (baguette and condiments or pho) and a drink/bottle of water thrown in daily.
Additional Thoughts
The main guesthouse staff Ms Chau and Ms Hang are very friendly and speak quite good english and are usually quite happy to help you out with anything. I communicated with them via email before the trip and had most of my itinerary, accomodation and transport planned out with their help. They booked the Halong Bay trip for me, my city tour in Hue as well as the hotels for Hue and Hoi An.
Internet is available via wifi in each room, or the 2 computer terminals in the lobby area. When not in the room, you'll probably end up spending some time on the wooden furniture in the lobby – that's where you'll be for breakfast and waiting for your tour pickups. I met several interesting people there, from my Norwegian friends M & N (hi guys!).
In the case of transit, there's a shower on the first level where you can bathe between trips, and I also ended up sleeping in the lobby after my 4am arrival from Danang because all the rooms were full then.
You can leave your luggage at the guesthouse if you're using it as a base for travel so you don't have to lug it around with you. They usually keep the bags in the lobby in sight of the reception where there is always staff to keep an eye out, and there are lockers for the stuff you're more paranoid about.
Overall I was quite happy with my experience with Hanoi Guesthouse. They were very attentive and supportive in helping me plan my itineraries. Even when I had to cancel my initial trip in May at the last minute, they did not charge me a cancellation fee, only for the 3rd party cancellation costs, which I thought was really nice of them.
Check them up on TripAdvisor for yourself.