Way back in 2006, the family decided to take a road trip to Cameron Highlands in Malaysia. We always used to drive up to Genting Highlands, so this time we decided to go someplace else for a change.
Cameron Highlands is a lot further than Genting from Singapore, about 7-8 hours drive in Pahang. It's highways most of the way, and we had 2 drivers plus there are decent places to stop and rest and grab a bite, so it wasn't too bad. I made the smart decision of grabbing all our couch cushions just before we left, so the passengers had a pretty comfortable ride.
Where we stayed
We stayed in this place called Strawberry Park Resorts. Pretty decent place, there's a balcony even to look out on the hillside. Looking at their room layout, I think we stayed in the Fresno apartments. Here was my room, which I affectionately refer to as "the cupboard". I'm pretty sure this was a closet of sorts before they dumped a bed in and converted it to a bedroom.
There was also some sort of promotion where they gave us some cash vouchers that could be used within the hotel premises. I think we used ours to purchase tea back for friends and family, though according to their website, you can use it from things ranging from the spa to dining.
My other friends who've been there swear by The Lakehouse – it's a boutique hotel, and it sure looks pretty! Strawberry Park was decent but a tad old.
What we did
This was just a relaxing trip. There aren't any particular must-see sights in Cameron Highlands, it was mostly about spending time with the family and enjoy the nice aircon temperature air and hilltop views, so we spent most of out time chilling out and just leisurely visiting some of the spots in the area. Basically there's just one 'main road' so you definitely will find it hard to get lost there.
Tea Plantations
One of the big things about Cameron is the tea. Plenty of tea. Lots and lots of tea. Tons of tea. Hills and valleys and… you get the drift. We visited the Boh Tea Plantation. There's a little tour where you can see tour the factory and see how they harvest and manufacture tea. It's a tedious process, even with machinery!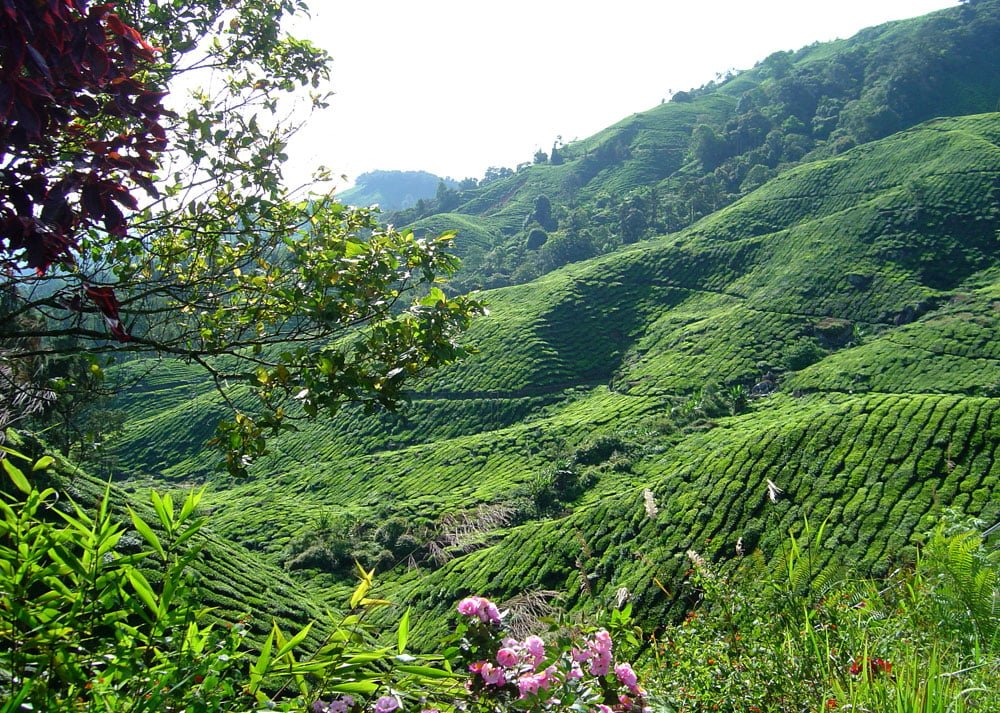 Insects and more
Along the way we visited a butterfly farm (with more weird insects and reptiles than actual butterflies). Nothing that special to see, it's just your collection of odd insects and creatures, though you can get pretty up close and personal with some of them:
The guy in charge was very nonchalant about plucking the insects and sticking them all over the place. Here's a leaf insect thing on my hand. It was rather ticklish. I drew the line at carrying the chameleon though.
Food, in typical Malaysian style, was cheap and good. We ate steamboat 2 nights in a row at Just 13RM pax for yuanyang! (half ma la, half chicken stock) and man were we stuffed. Steamboat is also great in the cool weather, really warms you up inside!
All in all, quite a nice little getaway trip. Check out the Cameron Highlands website for more info about the place.