How did we get to October already? It's been 8 months since I quit my job and I've been travelling for about 6 months in total… Time really does fly when you are having fun!
PROPER TRAVEL DOWNTIME
I've never travelled so much for such a long period of time – 17 weeks in total, mostly in Europe with a little jaunt to Kenya in between. That's almost twice the time I spent in Japan and Taiwan earlier in the year! After Europe, I had barely 20 hours in Singapore before I was off to Indonesia for a week or so, and I finally got back to Singapore properly end September. My queen sized bed never felt bigger and more luxurious, especially after a continuous series of dormitory bunks of varying quality.
I definitely got a bit tired of travelling especially towards the tail end of the trip – I still loved the adventures and new experiences, but my sociability and energy levels were flagging as I opted for a lot more quiet nights in on my own in a bid to recharge.
There were travellers that I met who were embarking on whirlwind itineraries which saw them in new cities every day – kudos to them for truly maximising their time away, but longer term travel really requires you to pace yourself. I used to feel a bit guilty for choosing to skip certain sights or just spending an afternoon lazing indoors, but you do need to give yourself a break or risk burning yourself out in the long run. Take a rain check every so often, whether it is actually raining or not and just put your feet up or mooch around with no agenda. Your body and brain will thank you for it!
TRAVEL INERTIA
I'm back home for a stint now but there are still two short trips around Asia on the horizon, but other than that… NOTHING. It's somewhat disconcerting not to have anything planned in the near future – I did consciously leave my trip unplanned when I hit Europe, but there was a firm start and end date in mind; right now there is nothing more concrete than a general sentiment that I want to visit South America… that's it. I've never been to that continent before, so unlike Europe which I have visited several times, it's a completely foreign affair to me. I don't even have plane tickets booked at this point!
I know I should have gotten around to planning it sooner, but I just didn't feel like juggling so many things while I was travelling. And now that I'm back home I'm succumbing to laziness… let's see how long it takes me to get over the inertia. I'm enjoying the downtime now, but I'm pretty sure the wanderlust will strike soon enough.
Maybe I've shifted from detailed planner to figure-it-out-on-the-go – I used to have my flights and accommodation all settled before any trip I took, but since being in Europe, I've booked hostels when arriving in the city, or just turned up at the bus station and hopped on the earliest bus. I can't be too free and easy though – I can't bring myself to actually go physically hunting for hostels when I reach a city, but I find it easier to just go with the flow and my own whims. I've extended stays in places I felt good in, or cut short intended longer stays when I felt I had to go. There is a freedom in not having a fixed plan!
SOME UPDATES
Since the last time I updated in Poland, here's what I ended up going – up North through the Baltics and then making some 'detours':
Lithuania – Vilnius, Trakai
Latvia – Riga
Estonia – Tallinn
Netherlands – Amsterdam, Zaanse Schans, Volendam, Edam
Kenya – Nairobi, Maasai Mara, Mombasa, Diani Beach
Germany – Berlin, Gottingen
I did a country count – I can't believe that I've visited 43 countries in my entire life! On this Career Break alone I've visited 20 countries, 13 of which were brand new to me. I'm not a country collector but just listing it out is pretty surreal~
I zipped through the Baltic states so quickly with just 2 nights in each capital – I definitely need to go back at some point because I had some pretty strange experiences. I had little prior knowledge of the Baltics before this so expectations were non-existent. Vilnius was where I visited an independent artist state, Riga was where I discovered the perils of kayaking at night while I watched Hamlet for the first time in Tallinn… performed in Estonian. By clowns. No kidding.
Amsterdam and Berlin are popular cities that I've always wanted to visit, and also proof that while I love the facilities of a luxury hostel, I just don't do so well in such large scale operations – it's hard to connect when there are too many people around. Don't get me wrong, I loved the rooms and set-up, but give me a fun little slightly run down hostel any day for atmosphere!
And then there was Kenya. 2 weeks of exploring Africa with a small group after being on my own for 3 months was quite an abrupt change for me. For me, the hard part about solo travelling is less the loneliness on the road, and more learning how to readjust yourself when people come and go all the time. Maybe I just don't do so well with change, but having people repeatedly come and go actually takes more of a toll on me than if I was just completely solo the whole time. So it was nice having a bit of a mini family for 2 whole weeks :)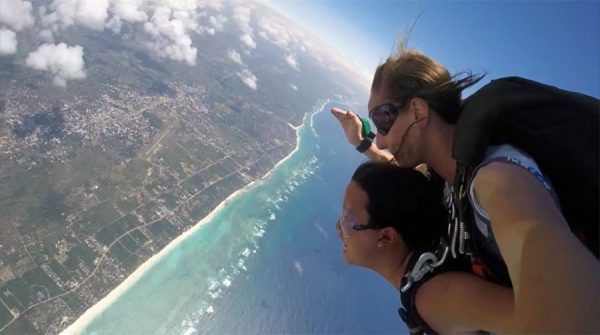 Several firsts:
Taking a 19 hour train ride across Kenya
Seen my first Wildebeest Great Migration in the Maasai Mara
Skydiving over Diani Beach in Mombasa
Eating Edam cheese and seeing windmills in Netherlands
Kayaking through a city river at night in Riga
Touching the Berlin Wall
Big thanks as well to friends like Julika who hosted me in her little town of Gottingen, as well as the dynamic Dutch duo L+R who I met in Krakow and took me out for an intensely fun night with their friends in Edam. Funfairs have never been so… fun~
In the meantime, stay tuned for more. You know there are plenty of stories just waiting to be told, and my year isn't quite up yet so there's more travels to go! Thanks again for all the support, every one of you reading this :) Keep on reading the blog or check out my Instagram which is the most updated of my social media channels, followed by Facebook!