On this trip to Portugal, I had just spent a week with my friend Y traipsing around Lisbon and Lagos, experiencing the wonders of street art and hilly streets together. She had plans to visit Spain while I wanted to see more of Portugal, so we ended up splitting paths after Lagos. I got on a train and headed east across the Algarve to the tiny town of Tavira – more about what I saw there and a google map further down in the post.
Travelling with someone else is a very intimate experience – Spending most of your time together in a foreign place inevitably shows you what that person is like, stripped away from the trappings and comforts of home. So after you've just spent a week getting used to travelling with someone, and now you're back to being solo, having to watch your own bags and eat meals on your own… it does take some adjustment, for me at least.
BACK TO THE SOLO LIFE
Things seemed kinda lonely right from the start as I left Y behind on the platform of Lagos, and it was a bit of a bumpy start as it took a bit of a search for me to finally find my Airbnb apartment (such small signage argh~). My lovely host Dina would be a wealth of useful information later on, but right that afternoon she was suffering a massive toothache and departed quite quickly to get to a dentist. Since I was the first guest to arrive that day, the house was completely empty once she left.
So here I was, newly solo and feeling a little stranded, without much clue as to what to do in this tiny little town. It might have been because I arrived in mid afternoon and the weather was insanely blazingly hot, but man, Tavira was really quiet especially compared to the buzz of Lisbon and Lagos. I had no luck locating the tourism office at first (I just kept walking by it for some reason), and so decided to have a bit of a wander on my own around town after lunch.
No maps, no GPS, just good ol' fashioned exploration on foot, and relearning to talk to the voice in my head.
I did come across some interesting things while wandering around, and had a merry time eating a ton of ice cream on my own.
This tiny town turned out to be the perfect segue into adjusting back to the solo travel life, and a nice breather before I returned to the buzz that would be my next stop Porto. Tavira might be less well known compared to all the other places on my itinerary, but when your friends rave about the place, you just have to check it out for yourself to see if they are right – Thanks again Julika because you were definitely right about this place.
And as solo travels go, I wasn't alone for too long – while sketching out on my balcony during sunset, I met my newly arrived neighbour, dutch lady V, who just finished attending a conference nearby and was on her own for a day or two before returning home to Amsterdam.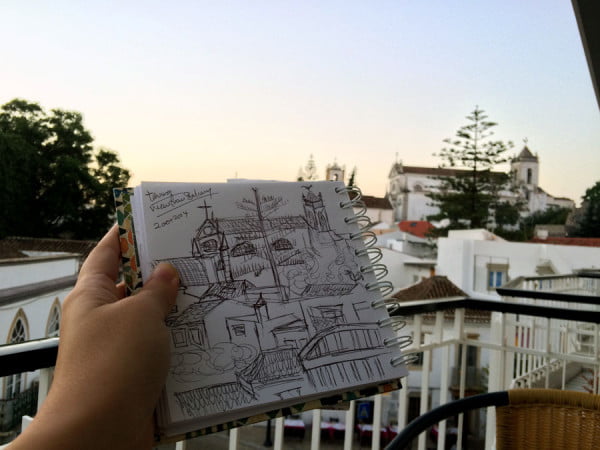 I'd also finally found the tourist office and picked up a map, so we ended up exploring Tavira together the next day where we made another friend during dinner in the next table (also Dutch, though from another part instead, but what are the odds… Hello E! We hung out in the town square for drinks when V headed in a little earlier.
THINGS TO DO IN TAVIRA
If you're in Tavira on your own, you should definitely do some aimless wandering like I did, but if you are tight on time, here's a couple of things you can check out:
Castelo de Tavira (Tavira Castle)
Probably a bit of a misnomer as there's hardly any castle left, but some random walls and towers. It does have a beautiful garden and you can climb the walls and towers (no safety barriers whatsoever, be careful!) and it offers an amazing view of the surrounding town and the river Gilao.
The castle is right next to Torre de Tavira (see below) and the Santa Maria church.
Torre de Tavira (Tavira Tower)
This innocuous looking water tower is located one of the highest points in Tavira's old town, right next to the Santa Maria church and the old Tavira Castle. The water tower also houses something called the Camera Obscura, which we were a little curious about so we went to check it out when it opened at 10am.
It cost 3.50 euros, and there was just another older Canadian couple there when we were there. Our guide brought us up via a rather modern lift, and we stepped into the water tank itself. A boardwalk of sort had been built, and right in the centre is a large shallow curved bowl.
Camera Obscura turned out to be a rather large life-size pinhole camera, which projected live images of the surrounding town onto the shallow bowl via special lenses installed on top of the tower! It was a little bizarre how clear the detail was – you could see bird flying and our guide gave us a virtual tour of Tavira, zooming into various landmarks and telling us some history. I think we were lucky that we had such clear weather – the guide mentioned that strong winds were the most problematic for the Camera Obscura experience as it meant the lenses (and thus the image) would be rather shaky.
Ilha De Tavira (Tavira Island)

The beach on Tavira Island is a must-visit if you're ever in Tavira – I had enjoyed the coastline of Lagos, but this beach here is just amazingly beautiful and not crowded at all, at least when I was there! The weather in October was hot and great for sunbathing, but the waters were kindaaaaaa cold for a tropical person like me. Still, I braved the waters and had an amazing time just chilling out on this beach with V.
The midday sun was blazing when we arrived on the island, so we hid out at a random eatery called Sunshine Cafe for some lunch first – decent food, there are a bunch of restaurants on and of course you can't be on the beach without some ice cold beer…
Our guesthouse awesomely provided each room in the house with a foldable beach umbrella, so we brought that along with us and saved some euros by not having to rent a cabana or deckchair along the beach.
I spent my time alternating between hiding in the shade of my umbrella, to reading and journalling, and finally took the plunge in the rather cold waters. V had absolutely no problems with the water, so I think I'm just too used to the warm waters of Southeast Asia!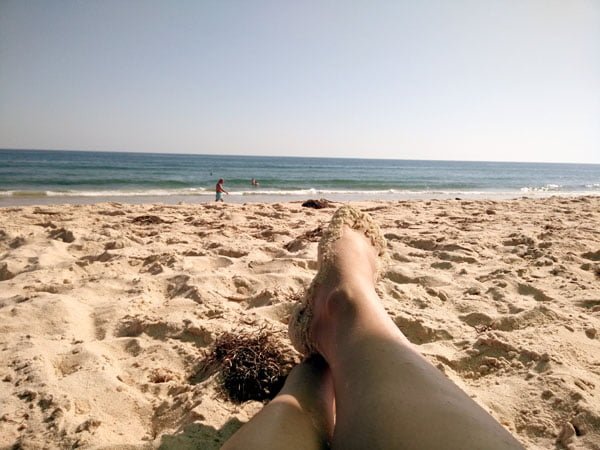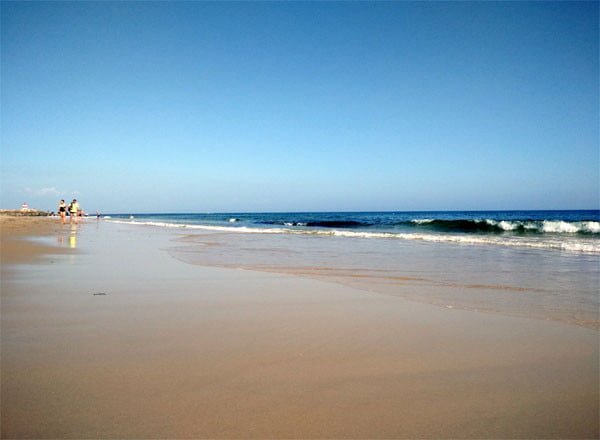 If you have more time, you could also go birdwatching in the nature reserves on the island. There are also other beaches in different spots that you could check out – have a look at this list.
Getting there: the beach is on a separate 'island' that's only accessible by ferry or water taxi. The easiest way to get there is via the Ferry service that runs along the River Gilao, at a spot in the town centre just past the old market. The ferry leaves on the hour/half hour, and runs till later during the summer season, so make sure you check the timings first. There are water taxis available as well if you don't want to rush for the ferry, but it's definitely the cheapest way to get to the island at just 1.90 euros for a round trip that takes a leisurely 20mins.
Once you reach Tavira Island, it's about 5-10 mins walk from the ferry pier to the beach, where you'll pass through camp sites and restaurants. Just follow the crowds, but once you reach the beach, they all seem to dissipate.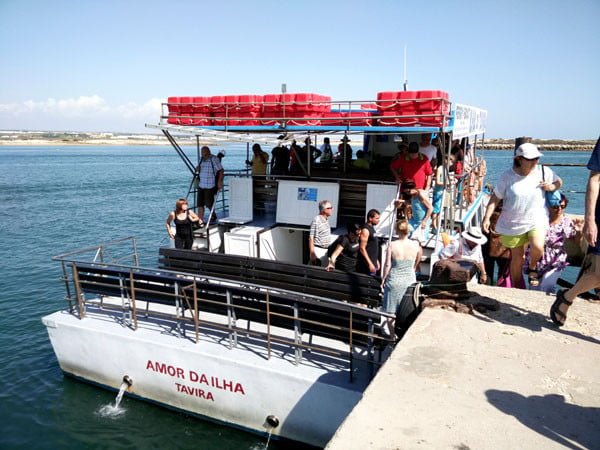 Where to stay

I stayed in this place that I found off Airbnb – my first Airbnb stay ever! I enjoyed my stay there and glad I had both the privacy and space of my own room, as well as the option to be sociable over breakfast or with my neighbours on the balcony. (First time users to Airbnb can use this link for S$50 credit which also results in perks for me at no extra cost to you!)
Getting there
It's a direct walk from the train station, about 15-20mins walk down cobblestoned streets. It's located on Rua Dr Augusto Carlos Palma with no block or unit number, so it took me walking up and down that little road and finally calling the host Dina before I realized I was actually standing in front of the place all along.
Dina managed to find me and showed me in. Warning for luggage carriers – the apartment is 3 storeys up and there's no lift, which kinda sucks but you will appreciate having a room higher up because it does give you a nicer view.
The Room
I had a literary themed room – with some quotes by Fernando Pessoa on the wall. The room was large and airy and such a literal breath of fresh air after the somewhat cramped room Y and I shared in Lagos.
The shared bathroom was right outside my room so that was convenient. There were about 6 rooms in total, and they were fully occupied on my first night there. One or two of the rooms had their own bathroom, so sharing wasn't too bad.
Of course my favourite spot was the balcony which overlooked a street corner so it got a little noisier during dinner time, but not overly so. There was a pretty popular restaurant with Al Fresco seating just across the street, though Dina recommended going to Restaurant Avenida just 5 mins away.
The House
The place is pretty spacious and you can get a lot of privacy in the room, which is nice. Location wise it's also very convenient – you're about 5-10mins walk from the River Gilao, which in essence puts you within a 15 min radius of practically everything important nearby!
Here's a helpful map of what I saw. For such a small place there are actually quite a lot of churches here, but while some like the Misericordia were small but quite impressive inside, I either had not-great pix or wasn't allowed to take them, so I'll spare you that.
Have you been to the tiny town of Tavira? What was your experience like?