For my first trip of 2014 up to Penang, I decided that I needed to splurge a bit after the disappointment of missing Bangkok. Me and my travel companion A decided to stay at this place our other friend P highly recommended called Mango Tree Place (affiliate link).
Location
Mango Tree Place is located at Jalan Phuah Hin Leong, a little street in George town. It's not in the central district near the street art and cultural highlights – you would probably want to take a quick cab ride (usually 10-15rm on average from main George town) rather than walk in the oppressive heat! It doesn't look that far on the map but in that heat, no fun at all!
It's not without its own charms though – off the main Jalan Burma Road, it's a generally quieter street, though it has a couple of resident roosters and dogs that can be annoying if you need absolute silence to sleep.
The Room
We stayed in the courtyard suite at #31, a spacious suite which had more than enough space for the two of us. There's an outer hallway of sorts with a table and comfy couch and fan, with a door to separate it from the main bedroom area with a large king size bed ( you could fit an extra single bed in quite comfortably). There's a large TV and DVD player if you want to entertain yourself with their in-house collection of shows.
The highlight of course is the little open air courtyard, which is perpetually shaded and a cool respite even in the hottest of afternoons. It's also covered with netting so the air comes in but other debris and creepy crawlies don't! That's where the swing is, and you can just chill out there quite happily. The swing only fits one though so you have to take turns.
The toilet is quite large, with a rain shower option and the sink is located just outside the door.
Amenities wise, there are free bottles of water topped up when finished, a godsend in the heat, and WiFi which unfortunately was a tad spotty when we were there. It was a very comfortable room overall, on days we were feeling a bit lazy or just too hot to go outside, we hung around the room, a little reluctant to go back out into the sweltering heat.
The Guesthouse
It's not a very big guesthouse, there are probably less than 10 rooms spread out over a few shop house blocks along the street. The main reception is at Blk 29 which was right next to ours, and that's where you check in or head to for breakfast in the morning. The daily breakfast was quite the spread! Set in a nice shady courtyard, you would be served with different items each morning, including local noodles, an Indian dish would roti canai or murtabak.
Around the area
While Mango Tree Place is not that close to the main tourist walking area in downtown George Town, there is a fair bit to do around the area. Our guesthouse lady Karen is the local expert, and not only did she provide us a pretty good map of the surrounding area and its offerings, she even gave us a lift to some places when it was convenient for her to do so, and told us lots of history and context to the places that we visited.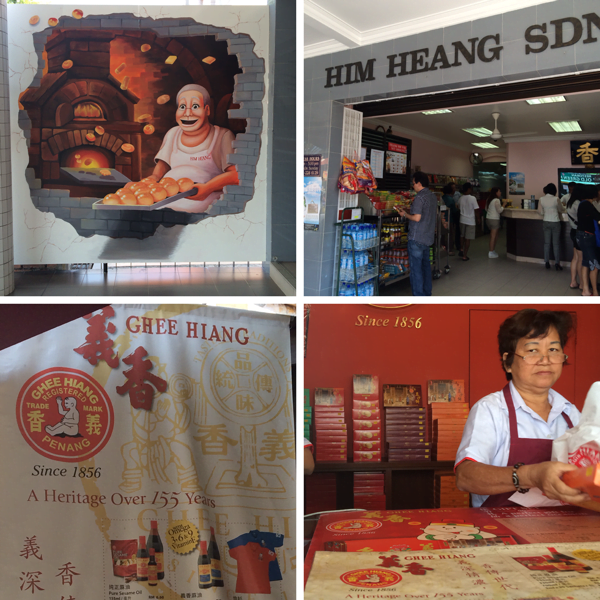 For those looking to buy back traditional goodies for their loved ones, the famous Ghee Hiang and Him Heang brands have retails outlets right along the main Jalan Burma, barely 5 minutes walk from the guesthouse. You can't miss the cute cartoon characters of Ghee Hiang, though the shop is mostly a little window where you place your order. Him Heang is a larger retail outlet and when we were there, packed with people pouring out of cars and buses!
Food is also in abundance, with several coffee shops located along Jalan Burma where you can partake in local Penang cuisine. Walk a little further down to Burmah Square and the stretch along Jalan Chow Thye and Jalan Irrawadi and you'll find more F&B establishments, from a wine bar, drinking holes, Western restaurants and little hipster cafes. We managed to walk to Lorong Selamat for their famous Char Koay Teow as well! There's a Giant supermarket in a nearby mall about 5-10mins walk away as well.
Also conveniently located – Enso spa just along main Jalan Burma. We indulged in leg reflexology and a good back massage for fairly decent prices. They even have 'happy hour' prices if you come in before 3pm! They get very crowded on the weekends though, so make sure you book if you're there on the weekend.
Cost
At the time of our booking, it cost us S$150/night for the room, so over 2 nights, the cost was split at S$150 per pax. It's definitely not the cheapest option in Penang, but you are paying for a pretty lush guesthouse experience which is very comfortable.
Overall, if you're looking for a nice guesthouse experience in Penang and are willing to pay for it, I would recommend Mango Tree Place. However in future, I might consider staying a little closer to the main George Town area so that the cultural highlights are within walking distance. If you are looking for a beachfront place, you'll probably need to head to elsewhere.
Mango Tree Place on Booking.com – making a booking via this affiliate link doesn't cost you anything extra but may give me a small commission that goes to keeping this site running.
Have you been to Penang? Where's your favourite place to stay?
Check out my other posts for more ideas on things to do in Penang.